When's the cheapest time to fly to Hong Kong?
Believe it or not, Hong Kong's low season actually falls in summer, meaning you're most likely to nab cheap flights in July and August. There is a reason for this though – Hong Kong is a hottie! Seriously, average temps for summer can reach up to the low thirties, with mega high humidity rates of 90% or more! If you fancy being in town when it's cooler, your best bet is the autumn months for cheap flights to Hong Kong, rather than the more expensive spring months.
Oh, and for the best prices, you'll definitely want to avoid public holidays like the Lunar New Year in February and Golden Holiday Week in May.



When's the best time to book flights to Hong Kong?
If you really want a good deal on your flights to Hong Kong, you'll definitely need to look to book at least 4 weeks in advance, but ideally, you'll wanna book even further in advance than that – at least a few months.
You could try your luck with a last-minute flight in spring or autumn, but bear in mind that you'll have less options to work with!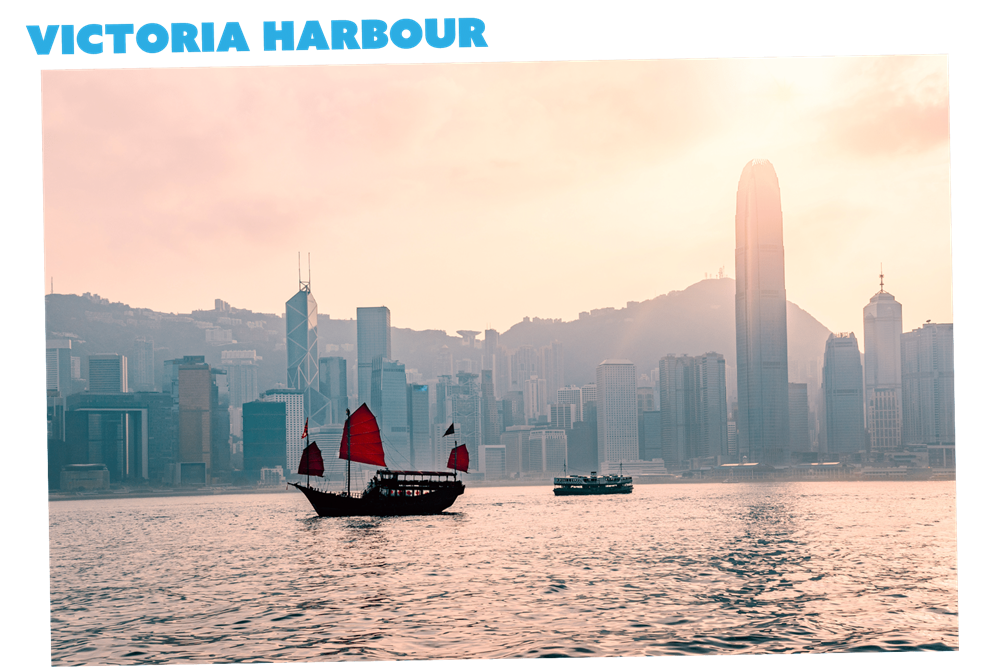 How long is the flight to Hong Kong?
If you're flying direct from London, you'll be in the air for around 12 hours. But if you're flying out of one of the regional airports, like Manchester or Birmingham, you'll probably have a stopover in London, extending your travel time to 14+ hours.
If you want a direct flight to Hong Kong, you'll need to fly with Cathay Pacific,
British Airways
or
Virgin Atlantic
. Several other popular airlines also fly indirectly to Hong Kong, including
Etihad
,
Emirates
,
KLM
,
Qatar Airways
and
Air France
. If you opt for an indirect flight, you can expect to have a stopover in Europe or the Middle East, before continuing to Hong Kong.
Getting around Hong Kong International Airport (HKG)
Flights to Hong Kong arrive at the city's only airport – Hong Kong International. Located on Lantau Island, it's also near some of the main attractions, like Hong Kong Disneyland and the Tian Tan Buddha Statue – pretty handy.
After you touch down, your first stop will be Immigration, so make sure you've got your passport and completed Arrival Card (they'll hand them out on the plane before you land) within easy reach, because you'll need them for this step. Then it's time to hit Baggage Reclaim and Customs – if you have any items to declare, this is the time to do it!
In the Arrivals Hall, you'll find places to exchange your money (it's the Hong Kong Dollar here), two Hong Kong Tourism Board Information Centres, as well as shops where you can get the whole fam loaded up on local sim cards – a must-do if you wanna avoid potentially knee-wobbling data roaming charges. Don't say we didn't warn ya!


Next stop: Hong Kong!
How to get from Hong Kong Airport to the city
Via train
You'll be saying hello to Hong Kong in just 24 minutes if you take the Airport Express train into the city, which depart every 10 mins from 05:54 to 00:48. A single adult ticket to Hong Kong station is HKD115 - about £11.50.
Via bus
This one is for those who don't mind taking the scenic route! There's a number of buses that run from the airport to the city, the most popular of which is the A11 which stops at Hong Kong's City Hall – strap in though because it stops at quite a few places, meaning it'll take you around one hour and fifteen mins to reach the city!
Via taxi
You'll find taxis at Hong Kong Airport at the Taxi Station, near the ramp to the left when you exit the Arrivals Hall. But the funny thing about taxis in Hong Kong is that they're colour-coded based on what routes they work. At the airport they'll be separated into different rows according to these colours. Red taxis operate in most areas in Hong Kong, whilst green taxis mostly operate in the north eastern and north western parts of the New Territories, a large region to the north of Hong Kong. Blue taxis, meanwhile, only operate on Lantau Island and Chek Lap Kok.
More than one colour of taxi might go to the same place, but the rates they charge could be different. The cheapest fare (as of 2023) to Hong Kong Island is to the Western District, setting you back HK$330 – don't panic! That's about £33, to you and us.


Things to do in Hong Kong
Once a British Colony, Hong Kong has been an economically and politically independent territory of China for many years. Its warm weather draws crowds throughout the year, which makes it an ideal destination for exploration and cultural activities.


Shopping
The newest place in town when it comes to dropping some serious Hong Kong Dollars is The Wai shopping mall – four floors, nearly 150 stores and restaurants, and over 50,000sq feet of outdoor space to boot! It also boasts Hong Kong's biggest indoor bicycle parking lot. Yeah, they really like to cycle over there. This is also where you'll find Market Place, the biggest market space in Hong Kong, with more than 13,000 products from around the globe to rummage through.
Upper Lascar Row, meanwhile, is where souvenirs and old Bruce Lee film posters rub up against sculptures of the Buddha and Ming dynasty ceramics. Find it in the Sheung Wen area, just try not to spend your whole trip there.
If you don't get enough of your vintage fix at Upper Lascar Row, then you'll just have to make your way to Select 18 – one of the best vintage shops in Hong Kong. If you're really lucky, you might just find some fancy designer labels slipped in amongst the knick-knacks, jewellery and old cameras.
Happy rummaging!

Getting around town
First things first, you've gotta do a 'ding-ding' – get your heads out of the gutter! This is what the locals call the iconic Hong Kong trams that trundle across the city for an affordable price with a bell that goes, well…ding-ding. One of the best ways to get around, you get on at the back and pay the driver at the front as you get off. It's small things like these that give us the most joy…
Next, you can set out on the water and go pedal boating in Victoria Harbour at the Water Sports and Recreation Precinct near the New Wan Chai Ferry Pier. Or upgrade to a bigger boat and take the Star Ferry across the harbour instead – a star in its own right, the ferry is another mega cheap option loved by locals and the bonus is that it'll make you feel like you're in every Hollywood move set in Hong Kong ever made!
If all that wasn't enough, you've also got the jaw-dropping gorgeous Peak Tram that takes you up the Peak, Hong Kong's highest point, 1300 feet up. For the absolute best views of the city, this is the one.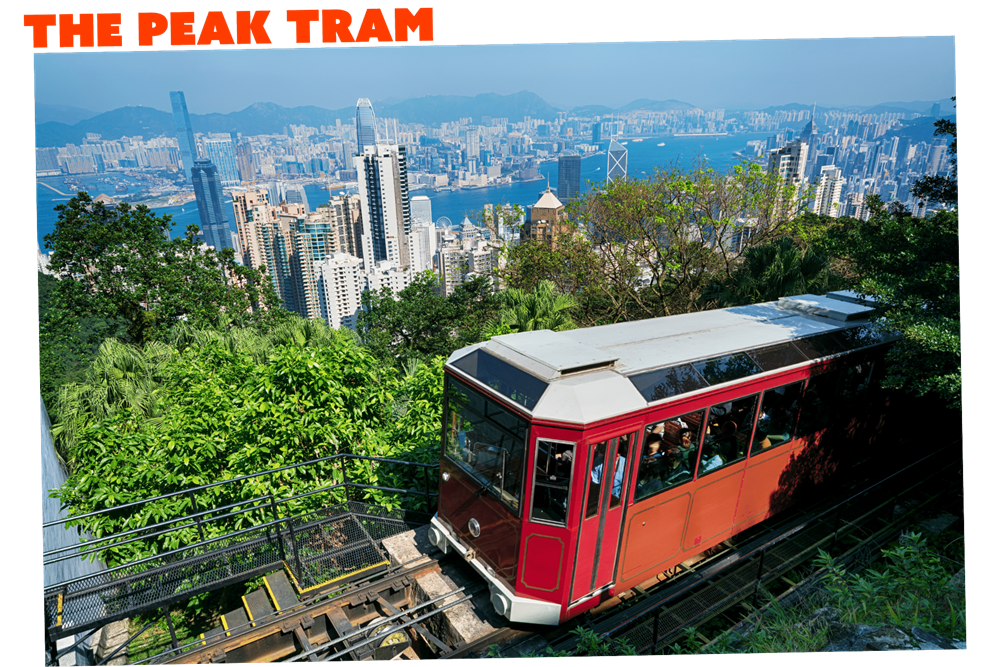 Culture
M+ is Hong Kong's biggest museum of visual culture, and you can find it in the West Kowloon Cultural District. Head just a little outside the city, meanwhile, and you've got Tai O Fishing Village, AKA the little Venice of Hong Kong and one of the last remaining stilt settlements in the city. Make a day of it and explore the food stalls for some local snacks, browse the little shops, and even take a boat tour to see the stilt structures up close and personal.
Wong Tai Sin Temple is one of the largest in Hong Kong and is home to Taoism, Buddhism and Confucianism. A gorgeous complex full of ornamental buildings, the smell of incense and the sound of prayer. Soak it all up.
If you wanna catch some Cantonese opera, you'll have to head to Ma Tei Theatre, its exclusive home and the last pre-war cinema in the city. Falsettos and gongs galore!



Don't forget before you fly


You can visit Hong Kong for up to 6 months without a visa, and you don't need to be fully vaccinated or show proof of vaccination to enter the country.
It's also good to note that Hong Kong doesn't allow any form of electronic cigarettes or vapes, as well as heated tobacco and herbal cigarettes.
And, as always, check those passports! They need to be valid for at least one month after your date of departure.