When's the cheapest time to fly to Melbourne?

Remember, those Aussies in the southern hemisphere have topsy turvy seasons compared to us, and their shoulder seasons are the best time to be flying Down Under if you want to cut back a bit on price. So, when's the shoulder season in Melbourne? Well, you're looking at May and June, even into July, as well as September and October. The golden month for UK travellers, though? That's May.

When's the best time to book flights to Melbourne?
When's the best time to book flights to Melbourne, you ask? Well, you've heard it before but we're gonna say it again! The best time to book flights to Melbourne, like much of Australia, really is the earlier the better – if you've left it a bit late then at least aim for 4 weeks prior to departure, but if you've got all your ducks in a row, then get those tickets booked around 16 weeks before you jet off to nab the best deals!

Emirates, Qatar Airways, British Airways, and Lufthansa are just a handful of your options for grabbing cheap flights to Melbourne - why not choose your airline based on where the hub is? That way you could squeeze in a mini holiday to somewhere else before your holiday holiday - any excuse to break up that hella long journey!



How long is the flight to Melbourne?
Brace yourself, folks! It's a bit of a whopper. If you're flying from London, you can expect to be in the air for at least 22 hours, longer depending on how many layovers you've got – 2 stops is more common than 1 stop on this route, so bear that in mind.
If you're flying from the North West, from Manchester Airport say, the average flight time is 25 hours, but if you're flying from even more up north than us, for example from Edinburgh Airport, then it ticks on just a smidge more to around 24 hours.
We agree it sucks, but at the moment you can only fly indirect to Melbourne from the UK. If you really want to fly direct, you can do this to Perth instead and then catch a domestic flight to Melbourne from there.

Getting around Melbourne Airport (MEL)
As an international arrival, you'll be touching down at Terminal 2 at Melbourne Airport – the other 3 are reserved for domestic flights. If you're just transiting through Australia then you'll just need to stay put in this terminal, but if you're flying further within the country, you'll have to make your way over to one of the other 3 terminals – all of the terminals are handily kept together in one single building but there's still a fair walk from T2 to T4, so bear that in mind!
If sunny Melbourne is your destination, though, then you'll need to mosey on over to passport control with your Incoming Passenger Card – they'll hand these out to you on the plane to fill out before you land. Next, you'll need to grab your bags from baggage reclaim – have a look at the screens around the terminal, they'll tell you where you need to go. If you've got some mega big bags with you, then you can collect oversized luggage from behind carousels 1 and 2 in T2. Oh, this is the time to chuck any food left over from the plane too, as you won't be able to bring it through with you.
Bags in tow, you can almost smell freedom…you just need to get through one last step: customs and biosecurity! Less scary than it sounds, you can pop your passport back in your bag for this bit, as you'll just need that incoming passenger card for this step.

After that? You're free, baby! Next stop: Melbourne!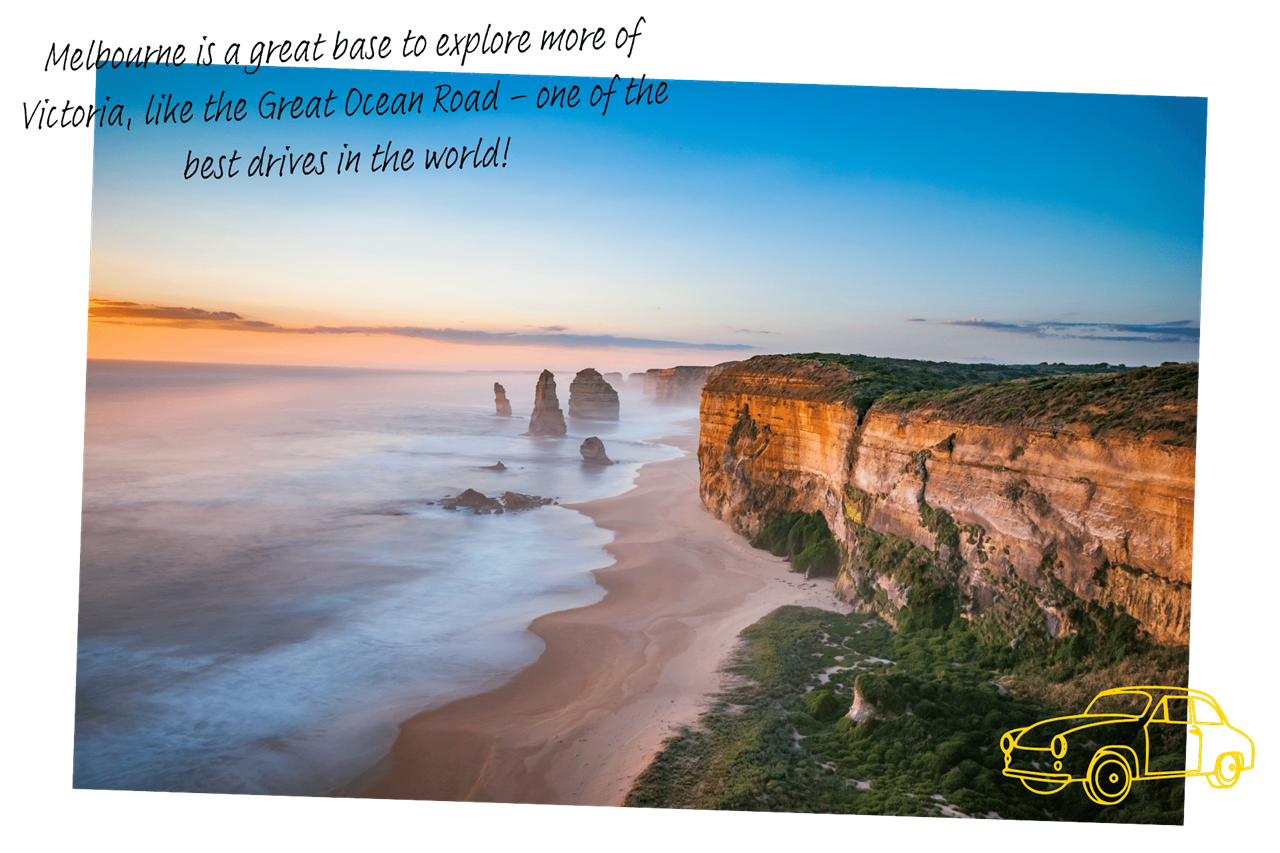 How to get from Melbourne Airport to the city
You've got a bunch of options to play with when it comes to how to get from Melbourne Airport to the city:
Via taxi
This'll take you around 35 mins and set you back about $55-$65. Not too bad - if you've got a group to split it with. Catch one from the ground level at T2.
Via SkyBus
With 24/7 services to Melbourne City, the SkyBus will take you about 30-45 mins, depending on traffic. You'll find the ticket booth and departure point on the ground level at T2.
Via car hire
If you're planning to nab yourself some cheap Australia car hire for your trip (defo one of the best way to see Oz!), then we can help with that too! You can pick up your ride across the forecourt from T2.



Things to do in Melbourne
Sightseeing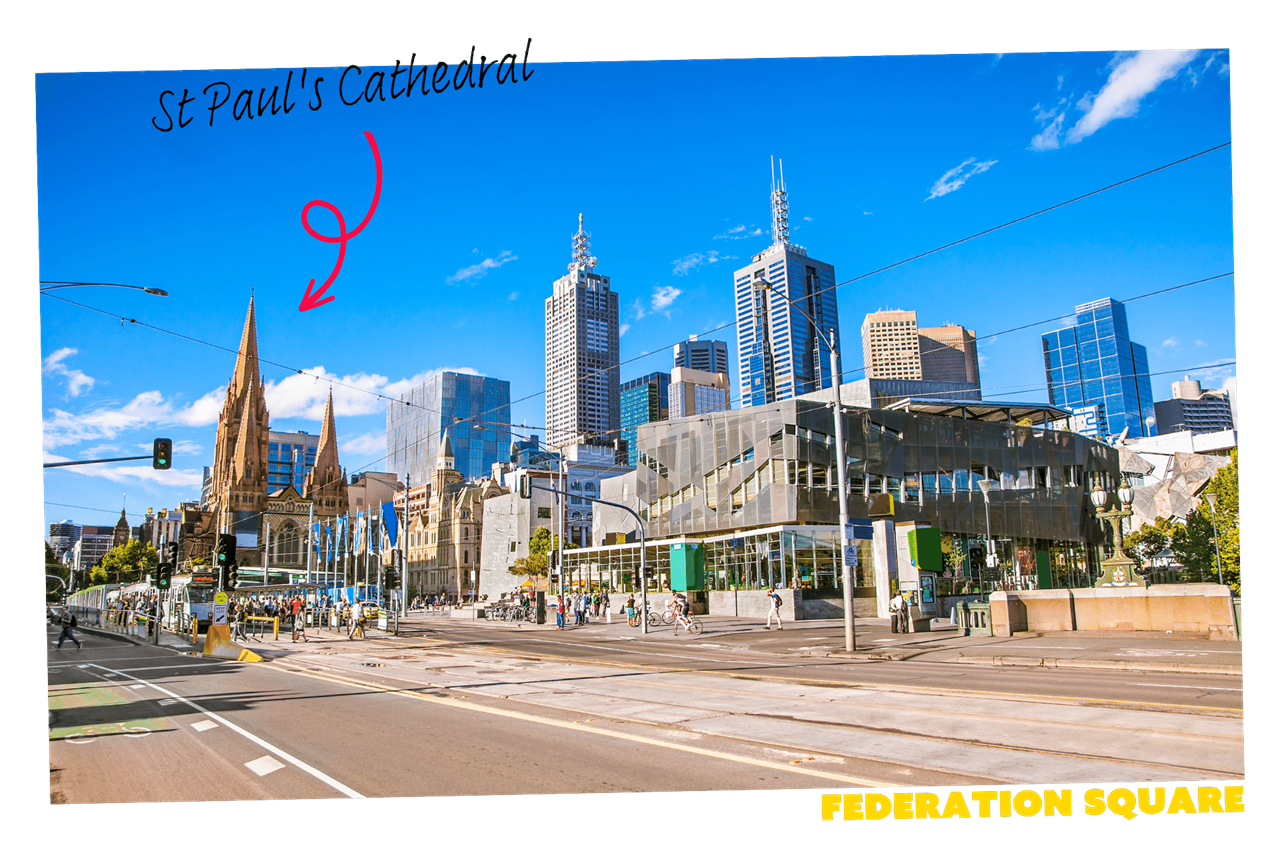 Federation Square
- Fed Square to the locals - is a handy place to start in the city as it forms a centre point for a lot of the major sites, as well having a few of its own, from the
Australian Centre of the Moving Image
to the
Koorie Heritage Trust
. Free public events are held here most days too, making it a great spot for taking a break and getting your ducks in a row for the day ahead.
Hosier Lane (Take meeee to church...no?), just opposite Fed Square, is iconic in Melbourne, known for being the epicentre of the graffiti and murals that stretch across the city, juxtaposed against dainty Victorian arcades and pretty alleyways. They're an arty bunch, this lot! One of the stars of the show here was an actual Banksy, Parachuting Rat, from 2003…which was accidentally painted over by city council workers in 2010. Whoops.
Pack that picnic basket and head to the Royal Botanic Gardens to sprawl out amongst a juicy 38 hectares on the south bank of the Yarra River – it's one of the best examples of Victorian-era garden landscaping anywhere in the world. Once you've finished scoffing your sarnies, you'll definitely want to stretch those legs with a spot on the Aboriginal Heritage tour to learn all about the Indigenous plants. Come back at night for some moonlight cinema…
St Kilda Foreshore is a charming seaside suburb that's said to be a mixture of Brighton and Venice Beach, California, so make of that what you will! It's gorgeous on a sunny day, with outdoor cafes and beer gardens along the seafront, as well as an amazing view of Melbourne's skyline at sunset from the end of St Kilda pier. St Kilda is also where you'll find the Melbourne edition of the famous Luna Park, opened in 1912 and home to a heritage-listed wooden roller coaster, the oldest of its kind in the world!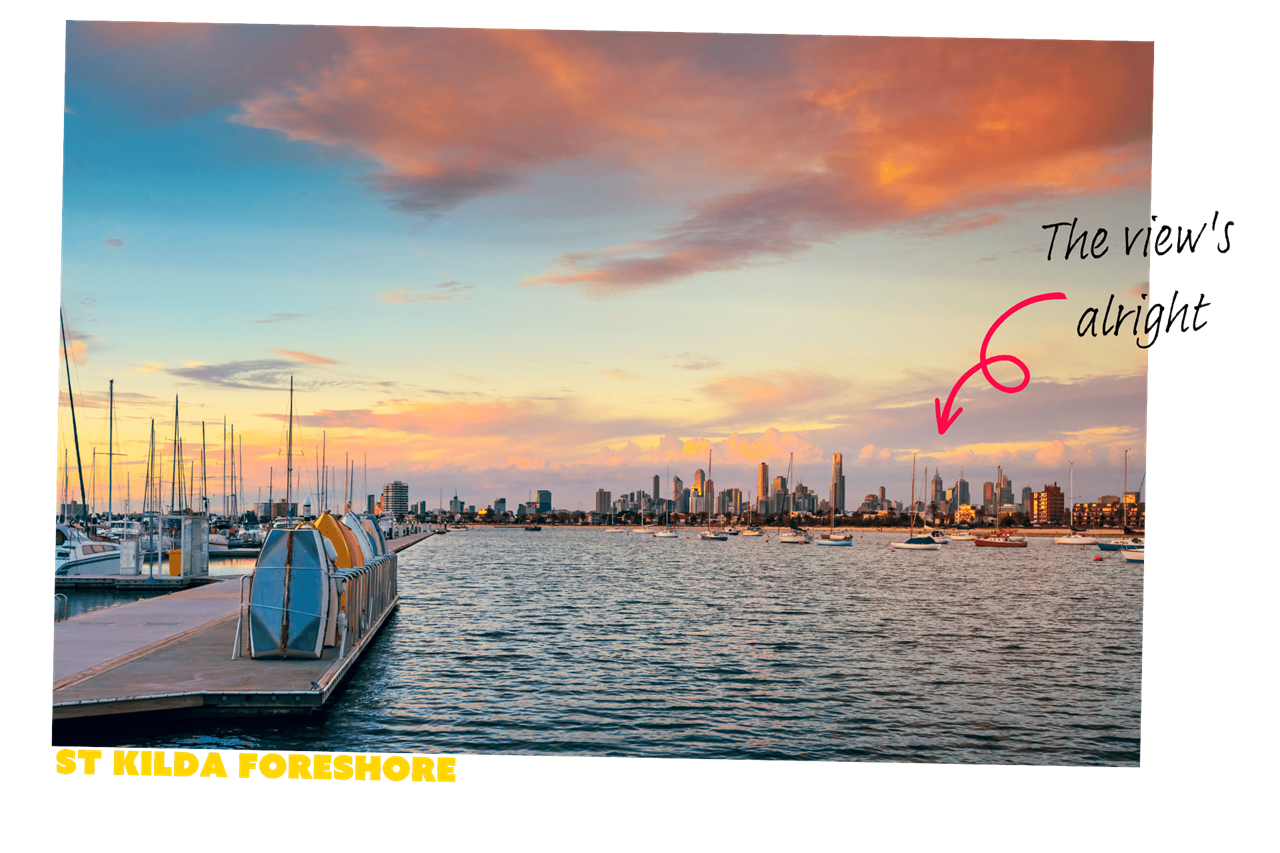 The Shrine of Remembrance, meanwhile, is built in the style of an ancient Greek temple, and is a secular site to remember those who died in WW1. What makes it really stirring? On Remembrance Day itself, a shaft of light will fall through the temple at the exact moment the Armistice was signed, illuminating the word 'love'. In town in November? Definitely do this.

Don't forget before you fly

Okay, here's the important stuff! As a UK citizen, you'll need a basic (and free) eVisitor visa, unless you're staying for more than three months. If you're planning a longer stretch (who'd blame ya?), you'll need a different visa depending on whether you want to work or study while you're there. Make a note of what you can and can't take into the country, particularly when it comes to food items and residual sand or mud on your clothing. Australia is mega strict about this so check the rules carefully before you fly. Before you land, your airline will give you an Incoming Passenger Card to fill out too. Oh, and as always, get checking those passports to be triple sure your passport is still valid!