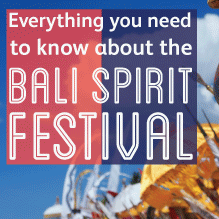 Held on the beautiful Indonesian island of Bali, the annual Spirit Festival is a six-day celebration of yoga, dance and music. It's a festival with a difference, where you come away feeling inspired and refreshed instead of exhausted. It's based on the Hindu concept of Tri Hita Karana – living in harmony with the spiritual, social, and natural environment – and attracts visitors from all around the world.
How did it come about?
Back in 2008, Bali's tourism industry was seriously suffering after the bombings in 2002 and 2005. The founders wanted to help build community spirit back up as well as sharing their love for the island with the world. So they came up with the idea of a festival that focused on positive experiences like yoga, dance and music which would be environmentally and economically sustainable. The first festival was held in 2009 and it's grown each year since, helping to built up the island's tourism as well as raising over $65,000 for local environmental, children's and health charities.
Where and when does it take place?
This year's festival takes place from March 29th to April 3rd. It's based in the town of Ubud in central Bali. Surrounded by mountains and lush greenery, Ubud is known as the island's cultural heart. It's a centre for crafts and woodcarving, as well as being surrounded by ornate temples.
The festival's daytime events take place at the Bhanuswari Resort and Spa, a peaceful riverside spot among the rice paddies, 30 minutes east of Ubud. Then the evening events move into central Ubud where music stages are set up among the trees. Shuttle buses connect the two venues to make it easy for guests to get around.
Who goes to the Bali Spirit Festival?
Travellers come from across Indonesia and around the world to attend the festival. You'll find yoga students, musicians and dancers, as well as people looking to find out more about spirituality and alternative living. Many come back year after year and with the event radiating positive vibes and acceptance; you can't help but come away feeling inspired.
What happens at the festival?
Festival events take place from 8am until 11pm each day. Over the six days there are over 230 workshops and seminars which cover a range of subjects like yoga, dance, music, meditation, spirituality, health and personal development. They start at beginner level, so it's easy to try something new.
There are also healing huts where you can experience alternative therapies like reiki, massage and chakra balancing. And a festival market with stalls selling handmade crafts, clothes and jewellery as well as lots of tasty vegan food. Kids are welcome at the event, with special arts and crafts, dance and music, storytelling and performances sessions run especially for them.
Then in the evening the festival moves into central Ubud and the music takes over. A mix of Indonesian and international performers, big names and up-and-coming artists take to the outdoor stages. At the start of the week the focus is on bhakti (sacred) music, then at the weekend it changes to dance and world music, with the dance floor heaving until the early hours. And it's this combination of education, relaxation and partying, along with its beautiful setting of Ubud, which makes the Bali Spirit Festival such a unique and magical event.
Discover Bali with Netflights.com