It has been reported that all museums and libraries in China would be free to the public by 2012, so it's a great time to take advantage of this development to experience the art and history of China. Shanghai has some of the best museums to explore, so next time you're there take the time to learn about China's history and culture in a way you never could otherwise. Here's a list to get you started.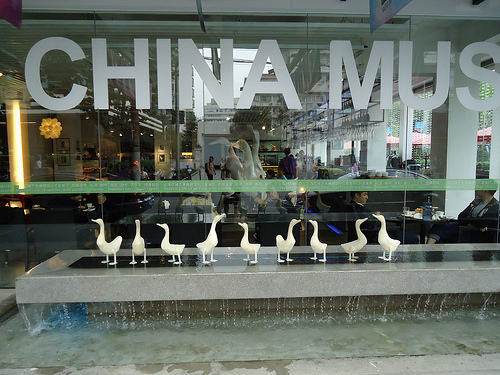 Shanghai Museum
If you're fascinated with ancient Chinese art, the Shanghai Museum, founded in 1952, has one of the greatest collections in the world. With eleven permanent galleries and three exhibition halls for temporary collections, the museum offers a glimpse of many art forms that are beautiful and inspiring. Its collection of jade, calligraphy, bronze, paintings, ceramics, and more are a treat to anyone who appreciates ancient China.
www.sh-artmuseum.org.cn
Shanghai Animation and Comics Museum
The Shanghai Animation and Comics Museum caters to the kid in all of us with displays of life-size figurines. posters, and manuscripts all related to the animation world. Certainly one of the oddest museums in Shanghai, it's also irresistible. In addition to all the bright displays you can have fun dubbing your own voice into an animated cartoon or watch a movie in the 3D movie theater.
Shanghai Duolun Museum of Modern Art
This museum has a permanent collection of art from various mediums such as photography, film, media, sculptures, and paintings. Modern art is its focus and its purpose is to enlighten the public on foreign and local art through education, by hosting several touring exhibitions annually, and maintaining permanent displays of modern art. It also has a vast collection of art books, magazines, and journals for sale, both Chinese and foreign, featuring modern and contemporary art.
www.duolunmoma.org/main/main_e.html
Shanghai Art Museum
Before you step inside the Shanghai Art Museum the clock tower catches your attention. The building was constructed in 1933 and was home to the Shanghai Race Club. There is also a network of tunnels underneath the museum that was built by the communists in the 1940's. Inside the museum, you'll find twelve exhibition halls filled with modern and traditional art. The museum also hosts the Shanghai Biennale, China's most established art event.
Shanghai Jewish Refugees Museum
Built in 1927, once having been the Ohel Moshe Synagogue and headquarters for the Jewish Youth Organization, the Shanghai Jewish Refugees Museum was created to memorialize the plight of Jews during World War II. Shanghai accepted more than 25,000 Jewish refugees, equal to the number taken in by Canada, India, South Africa, New Zealand, and Australia. The museum shows depictions of the Holocaust through pictures and artifacts and the difficulty the Jewish people faced after arriving in Shanghai. It is a somber, moving reminder of a dark time in history.
www.shanghaijews.org.cn/english/
Museum of the First National Congress of the Chinese Communist Party
This was the first meeting place of the National Communist Party in 1921 between Mao Ze Dong and eleven other members of other communist groups. The room still holds some of the original artifacts that were there that day such as an ashtray and tea cups. Additionally, the museum gives a history of the communist party and has displays of a bronze cannon from the Qing Dynasty and swords and daggers from rebellions of the 19th century.
Now that Shanghai has opened the door for everyone to have a chance to visit its many museums through free entry, you can spend days and days exploring and learning another side of the Chinese culture and history. It will be time well spent.
For the latest deals on flights to Shanghai use the links below.
London Heathrow to Shanghai
London Gatwick to Shanghai
Manchester to Shanghai