If you've got a family, the days of grabbing a backpack (or a suitcase) and heading off into the blue yonder don't have to be over. One of the best gifts you can give your children and yourself is time dedicated to having adventures, seeing and trying new things and relaxing with them. However, a "care-free" family holiday takes proper planning and preparation.
Here we consider ten things people often forget that can make the difference between a stress-filled holiday and one that leaves everyone happy, refreshed and ready to return to work or school.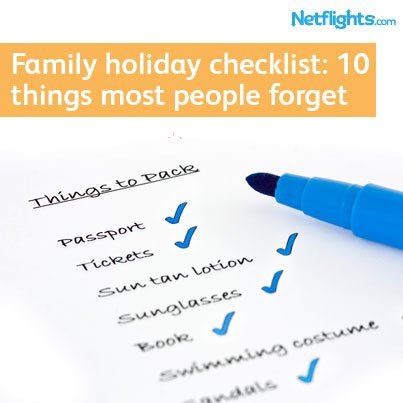 Packing tips
Pack important documents and then forget about them
It's ironic, but the reason it's common to forget important travel documents like passports is that people worry about having them. This means that instead of leaving them be, they take them out of their hand luggage to check and recheck, increasing the risk that they'll be left lying on a table. Rather check all documents carefully, pack them somewhere easy to get to and don't take them out again until you're safely on the road or at the airport.
Take plastic bags in your hand luggage
Especially if you'll be travelling with kids, don't underestimate the importance of carrying a few plastic bags. It's amazing how much garbage even a small family on the move can generate. Plastic bags are also a lifesaver for motion-sick children, and for storing wet, smelly clothes. If you're going on a beach holiday, they're brilliant for collecting seashells.
Carry a prescription for needed medicine
If your luggage is stolen or goes astray, you may be left without the prescription medicines you packed – and it can be difficult or impossible to get replacements at short notice unless you have a prescription with you. It's best to carry a copy on your person.
If you have small children, wrap up some surprises
Long-distance travel, whether by car, rail or plane, is trying for little children, and sometimes even more trying for those around them. To keep small kids occupied, try wrapping a lot of little surprises, which can be doled out at intervals or when tempers are starting to fray. For example, wrap a few small plastic toys, a box of fruit juice, a notebook with a crayon, a simple home-made finger puppet (or just a sock with googly eyes attached) and so on. Wrapping makes the items more appealing, and unwrapping adds to the time they'll keep little ones busy!
Return to do a last-minute check
It's often the little items you can't do without that get left behind. That's because you can't pack them the night before – and getting a family ready to leave the house involves a lot of hustle and bustle. The solution is to dash back in and do a final check of the house once everything and everybody else is ready and out the door. Scan bathroom sinks, tables, beds and under beds. That way, the favourite soft toys young children can't sleep without, the few cosmetic items you count on having and your wallet and passports won't be left behind.
As well as packing…
Whether you're planning to drive to a camp site that's two hours away or to fly half-way round the world, you should take a few simple steps so that when you return, it will be a pleasure to get back home.
Turn off the hot-water tank
It doesn't make sense to waste energy and money on keeping water hot while you're away. Also, turning off the hot-water tank ensures that it won't overheat and burst – a disaster that's more likely when the hot water isn't being used.
If you're travelling overseas, tell your bank
Banks and credit card companies may refuse transactions if they notice that your funds are being accessed from overseas. So if you're planning on travelling abroad, it's important to give them a ring. Let them know that you'll be overseas and ensure that your records are updated to reflect this.
Check for leaks and dripping taps
If you're away for longer than a day or two, even a small leak or drip can waste a lot of water. It can also mean that you'll get home to a flood, which can cause very expensive damage.
Empty the fridge
It's no fun getting home to a fridge full of off milk, mouldy cheese and rotting vegetables. Instead take the time to empty out the fridge before you leave. Plan ahead so you don't buy too much in the days just before you're due to leave and find someone to give anything that's left.
Take out the rubbish
As well as emptying the fridge, remember to empty all bins and take out the rubbish so that your home doesn't smell the house out by the time you get back to it!