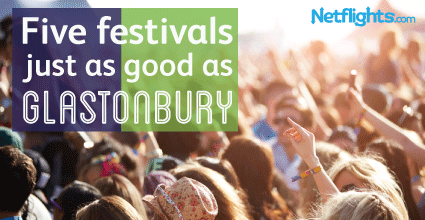 Summer is when most people jet off to exotic places for a bit of rest and relaxation- but it's also the season of festivals around the world. Arguably one of the most well-known music festivals in the world, Glastonbury takes place in Somerset at the end of every June and showcases some of the best music, comedy, acrobatic and spoken word acts in the world. It sounds pretty amazing but unfortunately, getting a ticket can be very difficult. If you're not one of the lucky few to nab one, here are a few festivals around the world that we think are worthy of rivalling Glastonbury:
New York Pride, New York
Taking place in the Big Apple from the 19th of June. New York Pride is a celebration of the LGBT community and features an amazing array of events. These range from the traditional march through Manhattan's well-trod streets on the 26th to some incredible musical acts like Fergie, DJ Samantha Ronson and Parson James.
The first New York Pride took place back in 1970 and since then the event has strived to be bigger, better and more influential every year. Highlights include Teaze, an event exclusively for women, and WE Party, a huge nightclub event on Saturday the 25th at Hammerstein Ballroom.
Sonar at the Museum of Contemporary Art, Barcelona
Much more than just a music festival, Sonar is a celebration of the electronic genre with an educational element. In between listening to some great remixes, head to one of the workshops, demonstrations or TEDx talks on offer to learn more about the industry as a whole.
The beautiful Museum of Contemporary Art in Barcelona plays host to this thriving festival, and the cultural and coastal location also provides plenty of other activities for you to enjoy during your visit. Sonar takes places in mid-June every year and has done since 1994.
Battala Dos Vinos, Spain
Another Spanish festival that is definitely a contender for a top spot on the festival list is the Battala dos vinos that takes place in the La Rioja region of Spain on the 29th of June. Translating to the 'Battle of the Wines' or the 'Wine Fight', this event is unmissable for fans of a glass or two of vino.
To get to the festival you must climb a mountain, but once at the top you'll experience stunning views of the Spanish country side as well as the mad and unique sight of hundreds of people pouring wine on each other. Truckloads of wine are consumed and thrown at others in this event that is both fun and flavoursome.
Queenstown Winter Festival, New Zealand
It may be lovely and sunny in Europe in June but for countries in the Southern Hemisphere, it marks the Winter solstice and the start of the colder season. Queenstown, New Zealand is one such place and they celebrate with an annual festival in the snow-capped mountains.
Heaven for skiers and snowboarders, this family festival also offers plenty for others to do too including concerts, a Winter Wonderland, plenty of food and drink, and a free party. This unmissable festival runs for two weeks from late June and is set among the stunning mountains and clear waters of picturesque Queenstown.
Meadows in the Mountains, Bulgaria
If what you love most about Glastonbury is the free-spirited hippy vibe, Meadows in the Mountains may be just what you're looking for. Taking place in the romantic Rhodopian Mountains in Bulgaria, this festival predominantly features music but is also well worth a visit for literature and art lovers.
Five hours from Sofia, Meadows in the Mountains is very remote which makes it all the more idyllic when you arrive. Indulge in a yoga session, sample super cheap craft beer, listen to some talented live musical acts, and take in the weird and wonderful surroundings.