UK regional carrier Flybe has announced it will rebrand as 'Virgin Connect' from 2020 bringing it in to closer alignment with co-owner Virgin Atlantic. In July, the European Commission approved the sale of Flybe to Connect Airways, a consortium comprising Cyrus Capital Partners, Stobart Group and Virgin Atlantic Limited. The move to adopt the Virgin branding had been expected and, for Flybe, the move means it will say goodbye to its bold purple branding and hello to Virgin's iconic red.
CEO of Connect Airways, Mark Anderson, remarked, "At its heart, Virgin Connect will be passionately focused on becoming Europe's most loved and successful regional airline. It will offer travel that is simple and convenient with the personal touch. Our customers will naturally expect the same exceptional travel experience as they do with other Virgin-related brands."
He also confirmed that, "We will remain true to our heritage and reason for being, which is offering essential regional connectivity to local communities."
The acquisition of Flybe by Virgin will allow the carrier to offer its customers more choice with connections from regional UK areas directly into the Virgin Atlantic long haul network, primarily at London Heathrow and Manchester. Plus, a recent announcement to acquire extra slots – when and if Heathrow's third runway opens – will put Virgin Connect firmly in to play at the London hub. The extra flights provided will increase feed for the parent airline from cities not currently served in Europe.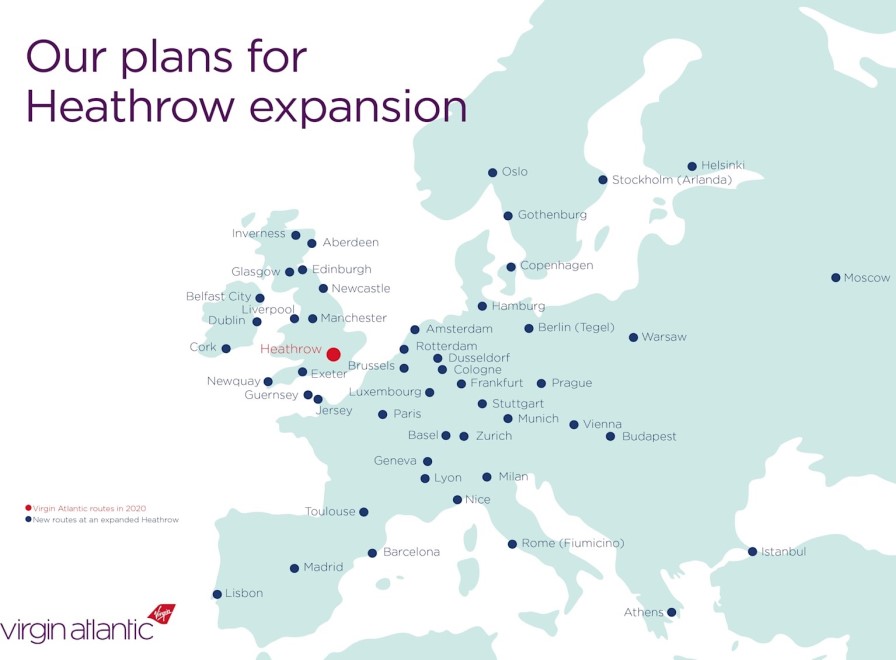 Virgin previously ran a UK domestic airline in competition with British Airways, branded as Virgin Little Red, between 2013 and 2015. Little Red operated flights from Heathrow to Manchester, Aberdeen and Edinburgh using four leased Airbus A320 aircraft from Aer Lingus. But the operation was cut due to low passenger numbers.
For Virgin Connect, an upcoming joint venture on Atlantic routes between Virgin Atlantic, Air France, KLM and Delta will likely increase passenger numbers and it will be interesting to see how frequent flyer programmes from these airlines will be integrated and recognised by the new Virgin airline.
Currently, Flybe operates a fleet of 54 Dash 8-Q400 turboprop aircraft and 15 Embraer E-Jet aircraft. Flights remain available to book and existing bookings will be unaffected.
It's not just Virgin Connect – Virgin Atlantic have been busy too. Read all about it in our latest update.