We've all flown Economy and know what it can be like. Tighter leg room, narrower seats and less than ideal food. Not all airlines are like this, of course, and if you fly with the likes of Qatar Airways or Singapore Airlines, you're sure to have a good Economy Class experience. But, when you board that plane and have to walk through Business Class to get to your seat down the back, you can't help but wonder what it'd be like to fly in a premium cabin. But the big question remains – is it really worth the cost?
As we'll explain below, if you do your research, it most definitely can be.
Business Class on short haul flights
It would be easy to say that paying out for an upgrade on a short flight just can't be worth it – when you're in the air for only a few hours, surely it's okay to put up with some discomfort? But let's take a look at some options from London Gatwick to Alicante with British Airways. You might be surprised.
Flying in Economy Class departing on 6th January 2020 and returning on the 10th January 2020 we found that, at the time of writing, with 1x 23kg checked bag included, the outbound flight is £93 and the inbound flight is £66 – a total of £159.
And how much for Business Class? According to their website, all BA is charging for the return fare is an extra £149, which is excellent. Here's why…
Normalising the low-cost model on scheduled flights
These days British Airways short-haul Economy has been brought in-line with the likes of easyJet and Ryanair. Under the guidance of CEO Alex Cruz, and with fierce competition from low cost carriers to contend with, BA's Economy seats no longer recline and alcohol and food is now chargeable. Checked bags are chargeable too unless you select a more costly fare at time of booking.
Business Class (also known as Club Europe and Club World at BA) however has kept the same benefits it's always had, and quite often you can find some great value fares that don't cost much more than Economy. In fact, with the price differential often being so low, it's actually very easy to 'make up for' the majority of the upgrade cost.
Don't believe us? Well, let's play this out and we'll show you.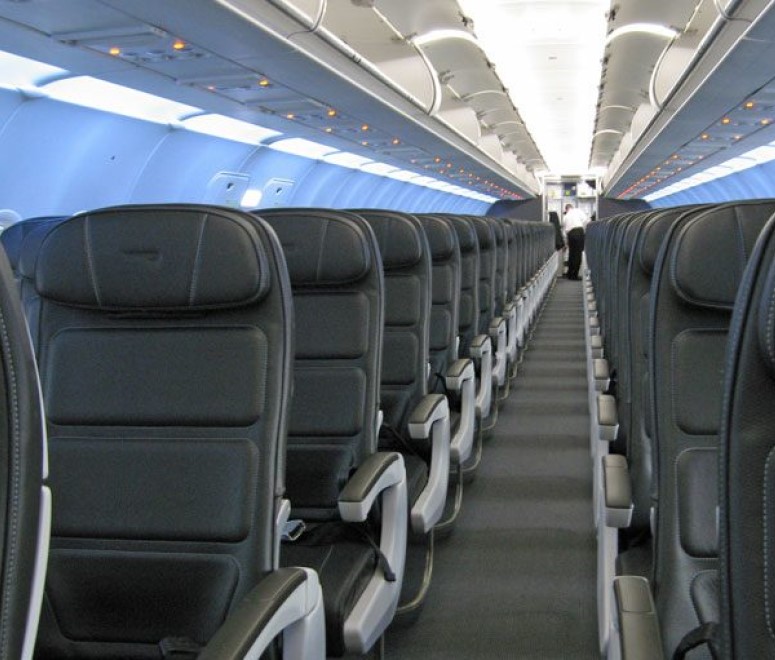 Breaking down the value
In our above example, the extra cost for Business Class was £149 return, but let's split it down the middle and say an extra £74.50 each way. With that £74.50 figure in mind, let's add on all the extras that might normally cost you a few extra pounds when flying in Economy.
Want to take two items of checked luggage with you? In Business Class you get two 23kg bags included but, with an Economy fare, it's only one piece. The price for an extra bag? £36 each way. That takes our one-way fare difference down to £38.50.
Fancy a drink or two and a small bite to eat at Gatwick? In Business Class you get complimentary access to the British Airways Club Lounge where hot food, beer, wine, spirits and Champagne available to you at no additional cost. Two Tanqueray and tonics at a bar in South Terminal, on the other hand, will cost you £5.25 each while a ham and cheese panini will cost you £7.60, a total of £18.10. Our fare difference is now down to just £20.40.
A few hours have passed and you're in the air now. Still a bit peckish? Want another drink or two? Why not, you're on holiday. A Pickering's London Dry Gin will cost you £6, a Schweppes tonic water will cost you £1.60 and a KitKat is £1.20. If you get two drinks that is a total cost of £16.40. That brings our fare differential down to just £4. Meanwhile in Business Class, a three-course meal has been served with as many drinks as you like, including gin and more Champagne.
So, for the cost of a couple of coffees, you could be sitting pretty in Business Class, rather than suffocating in Economy. Plus, on top of those real savings, you'll be able to enjoy additional Club Europe benefits that include:
Priority check-in so that you can skip the long queues
Fast Lane access at security
Priority baggage handling so that your bags are out first at your destination
Extra space onboard with a 2-2 seating configuration compared to 3-3 in Economy
A reclining seat
Increased Avios earning, which you can spend on future flights and upgrades through the Oneworld programme 
Increased Tier Points earning so that you progress to the next frequent flyer level quicker
Business Class on long haul flights
In terms of pure costs, generally speaking, you won't find long-haul Business Class fares are as close to Economy fares, like the example above. The financial step-up is far greater, so the decision about making the investment is much harder to make.
For instance, long overnight flights can warrant the use of lie-flat beds, they boast a far superior onboard service compared to that of short haul, and they come with a lavish wine list and four-course meals created by onboard chefs – and the price differential compared to Economy on British Airways can easily be by a factor of four. Is this superior onboard experience – plus all the other benefits on the ground, like lounge access and priority boarding – going to make your flight four times better? We think so.
Maximising your miles
The lack of queues, the quieter airport atmosphere, a bed in the sky and fantastic dining all add up to a more relaxed, stress-free, and luxurious experience that's worth spending more on – especially if you have accrued enough air miles. These can be a very cost-effective way to upgrade your Economy seat to Business Class, or just to simply book a Business Class redemption ticket from the outset.
Knowing how to spend your miles wisely – through the Star Alliance scheme or SkyTeam programme – will give you more 'bang for your buck'. Most of the time, you'll find that the longer the distance of your flight, the less air miles it can cost you per physical mile. Using British Airways as an example again, we see the following air mile redemption rates:

While a short flight from London to Alicante may not cost you many air miles, and may seem a good deal, you're going to get better value with your miles if you use them to fly from London to Los Angeles.
Weighing up the benefits
Another thing to remember is that not all airlines have the same amenities and benefits, so it's important to know what you're getting for your money. Some airlines may offer Wi-Fi while others will not. Some airlines may have longer beds than others, and so on.
As well as knowing which airline offer what, it's important to recognise that not all planes are the same either. One aircraft type in an airline's fleet may offer enclosed suits and an onboard bar, whereas another model won't. An airline will also frequently operate different aircraft types on the same route. British Airways, for example, fly three different aircraft types daily between London Heathrow and New York JFK. Depending on which time of flight you choose you could either be flying on a B777-200ER, B777-300ER or B747-400. The fare will still cost you the same, so being aware of what's on offer may be the difference between having a good flight and having a great flight.
The tables below show the different Business Class product in aircraft types in the fleets of Emirates, Qatar Airways, Etihad, British Airways and Virgin Atlantic. You can use this to help make an informed choice when picking your next Business Class flight, and choose what features matter most to you.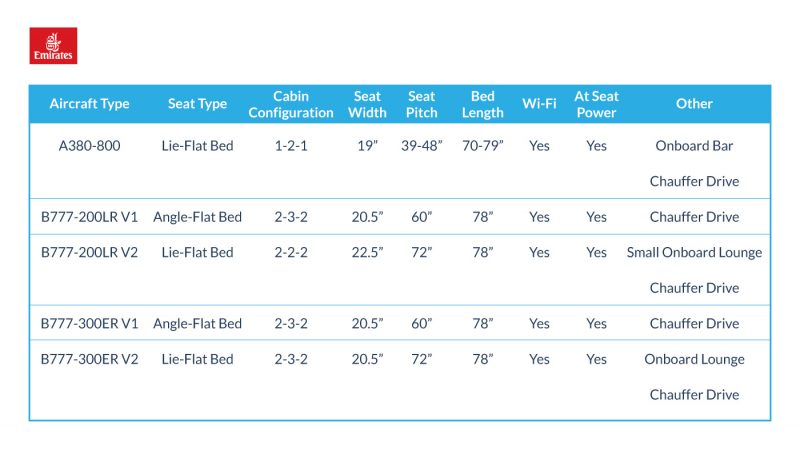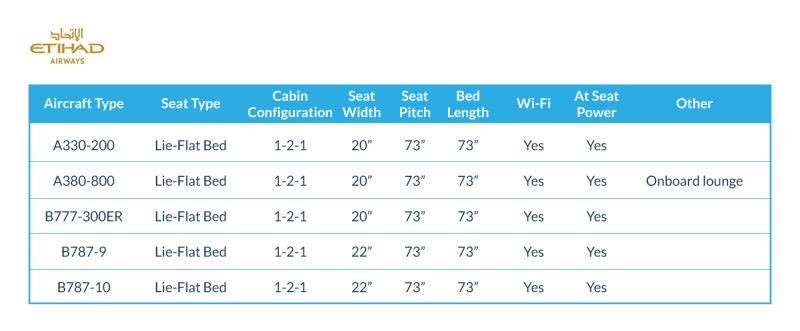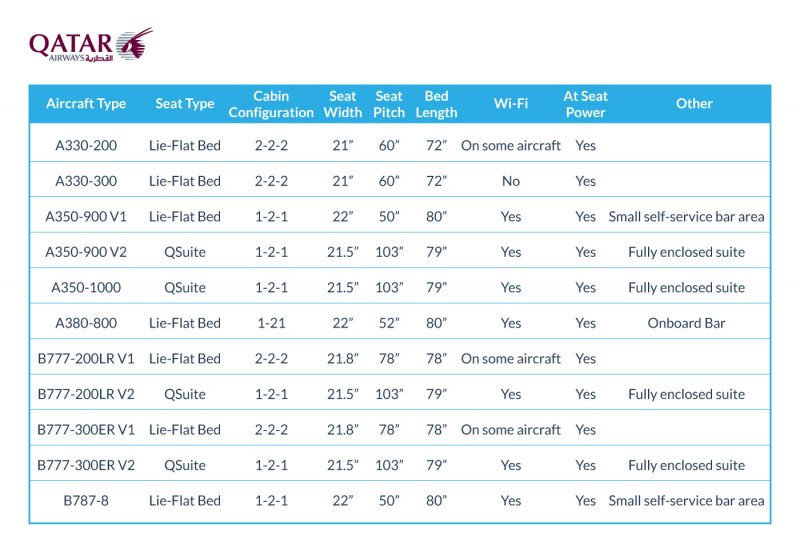 Take the leap
Flying in Business Class is something we think should be on everyone's flying bucket list (let's forget about the hallowed environs of First Class until we win the lottery, shall we?) and with a bit of time and effort spent on research, it can be surprisingly within reach. Having said that, once life at the 'pointy end' of the plane has been experienced, it makes the next trip down the back a lot harder to bear…