Welcome to our third, and final, review of airline frequent flyer programmes. These loyalty schemes allow you to earn points when you fly with certain airlines, and receive rewards like lounge access, priority boarding and free seat selection. We've already reviewed OneWorld and looked at Star Alliance. And now it's time for SkyTeam.
Please note: Not all airline tickets sold by us are eligible for mileage/points accrual. We strongly advise that you check with the airline(s) concerned regarding the use of frequent flyer membership(s) before proceeding with your booking. We will not compensate if you are unable to redeem your miles.
Who is SkyTeam?
SkyTeam is the last of the three major alliances to be formed and came along in 2000 after the creation of the Star Alliance and Oneworld. As of 2019 the alliance is the second largest by passenger figures and has over 14,500 daily flights serving 175 countries and 1,150 individual destinations.
The alliance enjoys particularly good coverage in Asia but has airlines serving five continents with Europe enjoying Air France and KLM as the primary local carriers. Other noteworthy carriers of the alliance include Delta Airlines, Alitalia, China Eastern, Aeroflot and Korean Air.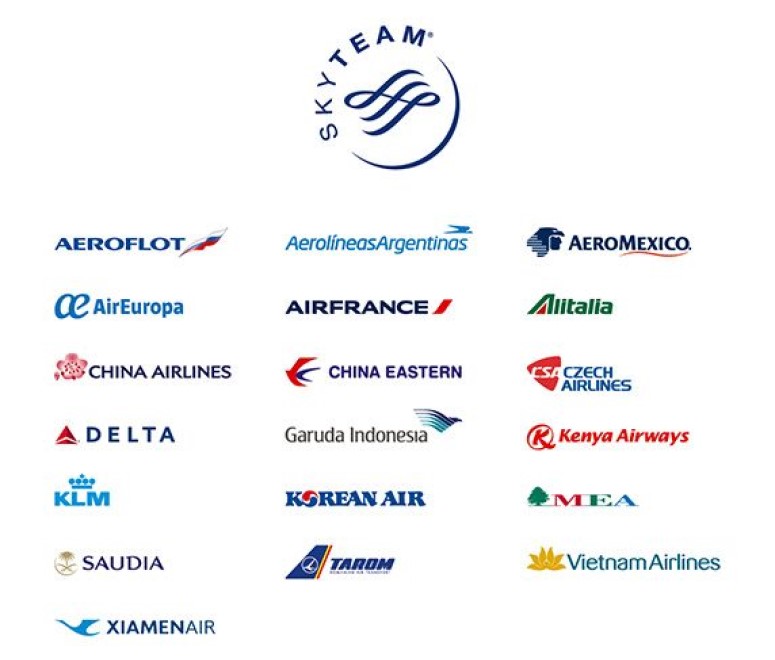 UK-based flyers
While there are no UK airlines that are a member of SkyTeam, the alliance does offer very good coverage across the country. KLM in particular have made the UK a focus of theirs for years, and currently fly to an impressive 15 UK destinations from their hub in Amsterdam. This is particularly beneficial for those living near smaller British airports like Bristol, Cardiff, Norwich, Leeds and Inverness, while larger airports like Manchester, Heathrow and Glasgow are also covered. This connectivity from the regions into Schiphol gives hundreds of attractive one-stop options throughout the expansive KLM network both in Europe and worldwide.
Flying Blue
KLM is is the most obvious SkyTeam choice for a UK resident and joining their Flying Blue programme is free and easy.
Once enrolled, you can start collecting miles and earning your way to benefits across the SkyTeam alliance. Flying Blue is also the frequent flyer programme of Air France, Aircalin, Kenya Airways, Tarom and Transavia, which makes collecting and spending points even more seamless.
Flying Blue works a lot like other programmes, in that you collect regular miles which you can use on free flights and upgrades etc. You then collect something called XP (eXperience Points) to progress through the membership tiers and on to an increasing number of perks.
Membership tiers
Starting off with zero XP, you'll be at the entry-level 'Explorer' tier. There are three tiers from here that you can progress to with the first major one being Silver. This tier is also known as 'SkyTeam Elite' throughout the alliance. The following two tiers are Gold and Platinum, which are also sometimes known as 'SkyTeam Elite Plus'.
Once you reach a particular tier, you'll have 12 months to either earn enough points to retain this membership status or to progress to the next tier. You will, however, have 15 months at any particular higher status level before dropping down a tier should you fail to re-qualify for that level.
The XP that you earn in order to reach a higher status will be subtracted from your XP counter each time you attain an elite tier. But, as a bonus, if you maintain an elite status then you get to keep any surplus XP.
The points required to reach the higher membership tiers are below, along with the benefits of each tier:
Flying Blue Explorer (Entry tier)
4 miles earned for each Euro spent
10 Euro off your first baggage item
10% off seating options
Flying Blue Silver (SkyTeam Elite)
100XP required
6 miles earned for each Euro spent
Access to priority lines at check-in, baggage drop-off and boarding
25% off seating options
Choose your standard seat free of charge
Bring an additional baggage item on all SkyTeam flights
Flying Blue Gold (SkyTeam Elite Plus)
180XP required
7 miles earned for each Euro spent
Lounge access with a guest of your choice
SkyPriority: enhanced priority access at the airport
50% off seating options
Choose your standard seat free of charge as soon as you book for you plus a travel companion
Bring an additional baggage item on all SkyTeam flights
FlyingBlue Platinum (SkyTeam Elite Plus)
300XP required
8 miles earned for each Euro spent
Lounge access with a guest of your choice
SkyPriority: enhanced priority access at the airport
Benefit from extra seating options, free of charge including free Economy Comfort seating
Bring an additional baggage item on all SkyTeam flights
Platinum Service Line access 24/7
Earning XP
You can earn XP on all KLM, Air France and eligible SkyTeam fights. The exact amount of XP you'll earn for each flight is based on cabin and type of flight. The further you fly and the higher the class of travel, the more XP you'll earn.

Earning miles
When you fly on either KLM or Air France flights, the miles you earn is based on how much you spend for your flight (minus government taxes) and what your membership tier is. The higher your status, the more miles you will earn.
Explorer = 4 miles per Euro
Silver = 6 miles per Euro
Gold = 7 miles per Euro
Platinum = 8 miles per Euro
Example: An Explorer member would be (ticket price + carrier surcharge) x 4 miles per euro spent.
When flying with any other SkyTeam airline, the miles you earn will be worked out based on the distance flown and booking class. You can find more information about Flying Blue if you need to.
You can also collect Flying Blue miles are when you don't fly, and they soon add up to rewards. Book at an Accor, Hilton, Marriott or Intercontinental hotel and you'll earn miles for each night you stay. Booking.com will also credit you 1 Flying Blue mile for every Euro spent with them. Hire a car from the likes of Avis, Budget, Hertz or Thrifty and you will also earn miles for each rental.
Spending your miles
You can spend miles on a range of items including seat selection, upgrades, award flights and even shopping. Through KLM a bottle of 50ml Hugo Boss Deep Blue will cost you 12,000 miles whereas Lancome Hydra Zen night cream will cost 19,600 miles.
Great award flights are available throughout the SkyTeam network, with fights such as Manchester to Amsterdam costing only 6000 miles one way, Leeds to Malaga return costing only 15,000 miles, and Glasgow to Singapore costing 36,000 miles.
You also have the ability to part pay for a flight with cash and miles or upgrade an existing booking to a premium cabin using your miles.
Conclusion
With SkyTeam being the second biggest global alliance, you will find that many airline and partner earning options are available. Despite the UK not having a SkyTeam airline member of its own, the sheer number of flights offered from the likes of KLM, Air France and Delta mean that you have plenty of choice to get from A to B.
The way you earn miles and XP may seem a little confusing at first but with a transatlantic joint venture between Air France, KLM, Delta and Virgin Atlantic set to go ahead, you can soon expect a more coordinated and integrated offering on flights between Europe and the USA. It's also likely that Virgin Atlantic Flying Club members will be able to spend and earn miles more freely when travelling on, Air France, KLM, Delta and vice versa. This is interesting because Virgin currently aren't a member of any alliance. But this move will open up more earning and spending options to UK-based flyers of these particualr airlines, and would be of significant benefit to the many who enjoy flying with Virgin Atlantic.
Want to compare SkyTeam rewards with other loyalty programmes? Read our reviews of the Oneworld and Star Alliance frequent flyer programmes.