We've all been there at the airport, stood in a long line for check-in, only for somebody to come breezing along, bypass the line and head straight to the front. The same goes for boarding; just how is it that some people get to board first via a swanky dedicated lane whilst the rest of us are stuck in boarding group 97? You might be thinking the answer is that these people are all travelling in Business Class and whilst some of them no doubt will be, a great deal will be travelling in Economy, just like the majority of us.
The difference here is loyalty. Airlines reward loyalty and repeat business with a range of perks and benefits. So it might just be worthwhile for you to rethink how you travel.
All the major airlines offer frequent flyer programmes in which, if you earn enough points, you are rewarded with priority check-in, lounge access, priority boarding, free seat selection and priority baggage delivery just to name a few. A good majority of these airlines are also members of alliances in which airlines work together to offer a familiar and seamless travel experience. For example, if you are a frequent flyer with British Airways and hold their Silver status, you will get the perks of lounge access and priority boarding not only when you fly on British Airways but also when you travel independently on their alliance partners which include the likes of American Airlines, Qatar Airways and Qantas. Nice, eh?
Whilst it is easy to say you should definitely join an airline loyalty program it really all comes down to how often you travel and is it worth it for you? If you travel once a year then it's going to be almost impossible to get decent airline status but if you like to get away a few times a year and don't always have to book the 'cheapest of the cheap' flights, then it's absolutely feasible to attain status at one of the airlines, if you know what you're doing.
To fast track your way to the top you're going to want to try and fly on one particular airline for all your journeys or, at the least, one of their alliance partners. There are three major global alliances – Star Alliance, Oneworld and SkyTeam. Over a series of Netflights articles we're going to explain what benefits you get being a frequent flyer and help guide you towards which alliance and airline loyalty program is best for you, starting with Oneworld.
Please note: Not all airline tickets sold by us are eligible for mileage/points accrual. We strongly advise that you check with the airline(s) concerned regarding the use of frequent flyer membership(s) before proceeding with your booking. We will not compensate if you are unable to redeem your miles.
The Oneworld Alliance
Offering a choice of thirteen members, Oneworld has been around for over two decades and includes a lot of familiar names with great coverage to over 1000 destinations across most parts of the world. If you're living in the UK then it generally is seen as the obvious alliance choice with home airline British Airways being a member alongside the those which offer flights from the UK regional areas.
Offering a choice of thirteen members, Oneworld has been around for over two decades and includes a lot of familiar names with great coverage to over 1,000 destinations across most parts of the world. If you're living in the UK then it generally is seen as the obvious alliance choice with home airline British Airways being a member alongside the likes of American Airlines, Cathay Pacific, Iberia, Finnair and Qatar Airways who all offer flights from the UK regional areas.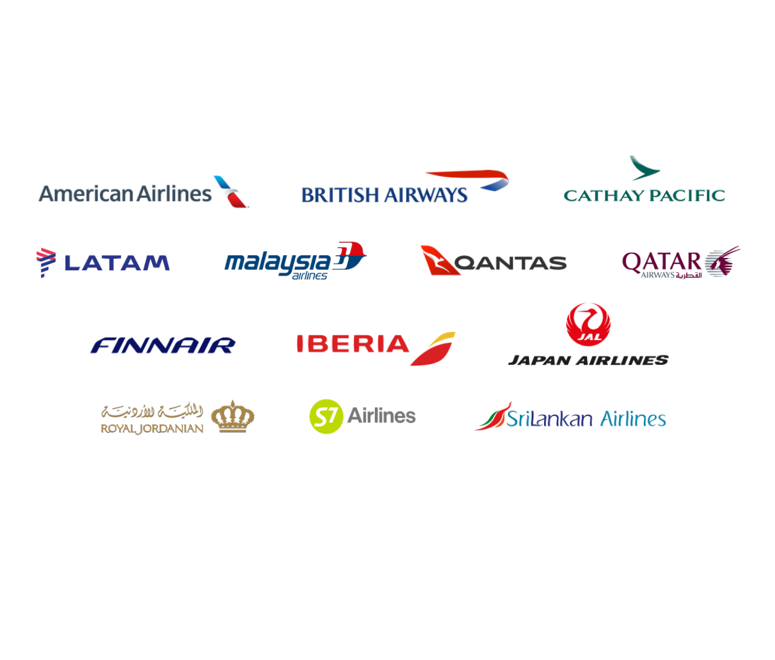 How do I get frequent flyer status with Oneworld?
Each airline runs their own frequent flyer program and they all have different names. Qatar Airways, for example, calls theirs the 'Privilege Club', American Airlines' is called 'AAdvantage' and British Airways calls theirs the 'Executive Club'. You can join any of these but to get the most amount of points quickly, you are best signing up to the airline with which you think you will fly on most often. In this example we'll look at the British Airways Executive Club, which you can join for free.
When you join the Executive Club you'll be issued an individual membership number and any time you make a flight booking on a BA or Oneworld airline in the future, you will want to make sure you add this number to your booking.
BA also offer the option of creating a household account which lets you and your family/friends pool all your airmiles together so that, one of you at least, can claim a free flight or upgrade earlier. Read more about BA Household accounts.
Two things that matter
Now that you're a part of the Executive Club there are two things that Oneworld airlines will credit you with each time you fly. At BA these are called 'Tier Points' and 'Avios' and whilst individual airlines confuse matters by each calling them different things, they all do the same thing.
i) Tier Points
These are the points that determine which status level you are and what perks you are entitled to. There are four basic membership levels:
The basic level – This is your initial level when joining and essentially you get nothing for it. It just allows you to start collecting points. BA call their tier, 'BA Blue'.
Oneworld Ruby – BA call this their Bronze tier and it is the first level you move up to after attaining 300 tier points. You can now say hello to accessing business class check-in desks (bye bye queues), along with free seat selection 7 days before departure. You will also get priority boarding, but at this level it is only when you fly on BA operated flights.
Oneworld Sapphire – BA call this their Silver tier and is reached when you earn 600 points in any membership year. As well as the perks of being a bronze member, you now get access to Business Class lounges for you and one guest plus free seat selection at time of booking, priority boarding on any Oneworld airline as well as priority tags on your bags so that, in theory, your luggage comes off first at your destination.
Oneworld Emerald – This is the top tier and is known as BA Gold. On top of all the benefits of being Silver, you now also get access to First Class check-in desks, First Class lounges as well as incremental increases to the full list of benefits, which are listed here for all of the tiers.
ii) Avios
This is the currency that airlines use which we all know traditionally as 'airmiles'. These miles don't expire every year and it is with these that we can get our free flights and upgrades.
As well as earning Avios when you fly, you can also earn them when you rent a car from Avis plus you can convert your Tesco Clubcard points into Avios at the rate of 600 Avios for every £2.50 in Clubcard vouchers. This also goes for when you fill up the car at a Tesco petrol station which means the points can soon add up.
Note: Tier points reset every year on the anniversary of you joining the Executive Club, however, each time you graduate to a new tier level, you get to keep that status for one year, regardless of if your points expire soon afterwards.
If you've made it up from the basic tier level but don't earn the required amount of Tier Points in your next membership year to keep that status, then you will drop down one level.
When it comes to rewards, your fare and cabin class matter
The class of cabin you fly and how flexible your ticket is makes a big difference in how many Tier Points and Avios you will earn. If you fly on the cheapest Economy ticket possible that doesn't allow for changes, then you won't earn much in the way of points. If, however, you book a fully flexible Business Class ticket then you will be quids in.
Of course there are options in-between which you will want to look up and decide upon based on your own personal circumstances. You can use the Avios Flight Calculator here to work out how many Avios and Tier Points a flight will earn you.
What is a 'Fare Class'?
Whilst a plane may have four different cabin classes on-board (Economy, Premium Economy, Business and First Class), each of these cabins are split up in to what are known as Fare Classes. These classes define how much a seat will cost based on the rules and benefits that you will get, including how many Tier Points and Avios you get. Generally speaking, the cheaper the ticket, the more restrictive it is.
Note: A fare class will only have a certain amount of seats allocated to it and so when it sells out, that is when you notice that ticket prices go up!
An example:
This is an example for the lowest available Economy fare, including bags, from Heathrow to New York JFK on 4th November 2019.
On BA.com go through the process as if you are booking a normal flight. When you get to the page to review your flights, click on 'Flight Details' as shown below:
The following screen then shows your fare class: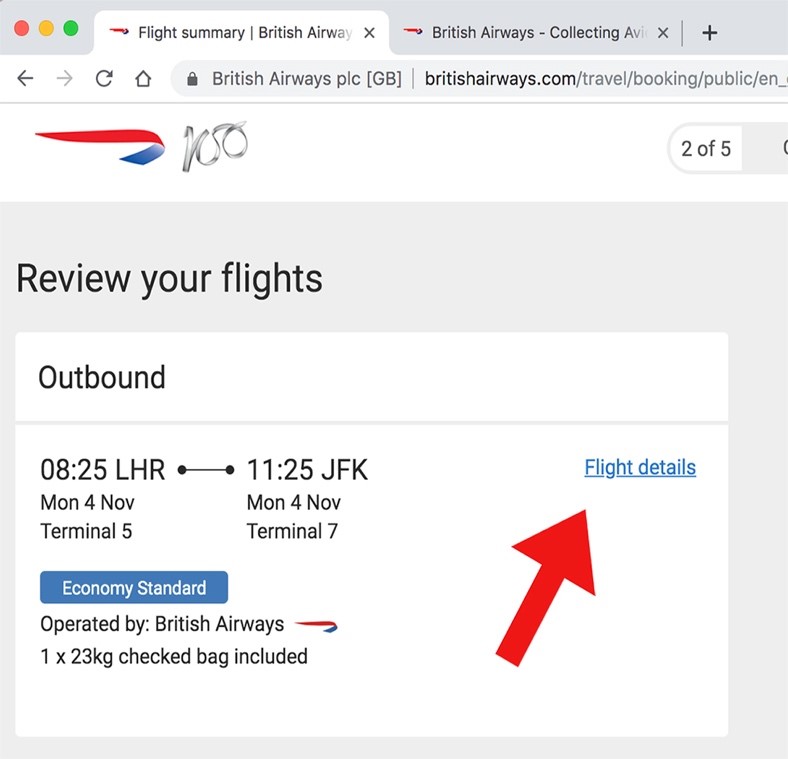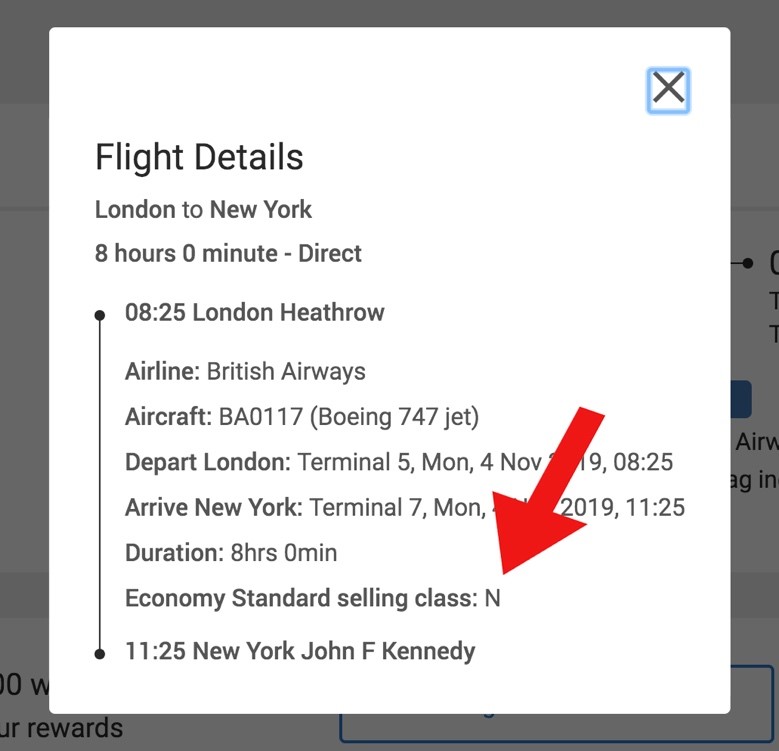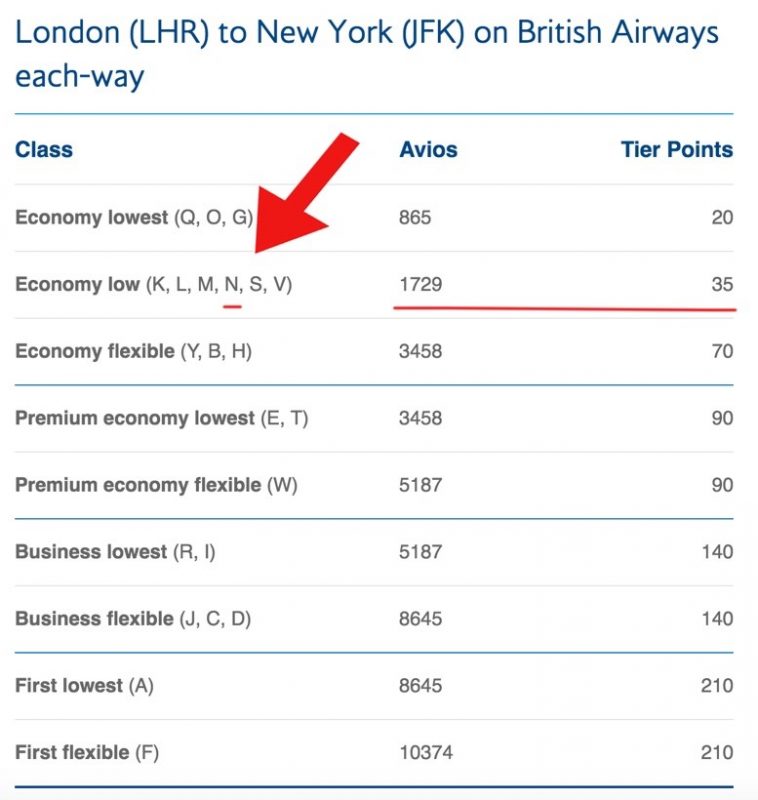 As shown in the table from the flight calculator, you can see that, in this case, an Economy flight (N Fare Class) from Heathrow to New York JFK earns you 35 tier points and 1729 Avios. The cheaper Fares Classes of Q, O and G were already sold out at this time but you can see how they do earn less Tier Points and Avios.
Armed with this info, you can now book the flight with Netflights.
Spending your Avios
Once you get enough Avios you can start to spend them and treat yourself a little. You can use Avios to pay for flights in their entirety (excluding taxes), part pay for flights with both money and Avios or simply use them to upgrade a flight from Economy to Business Class.
You'll want to make sure you get the most out of your Avios so it's always best to compare how much different things will cost you. The easiest way to do this is to make a dummy booking by logging in to your Executive Club account and clicking on, 'Book a flight with Avios'. For example, you can book return flights from London to Santorini in Business Class on British Airways for just 40,000 Avios and £59 in taxes. An Avios booking from Manchester to Doha on Qatar Airways costs 41500 Avios plus £278 in taxes.
You can also use your Avios to book hotels and car hire and what's more is American Express offer a British Airways credit card that allows you to collect Avios each time you spend. You can earn 1 Avios for every £1 spent and spend £20,000 in any one year and Amex will give you a complimentary 2-for-1 voucher for use when you redeem your Avios on a BA flight. This means that you can take a friend or partner with you for free!
Conclusion
It's not completely straight forward when you first start collecting airmiles but if you travel frequently and have a preference in which airline you fly then you might as well start collecting what is rightfully yours. There are many additional ways to earn airlines, even when you aren't flying, and pretty soon those points will add up. And what do points make?…
Want to compare your membership options? Read our reviews of the frequent flyer programmes offered by Star Alliance and SkyTeam.