Another Netflights team member shares their experience. This time we're travelling to the Red Centre, Australia.
Our top picks…
Alice Springs
West MacDonnell Ranges
Kings Canyon
Uluru (Ayers Rock)
Kata Tjuta
Before this trip I didn't know a huge amount about the Red Centre. I knew it was in the Northern Territory, Australia. I knew it was aptly named because of the red colour of the earth in this area. And, I knew the main attraction was Ayers Rock. But that was about it. Well I was about to be blown away as there is so, so much more to the Red Centre than this!
Home to one of the oldest living cultures on earth, the Red Centre is the heart of the Australian outback and it amazed me just how much history there was to discover. The landscape changed constantly from lush greenery to red desert sand and what's more there was simply so much to do that five days flew by and I could have happily spent longer exploring what is now one of my new favourite destinations.
Here's a rundown of the areas we visited and some of my highlights of the trip!
We arrived into Alice Springs and immediately started exploring the area with visits to the Royal Flying Doctors Service, the Reptile Centre and Anzac Hill. I was pleasantly surprised by the Royal Flying Doctors Service – you don't stop to think how vast Central Australia is, we take for granted in the UK that medical provisions are just around the corner, but in some areas of Australia you can be hundreds of miles away from the nearest hospital! Each year The Royal Flying Doctors Service attend to 270,000 patients and fly the equivalent of 25 round trips to the moon.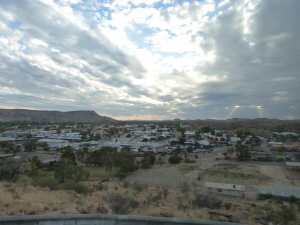 Now one thing I thought I knew about the Red Centre was about to be proved wrong. I thought it was all desert and sparse landscape. But the West MacDonnell Ranges proved me wrong. Following the famous Larapinta Trail (a world-class 139-mile walking trail), it is full of swimming holes, chasms, gorges and bush walks. A particular favourite was Ormiston Gorge, where the Ghost Gum Lookout offers spectacular 360 views of the ranges.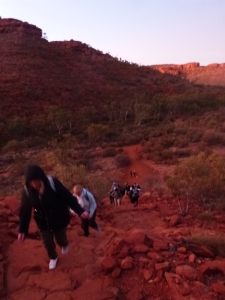 This was a top contender for my favourite place in all of the Red Centre. Located in Watarrka National Park, Kings Canyon is a mighty chasm reaching depths of 270 metres. The Rim Walk was one of the best things I have ever done. We started nice and early (before the sun was even up) and just about made the 500 steps to get up onto the rim. Once up there the views are simply stunning and it was a relatively flat 6km walk around the rim, which took around three and a half hours. At times it felt like you were on the moon as the landscape was full of unusual rock formations and craters. It's really not to be missed.
Our last stop was the almighty Uluru, which I wrongly assumed was 'just a really big rock'. And how very wrong I was. Steeped in ancient aboriginal culture Uluru has almost a magical draw which is both fascinating and unexplainable. There are several areas of significant importance which are so interesting and intriguing. Here my highlight was most definitely the sunrise, watching the colours of the rock change into warm oranges and reds. Another fantastic thing to do is the sunset camel ride, where you venture out into the desert on camel back and watch the sun set over Uluru and Kata Tjuta.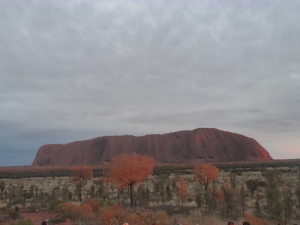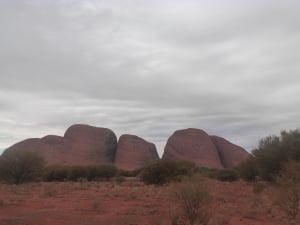 Uluru's next door neighbour in Uluru-Kata Tjuta National Park is, as you may have guessed Kata Tjuta or The Olgas! It can often be over shadowed by its more well-known neighbour, but Kata Tjuta is well worth a visit in its own right. Made up of 36 domes, the highest of which stands at over a 1,000 metres – which is actually higher than Ayers Rock. There are a number of walking trails including the Walpa Gorge Walk which lives up to its translated name of 'windy' gorge!
Now it's time to plan your own Red Centre adventure
That was a lot to fit into five days and covered over 1,000 miles travelling but every minute was worth it. I wasn't sure what to expect from the Red Centre but now I can't recommend it highly enough. Just make sure you pack comfy shoes, a water bottle and an adventurous spirit!