A bit of organisation before you leave home can mean the difference between a tiring, frustrating trip and one that's fun and far more care-free. Two main principles inform all good packing – pack light, and choose the right kind of luggage. If you usually take eight pairs of shoes and enough cosmetics to open a pharmacy, we've got some handy tips for you. Here's our handy holiday packing list.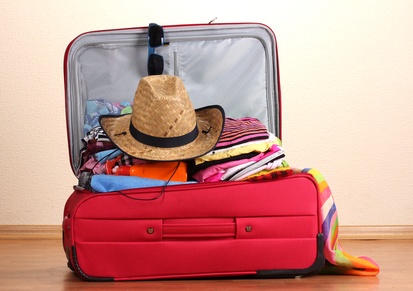 Take just one piece of hand luggage
The wisest travellers fit their belongings into a single bag that meets airline regulations for hand luggage, and that will fit into the overhead bin. This isn't as restrictive as you might think. Different airlines apply different weight and size restrictions. British Airways, for example, allows passengers to carry hand baggage with the maximum dimensions of 56 cm x 45 cm x 25 cm and a maximum weight of 23 kilograms – as well as a handbag or laptop. However, an ideal weight to aim for would be more like 10 to 15 kilograms.
There are definitely advantages of using just one carry-on bag as your luggage:
You'll have the bag with you, so it won't be misdirected, lost or stolen while you're en route to your destination
You don't have to wait at a luggage carousel after you touch down
You can easily carry everything yourself and keep track of your possessions
You don't have to pay for hold luggage
If you plan on buying goods such as souvenirs and gifts during your trip, you can easily purchase a second bag close to the time of your departure, fill it with your purchases and bring it home with you. To make sure everything fits, read our top tips for packing hand luggage.
Pack light
Easier said than done, but is is do-able. First off, make sure you pack essentials that could be difficult to find abroad, like prescription medicines. But don't pack large containers or bottles of widely available cosmetic items, like shampoo and shower gel. Remember, even if you're travelling somewhere exotic, other countries do have shops!
Your clothing needs will differ depending on whether you're going somewhere warm or cold, and on the purpose of your travel. However, it's always best to pack mix-and-match items in co-ordinated colours, so you can carry less. For example, instead of packing a top that only goes with one pair of shorts, pack versatile tops that can be worn with a number of other items. Also, focus on packing what you're normally comfortable and confident wearing at home, instead of carrying lots of newly-purchased clothes that you may not want to wear.
Choose the right bag
An old-fashioned suitcase is heavy and difficult to carry, especially up flights of stairs or through narrow or crowded areas. Instead opt for a roll-on bag with wheels and a handle, a convertible backpack/suitcase or an internal-frame backpack. Also consider packing a lightweight, nylon day bag that you can use when you're out and about to carry necessities, and a money belt for keeping your passport and money secure.
Your holiday packing check list
Of course, you'll have specific things you need to take for your destination. But, when you're packing for your trip, you can use use our handy check list to make sure you've covered all the basics.
Money belt and your preferred mix of a credit card, debit card and hard cash
Passport, printouts of any airline or rail tickets, hotel and train reservations, car-rental voucher, driver's license and any other useful cards, such as a student ID
Photocopies of your passport and two passport photos, in case the priginal is lost or stolen
Travel insurance documents and emergency contact numbers
A guidebook, if you'll need one
Up to five short-sleeved or long-sleeved shirts or blouses
A pair of trousers and two pairs of shorts
A swimming costume
Cardigan or jacket
Tie or scarf, for jazzing up your outfits
Five sets of underwear and socks
Comfortable, lightweight outfit for sleeping and lounging
One comfortable pair of walking shoes and, optionally, a pair of flip-flops
A camera and laptop or notepad if required
Contact details of friends and family
A small notebook and pen, and an empty diary or journal
A compact toiletries kit, containing basics like a small soap, shampoo, brush or comb and nail clippers or scissors
A hair-dryer, if you rely on one, and shaving equipment