If you're looking to capture some Insta-worthy shots for the 'Gram, we'd recommend adding Singapore to your travel hitlist. It's an Instagrammer's paradise with tonnes of amazing photo opportunities. Here, we've highlighted some of our top Instagrammable places in Singapore that you should definitely check out. Get ready to make your friends and family back home jealous.
Jewel Changi Airport
Jewel Changi Airport is not only one of the best airports in the world, it is a must-see tourist attraction itself, offering a range of great restaurants, top-notch shops and breath taking spaces. Prepare to be well and truly wowed!
One of the most Instagrammable areas of the airport is the HSBC Rain Vortex. The world's tallest indoor waterfall, it stands seven storeys tall and pumps 500,000 litres of rainwater through the roof of the Jewel building. Evening is the best time to go; every hour between 7:30pm and 11:30pm, the waterfall turns into a light-and-music spectacle.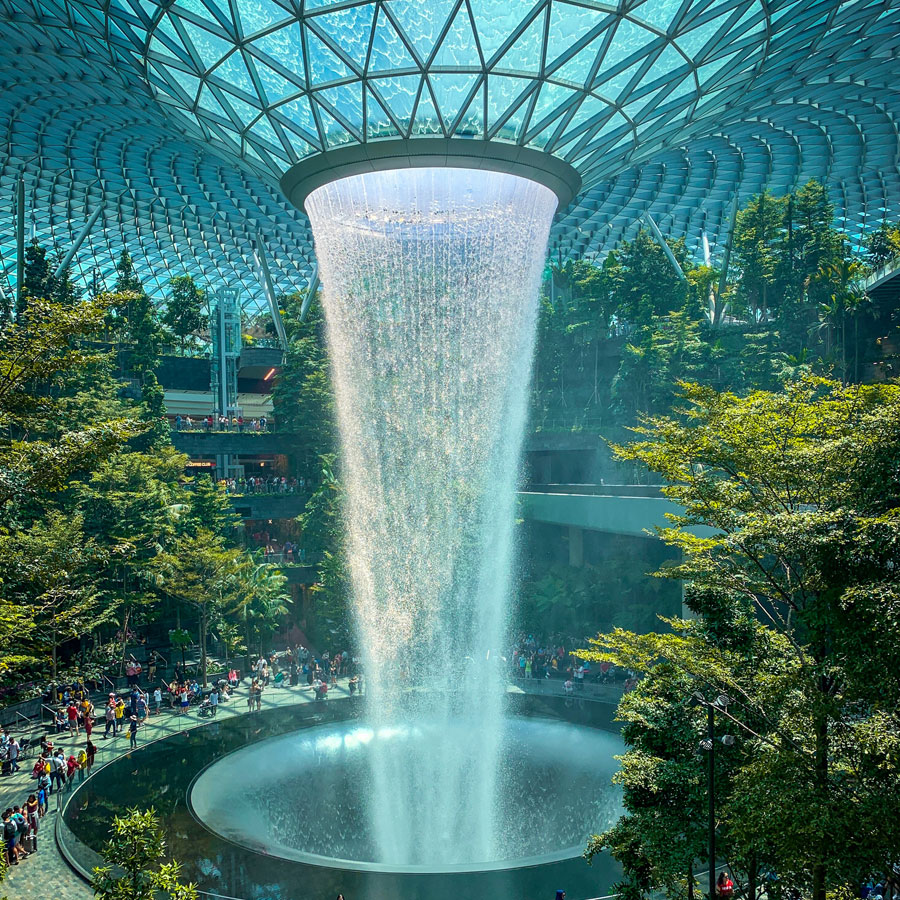 Supertree Grove – Gardens by the Bay
No trip to Singapore would be complete without a photo in Supertree Grove – an iconic Singapore hotspot. These impressive man-made trees soar 25 to 50 metres in height, with two of the towering structures connected by the dramatic arch of the OCBC Skyway. And when night falls, the Supertrees light up the sky and twinkle in time to music.
For an unforgettable view of Singapore, make sure you go to the top of the Supertree Observatory, which boasts unobstructed vistas of the beautiful Marina Bay district. Visit an hour before sunset to see the city at 'golden hour' and get great shots of the natural warm sky.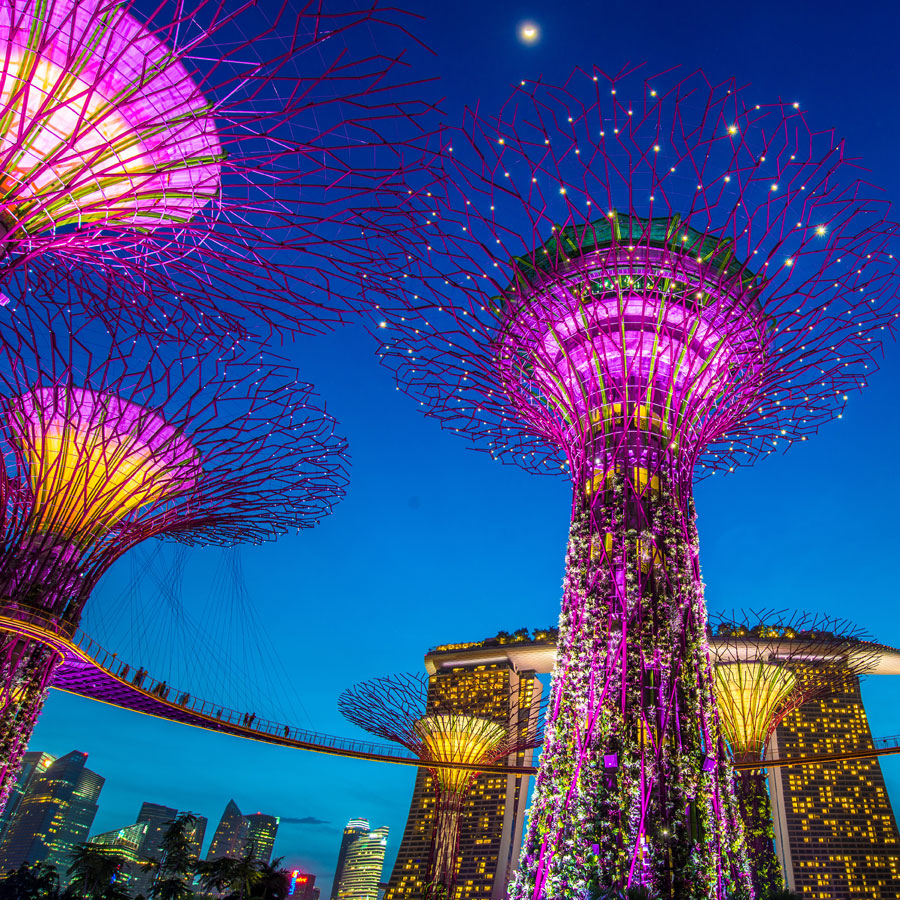 Helix Bridge
Helix Bridge is modelled on the double helix DNA molecule. It's the longest pedestrian bridge in Singapore, serving as a link way between Marina Centre and the Bayfront area. The bridge is illuminated at night, too, so it's even more remarkable. If you're looking to capture gorgeous city views, this is the place to go.
The bridge can become quite busy during the day, as it's a popular route to Marina Bay Sands. So we'd suggest visiting early in the morning or late at night, to avoid the crowds. It's also a great sunset spot!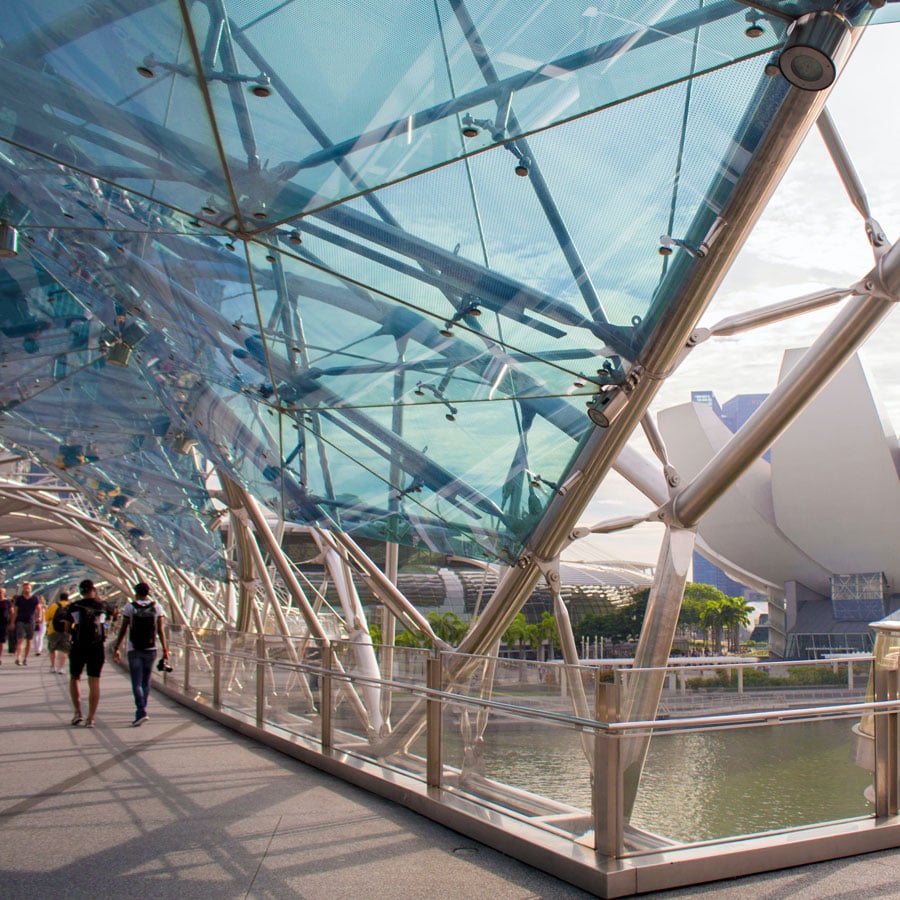 Little India Rainbow House
Little India is one of Singapore's most colourful historical districts. This place is filled with charming shophouses, beautiful age-old temples, contemporary street art and hip eateries, as well as vendors selling silk, spices and flowers.
While there are many photo opportunities here, the most Instagrammable place is the colourful House of Tan Teng Niah, which is famed for its bright rainbow exterior. Arrive early in the day to avoid unwanted photobombs.
Singapore Botanic Gardens
The Singapore Botanic Gardens is a great place to enjoy some downtime and retreat from the fast-paced city. It was Singapore's first UNESCO Heritage Site.
Inside the Singapore Botanic Garden, you'll also find the National Orchid Garden. Home to over 1,000 species and 2,000 hybrids, this garden is a must-visit for nature-lovers, and you'll have loads of pretty photo opportunities. The iconic Instagram shot here is the green archways, which are located close to the entrance.