'Exotic.' If ever a place deserved that description, it's Borneo. This island in the South China Sea, with its lush rainforests, jagged peaks, ancient rivers, sheer valleys and diverse tribal people still living off the land, is truly a world apart.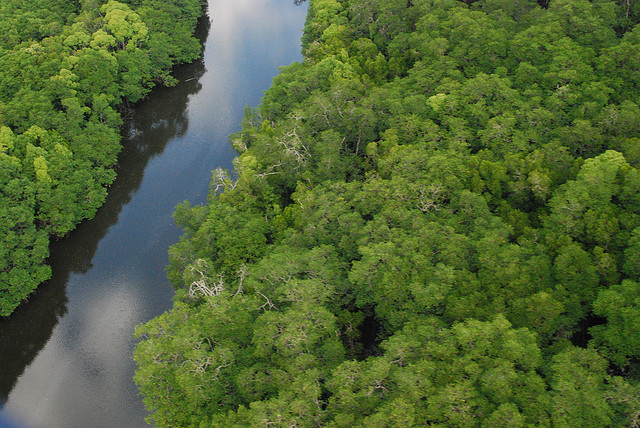 image from flickr
It's a nature and adventure lovers' paradise, with plenty of luxury at unique resorts to add to the mix.
A hotel like the Shangri La, 40 minutes from Kota Kinabalu's airport is perfectly set on a sweeping beach on the edge of the jungle. You won't want for anything, from activities like horse riding and jet skiing, to a bath on your room's balcony, perfect for watching the sun go down.
Away from the creature comforts, adventure awaits. This is a land of many exotic, sometimes endangered, species:
orang-utans, proboscis monkeys, Borneo rhinos, pygmy elephants and turtles.
Borneo's orang-utans are famous and you can get up close to them at the Semenggok Wildlife Rehabilitation near Kuching. Sepilak is another place to see them.
Of course, nothing quite beats seeing animals in their natural habitat, so a visit to the Bako National Park of Brunei is a good option. Though the smallest of Borneo's many parks, it's the longest established and a good place to track down the rare proboscis monkey, bearded pigs and at least 150 different species of birds.
Areas like Sabah and Sarawak are truly the most untouched wildlife habitats in all of Asia. Stay in a jungle lodge to get a real taste of the local culture. You'll hear about the headhunting that went on here until as recently as the 1960's, sample the 'tuak', a potent rice wine, and try your hand (and mouth) with a traditional blow pipe.
Staying in a local tribal lodge is a good base to see the wildlife. You'll have a head start to see the jungle creatures at the best time of the day: early morning and late afternoon.
Borneo's wonderful wildlife continues beneath the sea. It is a magnet for divers and snorkelers in search of beautiful subsea sights and species. Probably the best diving is off the islands of Sipadan, Mabul and Kapalai. An hour's boat ride from the eastern town of Semporna, you'll be amongst the finest coral reefs and dive sites on earth.
On land, the trekking is exceptional too. Many head up Mount Kinabalu, the highest peak in South East Asia at 4093 metres. It's two day's pretty strenuous trek with one night outdoors on the way. Watching the dawn breaking from the summit is always worth it. The softy's way of enjoying this great landmark is a scenic helicopter flight.
However you work up an appetite, the food on multi-racial Borneo is extremely varied. There's pretty much every style of cuisine in Asia: at least five regional Chinese types, Indian, Indonesian, Japanese, Korean, Thai, and, of course, Malaysian specialities like satay. Make sure you try the local staple of a roti canai, a pancake-like bread with curry sauce. Mmmmm. Wash it down with a cool, refreshing drink of 'air kalapa', coconut water.
Another local delicacy that you might want to try if you're brave enough is the fruit that's so smelly it's not legally allowed on public transport. The durian is a staple of the Malaysian diet. Look for it in the colourful food markets, along with other exotica like the hairy red raambutan, the juicy purple mangosteen and the dragonfruit.
By the way, the best and most comfortable time to visit Borneo is in the dry season, starting in March/April.
It works as a destination in its own right or as part of a trip to Peninsula Malaysia.
However you plan your visit, let us know how you get on, the highlights, and any good tips you pick up on the way.
We'd like to hear all about your great Borneo adventure.