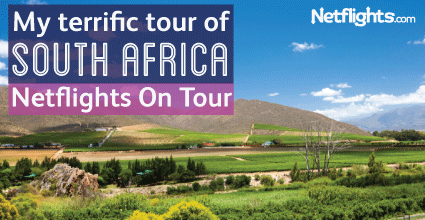 South Africa; the Rainbow Nation, safari central, home to the 'big five', land of incredible wine and diverse landscapes every which way – it's no wonder that when a trip to this fascinating country was up-for-grabs, the queue of willing travellers from the Netflights.com team snaked around the building… twice!
Alas, there could only be one lucky jet and setter, it made sense for that to be our king of our South Africa product team (not quite a jungle, but not far off), Ross Sinclair. He packed up his trunk (ha-hmm) and headed off on his eleven day extravaganza, taking in mountain views, drinking in the winelands, making a splash at the Victoria & Albert Waterfront and much, much more.
Day 1 – We arrived in Cape Town in the early evening and headed straight to our hotel, the five-star Table Bay Hotel, situated on the Victoria & Alfred Waterfront – a beautiful area at the foot of Table Mountain.
Day 2 – The next morning we took a cable car to the top of Table Mountain and – as you can imagine – were wowed by the out-of-this-world views.
Back on terra firma, our next experience was the Walk of Freedom Tour, which was both incredibly humbling and incredibly interesting. The tour starts with a visit to the District Six Museum, which highlighted the past struggles within South Africa. Then we moved onto one of the oldest apartheid housing schemes in the Cape, visiting local markets and even a traditional healer. We visited the townships of Khayelitsha and Gugulethu, where the local people were oh so welcoming. Next we took a 30 minute ferry ride to Robben Island Prison Museum, we were met by our guide, a former political prisoner – who better to show us around?
Day 3 – On the third day we left Cape Town and made our way to the Winelands – an area filled with beauty and home to many wine trails. We stayed in Franschhoek, which is not only known for its wine, but is also famous for its food, and after a visit to La Petit Ferme restaurant I could see why! Our hotel for our stay in Franschhoek was the quaint Protea Hotel Franschhoek.
Day 4 & 5 – In the late morning we set off to enjoy a day hopping on and off the famous ranschhoek Wine Tram, and what an experience it was! Definitely one of the best ways to capture the picturesque vineyards, breath-taking scenery, world-class cuisine and, of course, sample the fine lines. There are two routes you can travel on, the red line or the blue line, both included a number of stops at wineries along the way, and we were lucky enough to experience both.
Day 6 – Today we flew to Durban – South Africa's third largest city – arriving in the afternoon, we had the rest of the day to explore. We visited uShaka World, one of the world's largest aquariums with an impressive collection of sharks. We ended the day at uShaka Beach to admire the sand art and watch the sunset, before heading to our hotel – Southern Sun Elangeni & Maharani.
Day 7 – After breakfast we set off on the hour and a half drive to Drakensberg, the views along the way were just incredible and like nothing I've ever seen before. We made a stop at Howick Falls – a 300 foot waterfall, the thundering water was completely mesmerising. Continuing on through the Southern Midlands Meander Route, we stopped off to see some of the famed handmade goods being created right in front of us, before going in search of some age-old bushman paintings. These rock paintings are intriguing and served as a rightful reminder that South Africa is steeped in phenomenal history.
Then it was time to head to our hotel for the evening, the beautiful country-style Cathedral Peak Hotel.
Day 8 – After a morning hike to watch the sunrise, we started to make our way to Umhlanga (pronounced Umshlanga), travelling to the Dolphin Coast, and as its name suggests, it's home to bottlenose dolphins who come into the shallows to feed and play. Retail therapy followed, as we enjoyed a spot of shopping at the Gateway shopping Centre – the largest shopping mall in Africa, before checking in at The Oyster Box, a five-star luxury seaside hotel, with unbelievable sea views.
Day 9 – This morning we made our way to Shakaland – a living monument to the Zulu culture. This was an eye-opening experience into the lives of the Zulu nation, and probably one of my favourite parts of the trip. After we arrived we enjoyed the Nandi Experience – a guided tour throughout Shakaland's Royal Kraal, where we listened to tales of ancient legends and watched as the tribe weaved baskets and made beer, then there was a spectacular dance show, with a traditional lunch to follow.
Day 10 & 11 – The next two days were ours to explore Umhlanga, I made sure to take advantage of the warm Indian Ocean and tried my hand at a spot of surfing, although watching the professionals provided just as much entertainment. I also was keen to indulge in the hotel's spa, making sure I was relaxed, rejuvenated and ready for my trip back home to the UK.