Our previous entries of the #NetflightNotebook series have seen us take you to one of the busiest cities in world, New York, and then across the other side of the world to the hedonistic beach-city paradise of Sydney. This week we've decided to head to South Africa and ex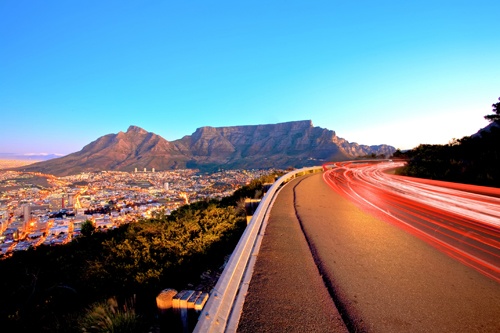 plore the other side of the wondrous Cape Town.
This stunning location is surrounded by some of the most beautiful scenery a holiday destination could offer, with vast mountains around the city and views of stunning blue coastline as far as the eye can see. It's obvious why this particular part of South Africa has become a favourite with tourists from all over the world.
Other side
Aside from this beautiful landscape, there's much more to Cape Town than meets the eye.
So take a look at our exclusive guide and find out how you can experience this amazing place as if you were a local.
Beaches
One of the attractions of Cape Town is the beautiful weather coupled with the fantastic coastline. And with coastline comes beaches. There are many fantastic options for tourists, but if you go a little further afield, you'll experience some stunning quiet spots.
Head to the small but beautiful boulder encased Beta Beach, which is only a 10 minute drive from the city centre, or head in the direction of Cape Point and relax on the isolated Smitswinkelbaai beach. Here you can enjoy snorkelling and take in views of the valley courtesy of the Cape of Good Hope Nature Reserve.
Other secluded beaches such as Oudekraal and Tietiesbaai offer excellent relaxing retreats for those that want to kick back, relax, and enjoy the beauty of Cape Town without the interruption of too many tourists.
Bars
Although relaxation is a signature part of the city with its beautiful weather and stunning landscape, Cape Town is also home to a vibrant and thriving nightlife.
For those who thrive on lively action packed nights, head to Fusion Bar. This edgy alternative venue offers exclusive live gigs and is a favourite of many locals.
However if it's live music that you want, then The Assembly Club & Live Music Venue is the perfect place. As one of, if not the best live music venue around, it presents live performances from big bands, holds exclusive small shows, and even plays home to a few electro nights.
The Café Caprice shows a completely different side to the wild and eclectic nightlife on show here. This buzzing and trendy venue offers up food, drink and all around sophistication – think of it as a casual haunt for the 'hipsters' of Cape Town. For a bit more of an alternative relaxed vibe in this otherwise lively city, then check out the Boardhouse Surfbar and Skatepark, where a colourful blend of surfers, skaters and the likes mingle in a relaxed atmosphere to a diverse array of music.
Food
Heading to such a fantastic location and not experiencing the local culinary delights would be a travesty; so stay clear of the obvious places, and don't order the English option on the menus.
Check out Addis in Cape for a truly unique dining experience. Here you'll be treated to an authentic Ethiopian foodie experience, as you take in the history and traditions of Ethiopia that the restaurant strives to showcase.
If you're travelling on a budget, then some restaurants and bars in Cape Town may appear slightly pricey. However don't panic as Mynt Café offers up a wide selection of culinary delights to those who need to keep an eye on their wallet. Situated on the beachfront this reasonably priced destination offers everything from breakfast, lunch and dinner to colourful cocktails, tasty wines and even music from a variety of DJs. You don't have to break the bank to have a good time in Cape Town.
Andy's Sushi Bar is an amazing experience to behold. Found at Sea Point, this small and humble restaurant may not look like the first stop for delicious foods, but with a lively atmosphere and fresh sushi prepared to the highest standard, this restaurant is an excellent alternative to others in the city.
Finally if it's a truly unusual experience you want, grab brunch at the Old Biscuit Mill's neighbourhood goods market. Here you can choose everything from fresh seafood paella, wood fired pizzas and huge mouth-watering burgers, alongside a seemingly never ending array of breads, dips and spread. This is a one of a kind eating experience you don't want to miss.
Shopping
There are a number of great shopping malls in Cape Town, but to really get the authentic experience, head to the more unusual markets that are frequented by locals and feature unique offerings all around.
For a truly unusual experience check out the Milnerton Flea Market, an open air bazaar which has become a utopia for those who love bargain hunting, old odds and ends, vintage antiques and unusually intriguing junk. You can get anything here from food, vases, bird cages and records to glassware, cameras and traditional African masks.
Go and grab yourself a beautiful bouquet of flowers from the historic Adderley Street Flower Market. Open Monday to Saturday every week it features an array of beautiful and colourful exotic flowers.
Aside from these, there are various other markets such as Imagenius, Baraka, Heartworks and the Pan African Market, offering up a whole host of different goods including  tailored garments, old folk art, third world knick-knacks, woven baskets, pop art pictures, Indian bound leather note books and Victorian tiling, amongst other treasures for you to indulge yourself in.
Alternative things to do
One of the most popular things to do in Cape Town is get a cable car to the top of Table Mountain and observe the spectacular views. You can't come to the city and not experience this, but there are also a number of alternative options you wouldn't want to miss out on.
Hike across Silvermine, which is in the Table Mountain National Park, and offers excellent hiking trails and spectacular views of the peninsular. Or head to Ocean View Drive to bask in the spectacular sight of the glistening waters, while sitting on the rocks to look at the spectacular rock face of the 12 Apostles. Finally there's Lion's Head, which offers another array of excellent and un-crowded hikes, which give some of the best views around, including of Table Mountain.
Sticking with the natural side of Cape Town, there is an abundance of magnificent wildlife to observe, in various areas throughout. The African Penguin is known to frequent Boulder's Beach, giving you the perfect opportunity to observe these amazing animals in their natural habitat. If you miss out on the penguins, jump on a boat from Fish Hoek Harbour, and visit the small colony of Cape Fur Seals only a few bays away.
If you prefer your animals with a bit more bite, then you can check out South Africa's diverse shark population. With around 40 species of shark calling the waters of Cape Town home, you can take a 110 mile journey to Gansbaai, and take a cage dive in the white shark capital of the world with a number of companies, including Shark Diving Unlimited and UnrealDive.
Finally, explore the history of Cape Town by checking out a number of museums spread throughout the city such as The Iziko Museum, The Iziko Slave Lodge and The Iziko Planetarium.
So if you're planning on travelling to Cape Town, make sure you go off the beaten track and do more than the 'touristy' thing – because as you see there's much more to Cape Town than meets the eye.