Travelling to New York can be a little scary, especially when it comes to getting from the airport. In a place filled with dozens, upon dozens, of airports knowing where to fly can be a bit of a tricky situation; however there are three main ports of call, which makes things easier.
But when it comes to getting from the airport to your intended destination, which one is best? We've highlighted some of the options you have for each airport, to help you decide which is best for you.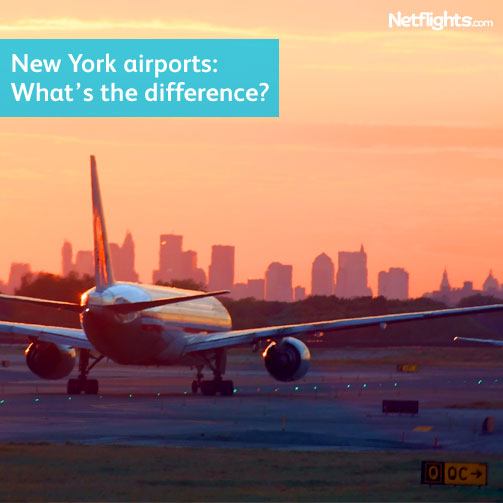 John F. Kennedy International Airport (JFK)
With more than 29 million passengers each year, chances are JFK will be your airport of choice. Located on Jamaica Bay in Queens, JFK is extremely central and only 15 miles away from Midtown Manhattan. Due to its close proximity travellers can reach this area within 45 minutes by car; however this will take a little longer with some forms of public transport.
So what transport is available from JFK?
JFK transport
There's a 24 hour AirTrain that runs from the airport, providing connections to various areas in the city via the subway, with a $2.50 subway charge. This is extremely quick and easy; just remember if you return this way, use the A train marked Far Rockaway or Rockaway Park.
There are taxis available outside each terminal, which charge a flat out rate of $52 to anywhere in Manhattan, plus any toll fares. When returning to the airport, you'll be charged the usual metre rates.
Rather than waiting for a taxi you can use pre-arranged car services you can organise beforehand, or call when you arrive. There are also private shuttles such as Go Airlink NYC, with starting prices of $18 per person and operating 24 hours a day, or Super Shuttle, which runs 24 hours a day and coast $15 – $19 depending on destination.
If you want to drive yourself, there are wide selections of rental car companies, charging a varied range of prices. However with parking in the city being expensive and difficult to find, alongside a lot of traffic, your money is probably better spent on the other forms of transport during your vacation.
Newark International Airport (EWR)
As a major hub for United Airlines, Newark airport sees more than 30 million passengers a year. When you're checking the cost of flights, you may notice that flying here works out a little cheaper. However the airport is located slightly further away from midtown Manhattan, situated 16 miles across the Manhattan River in New Jersey. Because of this, taking a car or taxi tends to be more expensive than travelling from JFK, which may or may not make those cheaper plane tickets seem worthwhile. However the AirTrain services from Newark are extremely efficient and easy to use.
EWR transport
Taking the AirTrain service from the airport is the quickest and most efficient way to access Manhattan from Newark. Offering a connecting service to NJ Transit and Amtrak Trains, the service is also extremely cheap, with $11.55 gaining you a one way ticked to Penn Station. The service runs from 5am – 2am.
Taxis from Newark Airport are more expensive than those from JFK, due to the fact they're metered fares (plus tolls), rather than a fixed price. These run outside each terminal and cost anywhere between $50 and $75. There is also an additional fee for luggage over 24 inches. When returning to the airport, metred fares can cost between $69 and $75, plus tolls, and a $15 surcharge.
Car services and private shuttles are also available from Newark, just as they are from JFK. Shuttle providers such as Go Airlink NYC offers shared transfers starting at $12 per person and private transfers for up to 11 passengers for $64 – $133 a transfer; operating 24 hours a day. Other services, like Newark Liberty Airport Express runs every 15-30 minutes to midtown Manhattan, 4am – 1am, and every 2 hours to downtown Manhattan, 11:30am – 5:30pm. This costs $16 for one way, or $28 for round trip tickets.
Once again rental cars are also available, but due to city traffic and parking – public transport tends to work out as the cheaper option.
LaGuardia Airport (LGA)
LaGuardia Airport can be found on Flushing Bay and Bowery Bay in Queens, situated eight miles from midtown Manhattan. Although mainly dealing with domestic flights, LGA is perfect for those travelling across America.
LGA Transport
Public transport here includes buses and taxis. The M60 bus costs $2.50 and takes travellers to 125th Street in Manhattan. There are also transfers available to 2/3/4/5/6, A/C and D subway trains; which is an additional $2.50, or free with a MetroCard. Taxis are situated outside all terminals and charge on a metre, plus toll fares, and all vary in price depending on where you go in Manhattan. Rates are priced per car, not per person, and charge no additional luggage rates.
Car services and private shuttles are once again available. Shuttles such as NYC Airporter run from 5am – 11:30pm, every 30 minutes. One way fares charge $13 or $23 for a round trip, and you can disembark at Grand Central, Port Authority or Penn Station, which requires a shuttle from the Grand Central stop. Complimentary hotel shuttles also run between 23rd and 63rd Streets from Grand Central. Aside from this, shuttle services are the same as JFK and EWR.