When many people think of Orlando, it is the big-name amusement parks like the Walt Disney World Resort or Universal Studios that come to mind. While these parks are the perfect way to enjoy a day in Orlando, there are plenty of times when what you really need is a fun way to pass the time at night. If you are struggling to decide between exceptional cuisine and exciting entertainment, you might want to meet in the middle with a dinner show. Whether you are interested in music, comedy or drama, you can find something that will suit you on this list of the best dinner shows in all of Orlando, Florida.
Capone's Dinner Show: This exciting dinner show transports guests to the gang-filled streets of Chicago in 1930, and the plot revolves around Al Capone and his friends in the bootlegging and speak-easy business. If you happen to have seen this show before, keep in mind that they recently transformed the plot after 15 years of success, which means that there are new twists and turns that even repeat visitors can enjoy. The menu is perfectly suited to the story, and you will get to dig into traditional Italian favourites like lasagne  spaghetti, meatballs and even tiramisu for dessert. Drinks, including alcoholic beverages like beer, cocktails and wine, are included in the ticket price for adults.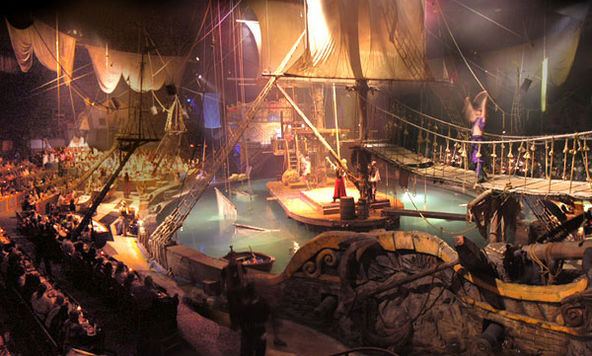 Pirates Dinner Adventure Dinner Show: If you are looking for incredible effects and plenty of great music, then the Pirates Dinner Adventure Show will be the perfect choice for you. Since it is just minutes away from Universal Studios, it is a great addition to a day at the amusement park. Much of the show takes place on an actual pirate ship, which is placed in a 300,000 gallon indoor lagoon. Prepared to be amazed by the aerial gymnastics, the witty dialogue and the serious splashes. Of course, the dinner itself is also something to look forward to, and there are a selection of meals to choose from to please every diner. While the show is family-friendly, children under the age of four may not enjoy the sounds and lights of the pirate-themed show.
www.piratesdinneradventure.com
Outta Control Magic Show: This unique dinner show in Orlando manages to combine magic and comedy into one spectacular event. The show takes place nightly at both 6 p.m. and 8 pm , and children are encouraged to see the earlier showing whenever possible. The tricks performed by the talented musicians will leave you scratching your head long after the show has ended, and the improvisational humour is funny enough to have you come back for a repeat performance. The dinner portion of the show includes pizza, salad and bread sticks served table-side along with unlimited drinks and desserts.
www.wonderworksonline.com/orlando/experience/outta-control-magic-comedy-dinner-show/
Arabian Nights: This dinner show is easily one of the most popular attractions in the city, and one look at the so-called cast of the event makes it easy to see why. Although there are actors and actresses playing roles in the theatrical production, the main stars are the more than 60 trained horses from around the world. These majestic horses help to tell the tale of a young price and princess who fall in love and plan to marry despite all odds. This amazing show has been the best-selling dinner and entertainment option in Orlando for more than 15 years, and it is suitable for all ages. Dinner options include a vegetarian lasagna, steaks, grilled chicken breasts and children's meals with chicken tenders and fries.
These dinner shows all combine entertainment and food to make the perfect evening out in Orlando. Whether you are with friends or family, one of these shows will be the ideal way to spend time on your trip to Florida.
For the latest deals on flights to Orlando use the links below.
Orlando Holidays
Flights to Orlando
London Heathrow to Orlando
Manchester to Orlando
London Gatwick to Orlando
Newcastle to Orlando
Edinburgh to Orlando
Birmingham to Orlando