Yes, we all know about New York's Central Park.  It is one of the city's landmarks and one of the most famous and beloved parks in the world. But did you know New York City is covered with more than 14% parkland and there are lots of parks to choose from. Other than the famous Central Park, here are 6 of the top parks in NYC.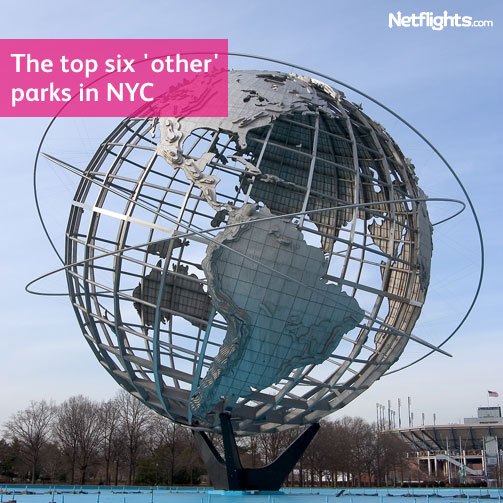 Pelham Bay Park
Pelham Bay Park is actually New York City's largest park at 2,766 acres. That makes it three times the size of Central Park and visitors could spend all day exploring. Within the park you will find bridle paths and hiking trails, two golf courses, playgrounds, Orchard Beach and the Bartow-Pell Mansion. Nature lovers will also enjoy the wide range of plants and animals and you may even be lucky enough to see the osprey.
Flushing Meadows – Corona Park
Flushing Meadows is the second largest park in New York City and is a popular spot for sporting activities. With baseball, football, cricket pitches as well as tennis and basketball courts, it draws in an active crowd of both players and spectators. The park is also home to a zoo, an art museum, a science museum and a botanical garden.
Brooklyn Bridge Park
Brooklyn Bridge Park is a classic urban park. You won't find meadows and forests but you will find a relaxing space to enjoy the Brooklyn waterfront. The 85-acre park is a practical city space with many uses such as running, fitness classes, outdoor cinemas and sporting events.  There are also some unique attractions such as a carousel and merry-go-round to transport visitors back to the 1920s.
The High Line
You may not initially consider The High Line to be a park but it's an ingenious urban space in the city. The High Line was built on an abandoned railway track that once ran through the industrial areas of the city. The track is no longer needed so after years of disrepair it was regenerated to become an exciting and popular outdoor space. Above the hectic city, The High Line provides a place to relax while surrounded by plants, lawns, vegetable gardens and nature. Watch art performances, grab a coffee or simply sit in one of the perfectly designed spaces and watch the city pass you by.
Inwood Hill Park
Much of Inwood Hill Park is undeveloped meaning it appeals to nature lovers looking for a tranquil retreat within the city. It is home to Manhattan's last virgin forest and has barely changed over the past 500 years. An eagle release project was launched in 2002 to reintroduce the fascinating bird species back into the city. Hiking trails and water trails have been introduced to encourage the city dwellers to enjoy the nature around them.
Prospect Park
The same urban architects who created Central Park, Frederick Law Olmsted and Calvert Vaux, designed Prospect Park in Brooklyn. They created a 585-acre urban oasis with a 60-acre lake and Brooklyn's only forest. The 90-acre Long Meadow is a popular place for walking, running, picnics and days in the sunshine. You will find Prospect Park Zoo, Wollman Rink and performances from Celebrate Brooklyn! Performing Arts.
Central Park is a fantastic place to visit, but NYC offers so much more.