Holidays, holidays, holidays are all we can think about in the hum drum of 9 to 5 life. In fact, many of us probably spend 90 per cent of the working day thinking about our holiday in some shape or form.
Whether we're thinking about the holidays we've booked or the ones we plan to take; holidays are a great time to relax and unwind. But where's your holiday taking you this year?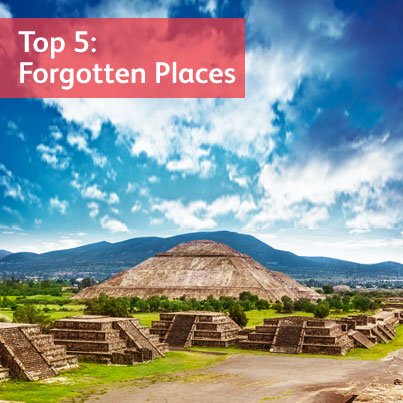 Destination
Whether it's booked or not, we always have an idea of where we want to go on our holidays. Many of us like to head to well-known holiday destinations, filled with famous landmarks we know and love; but what about those forgotten in time?
After all, many of these popular resorts are packed with fellow tourists, which can sometimes limit what you can and cannot see. Whereas forgotten destinations aren't usually filled with travellers from across the globe; affording you the perfect tourist experience.
We've selected our top five forgotten destinations, to help you find a holiday with a difference.
Meknes, Morocco
Morocco is a popular and stunning holiday destination. But with holiday hotspots like Marrakesh taking the limelight, areas like Meknes often get overlooked. Although it's a smaller destination than its more famous siblings, 400 years ago, this stunning landscape was once the capital.
Those that visit can enjoy meandering around in the laid-back atmosphere as they enjoy the basking heat, and absorb what's often regarded as the architectural capital of Morocco. With around 50 palaces and a wide selection of Roman ruins, this place is a cultural hot spot of Morocco's past life.
Takayama, Japan
Although many travel guides tell you to head to the big cities of Japan, the locals will actually suggest off the beaten track, and recommend that you visit Takayama. Located on the other side of the main Honshu Island, this area is less populated by tourists and gives you a true sense of old Japan.
Experience an abundance of small and authentic markets dotted throughout the city, hillside shrines, sake breweries and remarkable farmhouses on stilts. All this is set to the backdrop of rolling countryside; a quality not often associated with Japan.
Carthage, Tunisia
The stunning weather of Tunisia allows you to relax in some of the most exotic locations known to man. Found in North Africa, tourists can enjoy the stunning Mediterranean Sea and gorgeous white beaches during their stay.
However for a truly unique experience in this incredible place, visit the 3,000 year old city of Carthage, and get a cultural experience like no other. Destroyed by the Romans in secondary B.C, the city still plays home to many relics left by the Romans and is one of the great Mediterranean discoveries around.
Teotihuacan, Mexico
If you travel 30 miles northeast of the modern and ever popular Mexico City, you'll find a site that will leave you in awe.
Teotihuacan was built between the first and seventh centuries A.D, and is believed to be the place where gods originated. The area plays home to some of the most unique and well preserved Mesoamerican Pyramids around. The Avenue of the Dead is a wondrous group of sacred monuments that pay tribute to the Pyramids of the Sun and the Moon, along with the Temple of Quetzalcoatl. This is a truly amazing experience for any tourist heading to the magnificent Mexico.
Sanchi, India
Lying just 68 kilometres north of Bhopal you'll find Sanchi; the country's Madhya Pradesh state.
Here you'll find some of India's most unique and amazing sights; a stunning snapshot of the country's long history. Home to the oldest stone monument in India, the Great Supa was commissioned in the 3rd century by Ashoka the Great. But that's not all you'll find here. There are also more than 50 perfectly preserved Buddhist monuments for visitors to explore.