So you read our recent blog post on how to survive a long-haul flight and now you're feeling spontaneous. You've made the snap decision to put your Out-of-Office on and jet off. Woohoo! We like spontaneous you! Whether the weather's getting you down or you've ended up with a little extra time on your hands, it's time to grab your bags, strap yourselves in and fly far, far away… But wait, where are you gonna go?
We'd forgive you if you thought a long-haul flight needed a ton of preparation. But we're here to prove that no matter when that travelling urge hits you, there's always a stunning long-haul destination just a few clicks away – and you can totally do it last min!
Here's are our top 5 long-haul destinations for a last-minute holiday. Bon Voyage!
India is bloomin' incredible!
This ancient and fascinating country is home to nearly 1.5 billion people speaking more than 22 languages, making it a truly diverse hotspot so, quite frankly, we reckon it's always a good time to book yourself a bargain holiday to India.
With some of the most iconic and densely-packed cities in the world, you're guaranteed a deep dive into India's ancient roots as soon as you touch down. There's the Taj Mahal, of course, in Agra – a token of love that's been leaving visitors breathless ever since it was built way back in 1632. A bit more impressive than your heart shaped fried egg, isn't it? Always extremely popular with visitors (with good reason!), if you want to experience this absolute belter of a bucket list destination, we recommend waiting until the cooler months. April to June it's mega hot, and then from July to September you've got monsoon season soaking everything! October to March are the best weather wise, but come with high hotel prices and large crowds. September, however, seems to be the Goldilocks month!
Jaipur is the place to go if you're itching to give your Instagram feed a refresh. Nicknamed the 'Pink City', it's chocka with royal palaces and historic forts, all in their iconic terracotta and pink hues. It's also a great base if you want to visit Ranthambore National Park, good for spotting tigers in the wild.
Obviously, we couldn't forget Mumbai! Rickshaw for two? This city is not for the faint of heart, but it is for those who want a taste of city brimming with culture (and a little bit of chaos thrown in for good measure, too.) Cool down come sunset with a trip to the Gateway of India for some seriously gorgeous views of the Arabian Sea. But don't be fooled into thinking India is just hustle and bustle. There's some premium sandy beaches in Goa, Nicobar Island and elsewhere, so there's a whole lot of kicking back on the beach to be done here too. And you might not know this, but India actually has a desert! The Thar Desert is in the north-western part of the country, just outside Jaisalmer, and forms a natural border between India and Pakistan. Book yourself on a luxury overnight camping package and you'll be riding camels into the sunset.
Flying direct from London Heathrow will get you into Mumbai in just over 9 hours, but you can save yourself quite a few pennies if you don't mind a stopover, usually in Bahrain or Abu Dhabi – why not tick off an extra place on your way?
Singapore is proper slick
Singapore hasn't always been the cosmopolitan hub you see today. After a period of rapid expansion, though, from the moment you step foot in this vibrant city-state you can expect to be swept right back off your feet by the tastes, sights, sounds and entertainment that Singapore excels at. There's towering skyscrapers, like the famous Marina Bay Sands hotel with it's three upright towers and fourth, horizontal tower sitting across the top of them – people say it looks like a cruise ship in the sky and they ain't wrong!
And then there's the food. Set your taste buds absolutely rocketing by tucking into the delicious local food – there's fan favourite Hainanese Chicken Rice, Chilli Crab, bowls as big as your head of classic staple Laksa, and er, Barbecued Stingray…. Oh, go on!
Work some of that tasty goodness off with a stroll around the city's Gardens by the Bay, right in the heart of downtown. 101 hectares (if you don't speak farming, that's about the size of 50 football pitches!) of over 1.5 million plants, adjacent to the Marina Reservoir. Come here for the famous Supertree Observatory, part of the Supertree Canopy – a hanging walkway with astonishing – and we mean astonishing – views over the city. Then head back down to (almost) earth for more walkways in the Cloud Forest, home to one of the world's tallest indoor waterfalls. Don't tell anyone, but The Gardens by the Bay might just be our favourite place in Singapore.
Try Thailand for tanning your cheeks!
Thailand is one of the world's premium relaxation capitals. There's a reason people have been escaping here (and some deciding to never come back!) for decades. This vibrant country is an ideal emergency getaway, with its friendly people, wild tastes and idyllic beaches all serving you up a chunky slice of heaven.
Let's face it, if there's one thing you know Thailand will deliver, it's stunning beaches. This country has some of the world's best beach hotspots, and with the seas this warm it'd be rude not to pack your trunks. For some more off the beaten path options, try Koh Phayam. 10km long, it's described as being what Koh Samui used to be like in the 70s, now. Then there's Koh Kood which still retains all its charms thanks to a well-managed and slow tourism development. It's also close to Klong Chao Waterfall, accessible by bike, taxi, on foot, or even by kayak.
But if you're not a beach bum, we're only touching the tip of the iceberg. The capital city of Bangkok boasts luxe shopping centres, stunning architecture and lively nightlife. This city is jam-packed with life and entertainment and sure isn't one to miss. And even better, it's now OPEN to visitors, post Covid. Check out our post giving you the lowdown on the city and what to expect if you head back now.
We'll always have, er, Morocco.  One of the world's hidden holiday gems, this lively country sits on the northern coast of Africa facing out into the Med. Travellers and adventures have criss-crossed this ancient sea for generations, taking their influences and cultural gems with them — and there's nowhere better to find these than in Morocco.
All across this rocky land, you'll find colour, life, entertainment, nature and loads of friendly and welcoming people. Dive deep into the ancient history of this land by ticking off the Kasbah des Oudaias, Hassan II Mosque and any of the UNESCO World Heritage Medinas. Or, if you'd rather saunter round the souks, markets and winding alleyways of the big city, head straight for the sights and sounds of Marrakesh.
Head to Fez (home of the Fez hat!) for its medina, a thriving cultural scene filled with galleries, crafts, and bucket loads of history. Aït Benhaddou is a UNESCO World Heritage Site that seems as if it is carved from the mountain it sits on. Once a stopping point for traders and travellers, few live here now but it's gorgeous to wander through – come early to avoid the crowds (and heat). And what trip to the banks of the Med can be complete without a quick dip? Ditch the crowds and strike out for the warm seas.
From azure-blue streets to sandy passageways and enough spice and flavour to send your senses into overdrive, it's hard to forget this city in a hurry. Fly from London and, depending on layover times, you'll be touching down in Marrakech in around ten hours. But it might just be worthwhile heading up north and flying from Manchester Airport instead, with some direct flights getting you there in just under four hours!
Australia is always a good shout
The ultimate long-haul flight. The ultimate holiday getaway. What isn't there to do Down Under? One of the most liveable countries in the world, this land of hot weather, bustling wildlife and, well, everything else is pretty difficult to ignore.
From Sydney to Melbourne to Brisbane, Australia's big city getaways are always a great choice. And with tropical seas and the dense undergrowth only a short distance away, you can be cutting around Melbourne and sailing down Sydney Harbour one minute, before delving deep into nature the next. Diversity is something Australia does oh so well.
Snorkelling in the Great Barrier Reef is a no brainer, but what else can you get up to in the land of the Didgeridoo? If you're in Sydney, you can be brave and scale the Sydney Harbour Bridge for the best views in town. But if you're way out in the outback, watch sunrise and sunset over Uluru, that great big rock that's bloomin' well old (like, 700 million years old old) and sacred to the Aborignal people of the area – seeing it blaze red on the horizon is a tell-your-grandkids-about-it kinda moment.
Add a dash of pink to your Instagram grid with a trip to the famous Pink Lake, Lake Hillier, in Western Australia. These naturally occurring wonders have to be seen to be believed. If you're flying into Melbourne, on the other hand, hire a car for a slow cruise down the Great Ocean Road along Victoria's rugged coastline, and catch the Twelve Apostles (pictured). Have a quick stop at Port Fairy and then it's surf's up at Apollo Bay. Next stop: Adelaide…
Oh, and don't forget to do the Tim Tam Slam while you're there, involving the nation's favourite – the Tim Tam. The trick is to bite the top and bottom corners off and then use it as a straw to drink your Milo (kinda like the Aussie version of Ovaltine) with.
Look at that, you're already a local.
Wherever you're jetting off to, book your next cheap flight with Netflights.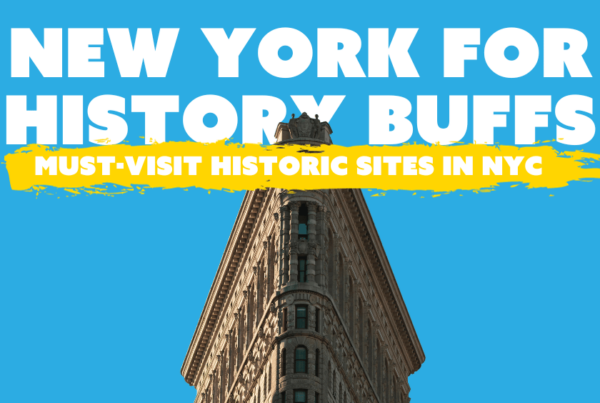 New York might have a lot of shiny new things, but it's also got a whole load of history behind…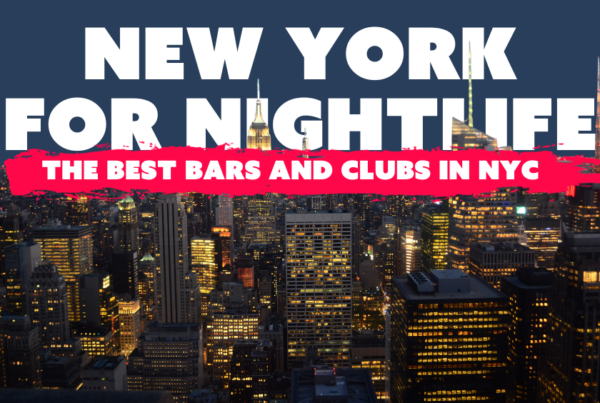 It's literally the city that never sleeps, so if anywhere is gonna have some decent nightlife, it's New York. Grab…
New York is well known for its daze-inducing department stores and big brand names, so we reckon there ain't anywhere…