More and more of us Brits are getting on board with a winter break each year, with some skipping trips in the summer altogether so they can make the most of the winter sun to be found elsewhere when it's raining cats and dogs back in Blighty. 
We love a bit of winter sun ourselves here at Netflights, so this September we're going all in – each week we'll be digging into a bunch of different destinations where you could be topping your tan off this year, from Dubai to Thailand.
There's nothing more iconic than an ice cold New York winter, but those lucky devils across the pond also happen to have a bunch of spots that stay nice and balmy right through winter, from Los Angeles all the way down to Miami.
Wondering where's hot in the USA in winter? Keep reading for our fave picks.
Winter temperatures: low 20s
When it comes to where's hot in the USA in winter, California is a crowd-pleaser. And if you're headed to Cali, Los Angeles has gotta be your first point of call. While it might not be as super scenic as some of the other sunny spots in the Golden State, it makes up for that with the sheer number of bucket-list belters it's got under its, er, belt.
Whilst the tarmac gets warmed up by those temps in the low to mid 20s, you can keep your nose to the ground and tick off some stars on the Hollywood Walk of Fame, before heading to Griffith Observatory to see stars of entirely different kind once night falls – it's open from 5a.m. to 10.30p.m. every day.
Winter is a great time to get it on those hikes you always see the celebs doing, when the temps are still really nice but not faint-inducing hot. The Charlie Turner Trail is a classic that takes you up to Mount Hollywood for mega views over the city (Mount Lee is the one you want for the actual Hollywood Sign!), while the Sarah Winn Trailhead at Corral Canyon is all about sheer, raw nature – think coastal sage scrub and willow clinging to the hills, with a top-notch view of the Pacific too.
Winter temperatures: low 20s
Santa Barbara in winter means fewer crowds, and fewer crowds mean more beach time for you. Devereaux Beach and Leadbetter Beach in particular are great for sunset stalking. The surfing is widely considered to be at its best in winter too – try Hendry's Beach, located at the end of Las Positas Road, where the Arroyo Burro Creek empties into the ocean.
Because of its Mediterranean climate, the weather here stays very moderate right through winter, and you can still sunbathe in January! But if you're not a big beach bum, you can hike through coastal Douglas Preserve – sunset's earlier at this time of year, so you can get your steps in before having time to head back to the hotel to get your sweaty kit off before dinner. Santa Barbara specialities include ridgeback shrimp, spiny lobster, and spot prawns, so dig in. Just try to avoid the urge to impersonate Mr Bean with that lobster…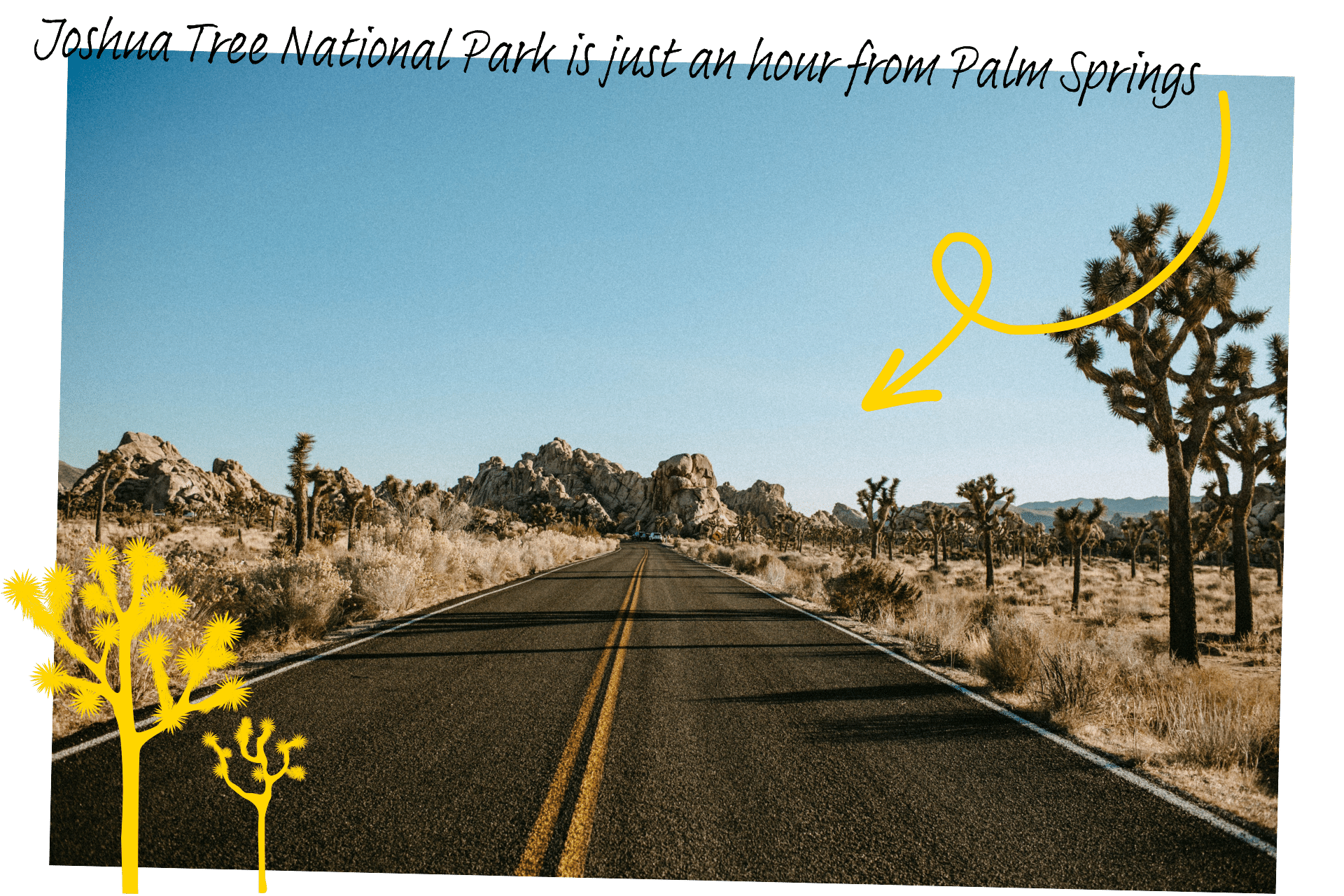 Winter temperatures: low to mid 20s
In the sunny Coachella Valley, you'll find the desert town of Palm Springs. With temperatures in the low to mid 20s right through winter, it's said this time of year is actually the best time to visit – plus it's less crowded too. And we bet you didn't know it actually has its own Walk of Fame in Downtown, with over 450 stars to spot.
But if a star on the ground isn't enough for you, then Palm Springs is the place to be – your chance of spotting a celeb sky rocket out here, where truck loads of them, including most of the Kardashian-Jenner clan, have homes. Celebs are drawn to the area because of its famous mid-century architecture, and you can hop on a bike and take a tour of the greats with the Palm Springs Historical Society.
Celebs aside, you've got Joshua Tree National Park just an hour away (from October to May you can join the popular Keys Ranch guided walking tour) or just minutes from Downtown you've got the Indian Canyons, three different canyons on Agua Caliente tribal land. Or take the Palm Springs Aerial Tramway up to Mt. San Jacinto State Park and Wilderness Area – worth it for the views on the way up alone.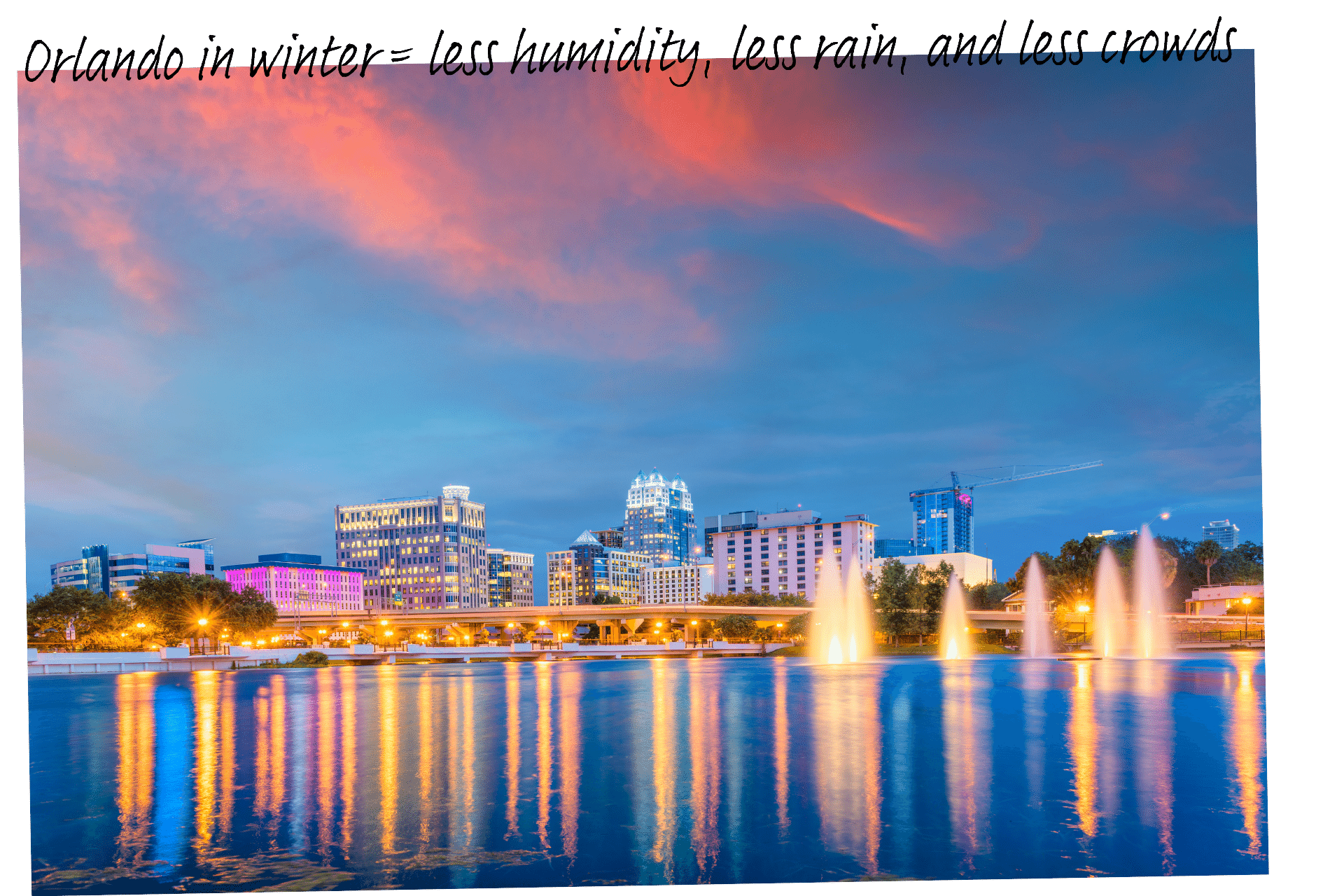 Winter temperatures: mid to high 20s
Everyone's knee-jerk reaction is that Orlando is obvs a summer place, but if you're wondering where's hot in the USA in winter, then Orlando is a pretty safe bet. In the winter months the humidity falls, those afternoon summer storms are no more and the crowds are smaller. It can reach the high 20s here in winter, which is definitely toasty enough for us Brits, and you can get away with shorts and a T-shirt in January – madness!
The lesser crowds in the winter months usually means one thing: get thee to the theme parks, pronto! While this is largely true throughout the winter period, there are still pockets of chaos about that you should try and swerve if you can – Thanksgiving, the week before Christmas, and the week before New Years are all hella busy for Walt Disney World Resort and Universal.
You can't beat the good old outdoors, though, and this is the season for it. You can go on an airboat tour of the Everglades and spot blue herons, bald eagles and alligators without the humidity, or try Orlando Tree Trek Adventure Park – just 15 mins outside Walt Disney World Resort, it's got six aerial courses, 97 games and two zip lines. The natural springs around Orlando stay warm year round too – Blue Spring State Park is the one you want for manatee spotting, whilst Rock Springs Run State Park is all about crystalline waters and clear kayaking. Both are just an hour from Downtown Orlando, give or take.
Winter temperatures: mid to high 20s
We'll start with the obvious thing to make the most of in Miami during the winter – the beaches! With weather warm enough to still be getting the bathers out and way less beach bums about at this time of year, for a classic you'll need to hit up Miami Beach, but some of your best bets are on Biscayne Bay, which includes Bill Baggs Cape Florida State Park, whose tranquil beach stretches for over a mile and is often touted as one of the best in the States, and Crandon Park – once a coconut plantation, now it's all about the white sands and calm waters, where you can grill up or rent kayaks, paddleboards, and cabanas.
Beyond the beaches, though, there's loads more to do. In Feb, you've got the Miami International Boat Show where you can gawk at yachts way out of your budget (nice for some), as well as South Beach Wine and Food Festival, including their mega popular Diners, Drive-Ins and Dives LIVE! hosted by Guy Fieri himself! In January you've got the NightGarden – no, not that weird kids show – which spans 83 acres of tropical trails and neon playgrounds of sunken ponds, giant dandelions, and an Orchid Bridge. Okay, maybe it is like that kids show?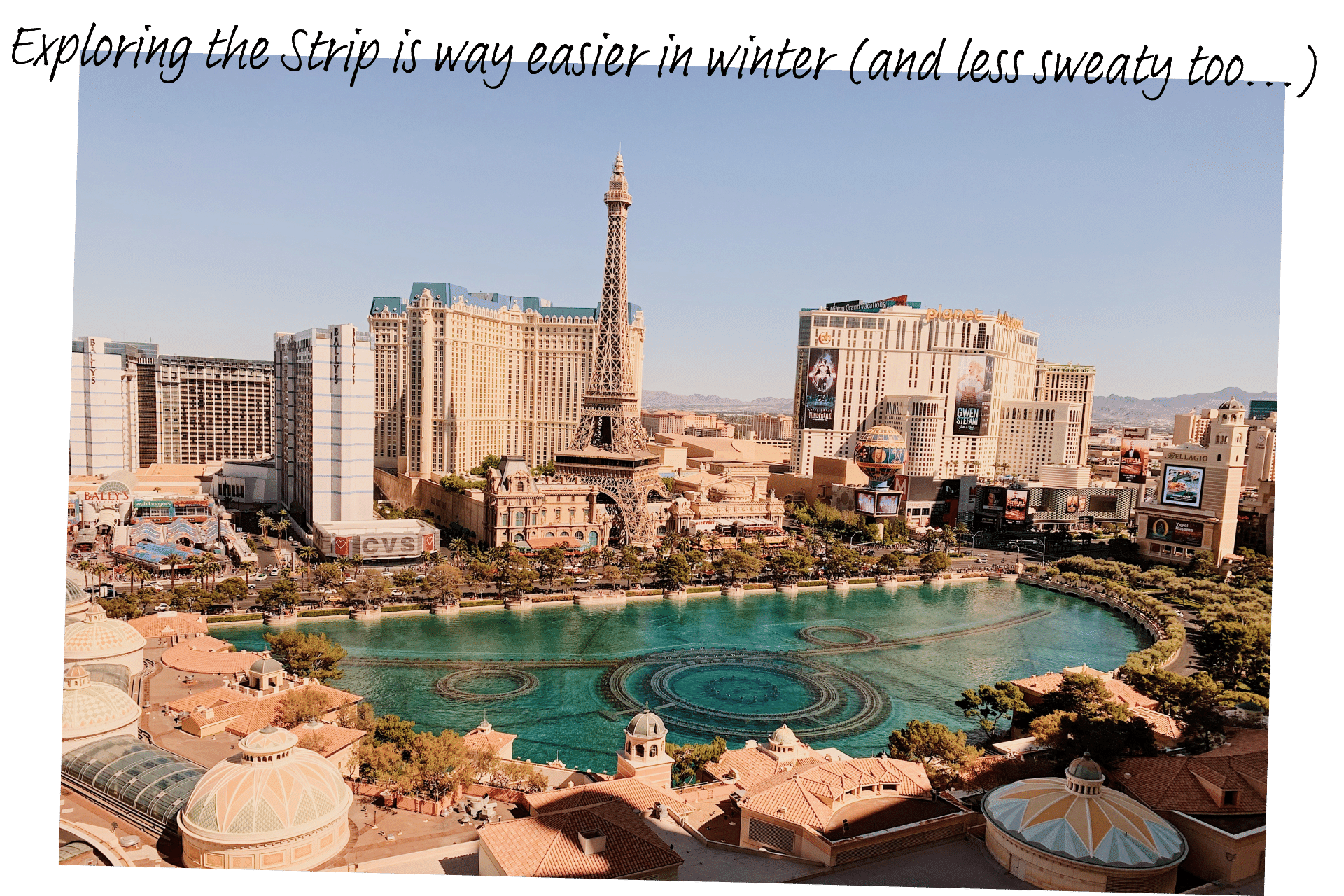 Winter temperatures: Between 15° and 20°
If you're making notes on where's hot in the USA in winter, then we'll be straight with you – Las Vegas won't be dominating the charts when it comes to how high the mercury rises if you compare it against some of the other spots on this list. But (there's always a but), what makes Sin City a sure-fire winter sun winner is just how hot it gets in the summer – like, unbearably hot. The Strip is always – always – bigger than you think, and trying to explore it in summer with more crowds and more notches on the thermometer can make you wanna, well, strip.
With less crowds, you'll have more chance nabbing tickets for shows like Cirque du Soleil and things like the Eiffel Tower Viewing Deck and the High Roller wheel (taller than the London Eye!) and have a more enjoyable time doing a Vegas classic like the Fremont Street Experience. Milder temps also make some of the best day trips from Vegas, well, better. There's the Hoover Dam Bypass, Death Valley, Red Rock Canyon, and that other canyon – what's it called again? Oh yeah, the Grand Canyon.
Oh, and did we mention it's also way easier to get that snap in front of the Vegas sign?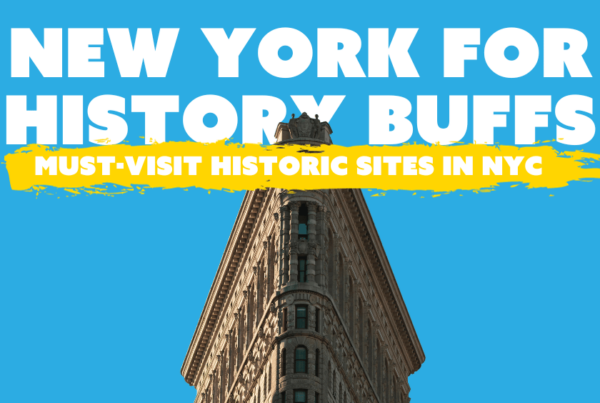 New York might have a lot of shiny new things, but it's also got a whole load of history behind…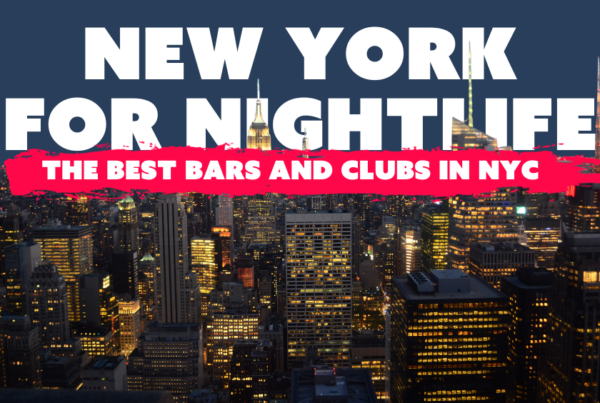 It's literally the city that never sleeps, so if anywhere is gonna have some decent nightlife, it's New York. Grab…
New York is well known for its daze-inducing department stores and big brand names, so we reckon there ain't anywhere…