First Class cabins – the opulent domain of the wealthy and famous. Hallowed ground at the 'pointy end' of any flight and the kind of travel experience to which mere mortals can only aspire.
At least that has been the case historically. The last decade has seen airlines reduce the amount of First Class seats offered in response to falling demand, as those who can afford the tickets are increasingly opting for private jets instead. Increased investment and innovations in Business Class have seen the experience creep ever closer to what First Class cabins used to be, with some airlines even phasing it out completely.
But, with that said, First Class isn't extinct just yet. Airlines may be reducing the number of First Class cabins overall, but those that do still exist are more luxurious than ever. Influences from luxury brands and the hospitality industry to maximise the opulence and desirability of their product abound, and are coupled with a wider and more decadent selection of wines, spirits, and dining, impeccable service and a host of experiential touches designed to ensure those fortunate enough to be in First Class are receiving, well, the full first class treatment.
Want to know who does it best?
We've taken a look at just who has the most glamorous First Class cabins in 2019, as voted for in the recent SkyTrax Awards.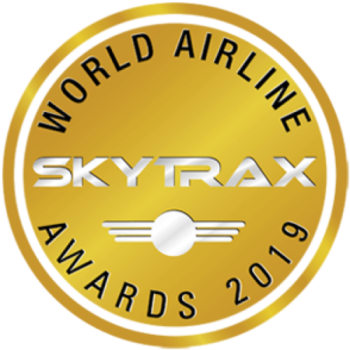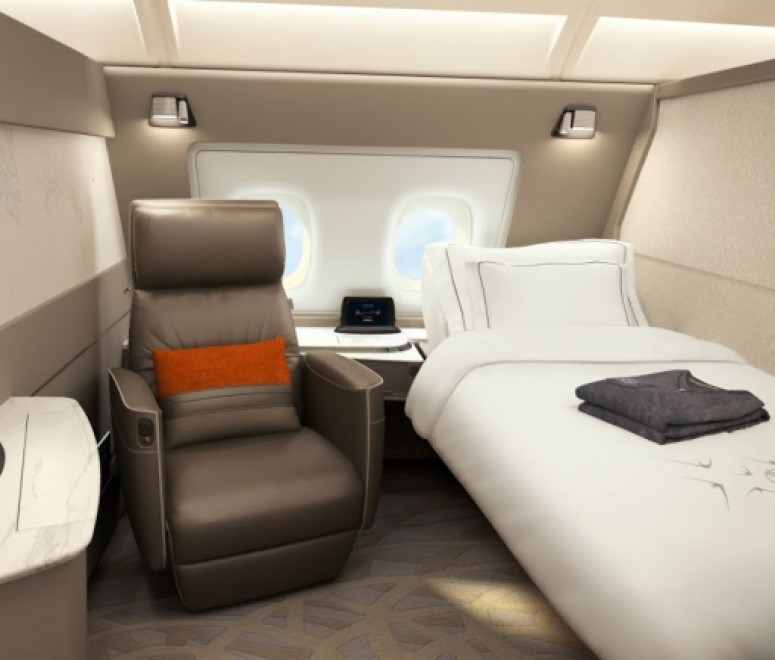 1. Singapore Airlines
It comes as no surprise that Singapore Airlines takes the top spot, following a four-year $850 million investment in their premium onboard product that was unveiled in late 2017. New First Class cabins, located at the front of the upper deck on their A380s, boast just six private, fully enclosed suites configured 1×1 across the width of the aircraft featuring a separate bed and plush reclining swivel chair (the first on any aircraft) finished with elegant, hand-stitched leathers, a 32-inch HD screen and a wireless handheld tablet that controls everything from the lighting to the blinds. Lighting preferences, and even viewing options, can be saved and bookmarked for future flights.
For couples travelling together, the centre divider of the first two suites – on either side of the plane – drop down to create a single super suite measuring around 100 square feet. There's even enough space for a double bed to be created. The bedding itself, alongside pyjamas, slippers, eye shades and amenity kits are all by the French luxury brand Lalique, as is the glassware you'll drink from as you eat off Wedgewood crockery. Tempted? Find First Class flights with Singapore Airlines.
2. Lufthansa
This venerable airline offers renowned service on both the ground and in the air, and Lufthansa's First Class is everything you'd expect of the German national carrier. Efficient, unfussy, well engineered and functional, it's available on B747, A330, A340 and A380s that ply routes between Germany and the US.
Regardless of the aircraft, passengers can expect a comfortable lay-flat seat with a generous 81-inches of pitch, a 17-inch screen, a luxury amenity kit, pyjamas and Bose noise-cancelling headphones. If you're fortunate enough to be travelling from Lufthansa's home airport as a First Class passenger, you'll be able to use its dedicated First Class terminal, where a valet will take your car on arrival. Then, a personal assistant will take care of all your travel details efficiently and discreetly, before escorting you through security to the lounge where you can make use of day bed, enjoy a bath or a gourmet meal, or partake of one of the 130 whiskies available at the bar. When you're ready for your flight, you simply jump in the chauffeur-driven Porsche or Mercedes to reach your aircraft.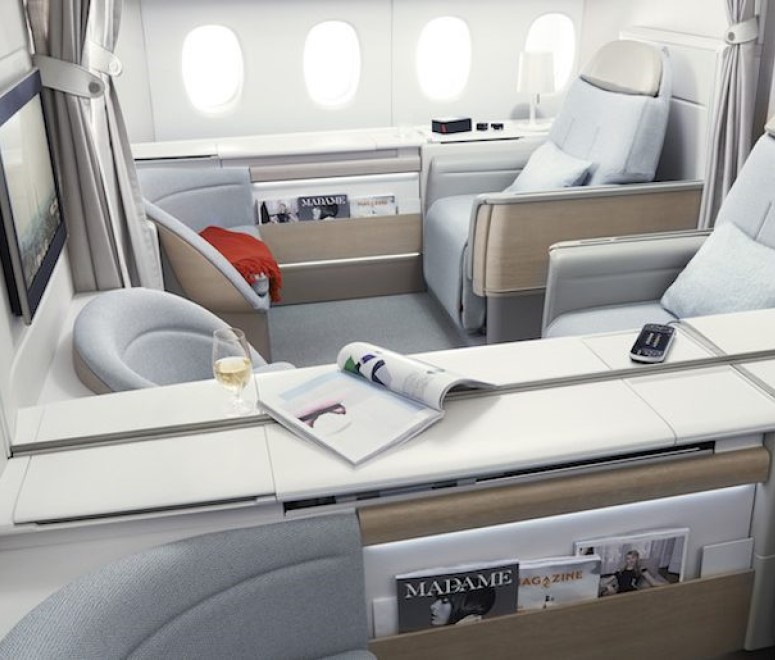 3. Air France
Just four seats make up La Première cabin on the Air France B777, which provides its guests with a sophisticated and highly personalised experience. Having been shuttled to the aircraft via a chauffeured BMW or Mercedes, you'll be able to relax in 23-inch wide soft leather seats – accented with suede and tweed – behind thick curtains that give your seat the highest levels of privacy. The 6'5″ bed is one of the longest in the skies while, opposite your seat, an ottoman turns in to a clever second seat, if you wish for somebody else to dine at the table with you. A 24-inch TV, pyjamas, slippers and a leather-bound Carita Paris amenity kit completes the hi-spec experience.
As you might expect, the food offering onboard, and in the Air France La Première lounge at Charles de Gaulle airport, is exceptional. Plus, the wines are vintage, and you'll have an assistant with you every step of your journey to cater to your whims.
4. Etihad Airways
The 'Apartments' brought about a step change when Etihad Airways debuted their new First Class cabins on their 10 A380s back in 2014, which fly to a number of long-haul routes from the airline's Abu Dhabi base.
Arranged in a single-aisle configuration located at the prow of the aircraft's upper deck, the nine Apartments are much more than just a seat. Each private suite including a large leather armchair and separate couch that converts in to a 6'10" bed,  a flat-screen TV, as well as a full-length mirror and vanity cabinet.
Although the suites are private, the dividers between some of them can come down to create a large, dual apartment. So if you're travelling with friends or family, you can sit together as you eat fantastic dishes created by the onboard chef. There's also an onboard shower with designer amenities, so you can land feeling refreshed.
The cherry on the cake? At the very front of the First Class cabin is the three-room 'Residence' – complete with its own living room,  shower and butler.
5. Qatar Airways
The Doha-based carrier may be fifth on our list for First Class cabins, but Qatar Airways can boast of taking the SkyTrax award for Best Airline Overall, once again, in 2019.
The A380 is the only aircraft in their fleet that features a First Class cabin. But on the select routes it operates, you'll find eight luxurious cabins, decorated with engraved copper, enclosing generous, 23-inch-wide and fully-flat seats. Each seat has a privacy divider that can be raised or lowered, depending on what you prefer. A separate seating area opposite your seat allows someone to dine with you. Meanwhile, the Castello Monte Vibiano Vecchio amenities, sleeper suits and, of course, the five-star service that Qatar is famous for, all add to the sophisticated eminence of this ultra-luxurious cabin.
First Class passengers also have access to dedicated spa-inspired bathrooms, and a spacious in-flight lounge bar designed to feel like a private executive club.