Where would you spend your honeymoon? - Would it be Preston?
With the Royal Wedding upon us, we're starting to wonder where Harry and Meghan are going to go for their honeymoon. It will most likely be somewhere exotic, luxurious and undoubtedly hot. As most honeymoon locations are, right?
Or it could in fact be somewhere more local and closer to home? Maybe Preston? Believe it or not, a Chinese couple recently travelled across the world to spend their honeymoon in Preston. Yep, that's right. Legend Liang and his new wife Carmen travelled all the way to Preston to celebrate their marriage. But they also visited London, Brighton and Edinburgh, to balance things out a bit.
With this in mind, we've put together our top 10 alternative honeymoon destinations – including Preston, of course.
1. The Safari Collection: Giraffe Manor, Nairobi
If you are an animal lover, Giraffe Manor, Nairobi is for you! Set in 12 acres of private land, this boutique hotel is designed with elegant interior and surrounded by beautiful landscapes including green gardens, courtyards and sunny terraces.
Even better, their local neighbours are in its name. Rothschild's giraffes live close by and may even visit you in the morning and evening for a little treat before heading back to their forest sanctuary. You are able to book this exclusive hotel for a night or as part of a tailor-made safari with The Safari Collection.
2. The Caves, Negril, Jamaica
Located on the limestone cliffs of Negril, The Caves offers you relaxation, revitalization and pure romance. Each of their 12 custom designed cottages burst with character in their own unique way, as does it's Private Cave Dining, signature Blackwell Rum Bar and not forgetting the seaview Spa.
A luxurious cliff-side accommodation awaits you. Keep your eye on their website, you may find some special offers!
3. Hurawalhi – Maldives
Found on a magnificent private island in the Maldives, Hurawalhi, the adults only luxury resort is definitely worth a visit and is a must honeymoon destination. You will have the ocean on your doorstep… literally.
Make the most of an all-inclusive escape, spa, coral reefs and dine in the world's largest undersea restaurant which is sure to blow you away.
4. Four Seasons Resort and Residences – Bora Bora
If you are looking for luxury you are sure to experience it at Four Seasons Resort and Residences. Stay in overwater bungalows and toast to happiness in your private plunge pool.
For a unique experience you can both go snorkelling in the private turquoise lagoon filled with unicorn fish, spotted pufferfish and 100's of other species of marine life. You will even receive a framed photograph of yourselves to take back home.
5. One & Only, Reethi Rah, Maldives
Surrounded by the gorgeous Indian Ocean, One & Only, Reethi Rah is the true representation of paradise. Blue skies, hot sun, turquoise waters and palm trees are what you can expect to see on your visit.
Take the time to chill out and relax in one of the three main pools or you can also go diving and snorkelling in the clear blue waters as well as many other activities to take part in on the resort.
6. Costa Verde – The 727 Fuselage Home
Fancy staying somewhere really unique? How about a plane in Costa Rica…?!
A refurbished vintage 1965 Boeing 727 airframe has been refurbished and transformed into a two bedroom suite. The plane is perched on a 50 foot pedestal which captures views of the surrounding ocean and jungle views while also making you feel like you are flying.
7. Amangiri – Canyon Point – Utah
Amangiri is the perfect location for one on one time with your partner. Tucked away within the majestic canyons of the American Southwest. This 5 star retreat offers you both a trip full of adventures as well as a peaceful retreat.
Each suite features a large living area that opens onto a terrace which showcases the spectacular Utah desert. You could become a rider of the Wild West on a horse riding expedition which is one of many activities to be found here.
8. Kakslauttanen Arctic Resort
If the hot weather and lounging about doesn't suit you, you should 100% consider Kakslauttanen Arctic Resort. How romantic does spending nights under the Northern Lights sound?
Many of there rooms have been tailored to suit wedding travellers. Whether you would prefer an Igloo, Earth Lodge or the Queen suite there will be a room that best suits you.
9. The Boot – Fairytale Accommodation, New Zealand
After a magical wedding there is no better way to top it off than with a magical honeymoon too. The Boot, located in the heart of the beautiful Tasman region of New Zealand is a true romantic hideaway.
The Boot stands within a grove of hazelnut trees and fragrant gardens. Enjoy an alfresco meal in the sunshine and have a lazy evening beside the outdoor fireplace. It's a perfect couple getaway.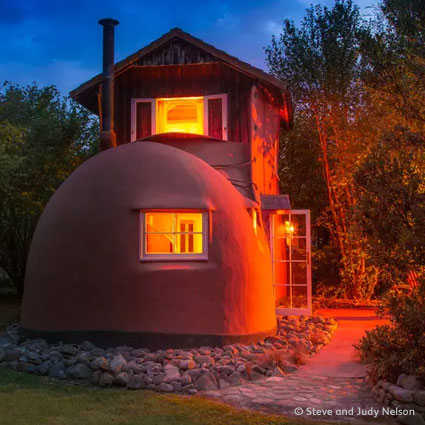 10. United Kingdom – (Preston)
You might also consider Preston… How about it ey?