Bangkok is the only place in Thailand with direct flights from the UK. So if you're heading off on a beach break in Phuket or Koh Samui, or planning to explore the mountainous north, the capital will likely be your entry point into the country. It's also a common stopover city if you're flying to Australia, New Zealand or certain other places in Asia.
But rather than simply seeing Bangkok as a place to change planes, it's worth extending your stay and spending some time exploring this compelling city. To help you decide what to see and do, we've pulled together a handy itinerary. So if you have just 48 hours in Bangkok, this is how we recommend you spend it.
Saturday morning
No visit to Bangkok would be complete without a trip to Chatuchak Market. Only on at weekends, it's the biggest market in Thailand, and one of the largest open-air markets in the world. Spend your morning strolling amongst the more than 15,000 stalls and you'll find vendors selling everything from souvenirs and second-hand clothes to plants, books and electronics.
It's easy to lose track of time as you browse, so keep an eye on the Clock Tower in the centre of the market. You can always use it as a marker as well, so you don't get too lost. And when you start to feel peckish, make a beeline for the food stalls. You'll find hundreds of them dotted throughout the market, making it a great place to sample Thailand's famous street food.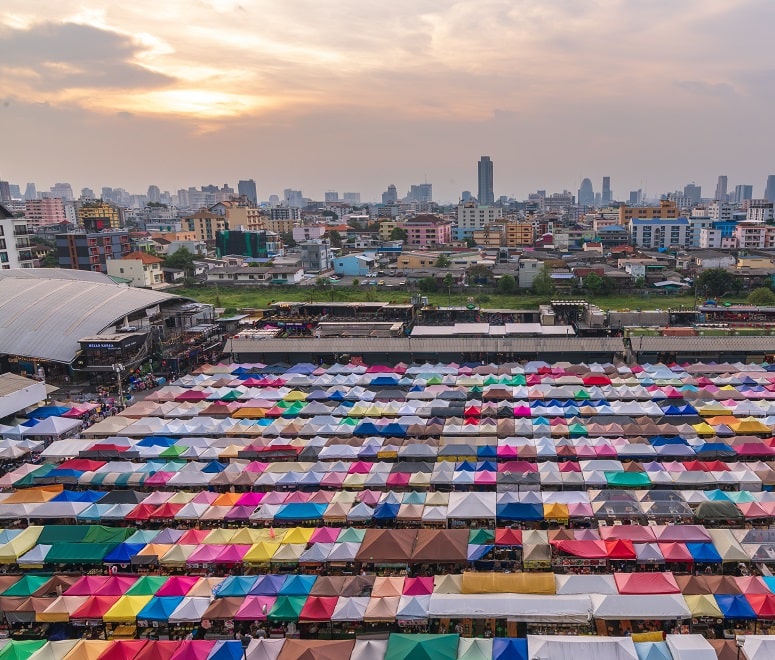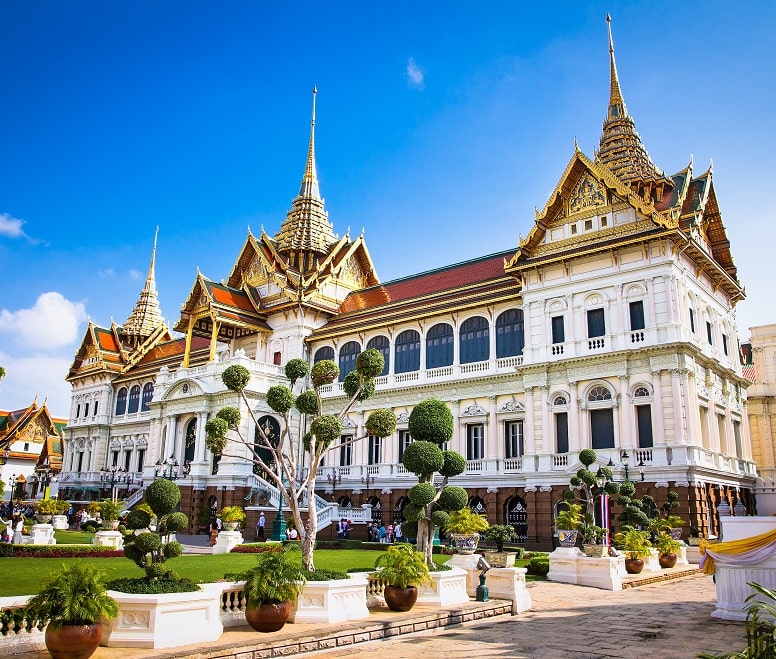 Saturday afternoon
After a morning at the market, it's time to head to Rattanakosin. This historic area's home to many of Bangkok's oldest buildings, palaces and temples. You'll want to start with the most impressive of all – the Grand Palace. Built by King Rama I, the complex functioned as a royal residence and seat of government from the late 1700s until the early 1900s. Today, though, it's only used on ceremonial occasions.
Within the grounds you'll find Wat Phra Kaew temple. Thought to be the spiritual core of Thai Buddhism, it houses the famous Emerald Buddha. Despite being just 66 centimetres tall, this meditating figurine is considered the palladium of Thailand. After leaving the Grand Palace, head south to Wat Pho – a temple famous because of its giant reclining Buddha. At 46 metres long, it's the largest Buddha in Thailand.
Directly across the Chao Phraya River from Wat Pho lies Wat Arun, also known as the Temple of Dawn. Decorated with over a million colourful ceramic tiles, it's one of the few Buddhist temples that you're actively encouraged to climb on. You can easily get from Wat Pho to Wat Arun by boat, but you might prefer to stay on the east side of the river and admire it from afar. Watching the sunset behind it is a truly spectacular sight.
Saturday night
Bangkok's well known for its exciting nightlife, so you should definitely experience it for yourself during your stay. If you just want a cheap drink or two from a roadside vendor, head to Khao San Road. Something of a backpacker hotspot, this infamous thoroughfare is one of the cheapest nightlife spots in the city. Alternatively, lively Chinatown offers a less touristy and more authentic experience. Take a stroll down Yaowarat Road and you'll find all manner of dining options, from street eats to fancy restaurants. And there are plenty of bars to choose from too.
However, if you're keen to discover the wild side of Bangkok, head to Silom. This is where you'll find the three streets which together make up Patpong – Bangkok's original red light district and the place where Thailand's go-go culture originated.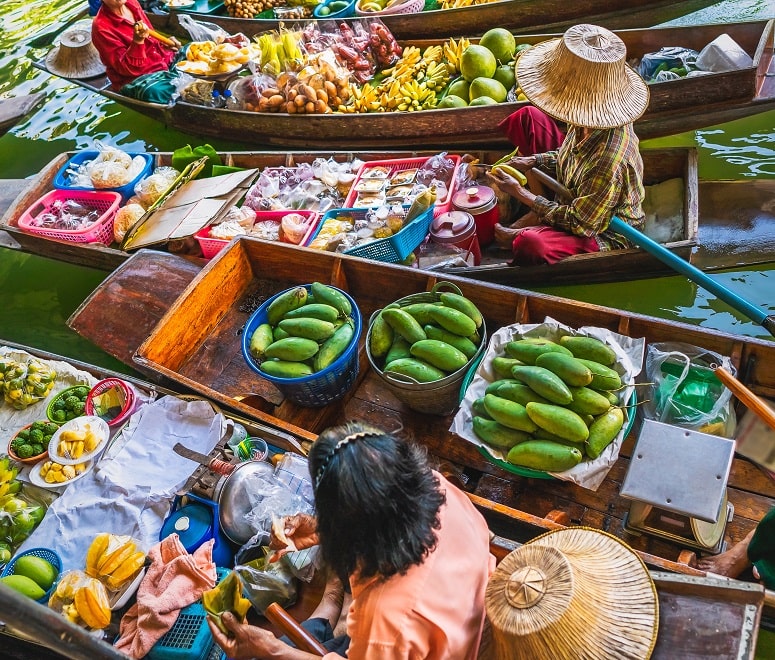 Sunday morning
After a late night, you'll probably be ready for a hearty breakfast. But this morning, why not forego the hotel buffet and dine like a local instead? Head to an open-fronted shophouse or street-food stall and try favourites like rice congee porridge, a Thai-style omelette or the Chinese doughnuts known as Patongo.
Once you're suitably full, it's time to make your way out of the city to the Damnoen Saduak floating market. Thanks to its huge network of canals – or khlongs – floating markets are one of Bangkok's biggest attractions, and Damnoen Saduak is arguably the most famous. A vibrant spectacle, it's packed with hundreds of vendors, all peddling their wares from small rowing boats. Besides copious amounts of exotic fruit and vegetables, you'll find sweets, hats, toys and souvenirs. But a visit to the Damnoen Saduak floating market is more about seeing the city's authentic culture in action than it is shopping.
Sunday afternoon
Fascinating though Bangkok's floating markets are, they can be quite hectic. So this afternoon, treat yourself to some downtime and relax in Lumphini Park. Named after Buddha's birthplace in Nepal, it's one of the best green spaces in the city. With manicured lawns, wooded areas and an array of tropical flora, it's a great place to get some respite from the hubbub of Bangkok. You can take a paddleboat out on the lake, hire a bike and cycle along the shaded pathways or just engage on a spot of people watching. If you're visiting Bangkok during the cooler months, you can also enjoy a free concert. Organised by the Bangkok Symphony Orchestra, they happen every Sunday afternoon between December and February.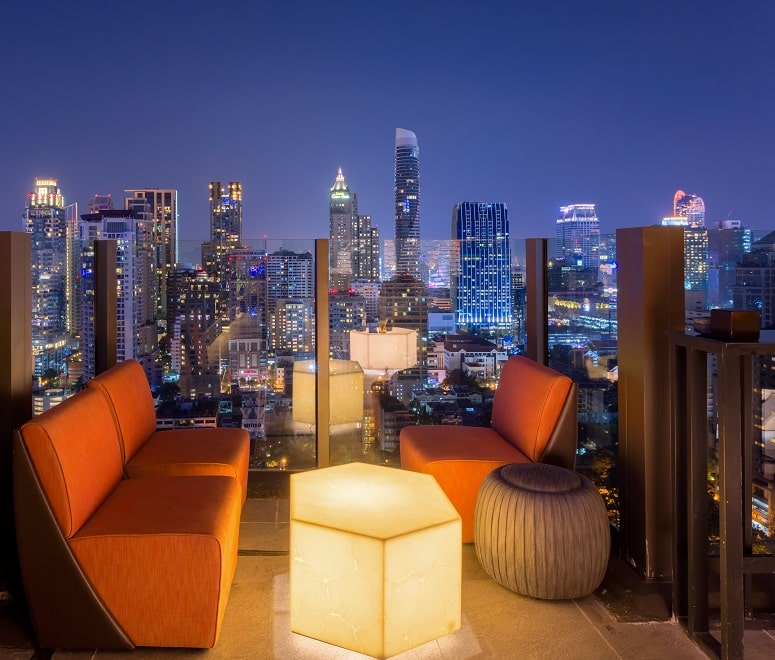 Sunday evening
This is your final night in Bangkok, so there'll be no retiring early to bed. Oh no. Instead, make the most of the hours you do have left in the City of Angels and head to one of its many rooftop bars. From here, you can enjoy a couple of drinks while taking in epic views of the city skyline. Or, if you're travelling with your significant other, they're the perfect place for a romantic meal. Just remember that most rooftop bars in Bangkok have a dress code, so you might need to pop back to your hotel for a little bit, just to get changed.