With tropical beaches, action-packed cities and some of the best food in the world, it's easy to see why Asia is such a popular holiday destination. Despite the distance, it's surprisingly straight forward to reach this exotic corner of the globe. But there's no getting away from the fact that, wherever you're headed, you're going to have a very long flight.
This is where a stopover can really come in handy. By booking an indirect flight, you can break up your journey, stretch your legs, and tick another city off your list. Choosing a flight with a stopover could even end up cheaper – what's not to love?
Working out the logistics can give you a headache but, luckily for you, we've done all the legwork. By comparing things like the cost of public transport and how close the airport is to the city, we've created a list of the best stopover destinations. So we can tell you exactly which route to take when flying to Japan, Thailand and more.
Best stopover city for Singapore: Dubai
You can book direct flights to Singapore, but why would you want to spend 13 hours on a plane if you don't have to? Instead, you can combine two glittering, mega modern cities in one trip by having a stopover in the sky-scraping metropolis of Dubai.
A seven-hour flight from the UK, Dubai is perfectly placed for breaking up your journey to the Singapore. And a stay here is a great addition to any holiday – we graded it as the sixth-best stopover city in the world. The 30-minute metro journey into Dubai will only set you back £2.50 and, once you're in the centre, you'll be blown away by your surroundings – there's the Burj Khalifa, for one, and the famous Dubai Mall.
For the kids You've got Wild Wadi Water Park, which has a mega location overlooking the other Burj – Burj Al Arab – and which you can gain FREE unlimited access to if you stay at the Jumeirah Beach Hotel, Madinat Jumeirah, or the Burj Al Arab itself.
Right next to Atlantis The Palm, meanwhile, Aquaventure Water Park is flippin' enormous, the world's biggest, actually. If it was a fifties housewife, it would be the hostess with the mostest because it's got a whopping 105 rides!
Then there's Sky Views Dubai – its glass walk and famous slide sit at more than 219.5 metres above the ground. Up to two children go free in summer 2023 from Mondays to Thursdays between 10am to 2pm when accompanied by two paying adults.
If that all seems a bit much, Dubai still retains some old world charm. Dubai Creek Harbour sits right between the city's historical areas and the newer hubs of Downtown Dubai and Business Bay. It's all about a slower pace of life here, with some seriously serene skyline views. Hop on a boat for a tour of the landmarks from the water.
Worried about the heat? We won't lie, it can get hot here! Check out our post which covers everything you need to know when it comes to what's the weather like in Dubai.
With loads of daily flights available with Emirates, you'll have no trouble finding a time that works for you.
Best stopover city for Tokyo: Doha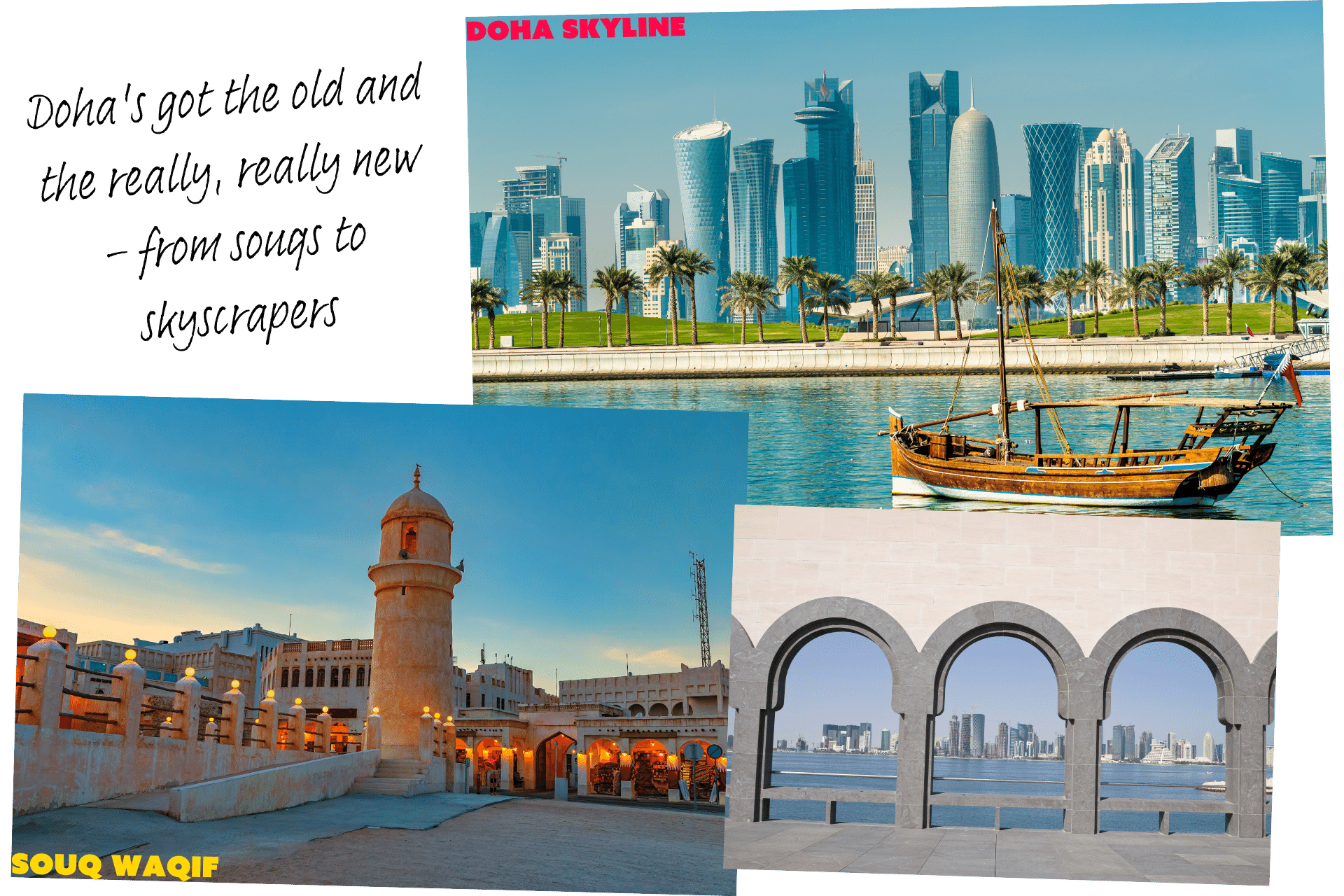 There's a few airlines offering direct flights to Tokyo from the UK – but having a layover will probably save you some cash. We'd suggest booking a flight with award-winning Qatar Airways and stopping off in Doha.
Ranked in 11th place, this Middle Eastern gem just missed out on a top 10 spot on our list of best stopover cities. But it's got a lot going for it – not least the £1 bus journey into the city. You could be forgiven for thinking Doha's all about skyscrapers and hotels, but it's actually a real mishmash of old and new. The combo of spice-scented souks, ornate mosques and futuristic museums will certainly whet your appetite for cultural Japan.
95+ nationalities can visit visa-free, and because Doha is a pretty compact city, you can really see a lot in a short amount of time.
Katara Mosque, is a gorgeous visual experience, full of turquoise and purple tiles and sits within Katara Cultural Village – a great spot for families, with places to eat, a lovely promenade, galleries, and the nearby lush Katara Hills. On the complete other end of the spectrum is the Education City Mosque, all modern, sleek, and mega cool – their big thing is inviting visitors in to teach them about the Islamic faith in an open and inviting way for those not familiar with the religion.
The National Museum of Qatar is another incredible building, recreating the naturally occurring crystal formations known as the "desert rose". The design features interlocking disks and spans a whopping 430,500 square feet!
Souq Waqif, with its mud-daubed buildings and winding streets, is a real contrast to the skyscrapers around it – it feels like something from the past, but is still full of activity today, and'll give you a real slice of traditional street life. You can buy gold or local beauty treatments, meet some falcons or camels, and get a load of spice heaven here. It's also a mega popular hangout spot come dusk – perfect for a bit of people watching.
The Qanat Quartier is a Venice-inspired neighbourhood, bringing a touch of the Mediterranean to Doha. it's full of mega Insta-worthy photo spots, and is a gorgeous spot for a leisurely stroll down broad avenues and a bit of window shopping. It doesn't hurt that it's got a fab view of the Arabain Gulf from its beachfront promenade too…
Best stopover city for Phuket: Bangkok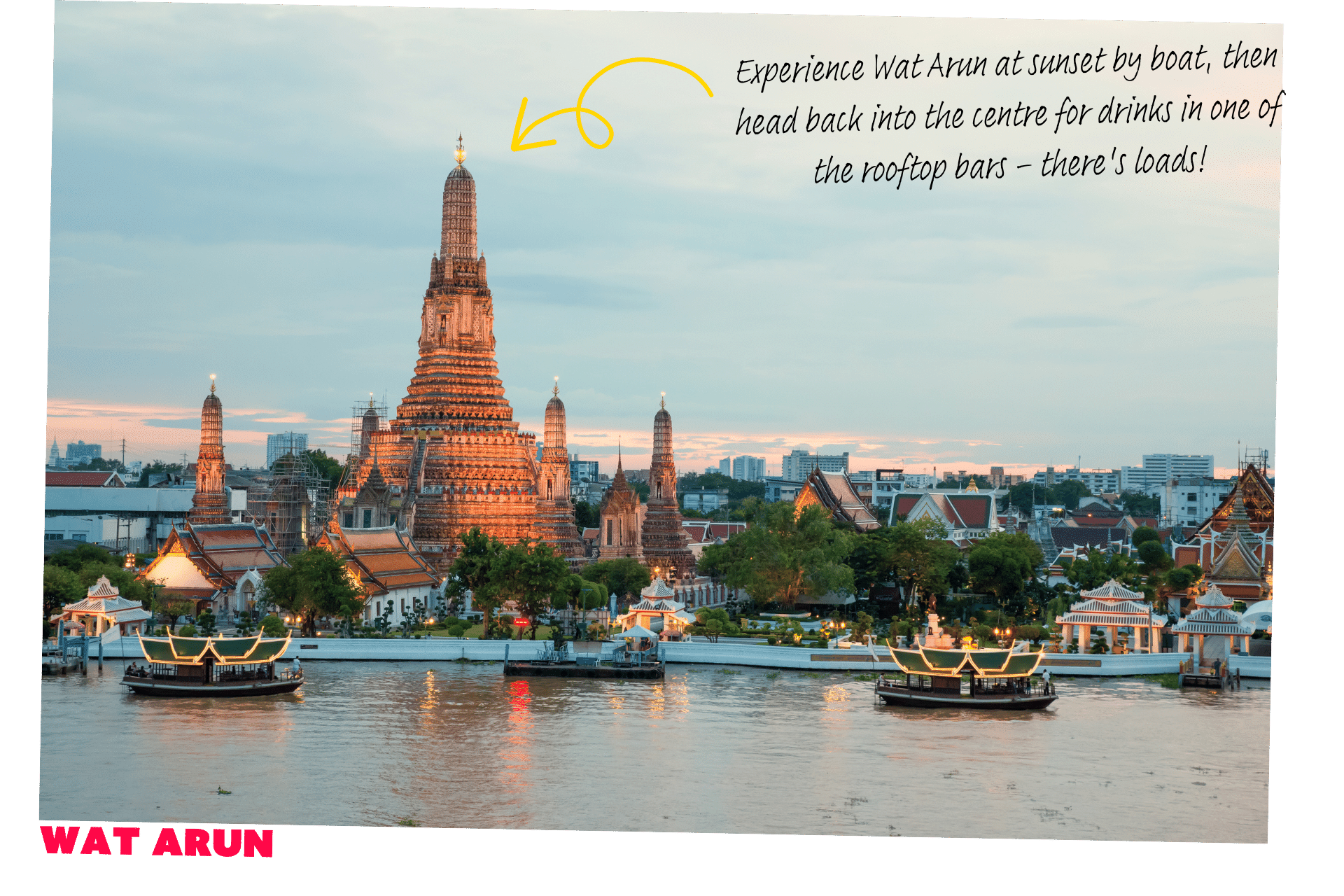 If you're planning a relaxing break in Thailand, you've probably scouted out direct flights to Phuket – this international airport is the gateway to the country's best beaches and tropical islands. But have you considered adding a stopover in Bangkok? We rated Thailand's capital as the fourth-best city in the world for a layover.
The 15-minute metro ride into the centre will only set you back £1, and everything else is just as cheap. Tuck into delicious street food and browse the floating markets – Damnoen Saduak is the most popular (and busiest), but at 100km away from the city, you'll be better off visiting Taling Chan, just 12km from downtown.
Visiting The Grand Palace will unsurprisingly mean crowds, and lots of them, but we think opting for a cruise on the Chao Phraya River is just as good, if not better. To make the trip perfect? Aim for an evening cruise, and watch your jaw drop.
If you're spending a night here, why not hit the bars and clubs on Bangkok's infamous Khao San Road? Or if you want to get away from the crowds, then you've gotta do a rooftop bar – Bangkok is full of 'em, and the view is unbelievable no matter which one you end up at – so don't think you'll have to pay a fortune on drinks!
Then, just when you've had your fill of the city, you can catch your second flight and retreat to Phuket's golden sands – perfect.
Find the best deal when you compare flight prices with British Airways, Thai Airways and EVA Air.
Best stopover city for the Philippines: Hong Kong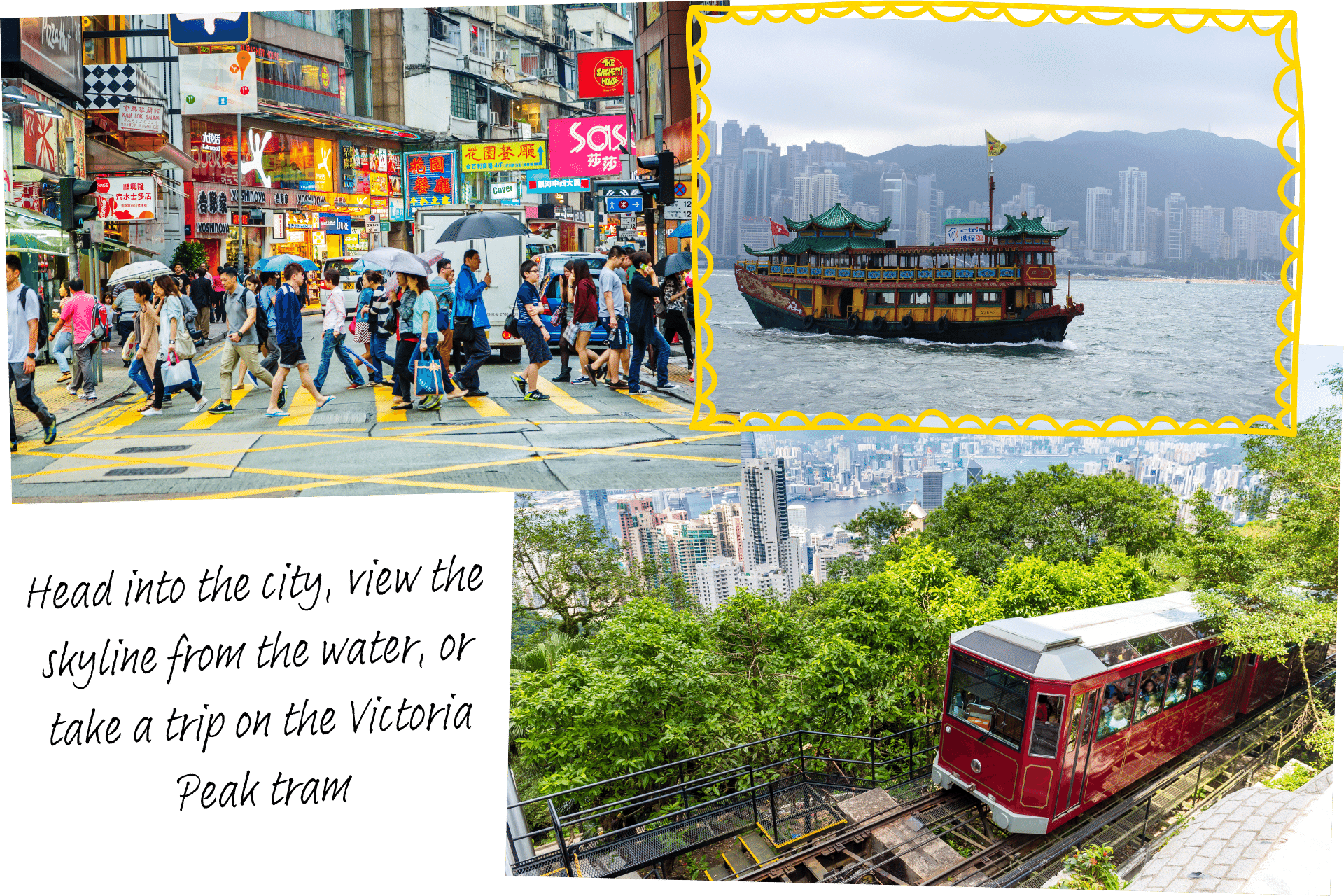 Increasingly popular for beach holidays and snorkelling trips, the Philippines is one of Asia's rising stars. But there's a catch – it's 13 hours away and, at the moment, there's just one direct flight a day to Manila. So, if you want to have a choice of airlines and flight times, a stopover is your best bet.
We'd recommend having a layover in Hong Kong – it shares the same time zone as the Philippines, so you can beat your jetlag before your main holiday even starts. It'll also give you the chance to acclimatise to the region's heat and humidity, as you explore Hong Kong's iconic Victoria Harbour and gaze at the views from Victoria Peak.
First things first, make like the locals and get on the Star Ferry – a Hong Kong icon that's still going strong more than 140 years later! It's essentially a commuter trip, with a quick chug across Victoria Harbour between Kowloon and Central, and it's dirt cheap. it's also the absolute best way to take in the skyscrapers and the lush hills that the city is known for if you're a first timer.
To take in even more of Hong Kong in a short amount of time, hop on a tram – or a ding-ding, as the locals call it – heading eastwards to North Point and you'll get to go right through the middle of Chun Yeung Street Market, a hair's breadth away from the stalls themselves! The view from the top deck of a ding-ding is pretty killer, but if you wanna take it up a notch, take a ride on the Victoria Peak Tram for incredible views over the harbour from the hills – it goes higher than Hong Kong's tallest skyscraper, so strap in!
Yau Ma Tei in Kowloon, is where you'll get a feel for the old Hong Kong – we're talking mahjong parlours (a 19th century Chinese tile-based game), the city's oldest theatre, and the retro cha chaan tang – teahouses where you can grab a cuppa.
Orlando and Paris aren't the only places where you can get a dose of Mickey – Hong Kong has its own on Lantau Island – Hong Kong Disneyland – albeit much smaller than the others. A new area, World of Frozen, is slated to open in November 2023.
Cathay Pacific offer flights to both Cebu and Manila via Hong Kong, or you could consider stopping off in Bangkok with Thai Airways.
Best stopover city for Bali: Singapore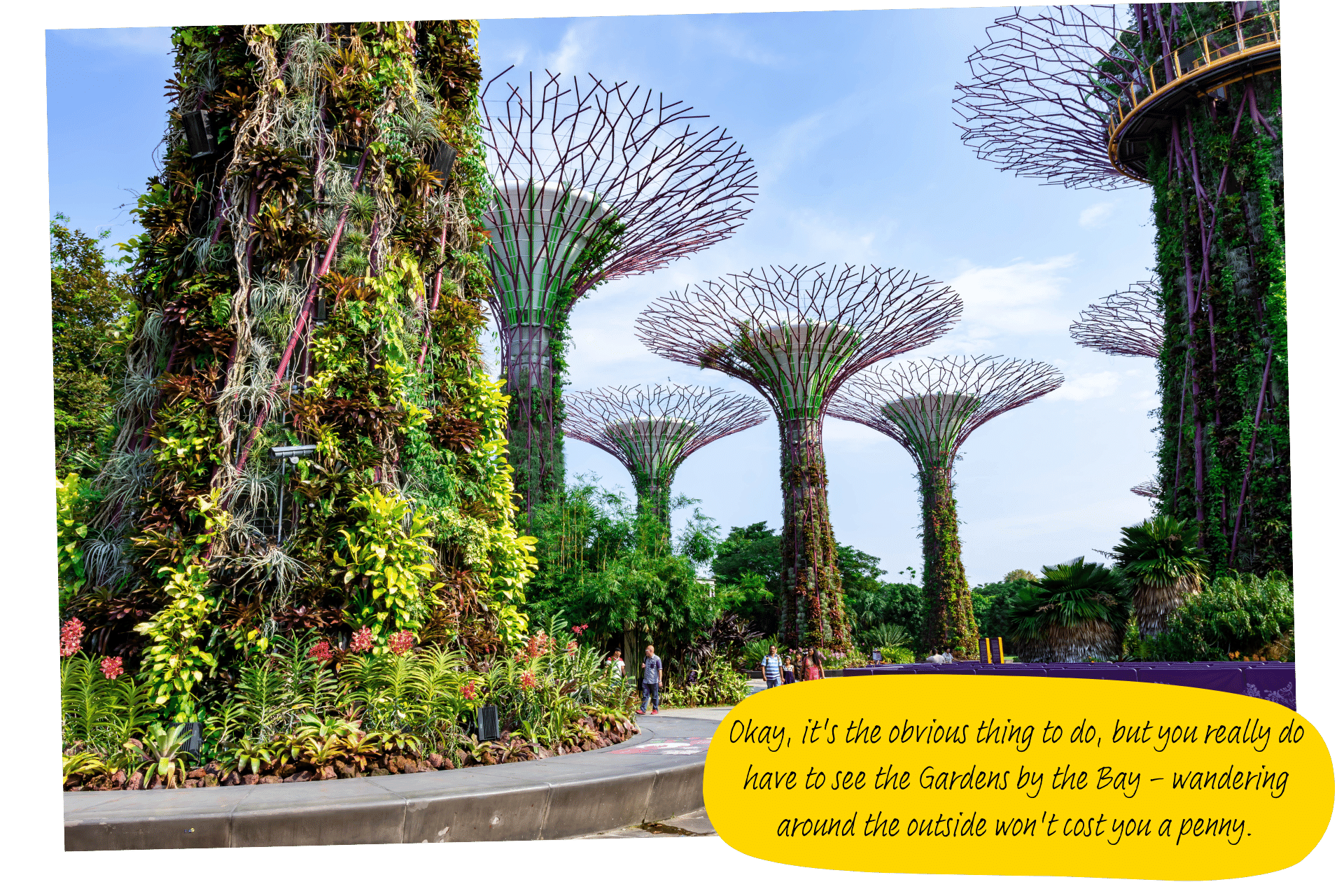 If you're lucky enough to be going to Bali, you've got a long journey ahead of you. It's so far, in fact, that direct flights from the UK don't exist. While there are several stopover cities for you to choose from – including the ones we've already mentioned – Singapore is our top pick. We ranked this beautiful place as the second-best stopover city in the world.
Just a 25-minute bus ride from the airport, the Garden City has plenty to keep you busy, with a mega futuristic skyline looming over one of the most squeaky clean places in the world, chocka with green spaces (that'll be where they get the 'Garden City' name from, then). It's also got a dead slick public transport system, so if you're short on time here, you can still take in a whole load of the best sights.
The one thing you absolutely have to do is the famous Gardens by the Bay. This Singapore icon is home to the Cloud Forest, the Flower Dome, and the Supertree Observatory – and the best thing is that you can walk around outside, weaving your way between those huge, famous Supertrees without spending a single Singapore dollar.
If you're after the best view in town though, take a dip in the floating infinity pool at Marina Bay Sands – that's the hotel that looks like two towers with a ship on top of it. If you're a foodie, meanwhile, prepare to be wowed. Singapore boasts no less than 39 Michelin restaurants and street stalls, where you can buy first-class dishes for as little as £3!
Singapore's also home to a wealth of historic neighbourhoods which'll gave you a glimpse of the old days of this island nation. There's Little India, Chinatown, and the Colonial District, whilst Katong is where you'll find mega pretty shophouses.
Pull up a seat at the Long Bar at the Raffles Hotel and nurse a Singapore Sling – this is the exact spot where it was invented, after all. Raffles is a Singapore icon, and you can read all about it in our round up of luxury hotels around the world.
Tempted? Take a look at flights with Singapore Airlines or British Airways.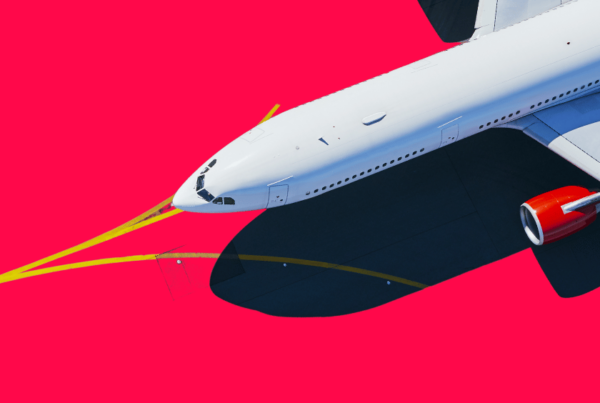 Everyone loves love. And it turns out, a lot of us are quite keen to find it at the airport.…
More and more of us Brits are getting on board with a winter break each year, with some skipping trips…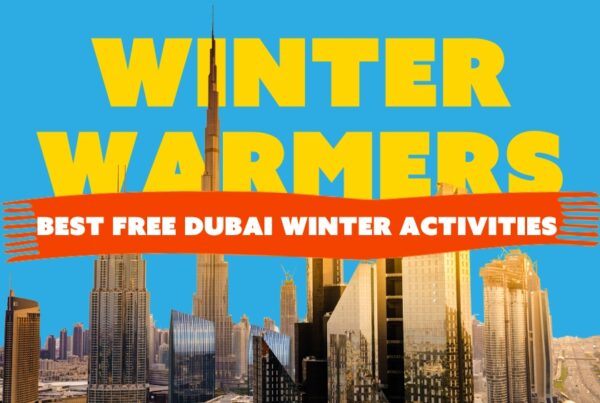 More and more of us Brits are getting on board with a winter break each year, with some skipping trips…