We've rounded up what we think are the 5 best airports for a layover, because sometimes it's worth it to take the long way round, and not just because of the moolah you'll save. Opting for the cheap flights can mean you'll have a layover, but if you play your cards right those hours waiting around don't have to be torturous – they can be pretty nice, actually.
From ice rinks and full on outdoor golf courses to waterfalls and re-enactments of traditional processions, if you're gonna do a layover – please – do it right.
5. Hong Kong International Airport – Hong Kong, China
Coming in at the honourable #5 spot, Hong Kong International Airport is as little as 24 mins away from the city if you hop on the Airport Express, but if your layover just doesn't quite stretch to some sightseeing, then you've still got a bunch of options in the airport itself.
There's things like free showers with basic amenities (you can get extras and towels from the vending machines), and several 24-hour lounges you can pay for access to – the Plaza Premium Lounge is a good shout because you'll find them in spots all over the airport. If you need some fresh air (or a fag break…), you've got the Sky Garden, an open-air terrace on level 7 of the East Hall Departures area.
But if you'd rather stay inside and do some cheeky shopping (no judging here!) T1 has big name brands in spades – Louis Vuitton, Chanel, Burberry…the lot. Saving the money for your trip? Hong Kong International Airport has loads of multimedia artworks all over, including the Waterfall Gardens to the north and south – an interactive, digital ecosystem of plant life, the rippling water of ponds, and birds flying overhead. Oooooo.
There's some great stuff to keep the kids occupied too – a bunch of the departure gates in T1 now have themed zones, from Buzz to Wonder, where they can get stuck into films, virtual reality experiences, playground equipment, and more. Plus, there's the Wonder Eggshell  on level 6 of East Hall Departures, a play space with climbing nets and slides, as well as digital interactive games too.
4. Munich Airport – Munich, Germany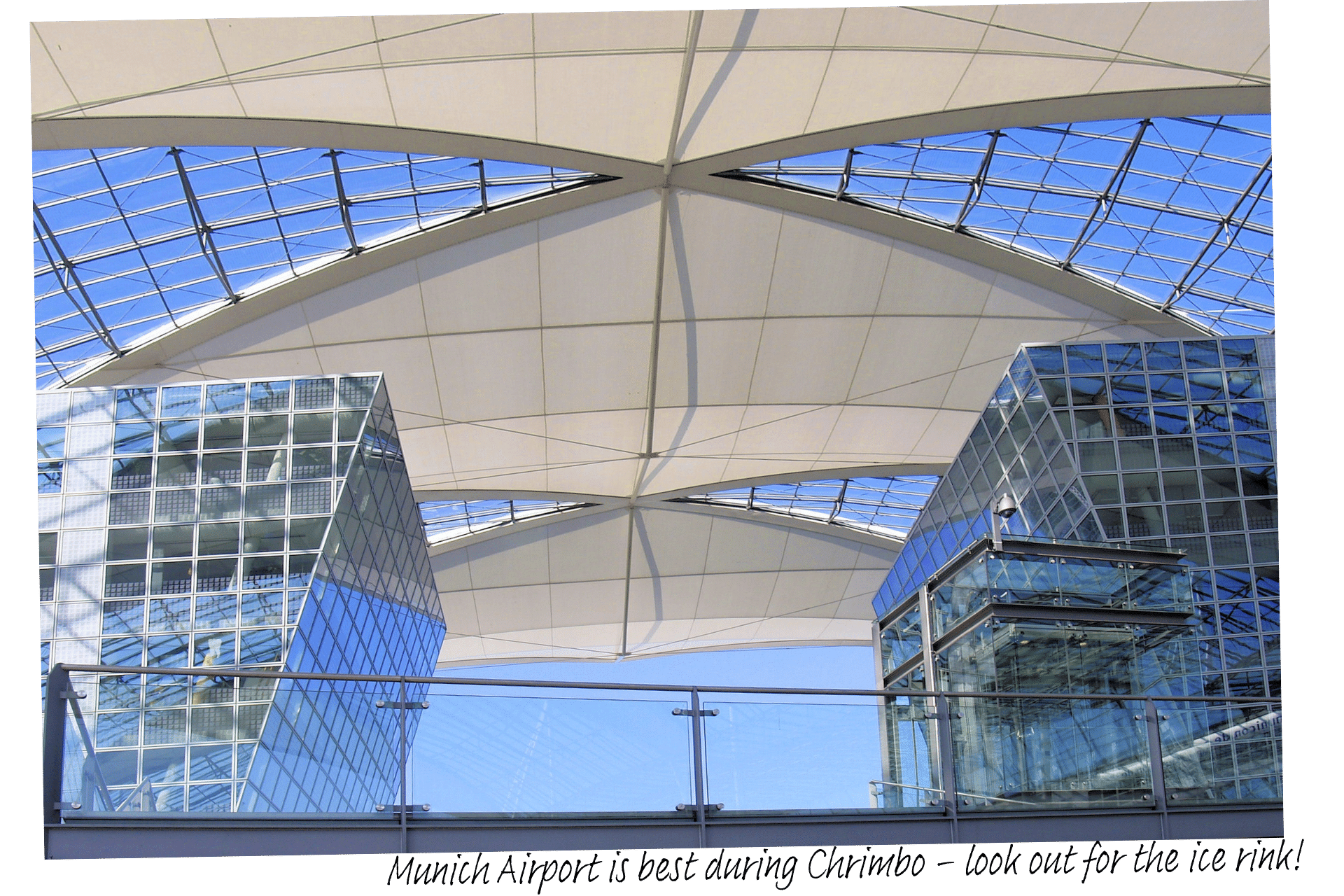 Next up, we're headed to the south of Germany for a quick spin around Munich Airport.
A medium-ish sized airport, there's only 2 terminals here, connected by the covered atrium that sits between them. If you've got less than 2 hours, stay airside and have a quick shower or use one of the Napcabs. Sort of like a Portaloo – if Portaloos were much bigger, came with a bed and separate work station, and had free WiFI – Napcabs are found in both terminals, and can be rented from €12 per hour.
But if you've got a few more hours to play around with, you can head landside to the Hilton Munich Airport Hotel and make use of the Mountain Hub Spa with its heated pool, Finnish saunas, and steam baths. Or if you've got kids in tow, you can give the Visitor's Park a whirl; there's a playground with Asian dragon temples, a South American jungle, and the deserts of Africa (apparently), and then there's the Visitor's Hill, a unique view of the runways from 28 metres up for the aviation geeks. There's even an Interactive Exhibition which takes you through all the working parts that making up the running of an international airport. Who said layovers can't be educational?
We've saved the best til' last, though. If you happen to be transiting through Munich Airport from late November until Christmas, then you're in for a cinnamon-scented treat. Remember that large, covered atrium that connects the two terminals we mentioned? That's turned into a bonafide German Christmas market – there's handmade crafts, glühwein (that's mulled wine to you and me), a carousel, and – drum roll, please – an actual ice skating rink.
3. Dubai International Airport – Dubai, UAE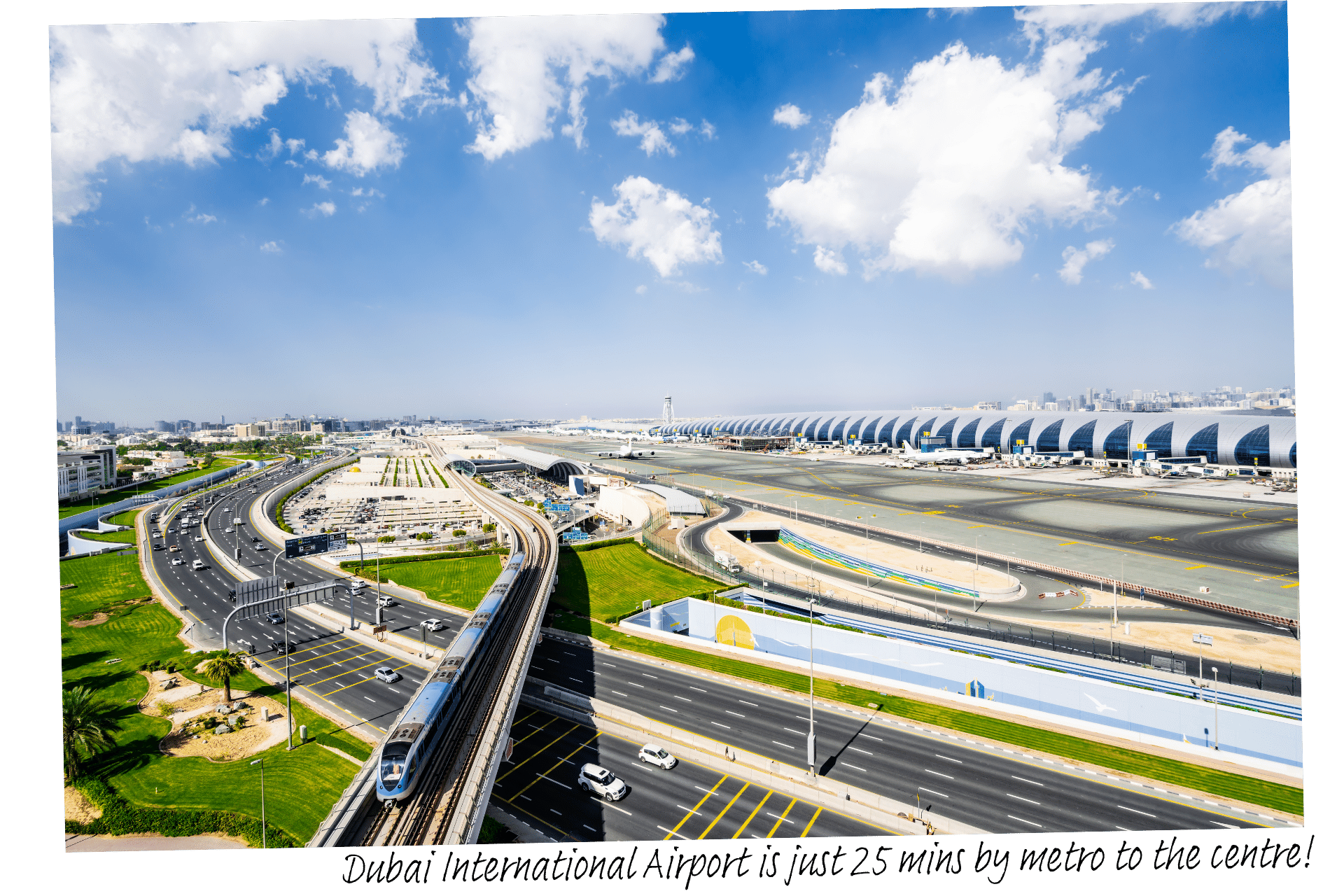 Dubai International Airport is just 25 mins on the metro to the city centre, making a quick trip into the City of Superlatives dead easy, even if you've got a layover on the shorter side of things.
If you've got 6 hours or more, then get thee up the Burj Khalifa! Sure, plane spotting from a window at the airport is nice, but skyscraper spotting from the top of the Burj is just, well, better. It's mega popular though – book those tickets in advance! If heights aren't your thing, you can grab the metro from the airport straight to Dubai Mall (MASSIVE – like, biggest-in-the-world massive) or catch the free show at the Dubai Fountains. Take it up a notch with a boat ride on Burj Lake too – it's another popular activity, so also grab those tickets in advance. If your layover is during the cooler evening hours, this is a great time to explore Dubai Creek (maybe even catch a traditional abra ferry) and the Al Fahidi Historical Neighbourhood – this is where you'll find all those souks, from the Spice Souk to the Gold Souk.
If you'd rather just chill right where you are, T3 has Zen Gardens with fish ponds, shrubs, and palm trees, plus there's a play area for the kids. Also in T3 are the igloo-like sleeping pods with roll-down roofs – they come with a mattress, disposable headrest, blankets, and pillows, but you'll have better luck reserving in advance.
If it's spas you're after, you'll be rolling in 'em! Be Relax have branches all over T3 for a quick massage on the go, but you can take it to the next level by using Dubai International Airport Hotel's snazzy Timeless Spa – it's open 24/7. In the same hotel is the GFORCE Health Club with its jacuzzi, sauna, steam room, and pool. Oh, there's a gym too, but who's using that?!
Dubai International Airport might have a little less going on than others on this list, but we still rate it because of just how close it is the centre of the city, making it easy-peasy-lemon-squeasy to explore Dubai itself on your layover.
2. Incheon International Airport – Incheon, South Korea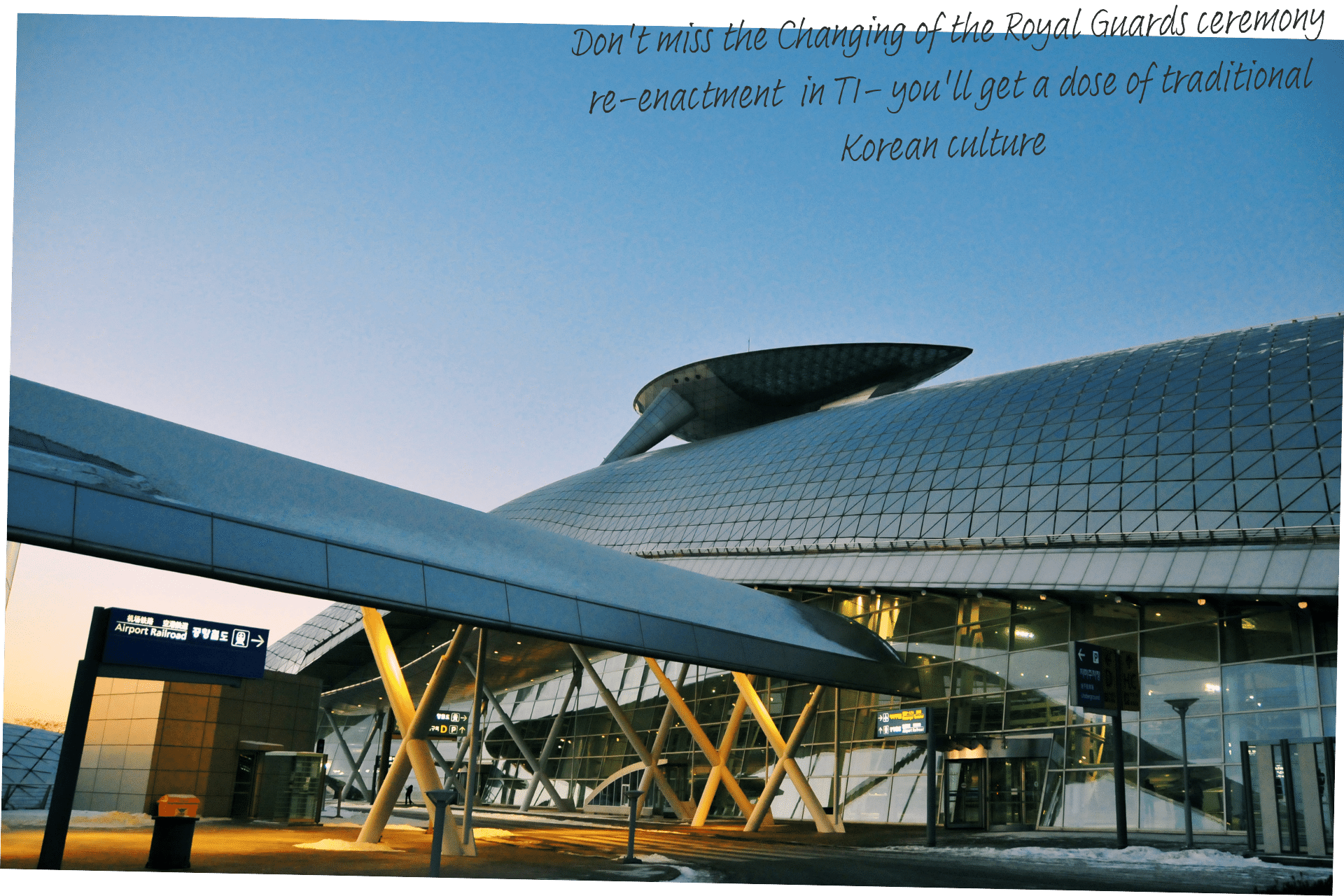 South Korea's Incheon International Airport, just over 21km from Incheon itself, cut the ribbon on its newest terminal, T2, back in 2018. Full of big windows and natural light, it's got a mini indoor garden to boot. That's not the only garden though, there's a bunch all led by theme, including the outdoor Wildlife Garden, as well as the Sky Garden with its flowers, courtyards, walking paths and observation deck.
There's absolutely loads of art installations here, a 'digital' gym with virtual workout sessions, a cinema, and even a full on outdoor golf course – find it in the International Business Area (surprise).
One thing Incheon International Airport is really good at, though, is flying the flag for their country. If you're in Terminal 1, keep an eye out for the Changing of the Royal Guards ceremony and the Walk of the Royal Family – both re-enactments of traditional Korean culture, Hanboks and all. There's musical performances, using both traditional Korean instruments and western-style ones, at many of the departure gates, and even the Korean Cultural Street, with its giwajip (houses with tiled roofs) and jeongja (gazebos).
Have a few hours to kill and fancy doing a bit of exploring beyond the airport but worried you'll take a wrong turn somewhere and miss your flight? You and me both! But one of our fave things about Incheon International Airport is that you can hop on one of their tours – they range from 30 min stints learning about hanboks and the art of Hangeul in the airport itself, to longer jaunts out to places like Gyeongbokgung Palace, the neighbourhood of Insadong, the Dokgae Bridge – even the DMZ! How about that for a layover activity?!
1. Singapore International Airport – Singapore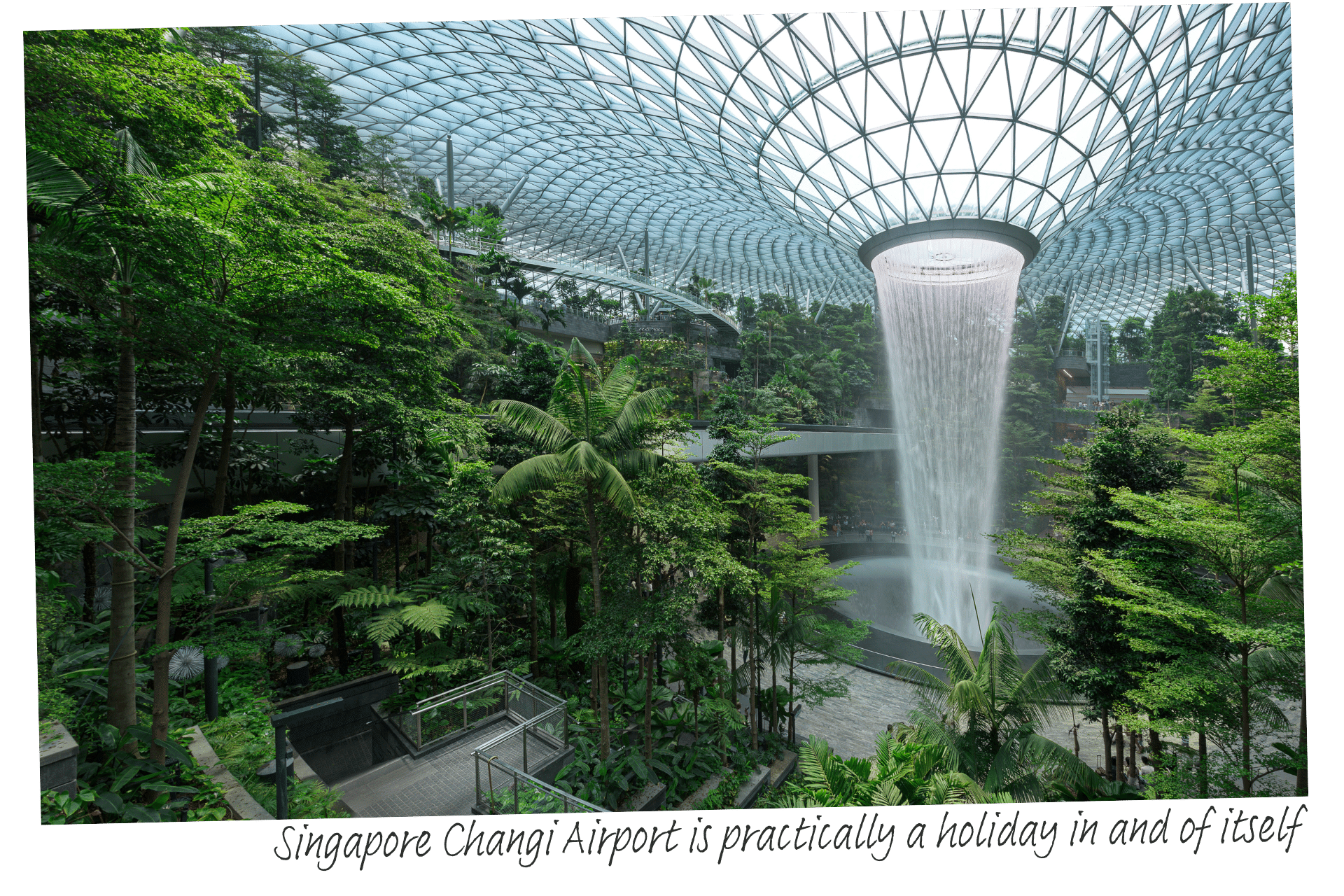 Yeah, yeah…we know every man and his dog says that Singapore Changi Airport is the best out there. What can we say? It's the Rolls Royce of airports, after all. Where to begin with it? Well, we'll skip all the usual suspects: shopping, dining, blah, blah, blah. It's got all of that in spades, no problem. But what's it got that sets apart from the others?
If you're a bit more strapped for time and wanna stay Airside, you can head to YotelAir for a refresh, where you don't have to book the night, just a minimum of four hours in one of their cabins which are kitted out with the all things you need to feel human again after a long stint 36,000 feet in the air. If you'd rather stretch those legs of yours and remember what it's like to be back on terra firma, then you've got a whole bunch of gardens to have a wander through, from the Cactus Garden in T1 to the Enchanted Garden in T2, and right on to T3's much talked-about Butterfly Garden.
If you're in T4 and you've got some teenagers dragging behind you, then there's always the Entertainment Corner with Xbox Kinect and some old school arcade games to keep 'em happy for a bit. But if it's just you and the girls (or even just your other half) and you happen to be in T1 then you're in luck – for just $23, you get to play around with the rooftop pool and jacuzzi. Oh, and there's a 24 hour bar too. Just sayin'.
Okay, but what if you've a layover on the longer side? Now, that's where it gets really fun. If you make the trip Landside (and you really, really should) then you'll get to explore the jewel in Singapore Changi Airport's crown – Jewel, its newest terminal. Designed by the same folks who did the Marina Bay Sands (yep, that one that looks like a ship), boy, does this bad boy have all the bells and whistles! Here's a quick run through: there's the Shaw Theatres (with IMAX), the Petal Garden on the top floor which feature seasonal displays of flowers and is mega Instagrammable, Canopy Park with its huge trampolines and slides, an actual maze who's prize is the watchtower at its centre with amazing views, the only Pokemon Centre outside of Japan, and – deep breath – the pièce de resistance…the HSBC Rain Vortex at the heart of the Shiseido Forest Valley – the world's tallest indoor waterfall.
Not too shabby, then.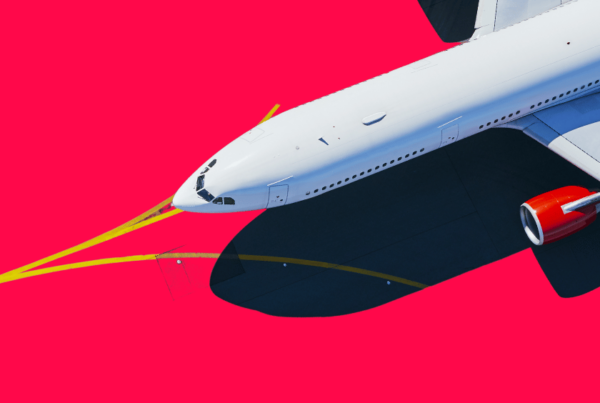 Everyone loves love. And it turns out, a lot of us are quite keen to find it at the airport.…
More and more of us Brits are getting on board with a winter break each year, with some skipping trips…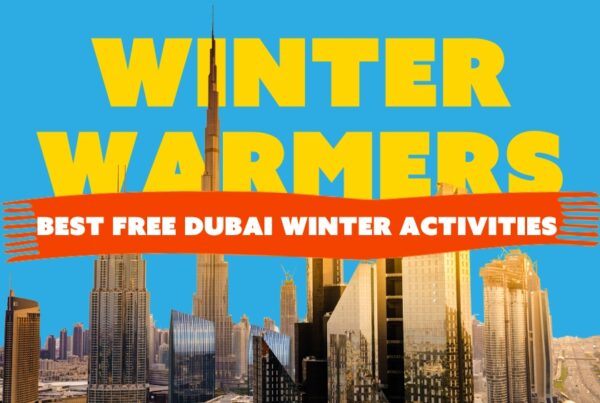 More and more of us Brits are getting on board with a winter break each year, with some skipping trips…