Nothing gets you into the festive spirit like a Christmas market. There's just something special about wrapping up warm, sipping on mulled wine and wandering around amongst little wooden huts. If you're considering getting away this winter, here are seven of the best Christmas markets in Europe.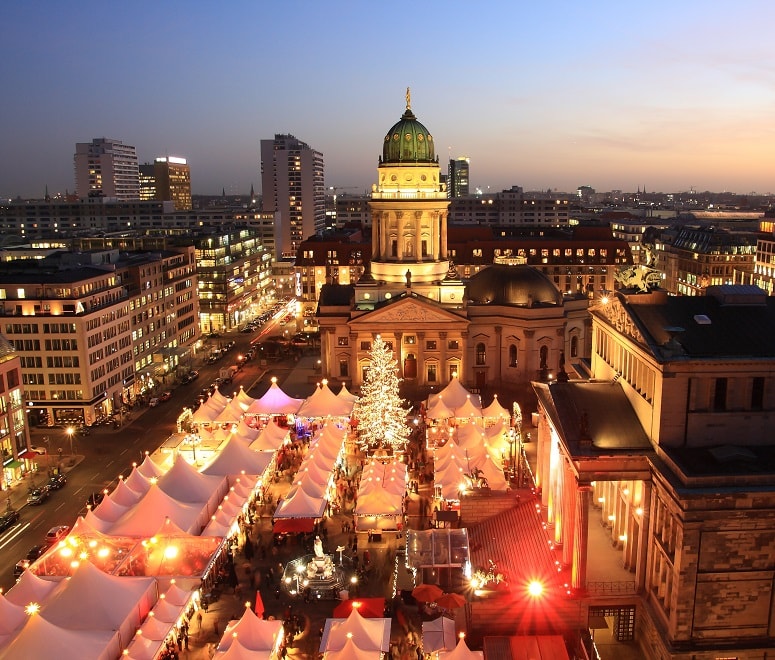 Berlin Christmas market
Germany is the undisputed home of Christmas markets. And if you want to combine your Christmas market experience with incredible nightlife then there's no better place than Berlin. By the end of November, Germany's capital will be packed to the rafters with markets selling gingerbread and waffles, warming Glühwein, and a variety of handmade gifts. The biggest is the Alexanderplatz Christmas market, which will run from 25th November until 26th December. Dating back to the 16th century, it's famous for having Europe's largest Christmas pyramid. Adorned with over 5,000 lights, there are snacks available to buy on the ground floor and a viewing platform at the top.
Vienna Christmas market
One of Europe's prettiest cities, Vienna is a wonderful place to visit at any time of year. But there's something particularly enchanting about being here at Christmastime. From mid-November, Christmas markets pop up in squares across Vienna, illumining, Austria's capital with their twinkling fairy lights. The most well-known of all Vienna's Christmas markets is the Wiener Christkindlmarkt on the Rathausplatz. Running from 15th November until 26th December, it has over 150 stalls – enough to keep you occupied for hours. Allow time to explore the surrounding area as well though. There'll be an ice rink in front of the Rathaus – or City Hall – and a nativity scene trail in the nearby park.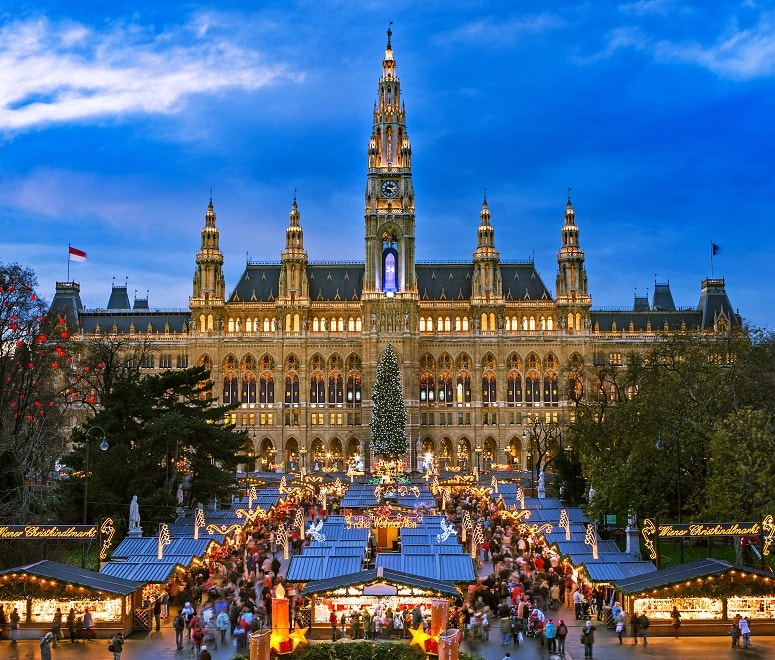 Prague Christmas market
We're all familiar with the popular Christmas carol Good King Wenceslas. But what you might not know is that this kind fellow, who looked out on the Feast of Stephen (that's Boxing Day to you and me) and braved harsh weather to help a poor peasant, is based on the historical figure Saint Wenceslaus I, Duke of Bohemia. He lived in what is now the Czech Republic, in the first century AD, and is the country's patron saint. So it's only fitting that, come Christmastime, the Czech capital be brimming with festive cheer. Prague's two biggest Christmas markets are in the historic Old Town Square and Wenceslas Square (surprise surprise). You'll also find a few smaller markets clustered around the castle, Republic Square and on Kampa Island.
Besides ogling all the Bohemian gifts, the Prague Christmas markets are a great place to try some traditional Czech delicacies. Opt for a Czech beer instead of mulled wine, and make sure you try a trdelník – a funnel cake made from rolled dough that's roasted on a spit and topped with sugar. Delicious!
Edinburgh Christmas market
If you're looking for a Christmas market a little closer to home, head to Edinburgh. It's spectacular all year round, but the festive period is when Scotland's capital really comes to life. For six weeks, from the 16th November to the 4th January, a traditional Christmas market will take over the city' East Princes Street Gardens. Stalls will sell everything from bespoke products and gifts to local produce and tasty treats. There's also a Christmas tree maze, a Big Wheel and a charming carousel. What more could you ask for?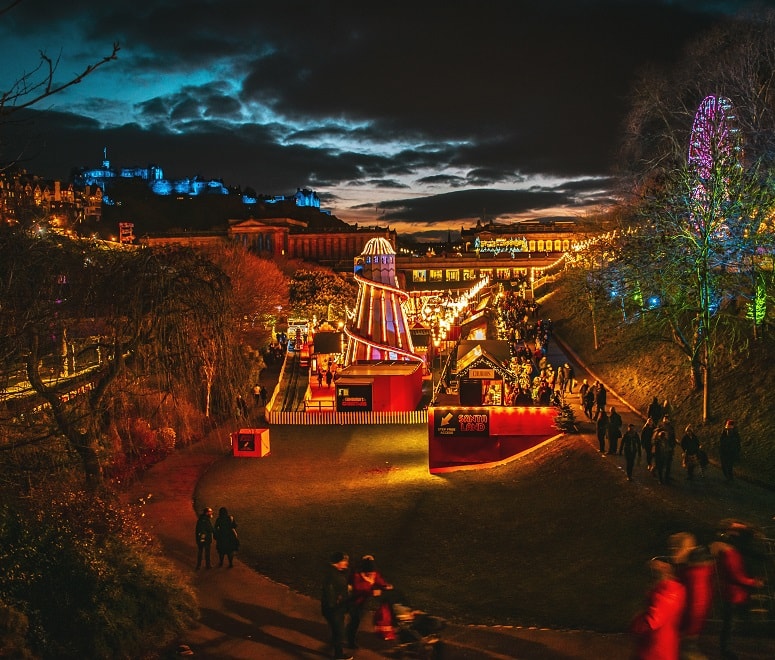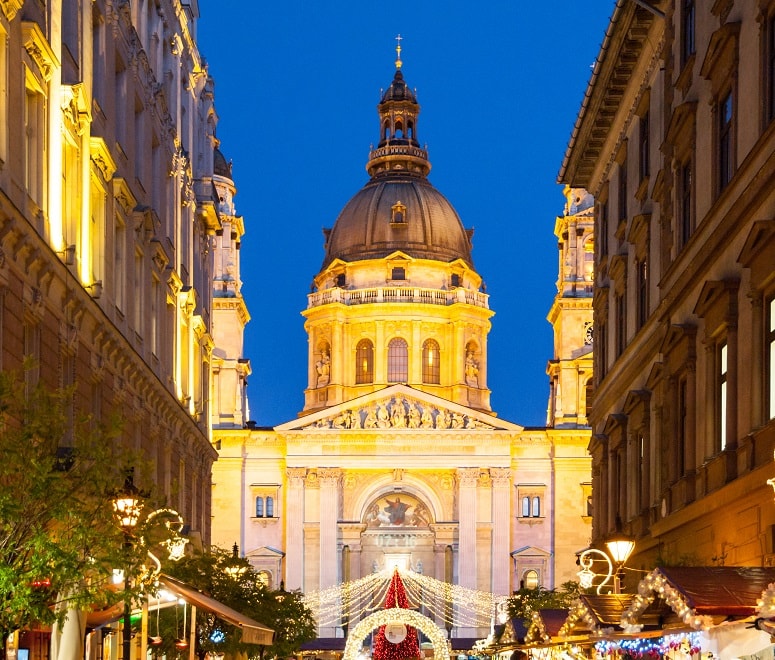 Budapest Christmas market
Holidays in Hungary don't come much better than a trip to the Budapest Christmas markets. There are two main markets to choose from – one at the centrally-located Vörösmarty Square, and another at St Stephen's Basilica. For the past nine years, St Stephen's Basilica has played host to Advent Feast at the Basilica. Besides 160 stalls selling traditional handicrafts alongside Hungarian pastries, roast chestnuts and goulash, this event features a nightly light show. Every day, between 4.30pm and 10pm, festive stories and religious scenes are projected onto the basilica's neoclassical facade. The Budapest Christmas market dates for 2019 are 8th November to 1st January for Vörösmarty Square, and 22nd November to 1st January for Advent Feast at the Basilica.
Strasbourg Christmas market
Dating back to 1570, Strasbourg's Christmas market is one of the oldest in Europe. No wonder this pretty city in northeastern France claims to be the Capital of Christmas! From 22nd November until 30th December, 300 wooden chalets will take over the UNESCO World Heritage-listed Grande Ile. Focused primarily around Cathedral Square and Place Broglie, it's the ideal place to experience an authentic Alsatian Christmas.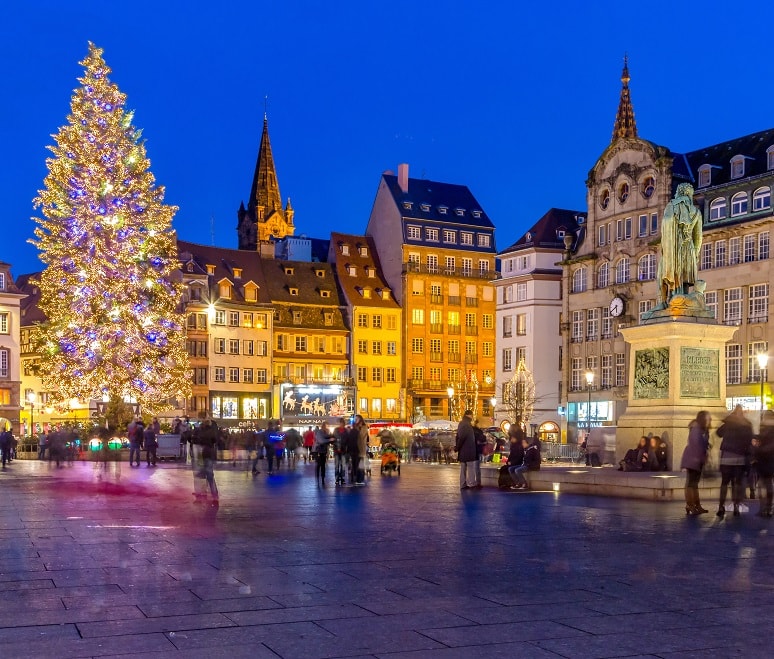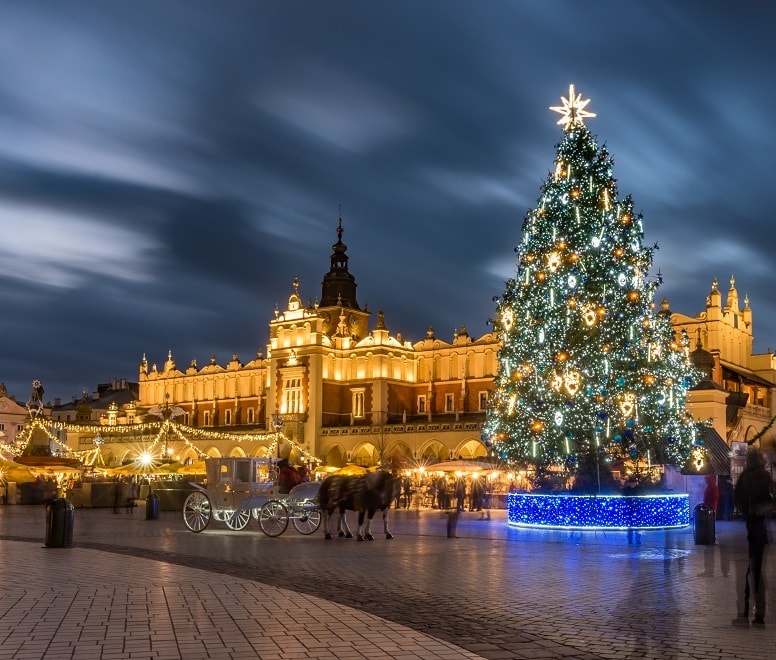 Krakow Christmas market
You can't guarantee a festive snowfall, but if you are dreaming of a white Christmas then Poland's a good bet. And this former royal capital, in the south of the country, is one of our favourite choices for a Christmas market break. Its medieval architecture and cobbled streets give it a magical air. So much so, you can almost believe you've stepped into a Disney movie. Set in the city's vast historic Rynek Glowny square, the Krakow Christmas market is the largest in Poland. The pretty wooden stalls sell everything from gifts and decorations to gastronomic delights like dumplings, sausages and Oscypek – the region's signature smoked cheese.