Central Park is a green oasis in the heart of New York City. At 843 acres, it's by far the biggest park in Manhattan. With its expansive meadows, tree-lined walkways and various bodies of water, it's a perfect spot for picnics, bike rides, or just aimless wandering. To help you out if you're planning on flying to New York, we've rounded up some of the best things to see and do in Central Park.
Central Park Zoo
More than a million animal-lovers a year flock to the Central Park Zoo. Occupying 6.5 acres in the southeast corner of the park, it showcases creatures from tropical, temperate, and polar zones around the world. It was founded 120 years ago as part of an effort to save wildlife, and has been carefully designed to recreate the natural habitats of the animals it houses. The Polar Circle is home to several breeds of penguin; in the Tropic Zone you'll find a wide range of tropical birds, frogs and lizards – and also black and white ruffed lemurs – while the Temperate Territory is where you can visit snow monkeys, red pandas and cranes. In the centre courtyard lies a sea lion pool, and you'll find snow leopards and grizzly bears roaming elsewhere. If you've got little ones, head to the Tisch Children's Zoo, where kids can play with sheep, goats and zebu.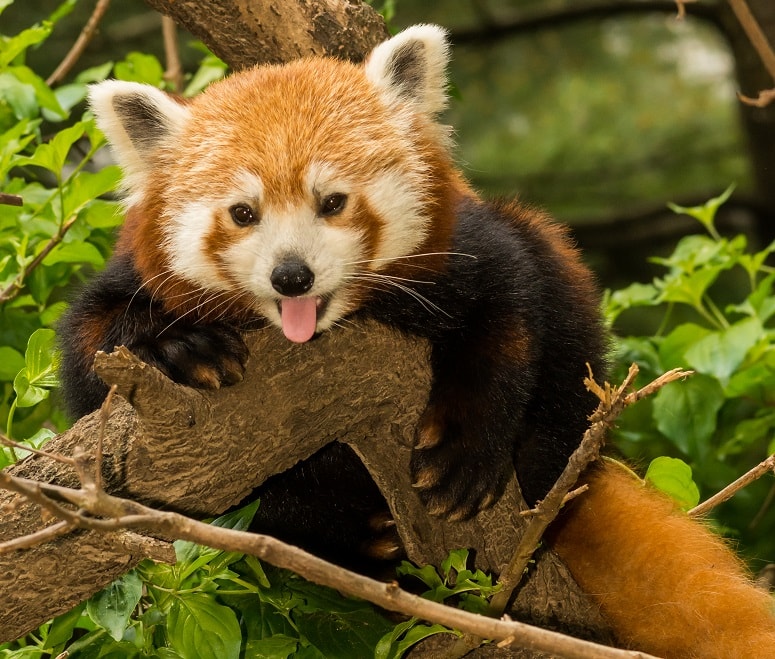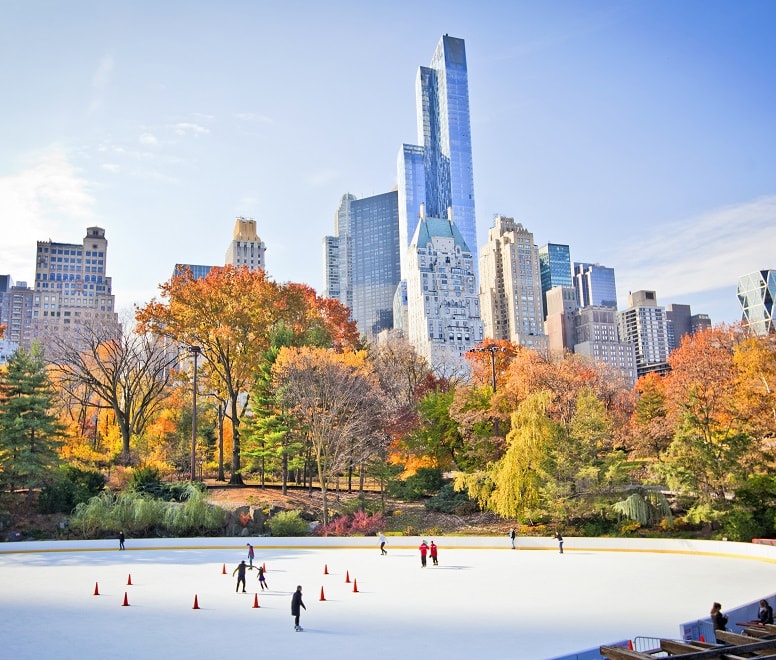 Ice skating on Wollman Rink
If you visit New York in winter, it's practically compulsory to go ice skating in Central Park. Almost as iconic as the park itself, the Wollman Rink is located near the south entrance, at 59th Street and 6th Avenue. While it attracts the most visitors over the Christmas period, the rink is actually open all year round. As well as general public sessions, classes are also held on the rink. Children and adults both have the opportunity to learn to skate, try figure skating, or play ice hockey.
Loeb Boat House and Central Park Lake
If you fancy taking a paddle around the Central Park Lake, head to the Loeb Boathouse. They have a fleet of 100 boats which you can rent from 10am until sundown. Each boat seats four people and costs $15 per hour. Bigger groups – or those who just don't want the effort of rowing themselves – can opt for a classic Venetian gondola tour instead. Rowing is thirsty work though, so we recommend heading back to the Loeb Boathouse after your time on the water. Grab a drink at the outside bar, a quick bite at the Express Café, or treat yourself to some fine dining at the Lakeside Restaurant.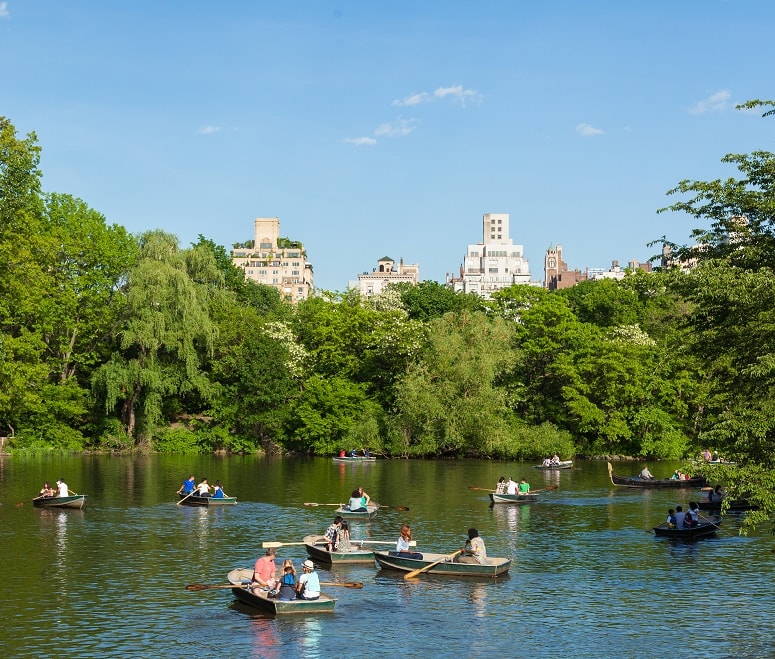 Strawberry Fields
Named after The Beatles' song Strawberry Fields Forever, Strawberry Fields is a living memorial to John Lennon. This tranquil area of the park sits across from The Dakota – the apartment building where Lennon lived and was fatally shot in 1980. Strawberry Field's centrepiece is a circular mosaic which bears the name of another of Lennon's songs – Imagine. Surrounded by stately elm trees, it's a designated quiet zone, meant for calm reflection and meditation. However, this is a hugely popular part of the park. Swarms of tourists and buskers descend on a daily basis meaning it's somewhat less peaceful than intended.
Alice in Wonderland Statue
Central Park's Alice in Wonderland statue was designed as a gift to the children of New York. It was commission in 1959 by philanthropist George Delacorte after the death of his wife Margarita, who used to read Alice's Adventures in Wonderland to their children. Cast in bronze, it was constructed by Spanish-born American sculptor José de Creeft. The statue features not just Alice but also the Mad Hatter and the White Rabbit, and a few other characters from Lewis Carroll's beloved book. Alice – perched atop a giant mushroom – is said to have the face of De Creef's daughter, Donna, while the Mad Hatter is supposed to be a caricature of George Delacorte. Unusually for a sculpture, children are invited to climb and crawl all over it.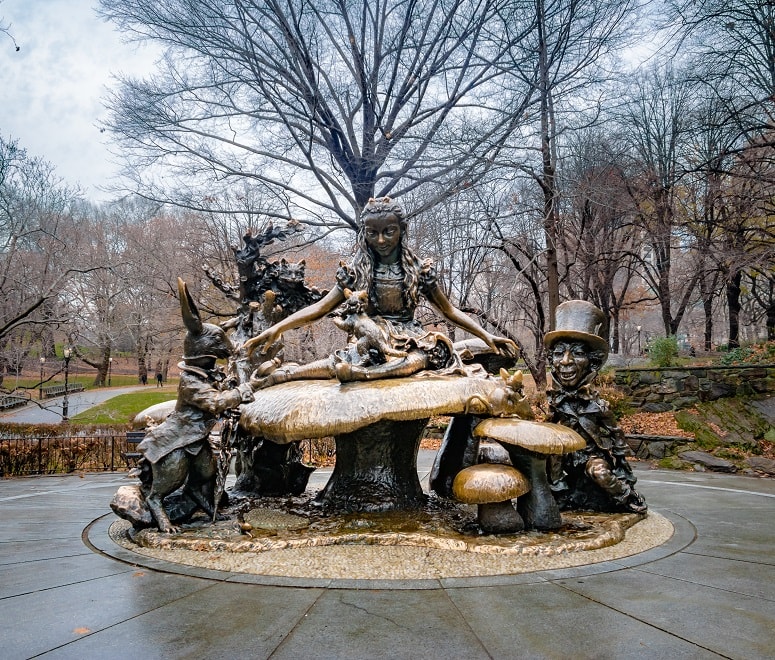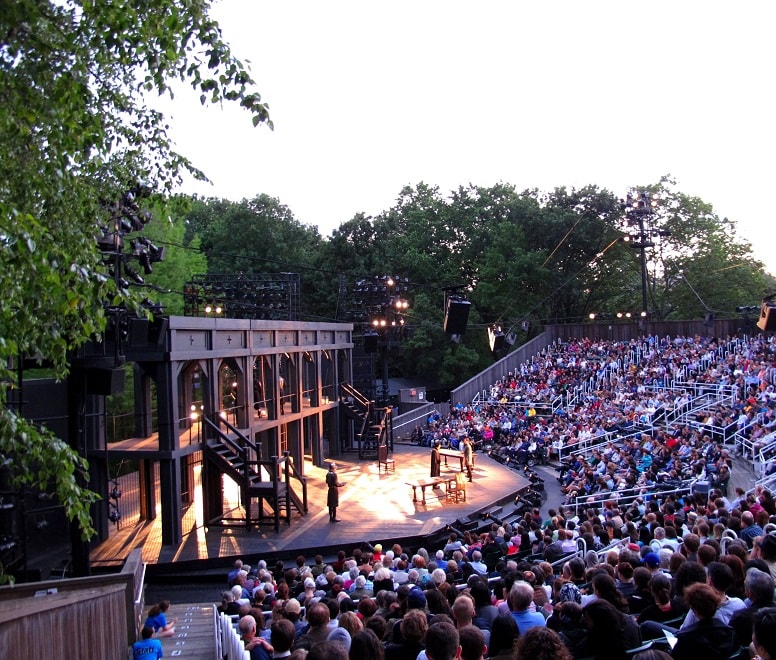 Shakespeare in the Park at the Delacorte Theater
Shakespeare in the Park has been an NYC summer tradition for over 50 years. Every year, from May to August, The Public Theater puts on productions of some of the Bard's best-loved works at Central Park's Delacorte Theater. And the best part? The shows are absolutely free. In fact, they're some of the best free events anywhere in the city. There are two downsides though. Firstly, the events are extremely popular, and most tickets are allocated via a digital lottery. Alternatively, you can head to the venue and queue for day tickets, which are released at noon. Just bear in mind that lines can be extremely long, so you'll need to get there early. Secondly, the Delacorte Theater's beautiful amphitheatre is open-air. So, in the case of severe weather, the performance may get delayed or even cancelled.
Belvedere Castle
Standing on one of the highest points in the park, this 19th century stone castle has just undergone a $12 million makeover. Built in 1879, the whimsical structure was primarily intended as a visitor centre and lookout. Those who have the energy to climb up to Belvedere Castle will be rewarded with wonderful views of the Great Lawn, the Delacorte Theater, and the Ramble. It also houses the Henry Luce Nature Observatory, which teaches visitors about the nature and wildlife in Central Park.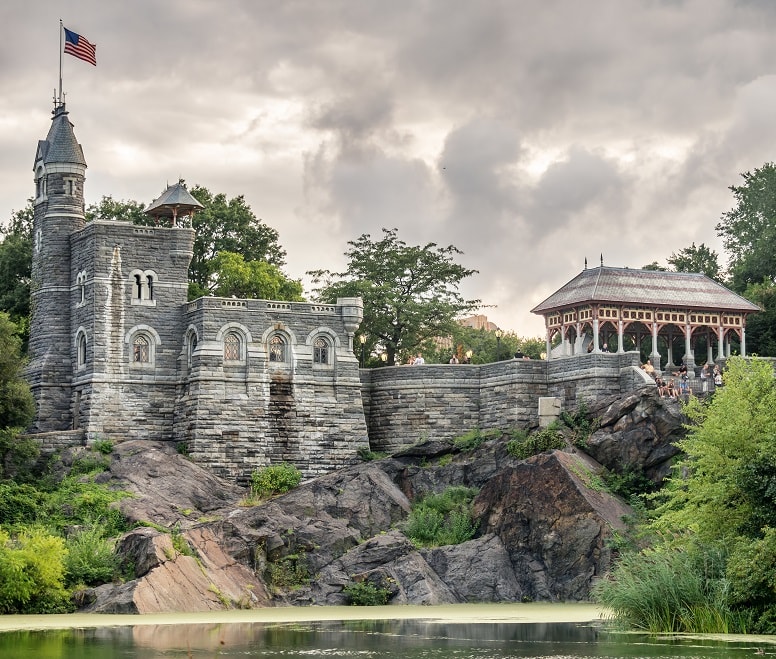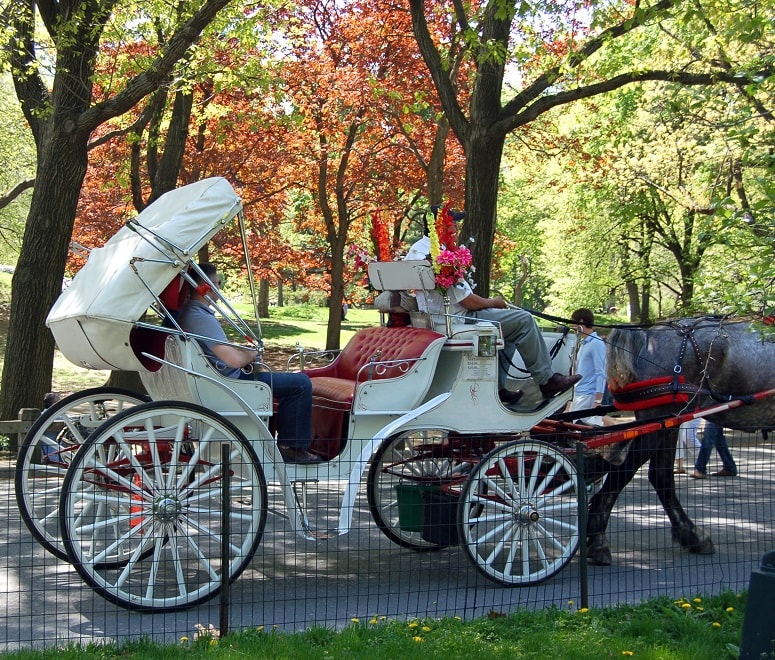 Carriage rides
Like visiting the Statue of Liberty and going up the Empire State Building, a Central Park carriage ride should be on all New York bucket lists. It's a lovely way to explore the park and see the major sites listed here. There are several companies which operate tours – most of which last anywhere from 15 minutes to an hour. You can even arrange a special proposal trip if you're planning to pop the question! You'll find the carriages lined up along Central Park South between 5th and 6th Avenues all year round, although tours do stop if it gets too cold in order to protect the horses.
Central Park Carousel
If a carriage trip isn't your thing, you can instead ride the plastic ponies on the Central Park Carousel. The current carousel is the fourth to stand in Central Park since 1871. The first was apparently powered by a live horse, while the next two were destroyed by fires. Today's carousel has been in the park since 1950. The Parks Department found the antique abandoned in an old trolley terminal on Coney Island. It was originally crafted in 1908 by Brooklyn manufacturer Stein and Goldstein. One of the country's largest merry-go-rounds, it features 57 hand-carved horses and two decorative chariots, all of which bob along to lively organ music.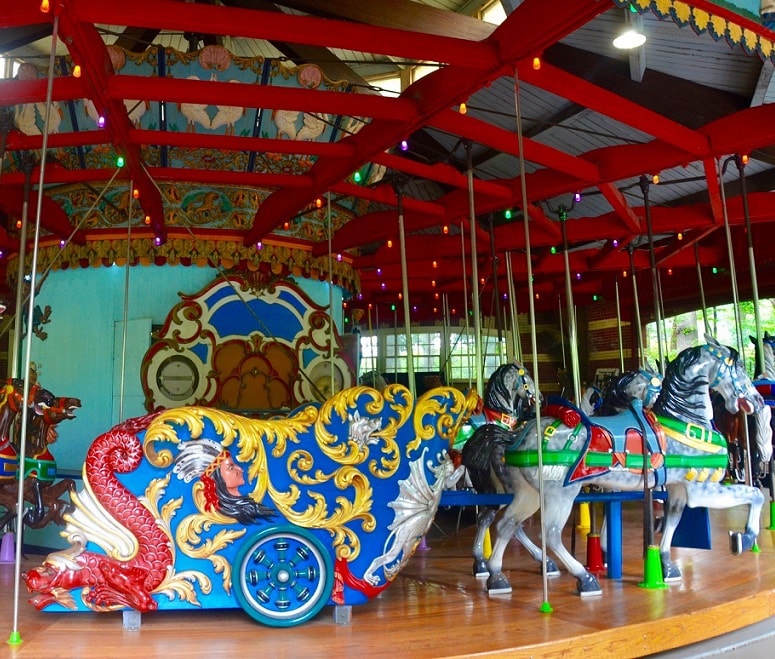 Bethesda Fountain
Twenty six feet high and 96 feet wide, the Bethesda Fountain is the focus point of the ornate Bethesda Terrace – the heart of Central Park. At its centre stands a neoclassical sculpture known as the Angel of the Waters. This statue was the only sculpture commissioned as a part of Central Park's original design. Carrying a lily in one hand, the eight-foot bronze angel stands above four small cherubim. These are designed to represent health, purity, temperance and peace. Designed by Emma Stebbins in 1868, the Bethesda Fountain marked the first time a woman received a public art commission in New York City.