If you're one of the millions of people flying from a UK airport over the festive period – one of the busiest and most stressful times you can travel – you might want to give our 'strandability index' a quick glance before you head out. We've found that there are some airports out there that are – how shall we put it? – far less 'strandable' than others.
Best and worst UK airports to be stranded at
To assess airport 'strandability' we looked at three key categories: essentials (including free Wi-Fi, charging points and restaurants), comfort (think lounges and quiet spaces) and things to do (like shops, spas and play areas). Considering all these factors, we found that London Heathrow is the best UK airport to be stranded over Christmas – another accolade, after the international hub came top in Netflights' review of the UK's 30 busiest airports earlier this year. Heathrow – the seventh busiest airport in the world – was followed closely by London Gatwick, while London Southend and Birmingham tied for third place.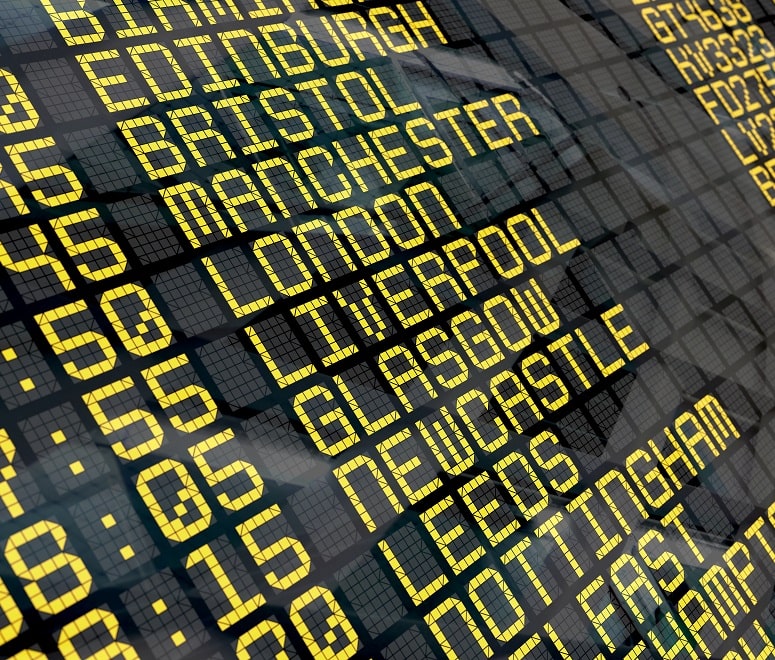 At the other end of the table is Guernsey. If you're travelling from this Channel Island over Christmas, good luck in the event of a delay. According to our analysis, Guernsey Airport is arguably the worst airport to be stranded at over Christmas. There's very little to keep you occupied here – no known charging points for your devices, no spas to unwind in, no quiet spaces for meditation, and no airport lounges serving an unlimited supply of much-needed coffee. It'll just be you and your twiddling thumbs.
Other airports you wouldn't want to be stranded at include the Isle of Man, Norwich, Belfast International and Durham, which, it seems, is a little tight-fisted with its Wi-Fi offering (it's only free for the first 30 minutes). So pack a book and a sandwich – maybe even a portable charger, while you're at it…
The busiest UK airports ranked by 'strandability'
1. London Heathrow
2. London Gatwick
3. London Southend
3. Birmingham
5. Newcastle
6. East Midlands
7. Manchester
8. Edinburgh
9. Exeter
10. Doncaster Sheffield
10. Jersey
10. London Luton
10. Glasgow
14. Aberdeen
15. Bristol
16. London Stansted
16. Newquay
18. London City
18. Cardiff
20. Leeds Bradford

20. Bournemouth
22. Southampton
22. Glasgow Prestwick
22. Liverpool
25. Belfast City
25. Durham
27. Belfast International
28. Norwich
29. Isle of Man
30. Guernsey

Best and worst people to be stranded with
But that's not all we found. According to our survey, there are definitely some people who we'd rather not be stranded with.
Like dads, for example. Our survey found that more Brits would rather be stranded at an airport over Christmas with a stranger (2%) or a work colleague (1.95%) than their old man (1.75%). Poor Pops. Mums, on the other hand, are more popular, with 5.5% of respondents saying they'd prefer to be stuck with their Mamma than anyone else.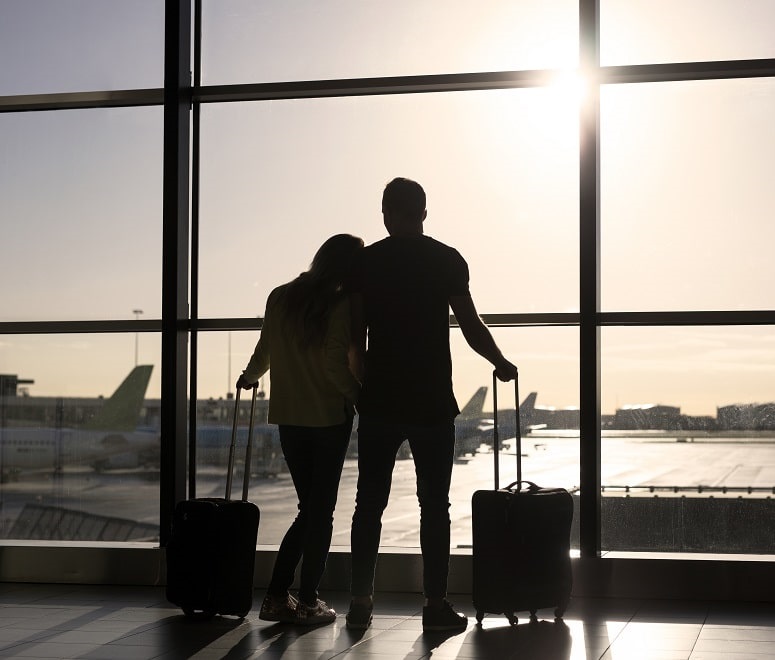 When it comes to the best person to be stranded with over the festive holidays, there's one clear winner – partners. A whopping 40.5% said they'd most like to be stuck at the airport with their other half. The entire family was also a popular option (12.4%), followed by friends (9.8%). In case you're wondering, sisters (2.5%) pipped brothers (2.3%) – sorry lads.
Popular ways to pass the time
You're stranded at the airport – now what do you do, besides avoid your dad? Well, according to our survey, walking seems to be the answer, with 31% of respondents saying this is how they'd probably pass the time. Eating was the second most popular activity (29%), followed by reading (28%), shopping (22%), and drinking at a bar (21%).
Interestingly, phones – which are so central to most people's lives – didn't figure in the top five, with playing on phone apps (19%), scrolling through social media (14%), and streaming TV shows/films coming in sixth, seventh and eighth place respectively.
What stresses people the most about festive flying?
Overall, our survey found that flight delays are the most stressful thing about flying during the Christmas period (35%), followed by long check-in queues (23%), queues at security (17%) and overall airport busyness (16%).
Some travellers also find other travellers to be their biggest bugbear, with 14% of respondents admitting that clueless passengers frustrate them the most, while 11% saying that other stressed-out passengers make them feel on edge.
But one thing really surprised us. Young people love a sit down. In fact, just over 14% of 16-24 year-olds and more than 12% of 25-34 year-olds admitted they find a lack of available seating at an airport to be the most stressful or frustrating thing about air travel over Christmas. This is compared to less than 7% of respondents aged 55 or over – although, it's fair to say that, the older you are, the more likely that some kind-hearted traveller will offer up their seat. So why stress about it?