It's been many months since the outbreak of the COVID-19 pandemic caused an unprecedented upheaval to flying. Tens of thousands of bookings have been cancelled, aircraft all over the planet grounded, airports mothballed, and would-be travellers have seen their travel plans impacted – including a number of Netflights customers, who we've been doing our best to assist throughout.
But, as the 'new normal' is likely to see international air travel compromised for some time to come, airports and airlines have been working hard to introduce new products, services and innovations designed to build up consumer confidence and get the world travelling again, while supporting efforts to manage the infection and protect wider public health.
Here's a rundown of some of the latest updates.
Heathrow opens a 'rapid testing facility'
London Heathrow has opened the first of two rapid coronavirus testing facilities, which it hopes will eventually be able to process up to 13,000 incoming passengers a day – and potentially prevent the need for many of them to quarantine.
The facilities will be operated by aviation services firm Swissport and the Collinson Group, which runs airport lounges, and provide passengers with a dual PCR swab test. This involves an initial test taken at the facility on arrival in the UK, and a confirmatory test a few days later. If both tests have negative results, meaning the virus has not been detected, then the passenger should no longer need to quarantine. These optional tests are priced at £150 per person currently, but there's hope that this will come down as take-up increases.
Heathrow's new facility doesn't yet have UK Government approval, but similar facilities are already in place in some of the world's busiest airports – in Dubai, Tokyo and Paris.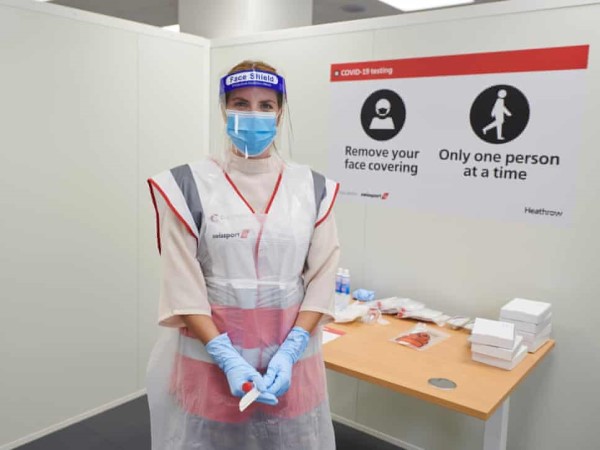 Qatar makes face masks and face shields compulsory on flights
Qatar Airways is adding an extra layer of precaution and protection to all of its flights for the foreseeable future, by obligating passengers flying in Economy to wear face masks and face shields for their whole flight, except when they're eating or drinking. Passengers in Business and First Class will be asked to wear both items 'at their discretion'.
The shields will be issued to passengers as they board, along with hand sanitiser, a surgical face mask and disposable gloves , and must be worn throughout boarding and embarkation as well. Plus, the airline is also stepping up personal protective kit for staff, with crew now attired in disposable protective gowns over their uniform, safety glasses, gloves and a mask.
Qatar Airways is currently flying to over 65 destinations.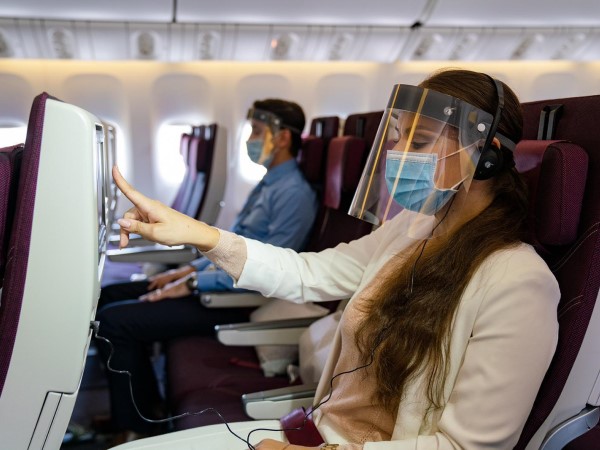 IATA launches airline health checklist
IATA, the International Air Transport Association – the governing association for airlines all over the world – has published a Health Safety Checklist for Airline Operators, to help them self-assess and ensure their fitness to fly during the pandemic.
The checklist covers everything from pre-arrival notification and check-in, to onboard air quality, aircraft cleaning and airport facilities. It's been designed to ensure airlines comply with the International Civil Aviation Organisation's (ICAO) safety measures outlined in its Take-off: Guidance for Air Travel through the COVID-19 Public Health Crisis, which has been adopted as the globally-accepted standard for safe operations.
It's hoped that the twin frameworks will help to reassure customers that airlines are adopting and implementing a consistent set of measures to protect their health, wherever they're flying in the world.
London–NYC air corridor speculation
There's no more valuable, or profitable, single airline route in the world than that between London and New York. Critical for business travellers and popular among holidaymakers, in normal times this journey reportedly generates over a billion dollars in annual revenue for British Airways alone – and that's just for their services to JFK.
The route's value partly explains why, of all the possible options, this is the one that airlines and governments in both the UK and USA are most keen to see restarted. And speculation is increasing.
Currently, restrictions imposed on incoming visitors to both countries means travellers must quarantine for 14 days on arrival in the UK – and are banned completely from entering the US if they're from the UK (with a few exceptions). The creation of an 'air corridor' would lift that ban and remove quarantine in either direction – but the situation is complicated. It would require, for example, New York to break with national US policy, and allow visitors when the rest of the US doesn't. Plus, the UK has a much lower infection and mortality rate than the USA – so allowing incoming visitors from the US without quarantine could jeopardise that.
But with billions at stake, regulators, airlines and consumers alike will be keen to see if a strategy can be worked out. Watch this space.