From skyscrapers to cultural institutions, there are many iconic New York buildings. Famed for its dramatic skyline, the city is home to a whole host of architectural delights. Even as you fly into New York, you're likely to spot a number of incredible examples from the air. The city is awash with famous landmarks, but we've chosen the top eight New York buildings everyone should see on a trip to the Big Apple.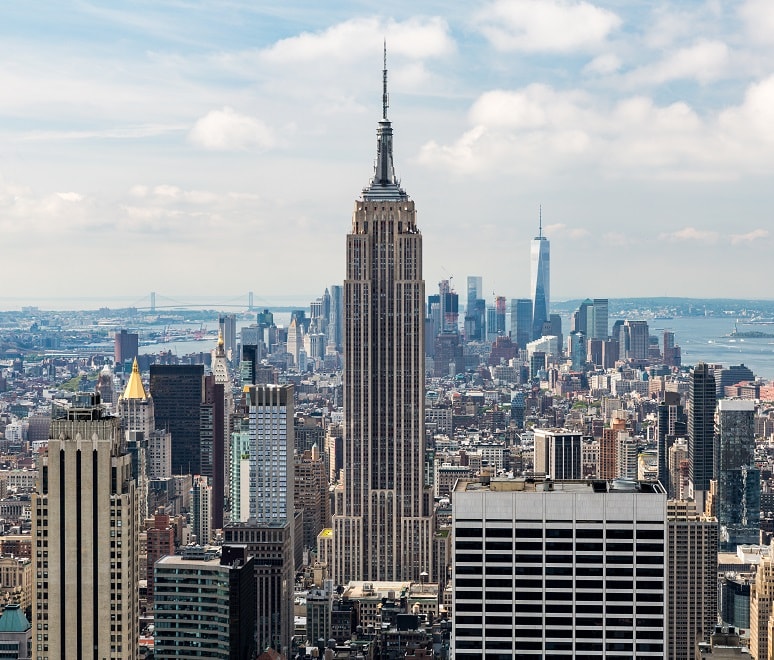 Empire State Building
The Empire State Building is probably the world's most famous skyscraper – although it's no longer the tallest building in New York. That honour now goes to One World Trade Center, which stands at 1,776 feet tall. At 1,250 feet, the Empire State Building is only fifth on the list. When it was completed in 1931, though, it was the first skyscraper in the world to have more than 100 floors. Head to the 86th floor and you'll find the highest open-air observatory in NYC. From here, you can enjoy panoramic views of the city below. Travel up a further 16 floors and there's another viewing platform – only this one's smaller and enclosed.
Chrysler Building
The art deco Chrysler Building is perhaps the most beautiful of all New York buildings. It was designed by William Van Alen for automobile mogul Walter P. Chrysler. The 925-foot, 77-storey tower served as Chrysler's company headquarters from 1930 until the mid-1950s. Upon completion it held the title of world's tallest building for a mere 11 months. It was surpassed by the Empire State Building in 1931. A favourite among locals and tourists alike, the Chrysler Building is instantly recognisable thanks to its distinctive sunburst crown. It continues to function as an office tower and there hasn't been a public observation deck since the original closed in 1945. Although the iconic New York building has recently been sold to new owners, there still aren't  plans to open one. However, during business hours, visitors are permitted to explore the ornate lobby, with its elegant marble walls. The reception houses the world's first digital clock, while the ceiling is covered by Edward Trumbull's Transport and Human Endeavour. It's purportedly the largest mural in the world.
One World Trade Center
The cloud-skimming One World Trade Centre is not only the loftiest of all New York buildings, but the tallest in the entire Western Hemisphere. Also known as the Freedom Tower, it's the main building in the rebuilt World Trade Center complex, and stands next to the site once occupied by the Twin Towers. Including the antenna, it has a total height of 1,776 feet – a symbolic reference to American independence. Spanning floors 100 to 102 is the One World Observatory – New York's highest observation deck. The elevator ride to the top takes just 47 seconds, and from here you'll get an incredible bird's-eye-view of the city. On a clear day you can see all five New York boroughs, as well as some of the neighbouring states. If you do visit One World Trade Centre, be sure to stop by the 9/11 Memorial as well. The beautiful reflecting pools are dedicated to the nearly 3,000 victims of the 2001 terror attacks.
Rockefeller Center
Comprising 19 high rises, spread over 22 acres, Rockefeller Center is a city within a city. Commissioned by John D Rockefeller Jr at the height of the Great Depression, its construction provided employment for  40,000 people. Built in the art deco style, it was America's first multiuse retail, entertainment and office space. 30 Rockefeller Plaza is – by design – the most famous of all the Center's buildings. It has long been the headquarters of NBC. So, if you're lucky – and can be bothered to queue for hours on end – you might be able to bag tickets to see a live recording of Jimmy Kimmel Live!, Late Night with Seth Meyers or even Saturday Night Live. If not, you can commiserate with drinks at the swanky Rainbow Room, on the 65th floor. Alternatively, head to the 70th floor and you'll find the open-air observation deck known as Top of the Rock.
Public and private spaces throughout the complex have always been prominent stages for contemporary art. The grand lobby of 30 Rockefeller Plaza is decorated with a giant mural by Spanish artist José Maria Sert. Meanwhile, Paul Manship's 18 foot Prometheus overlooks the sunken plaza, and Lee Lawrie made the famous bronze Atlas statue. If you head to Rockefeller Plaza during the festive period, you'll spot New York's most famous Christmas tree. And in its shadow people will be whizzing round on the city's best-known, and smallest, ice rink.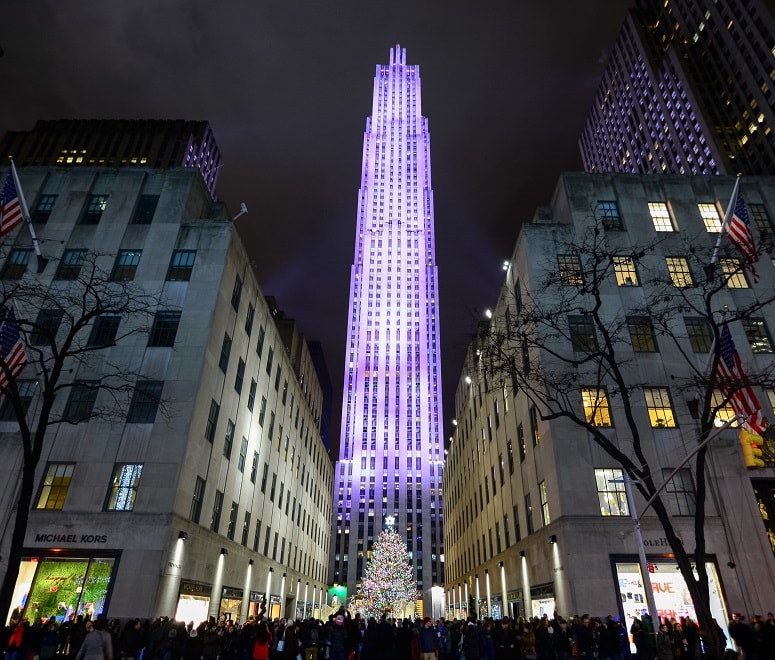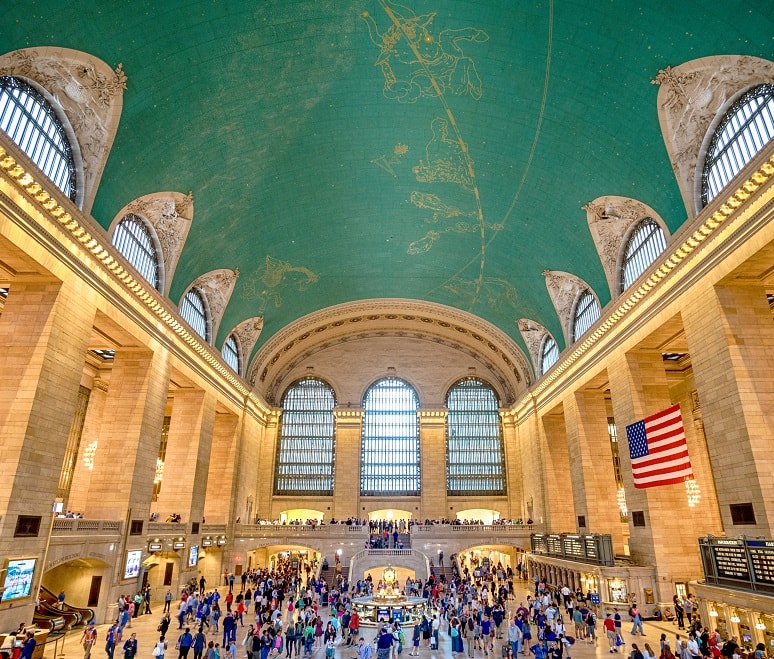 Grand Central Station
A Midtown Manhattan landmark, Grand Central Station is one of the world's most majestic stations. Opened to the public in 1913, its official name is actually Grand Central Terminal. Grand Central Station is technically the US Post Office down the street or the subway station just underneath. Famed for its marble staircase, huge windows, Tiffany glass-clock and celestial ceiling, it was originally celebrated for its grandeur. However, by the 1950s, the glory days of long-distance rail travel were over and passenger numbers were in dramatic decline.
The owners wanted to redevelop the terminal and there were plans to demolish it and build a modern skyscraper on the site instead. Even after the New York City Landmarks Preservation Committee awarded Grand Central landmark status in 1967, they continued to seek bids from architects for tower blocks to replace the Beaux Art building. Huge criticism came from prominent figures such as Jacqueline Kennedy Onassis and future New York Mayor Ed Koch. A Supreme Court ruling in 1978 ensured the preservation of not only Grand Central, but also landmarks across the country. Today, Grand Central Station is so much more than just a transportation hub. Open daily from 5.30am to 2am, it's a shopping, dining, and cultural destination with over 60 retail outlets and 35 places to eat.
Flatiron Building
One of the very first New York buildings to have a steel fame, the Flatiron Building was completed in 1902. Originally called the Fuller Building, it was intended to serve as offices for the George A. Fuller Company – a major Chicago contracting firm. However, locals started calling it the Flatiron Building because of its resemblance a cast iron clothes iron. Its distinctive shape, combined with its prominent location, soon made it one of the city's most famous landmarks. The building probably featured on more postcards than any other building of its time. The whole area surrounding it eventually came to be known as the Flatiron District.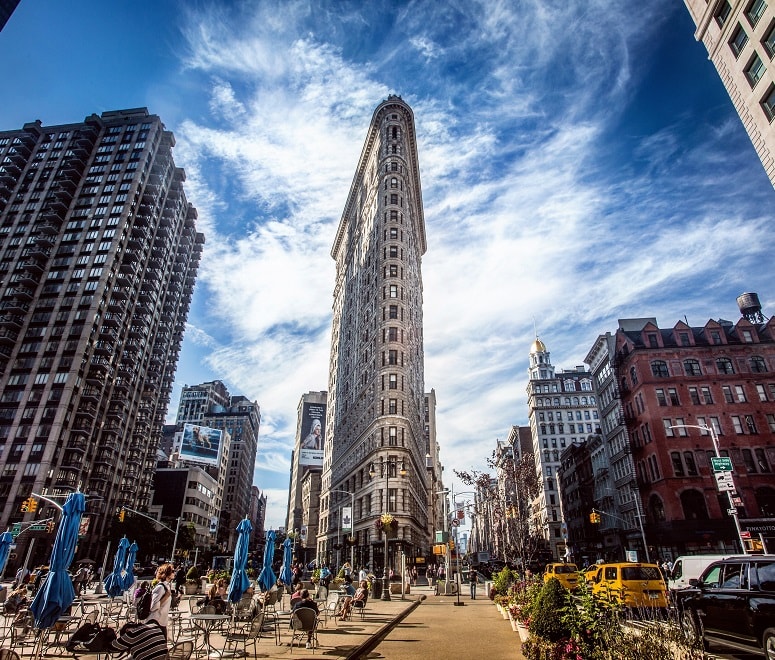 Woolworth Building
A gothic gem in lower Manhattan, the Woolworth Building towers 792 feet above Broadway. Financed by entrepreneur Frank W. Woolworth and designed by architect Cass Gilbert, it won widespread acclaim when it opened in 1913. A lavish opening ceremony involved President Woodrow Wilson pressing a button in the White House to turn on all 80,000 light bulbs. At the time, most New York buildings still relied on gas lighting. This stunt was then followed by an extravagant banquet for 900 prominent guests. The New-York Tribune dubbed it "the highest dinner ever held in New York."
The building, which was designated a National Historic Landmark in 1966 and a New York City landmark in 1983, has housed a variety of businesses and commercial outlets throughout the years. In 2012, the top 30 floors – formerly used as office space – were sold to a developer and subsequently converted into residences. However, high prices have impacted sales. By February this year, only three of the building's 31 condos had been sold. Despite renovations, much of Gilbert's original ornate detailing still remains. If you wish to admire it for yourself – but don't want to fork out millions for a condo – paid tours of the lobby are held throughout the year.
New York Public Library
The Stephen A. Schwarzman Building is one of the most ornate of all New York buildings. Adjoining Bryant Park, the century-old Midtown branch of the New York Public Library – often referred to as the main branch – appeals to bibliophiles and architecture addicts alike. When it opened in 1911, the Beaux Art building was the largest marble structure in America and it housed over one million books. Today, there are some 50 million items spread out across the stacks. Flanked by two giant marble lions, nicknamed Patience and Fortitude, it features large murals and elaborate embellishments throughout. While Astor Hall and the McGraw Rotunda are both worth checking out, the cavernous Rose Main Reading Room is the star attraction. Spanning almost 300 feet, it's adorned with an impressive 18 tiered chandeliers. If you fancy exploring the building, free guided tours take place at 11am and 2pm Monday-Saturday, and at 2pm on Sundays.