Shopping in America is always rewarding. Your money goes a long way and you'll find both the familiar and the exotic. Miami is no exception and offers some special attractions that make it a great place to spend your dollar.
For one thing, you can't come back from this part of the world without a beautiful sundress for her and a distinctive guayabera shirt for him!
Step off your low-cost flight and you'll find there are plenty of big malls with all the famous names. Such as nine Macy's outlets (yes nine!) and two Bloomingdales outlets.
With such great weather, not all the best shopping is indoors – far from it. Shopping promenades mean you can stroll along open-air walkways surrounded in some places with landscaped gardens and gentle waterfalls.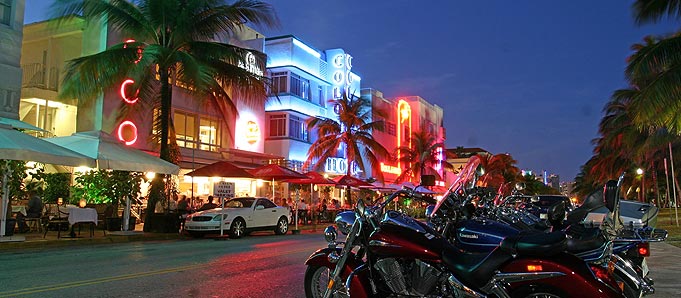 The Falls Mall is one example, with 100 retailers and restful waterfalls too. The Dolphin, and Saw Grass Mills are the big value malls, featuring plenty of outlet centres. At the other end of the scale, Bal Harbour is truly designer heaven. With a dazzling array of boutiques featuring Armani, Chanel, Gucci, Dolce and Gabbana etc, as well as Saks 5th Avenue, Tiffany and Neiman Marcus, this is seriously upmarket territory.
You'll feel quite at home at Coco Walk. It has a very European feel with brands such as Gap and Victoria's Secret. Aventura Mall houses all-American names such as Bloomingdales, Sears and JC Penney.
Other malls include Miracle Mile, Dadeland Mall, Lincoln Road, and the Bayside Market Place, complete with the wonderfully-named Bubba Gump Shrimp Company, a great place for a seafood and Margarita stop on your shopping expedition.
A visit to downtown's La Epoca, the Cuban department store that relocated here from Havana back in 1965, is a Miami must. This historic, handsome three-storey store delivers designer clothes for the whole family.
If your shopping instincts are for something distinctive and individual, Cauley Square Historic Village has 25 shops offering antiques and other delightful collectibles, including art galleries, crafts and jewellery. Speaking of jewellery, downtown Miami has the third largest district in the US selling the bright, the beautiful and blingy.
In the Miami Design district, you'll find the work from leading designers, contemporary and traditional furniture, antique dealers and amazing art galleries.
Art lovers will want to join the 50 000 people drawn to Art Basel Miami at the Miami Beach Convention Centre. 260 galleries from across the world show work by 2000 artists from Latin America, Asia, Africa, the US and Europe.
Vintage shopping really comes alive in South Beach, with funky flea markets, vintage shops, and, now and again, trucks full of designer dresses from fashion house clearances. Try Las Trias, an upscale second-hand shop for clothes and furniture, Divine Trash for celebrity cast-offs and, for wealthy Chanel lovers, C.Madeleine's.
The Lincoln Road Antique and Collectibles Market is great on a Sunday, and Fly Boutique is hot for vintage Levis.
One money-stretching tip: buy a Go Miami Card for entrance to 43 popular attractions and 18 extra discounts and special offers.
If you've any tips on Miami retail therapy, we'd really like to hear about your experience. Let us know what you find and where the best bargains are.
You can get deals on flights to Miami from the following UK airports
Heathrow to Miami
Gatwick to Miami
Manchester to Las Vegas
Edinburgh to Miami
Newcastle to Miami
Glasgow to Miami
Birmingham to Miami