Turning right into Economy Class as you board the plane may leave you to assume you're not going to get much in the way of cabin service or dining in the days of low-cost air travel. But we think it's time to put this fallacy to bed.
Whilst the dominating influence of budget airlines has seen Economy Class change over the last decades – with the traditional 'legacy' airlines stripping back services and products to compete with their younger siblings (all in the name of offering 'value' to passengers, or course) – there are still many 'full-service' carriers who promise to give you a premium onboard experience, even in Economy. So, just which airlines still include decent dining with your ticket? Take a look at our five favourites.
Qatar Airways
Plastic knives and forks are nowhere to be seen in Qatar Airways' Economy Class – you'll even be handed a paper menu to choose your meal after take-off. The main courses are well presented, and the majority of the packaging is  recyclable, which is obviously a very positive sustainability message for the airline.
A typical main meal in Economy will include a fresh seasonal salad followed by your choice of three mains, such as chicken machboos with fried onions, braised beef in green peppercorn sauce with potato gratin and roasted vegetables, or cheese tortellini in a pesto cream sauce with mixed vegetables.
Dessert is always something delicious along the lines of chocolate ganache with salted caramel, or a mandarin cheesecake. The obligatory cheese and crackers are also served along with a warm bread roll.
On longer flights with Qatar Airways, it's worthwhile noting that a second but lighter meal service will be served. It's usually a fantastically tasty meat or vegetable Arabic pastry, alongside a warmed piece of cake – a delicious way to end the flight. Pro tip: the crew will usually give you seconds if there are any left over.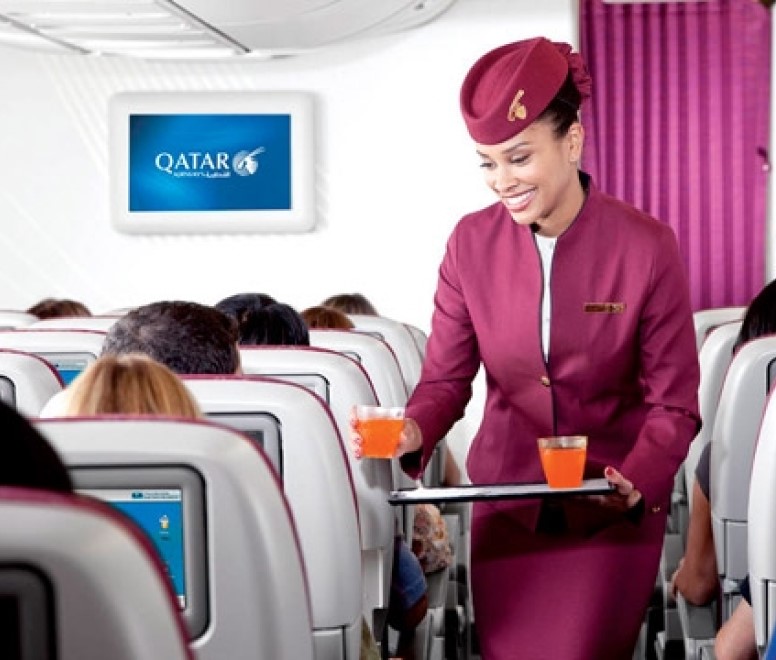 Turkish Airlines
Think of Business Class food, and then think of it just slightly more compacted. That's what Turkish Airlines delivers in their Economy Class and we love it. Another airline that offers menus and metal cutlery to passengers, it really is no surprise to see why this airline's popularity has gown so much in recent years.
On longer flights, you'll be offered a choice of dishes that have appeal to many, while retaining their Turkish flavours. Expect meals like eggplant stuffed with mincemeat and served with roasted local vegetables, or beef kofta with bulgur wheat and grilled tomato. There's also a fresh side salad to start, a bread roll, and a tasty desert such as chocolate mousse or creamy orange cheesecake.
On shorter flights, such as a one hour hop from Istanbul to Athens, you can still expect a meal. Lighter options include a chicken Caesar salad or a small sandwich filled with cheese or deli meats and vegetables, plus water and a pudding.
With Turkish Airlines you can expect very generous portions of great tasting food that really hits the spot.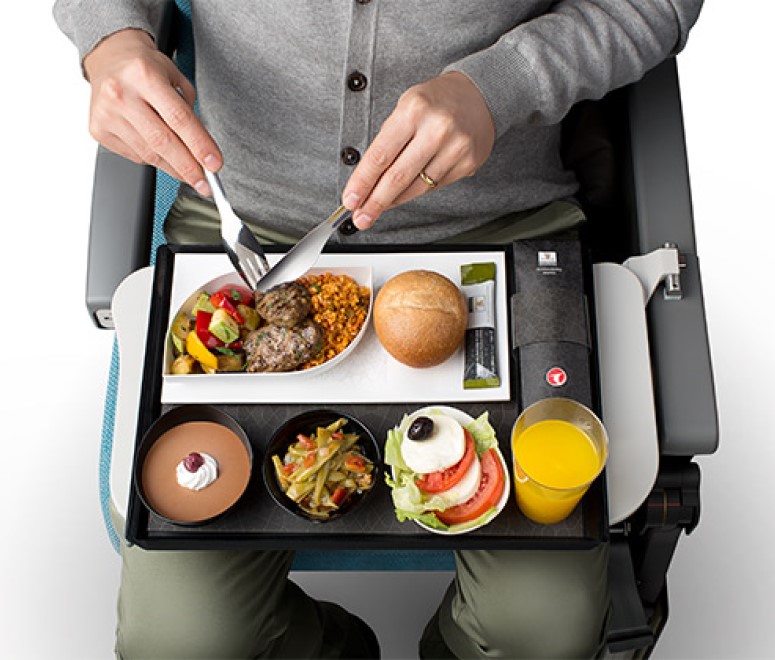 Singapore Airlines
The hospitality of Singapore Airlines' crew is rightly famous worldwide, and Economy Class passengers can expect to feel just as well-looked after as those in First. The quality of that service extends to their food and beverage offering as well.
No matter the length of the flight, passengers are offered printed menus, with dishes arriving beautifully presented and full of flavour. On longer flights, you can expect to be served a main meal, followed by a smaller sandwich or wrap later on in the flight. A sample menu on a flight from London to Singapore would start with smoked salmon and potato and mustard salad, followed by beef stroganoff served with green beans, carrots and roasted potatoes, or free-range chicken in oyster sauce with oriental vegetables and egg noodles. Gourmet ice-cream follows for dessert.
Real cutlery is used, and snacks like crisps, fresh fruits and chocolate bars are available throughout the flight.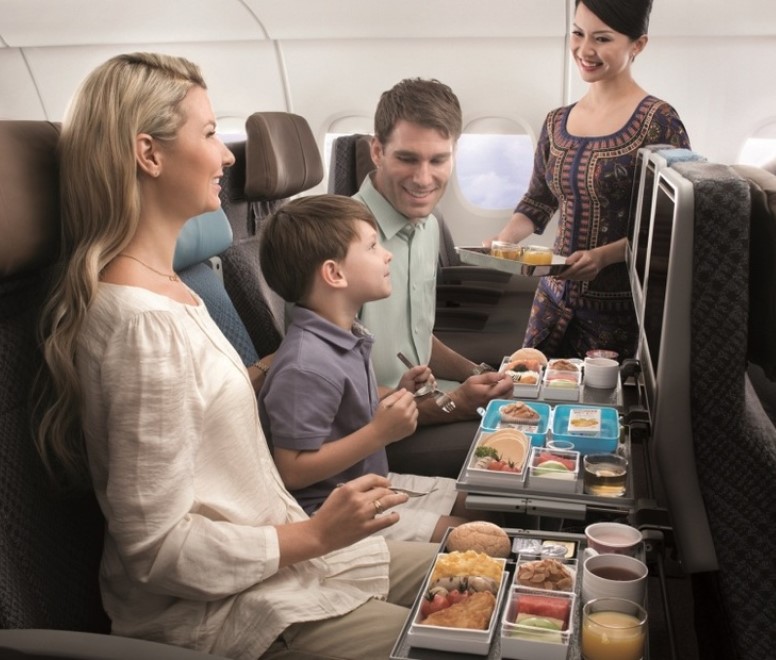 Emirates
Middle Eastern hospitality is world renowned, and Emirates embodies the very best of it – even at the 'back of the plane'.
Economy Class passengers are handed menus after take-off with culinary options from around the world. A typical dinner menu from Dubai to Bangkok includes bean salad, BBQ chicken with mashed potatoes and spinach, or grilled cod served with dill sauce and steamed brown rice with peas, followed by sticky toffee pudding for dessert.
Emirates also use 'proper cutlery' and a large portion of their onboard waste is now recycled too.
Qantas
Qantas crews are genuine and warm, and the Economy Class food they serve their passengers reflects modern Aussie dining – healthy, generously sized and bursting with flavour.
Passengers stepping onboard Qantas are likely in for a long journey. Daily flights operate from London to Sydney, via Singapore, and there's also non-stop flights from London to Perth, which clocks in at over 17 hours. These exceptionally long flights have dictated that the food really has to be top notch and carefully thought out – resulting in a selection of energising and filling dishes, created with the help of sleep specialists, nutritionists and metabolic scientists.
Main courses on a long-haul Qantas flight may include roast chicken with red rice and Mediterranean vegetables; marinated beef; cumin and zucchini salad; or tomato and mushroom puff pastry tart with corn salsa.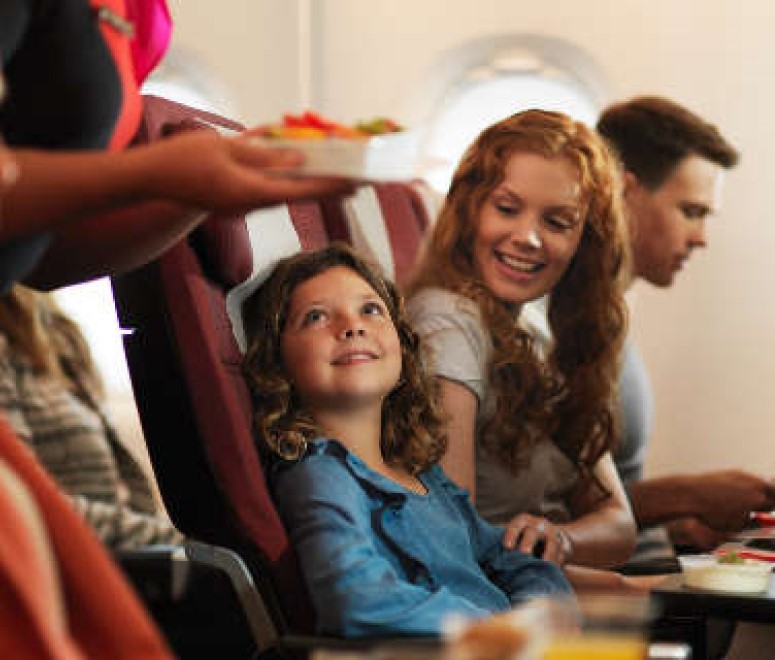 Snacks like crisps and biscuits are also offered, as well as healthier options, such as carrots, celery and hummus. The rear galley on the airline's Boeing 787 Dreamliner also features a convenient 'help yourself' area.
On shorter flights around Australia and within Asia, the airline presents varied and complimentary meal choices on menus after take-off.
Or, check out our UK Airport Review to find out which British airports have the best dining options.