After months of waiting, the USA will finally re-open its borders to the UK on 8th November. So if you've had to miss out on family getaways over the past year or so, why not make up for lost time with a Florida holiday?
With our great deals on flights to Orlando, you might be thinking about booking a trip for you and the kids. Although Walt Disney World and Universal Orlando Resort are Florida's premier family attractions, there's actually much more to the Sunshine State than just roller coasters and water slides. So if you'd prefer a trip away from the theme parks, venture beyond Orlando and check out one of these alternative destinations instead.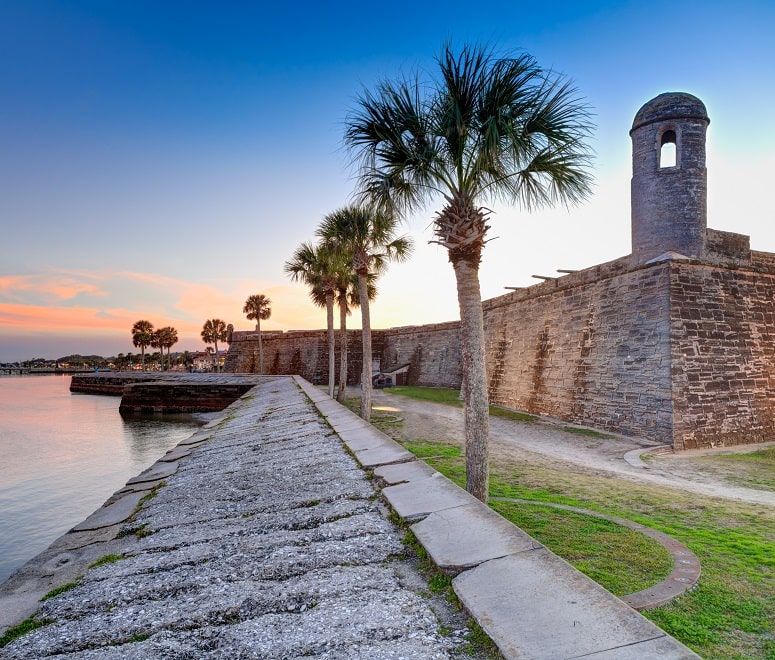 St Augustine
St Augustine – 40 miles south of Jacksonville – is the oldest continuously-inhabited European settlement in the contiguous United States. Founded in 1565 by Spanish explorers, it retains a distinct historical character. So it's the perfect Florida holiday destination for history buffs. Its charming Town Plan Historic District is a U.S. National Historic District. Stroll along the narrow, brick-lined streets and you'll find centuries-old buildings, quaint shops and restaurants, and hidden courtyards. One of the most impressive, and historically-significant, landmarks is the Castillo de San Marcos. Built between 1672 and 1695, this bastion fort is the only 17th-century military structure in the country. It sits on the shores of Matanzas Bay and has been a National Monument since1924. It's open to the public every day of the year except Thanksgiving.
Fort Lauderdale
Once synonymous with spring break, Fort Lauderdale has grown up in recent years. Although still popular with raucous, beer-swilling college students, it now attracts a more diverse crowd. Its trendy restaurants, boutique hotels and upscale shops all appeal to those seeking a more sophisticated Florida holiday. Las Olas Boulevard is a hub for shopping, dining and drinking, while the downtown area's now a burgeoning arts district. FATVillage (which stands for Flager + Arts + Technology) is a four-block creative district that houses local artists, designers and techies. Their work is available to view and buy during the monthly ArtWalk, held on the last Saturday of every month.
Fort Lauderdale's biggest draw, though, is its shoreline. There are 23 miles of beach in the Greater Fort Lauderdale area. So whether you're looking for a quiet stretch of sand or a place to party, there'll be one that fits the bill. It's also a great place for a diving holiday. The three-tier reef system delights divers of all levels, and with over 100 shipwrecks there are plenty of sunken treasures to discover.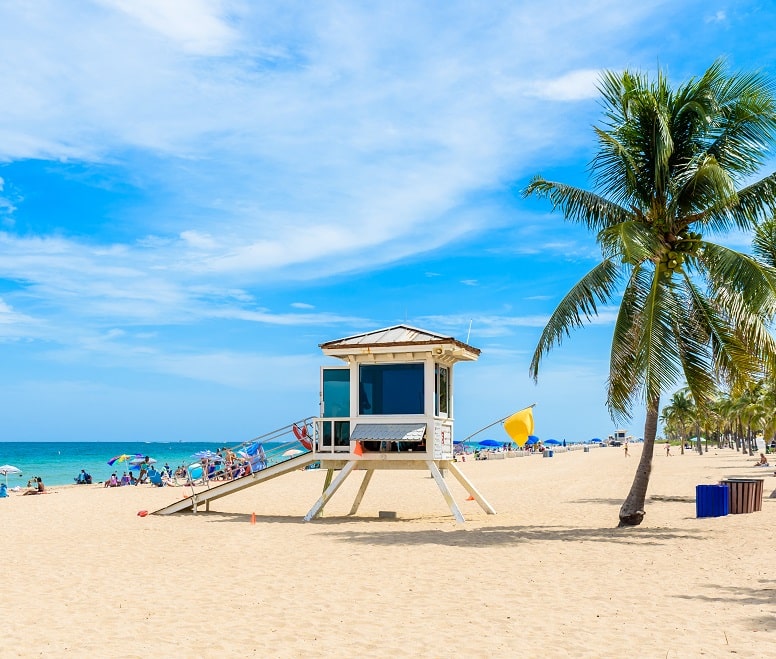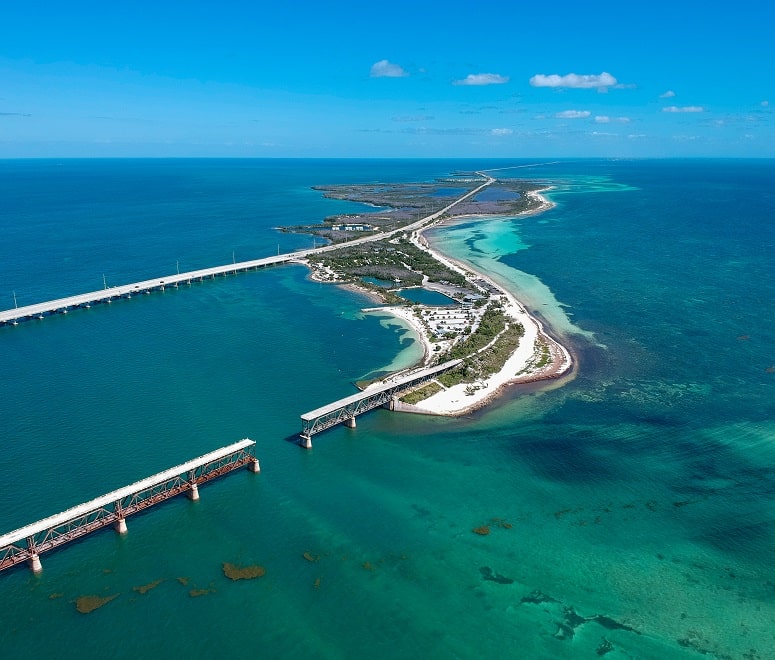 Florida Keys
This string of islands off the southern tip of Florida makes for an action-packed getaway. Activities abound for visitors of all ages – kayak through the mangroves off Key Largo; try paddle-boarding or jet-skiing near Marathon; or charter a fishing boat in Islamorada, the sport fishing capital of the world. And, with the only living coral reef in the United States, the Florida Keys offer great diving and snorkelling. John Pennekamp Coral Reef State Park, in Key Largo, is the country's first underwater State Park. Check out the marine life here, or head to the Dry Tortugas, where lionfish and turtle sightings are common.
The journey to the Florida Keys is one of the best things about holidaying here. Stretching from Miami to Key West, the Overseas Highway is one of the most scenic drives in the country. It comprises 113 miles of road and 42 bridges – including the spectacular Seven Mile Bridge – that pass over sparkling water and swaying palm trees. Once in Key West, you'll be spoilt for choice in terms of beaches. It's hard to tear yourself away from the sand but try to find time to explore Duval Street and visit the Ernest Hemingway House, where the author lived in the Thirties.
Miami
For a Florida holiday with a little bit of everything, book cheap flights to Miami. Home to more than 150 different ethnicities and more than 60 languages, the Magic City is nothing if not eclectic. The most famous of all Miami neighbourhoods is undoubtedly South Beach. Its pastel-coloured Art Deco architecture makes for serious eye candy, and it has some of the best nightlife anywhere in Florida. Ocean Drive is very much the place to see and be seen.
Coconut Grove is Miami's oldest neighbourhood. Sitting on the shores Biscayne Bay, it has a distinctive bohemian charm and continues to attract creative types. Meanwhile, once-gritty Wynwood and the neighbouring Design District make up the city's artistic enclave. Many buildings in these former working-class neighbourhoods have been transformed into galleries and studio spaces, and the streets here are lined with murals and food trucks.
There's certainly no shortage of things to do in Miami – the beaches alone could keep you occupied for a week. But if you do fancy exploring further afield, there are loads of options for a day trip. Our favourites include Kennedy Space Centre in Cape Canaveral, the Everglades, and Bimini in the Bahamas (yes really – there's a direct ferry that takes just two hours!).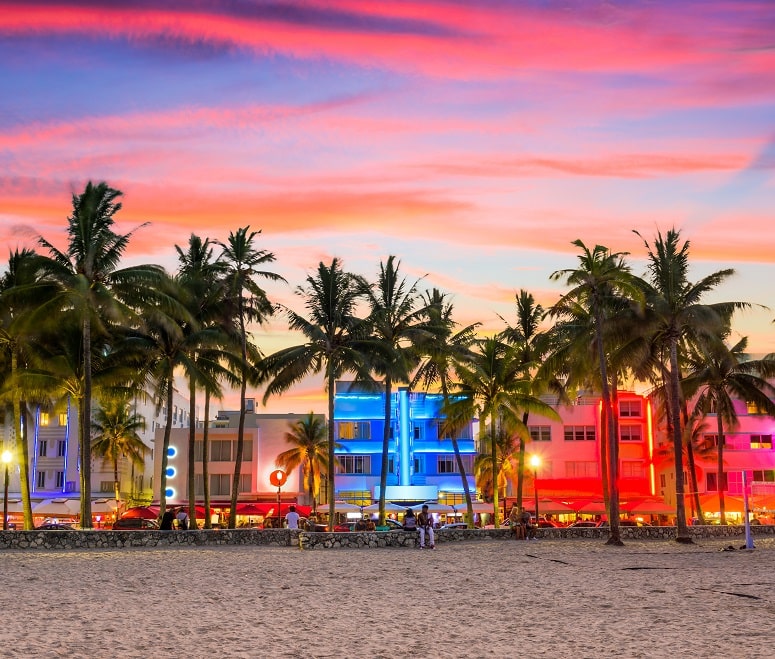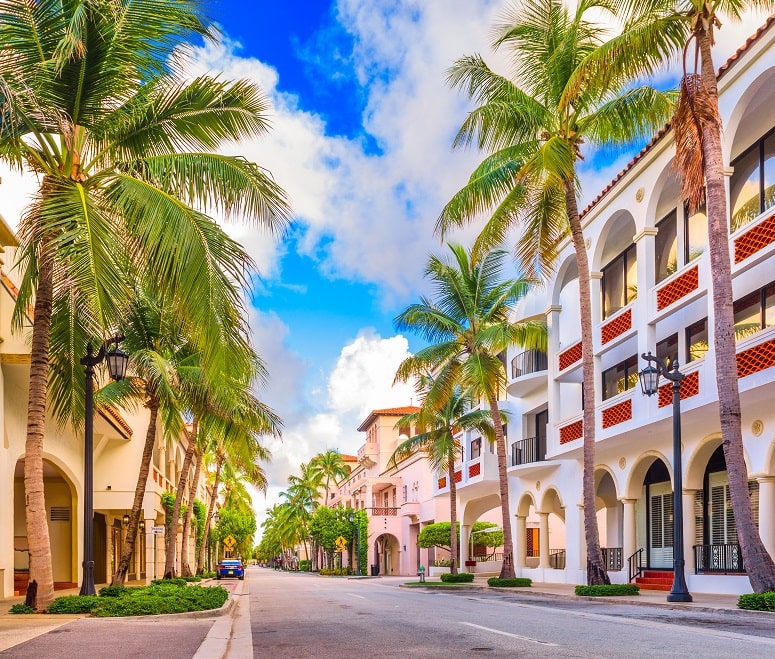 Palm Beach
If you want a Florida holiday that's heavy on the glitz, head to Palm Beach. An enclave of wealth and privilege, it's long been the winter escape of choice for America's jet set. It was founded as a resort in the 1890s by oil tycoon Henry Morrison Flagler, who made the island accessible via his Florida East Coast Railway. Palatial mansions line the coast, while Bentleys and Porsches cruise the avenues downtown. World-famous Worth Avenue is dotted with upmarket shops, and the island's eateries are frequented by ladies who lunch.
Beneath the grandeur, though, there's a real sense of history here. The Greco-Roman architecture's captivating, and it offers an insight into life during America's Gilded Age. To immerse yourself in that era even further, be sure to visit the Flagler Museum. Built in 1902, the 75-room, 100,000-square-foot estate – originally called Whitehall – was a wedding present from Henry Flagler to his new wife, Mary Lily Kenan. Today it's a National Historic Landmark, open to the public, and receives over 100,000 visitors a year.