Thinking about booking a flight to Miami once travel to the US resumes? You definitely should. After all, the Magic City delivers when it comes to beautiful beaches, buzzing nightlife, a lively arts scene and mouth-watering food. And of course there's all that eye-catching Art Deco architecture. But if you're going all that way, you might as well take the opportunity to see even more of the Sunshine State. That doesn't mean you need to start looking at internal transfers or booking extra accommodation, though. There are loads of great places you can easily visit on day trips from Miami – and these are seven of the best.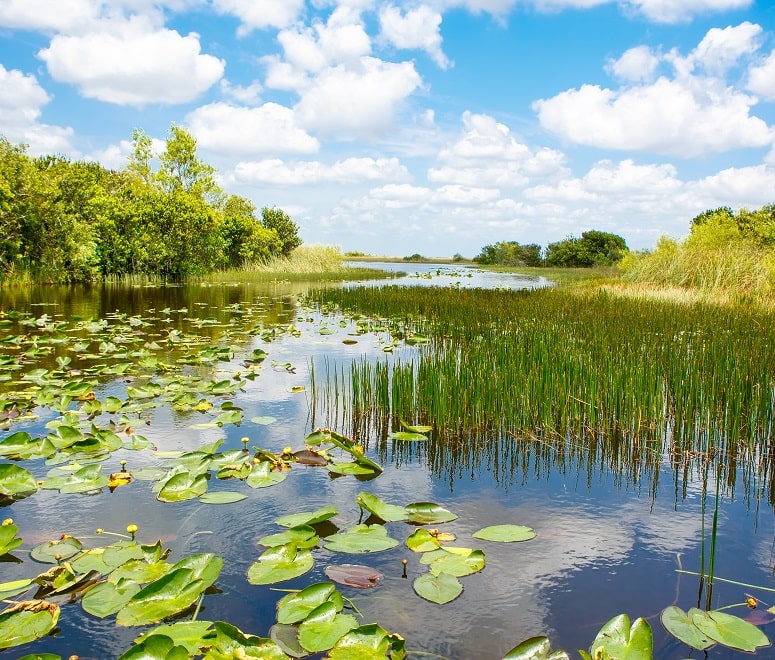 The Everglades
It would be remiss to visit Miami and not take a trip to the Everglades. Located just slightly southwest of the city, this vast wetland is Florida's largest national park – and the only place in the world where alligators and crocodiles coexist in the wild.
Called the 'River of Grass' by Native Americans, the Everglades are a designated UNESCO World Heritage Site. They're also home to a huge range of plant and animal species – making it a great day trip from Miami for wildlife lovers. Spend some time here and chances are you'll spot snakes, frogs, manatees, deer – and possibly even the rare Florida panther. Plus, the Everglades offer excellent bird-watching opportunities. While many people choose to explore the park by airboat, you can also hike, bike and horse ride. Or you could meander through the mangrove mazes in a kayak or canoe.
Florida Keys
There's no reason you can't enjoy a bit of island life during your Miami holiday. Stretching for about 120 miles off the southern tip of the mainland, the Florida Keys are a string of coral isles famed for their incredible diving, fishing and boating. There are over 800 keys in total but the northernmost one – Key Largo – makes for a particularly easy day trip from Miami. In fact, you can get there from downtown in just over an hour.
The self-proclaimed Dive Capital of the World, Key Largo is home to the second-largest artificial reef on Earth. And it's also where you'll find America's first underwater state park – John Pennekamp Coral Reef State Park. You can view it from a glass-bottomed boat, or don a snorkel and get up close and personal with the marine life. But your Miami day trip needn't stop in Key Largo. You can always continue along the Overseas Highway to the idyllic beach community of Islamorada, just slightly further south.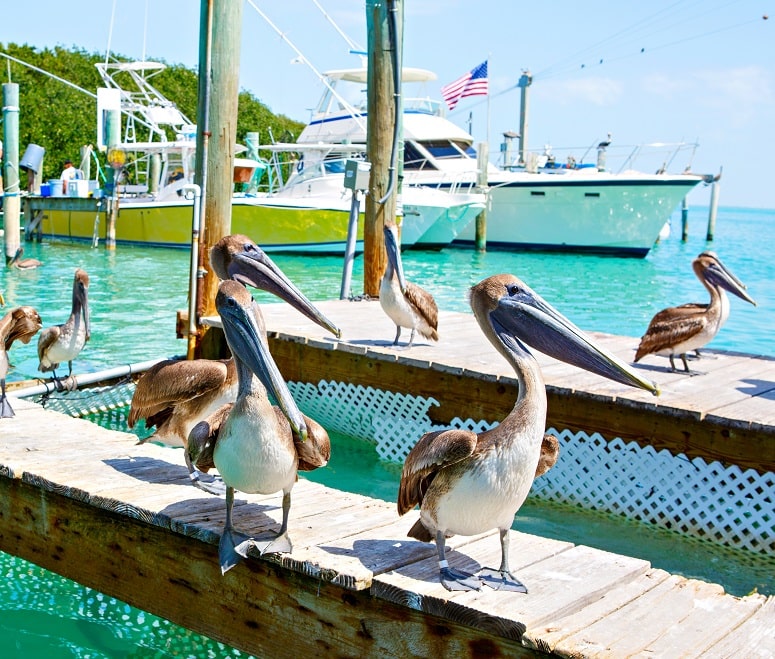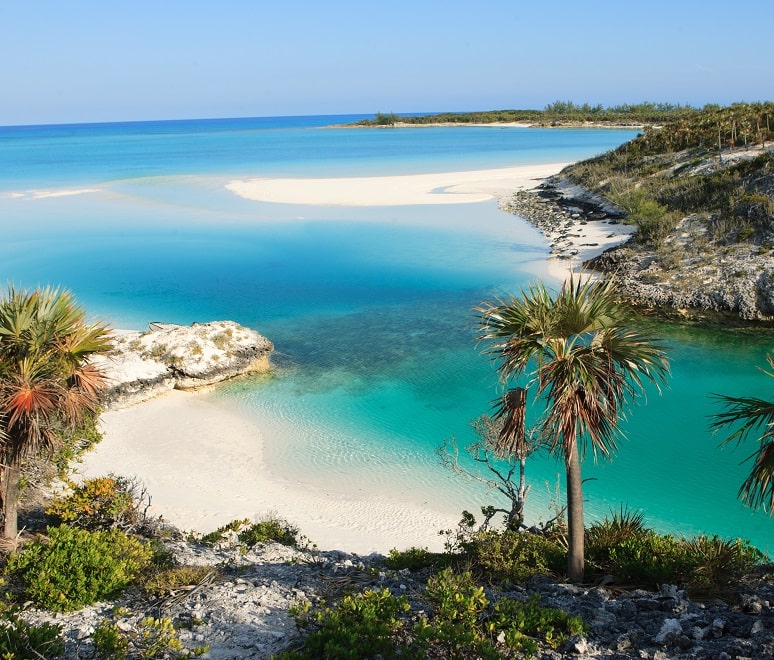 The Bahamas
Not all day trips from Miami require you to stay in Florida – or even the US. Believe it or not, you can catch a ferry or flight to the Bahamas. And, depending which island you choose to visit, you'll be there in as little as two and a half hours. Bimini is the closest Bahamian island to Miami, but there are many day trips that also go to Grand Bahama and the Abaco Islands.
Although it's geographically close, the Bahamas feels worlds away from Miami. Known for its tropical climate, stunning beaches and fantastic seafood, this island paradise is the perfect place to engage in a bunch of different watersports, snorkel amongst vibrant corals or swim in ridiculously blue water. Alternatively, you can simply lie back on the sand and soak up the sun. Just don't forget to bring your passport!
Biscayne National Park
This is another Florida Keys day trip – but this one is only accessible by boat. As such, it requires a little bit of planning, but we promise you'll be well-rewarded for your efforts. A huge marine sanctuary, Biscayne National Park covers about 270 square miles – and 95% of it is underwater. Bordered by thriving mangrove forests, it comprises several islands and is home to fascinating creatures like manatees, crocodiles, sea turtles and stingrays.
A real watery wonderland, it's another great spot for fishing, diving, snorkelling and swimming. Or, you can stay above the water on a kayak or paddleboard. And if one day in Biscayne National Park isn't enough, there are two campsites – one on Elliott Key and another on Boca Chita Key. So you can always spend the night here, under the stars.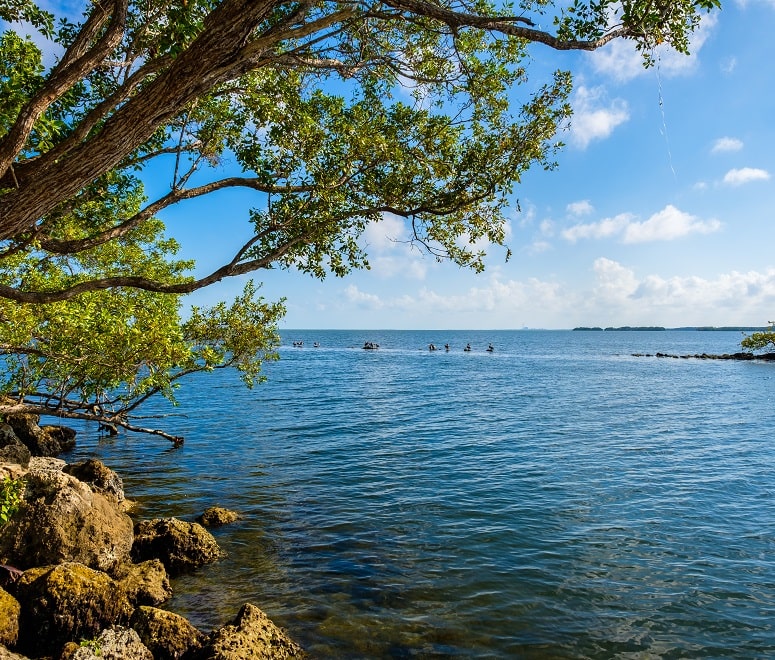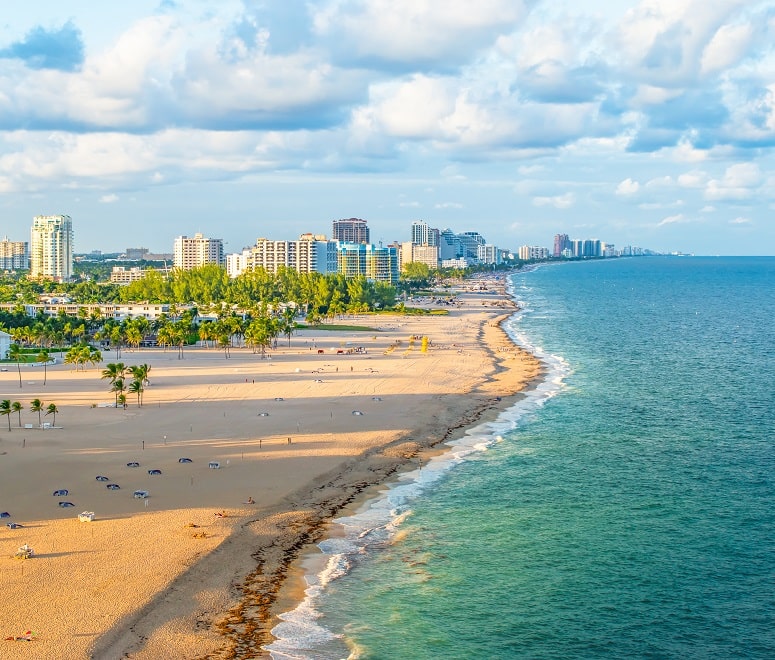 Fort Lauderdale
Fort Lauderdale's an obvious choice for a day trip from Miami. After all, it takes just half an hour to get there – and it's got an absolutely incredible shoreline that really shouldn't be missed. And when we say incredible shoreline, we mean it's got a whopping 23 miles of beach to choose from. So whether you want to roll your towel out on a quiet pocket of sand, or you're looking for a place to party, Fort Lauderdale's guaranteed to have somewhere that suits. What's more, it's got a three-tier reef system and more than 100 offshore shipwrecks. So, divers in particular are very well catered for. Away from the water, you'll find loads of great places to eat and shop around Las Olas Boulevard, while the downtown area's reinvented itself as a creative district.
Palm Beach
On a day trip from Miami to Palm Beach, you'll have the chance to see how the other half live. Located less than an hour and a half to the north, this island-city is the third wealthiest in the country. Currently home to over 40 billionaires – and yet more multi-millionaires – it's long been a playground for America's jet set. Swanky estates line the long, sandy beaches, while glossy Worth Avenue is an enclave of designer shops and upmarket restaurants.
But amongst all the glitz and the glamour, there is history and culture to discover here as well. The Greco-Roman architecture offers an insight into life during America's Gilded Age, while the fascinating Flagler Museum is a must-visit.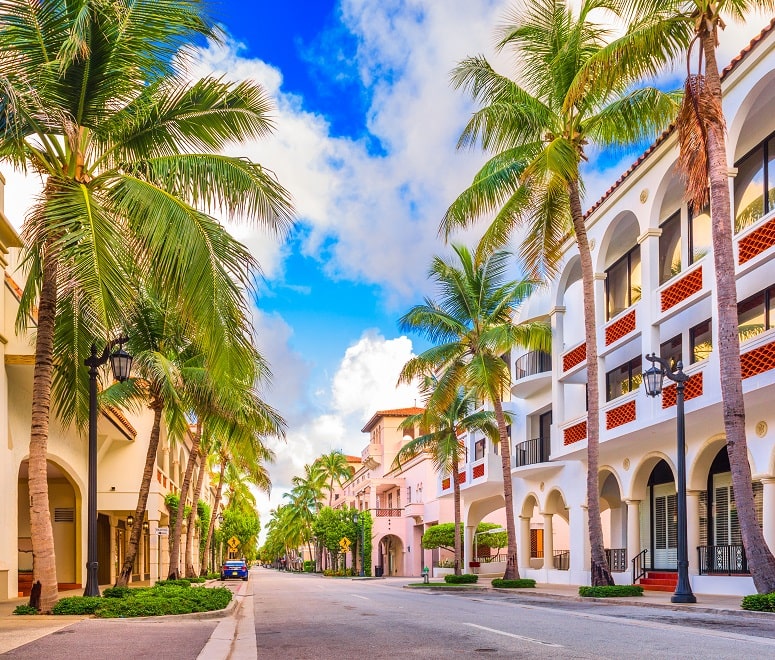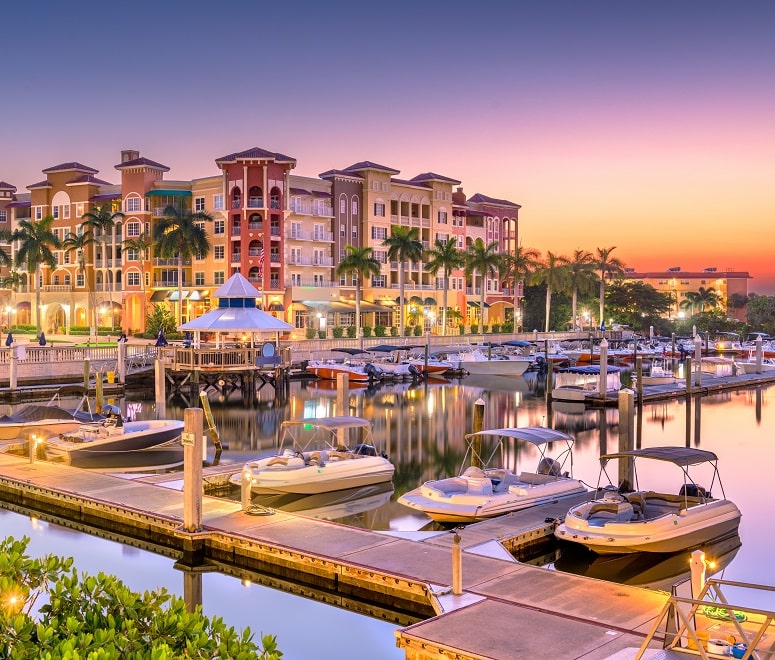 Naples
This west coast city isn't quite as fancy at Palm Beach, but it is still an upmarket kind of place. And it's absolutely pretty as a picture. Once a winter hideout for wealthy east coasters, these days it draws in a more eclectic crowd, and is particularly popular with families. Besides multiple serene white-sand beaches, it's also renowned for its high-end shopping, excellent dining and vibrant cultural scene. It takes about two hours to drive to Naples from Miami. So, provided you set off early, you'll have plenty of time to explore the historic downtown, buzzing art galleries and delightful botanic gardens on a day trip.