Look, New York is already hella expensive. Don't go spending even more dollar and your whole trip in the back of a taxi cab – instead use this quick, handy guide on how to get around New York for less money, from aerial trams to free ferry services.
How to get to New York City from the airport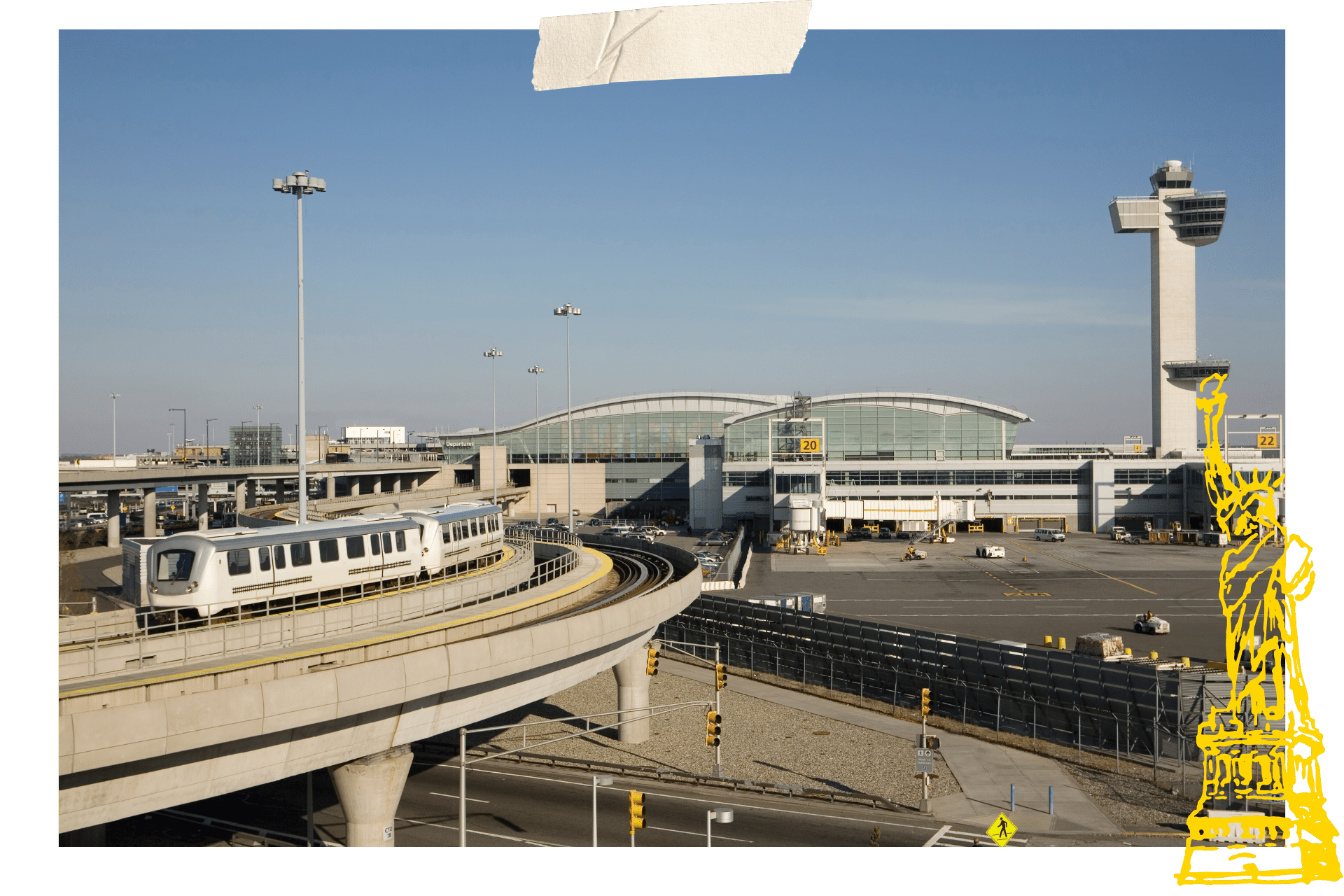 When you arrive at JFK, don't waste time and money getting a taxi – unless you really, really want that classic driving-over-the-bridge moment (and even then, it'll depend on where you're staying, and you might have to pay a pricy toll too!) Catching a yellow cab from the airport to the city can cost over $80 and take over an hour as your crawl in traffic. The best and cheapest option is to take the train; it's a lot easier than you might think.
How to get from JFK to New York City
Arrive at JFK
Take the AirTrain to Jamaica Station
Look for the Long Island Rail Road
Purchase a one-way ticket for $10.75
Take the 21 minute train to Penn Station
How to get from Newark Airport to New York City
Catch the AirTrain directly from your terminal to Newark Liberty International Airport Train Station – it'll take about 10 mins
From there, catch a NJ Transit or Amtrak train to New York Penn Station – about a 20 mins trip
The whole trip will cost you about $15.50 for an adult
How to get from LaGuardia to New York City
Take the free LaGuardiaLink bus to the nearest subway station, Jackson Heights-Roosevelt Avenue
Take either the E, M, F, R or 7 line into Manhattan – tap in using your card or phone, and it'll only cost you $2.90!
How to get around New York City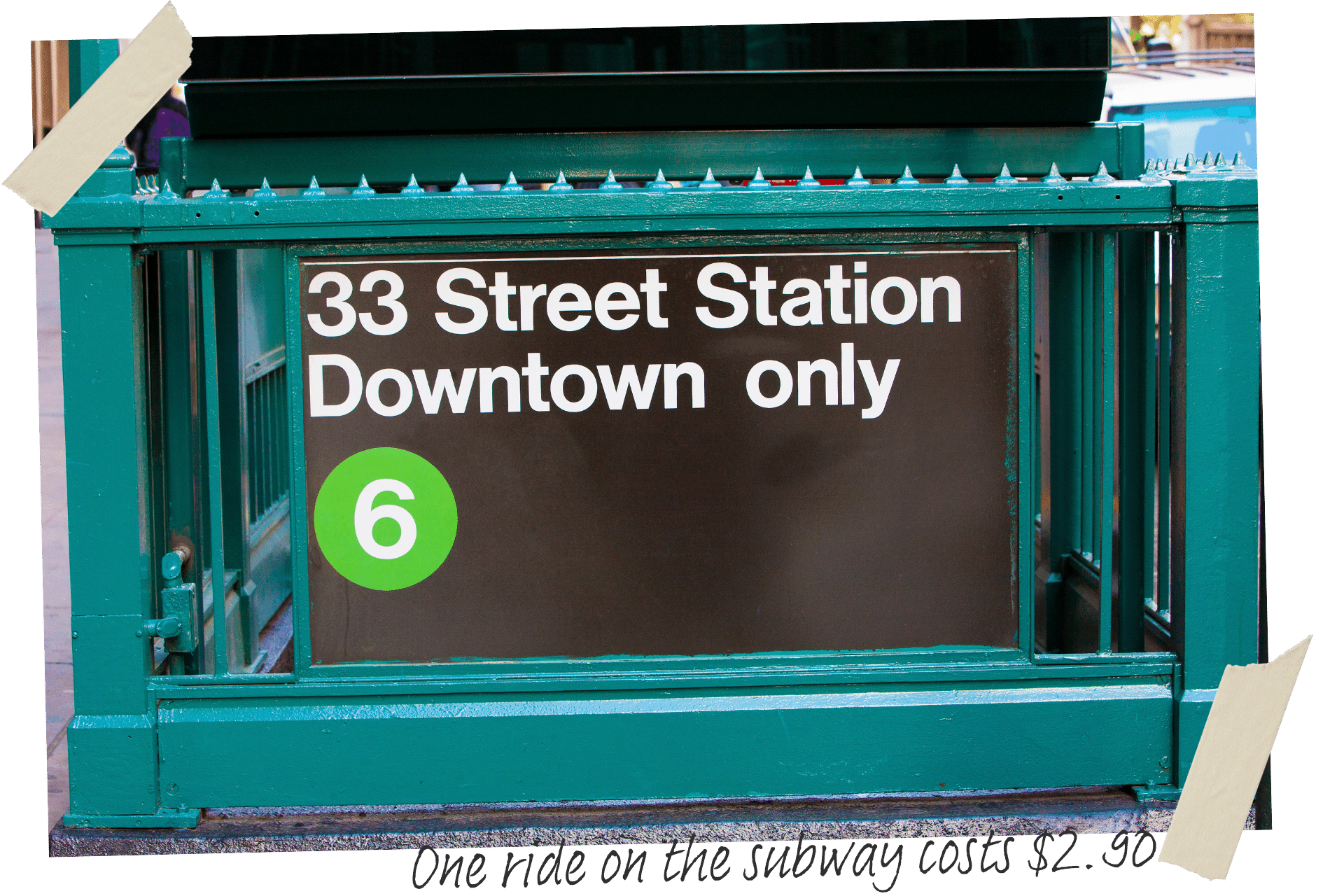 Obviously, getting around on your own two feet is always going to be the cheapest option, but if you wanna to save those two feet some serious pain (or just speed up travel time), one of the easiest ways is to get around via the good ol' subway. It can seem daunting at first, but once you get the hang of it, it's seriously a breeze.
With 25 routes covering all five boroughs, and running 24 hours a day, 7 days a week, you can't really beat the subway for convenience, but there is one caveat – she might be one of the great underground transport systems, but she's also one of the older ones. Some stations date back to 1908, and they're still using signalling systems from the 30s, so having a smooth trip at the weekend is easier said than done, as this is when most construction works are scheduled.
Here's the most important things to know:
One trip on the subway costs $2.90 but you can purchase a 7-day unlimited ride pass for $34. You can load a MetroCard with money, or tap in and out with the contactless OMNY system. (Note that the MetroCards are being phased out in 2024)
Keep on top of service changes and delays with the MYmta app, or keep an eye on the MTA Twitter feed
Be aware that sometimes there are one or more stations with the same name (7th Ave, 86th Street, and Kings Highway are just a few examples)
The tracks are made up of letters and numbers – you'll spot these on the front of the train as they pull in to the station
There are two entrances to the Subway depending on whether you want to ride uptown or downtown
If a carriage is practically empty compared to the rest, there's probs a good (read: bad) reason why – stand or catch the next one!
New York City ferry services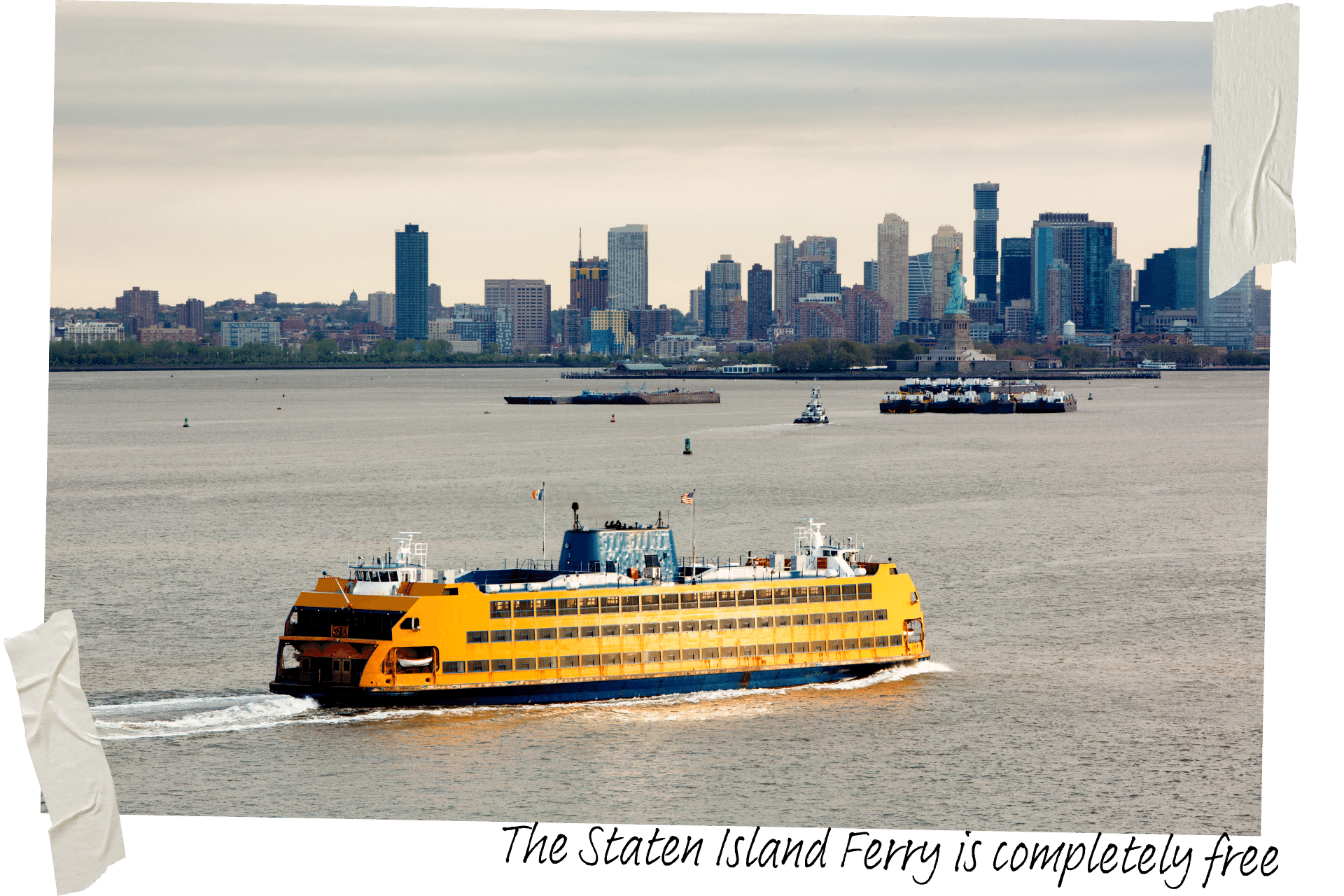 Taking the ferry is a twofer in New York – you get where you're going and you get to see the sights along the way, making it a seriously underrated way of getting around the city. It's also a great transport option if you're travelling with kids, too.
The Staten Island Ferry
This one's a classic, and most people still can't believe it's free. Don't fork out for a ticket to visit Lady Lib, instead just hop on the Staten Island Ferry that runs a 5.2 mile route through New York Harbor between Manhattan and Staten Island. Catch it from the St. George Ferry Terminal on Staten Island or from the Whitehall Ferry Terminal if you're in Manhattan. Oh, and best avoid rush hour… 
NYC Ferry
NYC Ferry will get you to places like the East River, South Brooklyn, and the Bronx (as well as Governors Island and Coney Island at certain points during the season). You can get tickets from the machines at the landing points, or buy ahead of time with the NYC Ferry app – a single ride for adults costs $4.
NY Waterway
This ferry service works between Manhattan and New Jersey, crossing the Hudson. Weekday fares start from $7 for adults, and it stops in places like Midtown, Battery Park City, and Wall Street.
There's 1500 miles of bike lanes in New York City, so get your backside on two wheels. You don't need to fork out for a proper bike rental either, when you can just hop on a Citi Bike as and when you need one. Citi Bikes are a bike share company that keep docks of bikes all over New York.  
They're dead simple to use too – just download the app, make an account, find a docking station using the in-app map, choose your ride (old-school or electric), scan the QR code, and you're off! It's $4.49 for a 30 minute session, and then $0.26 per minute thereafter. If you're struggling to find a free docking station but don't want to be charged extra, don't worry because you'll get a fifteen minute grace period. 
There might be loads of bike lanes in New York, but that doesn't mean that taxi drivers won't park over them, or other tourists walk into them – it can be a bit scary for the city cycling newbie. The good news is that there's also loads of places you can cycle without the day feeling like one long hazards-perception test – Central Park and Prospect Park both have cycle routes, and you can always cycle along the East, Hudson, and Harlem Rivers too.
This aerial tram departs every 7 to 15 minutes from 59th Street and Second Avenue in Manhattan and takes you on a whirlwind ride to the East River's tiny Roosevelt Island – once home to a hospital, an asylum, and a prison. These days it's all about green spaces, historic architecture, and some pretty mega skyline views too. But nevermind that, because taking the Roosevelt tram is the really fun bit, anyway, and it'll cost you just one tap in or swipe – $2.90.
More ways to get around the city
Walking is the cheapest (and often the best) way to get around New York, but if you're a bit green when it comes to the Big Apple and don't know where to start, a walking tour is always a good idea – and some of them are even free! Here's a couple of ideas to get you started:
Free Tours by Foot
Free Tours by Foot have loads of different itineraries around the city, and all on a pay-what-you-feel basis. You can get to know Grand Central Station better, check out SoHo, Little Italy, and China Town and discover the streets of Ella Fitzgerald and Duke Ellington in Harlem. Most tours are 2 hours and run on multiple days of the week.
Big Apple Greeter
This project is as wholesome as it sounds. Running since 1992, Big Apple Greeter connects visitors with local residents who show them around their neighbourhood for the day – these aren't tour guides, just real New Yorkers who show you around the city they call home (lucky devils) for a few hours for absolutely nothing.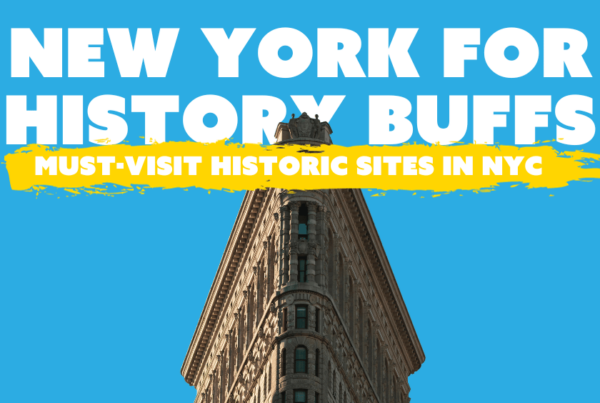 New York might have a lot of shiny new things, but it's also got a whole load of history behind…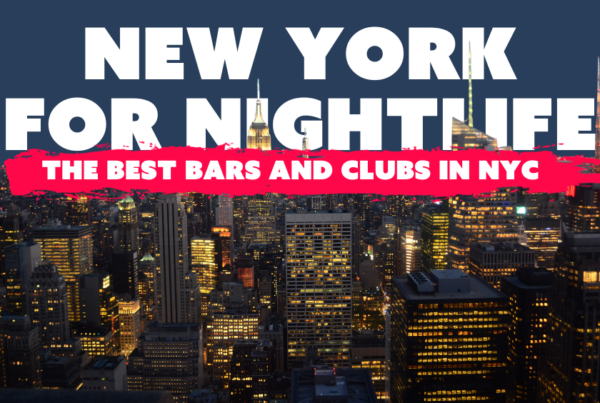 It's literally the city that never sleeps, so if anywhere is gonna have some decent nightlife, it's New York. Grab…
New York is well known for its daze-inducing department stores and big brand names, so we reckon there ain't anywhere…