As part of our series looking at the best airline experiences, we recently shared our top five First Class dining experiences showcasing the best dining options that you can find in the skies. Now we're moving on. Enjoy a cheeky libation? We looked at just who has the best onboard bars and tipples to go with them. Here are the top five airlines offering the best sky-high drinking experience.
Emirates
Perhaps the most famous of all onboard bars in the sky. When Emirates started flying their A380s back in 2008 they promised they would do something special with the cabins. Thankfully for us, that was no word of a lie.
With showers in First Class and a bar at the back of the upper deck, for both First and Business Class customers, Emirates have what we think is the most social and fun bar in the skies.
If you're flying on a plane with the latest refreshed bar area, you can relax and take a seat in plush booth-style leather seats, chat with your fellow travellers and choose from a range of wines, beers and premium spirits. Plus, there's a fantastic selection of 18 cocktails including favourites like a Manhattan, a Cosmopolitan and an Old Fashioned.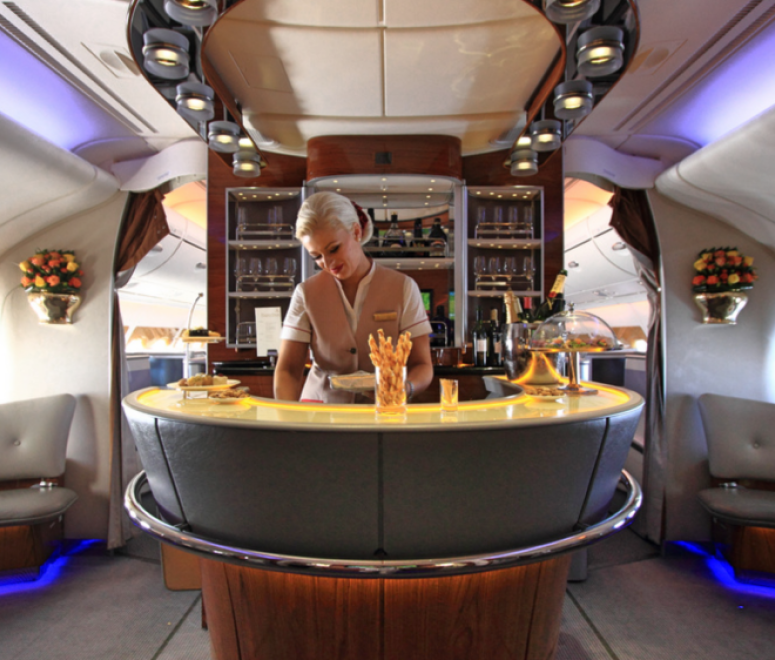 Qatar Airways
It's not as wildly known as the Emirates onboard bar, but it's quite possibly more exclusive. You can only find the Qatar Airways' bar in Business Class onboard their fleet of 10 A380s, where this upper deck sanctuary is tucked away, just in front of the small Economy Class section. This means there's hardly any foot traffic and a real sense of privacy as you sit back during the cruise with a drink in hand.
Enjoy a glass of Gosset Brut Grand Rose Champagne, or perhaps a 15 year old Glenfiddich single malt. If you fancy something more exotic, their range of cocktails includes the rum-based Cuba Libre and the Pink Gin, which features Bombay Sapphire and Angostura bitters.
Snacks are also served here throughout the flight although – with Qatar beginning to retire their A380s in 2024 – you'll need to move fast to be among the lucky few to enjoy them.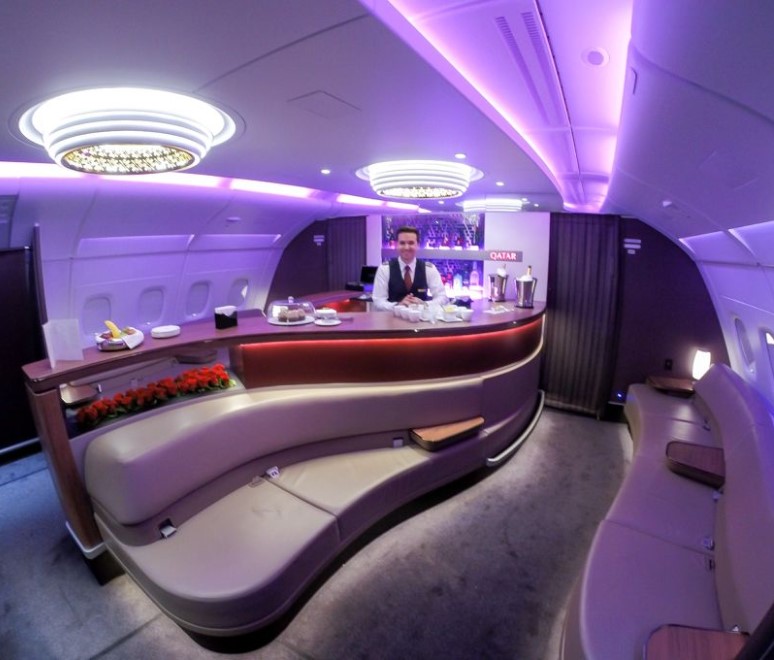 Virgin Atlantic
Virgin Atlantic's iconic onboard bars have been a feature since the airline's inception in the Eighties. Located in Upper Class, the bar isn't as big an affair as you'll find on the Middle Eastern carriers. But it does offer a full range of drinks and cocktails, and it's a great place to socialise as it is rarely empty.
Freshly-made mojitos are always popular and the 'Mile High' Champagne cocktails are a refreshing treat, as the citrus undertones really hit the spot at altitude.
With the airline's introduction of their new A350-1000, the traditional bar has, however, now been replaced by 'The Loft', which is more of a social lounge area. Drinks are, of course, still available here, but with passengers perhaps enjoying the old bar a little 'too much' at times, this new secluded space offers those wishing to kick-start their holidays a much better environment to socialise. The Loft is separate from the rest of the Upper Class cabin, so that those wishing to get some sleep actually can.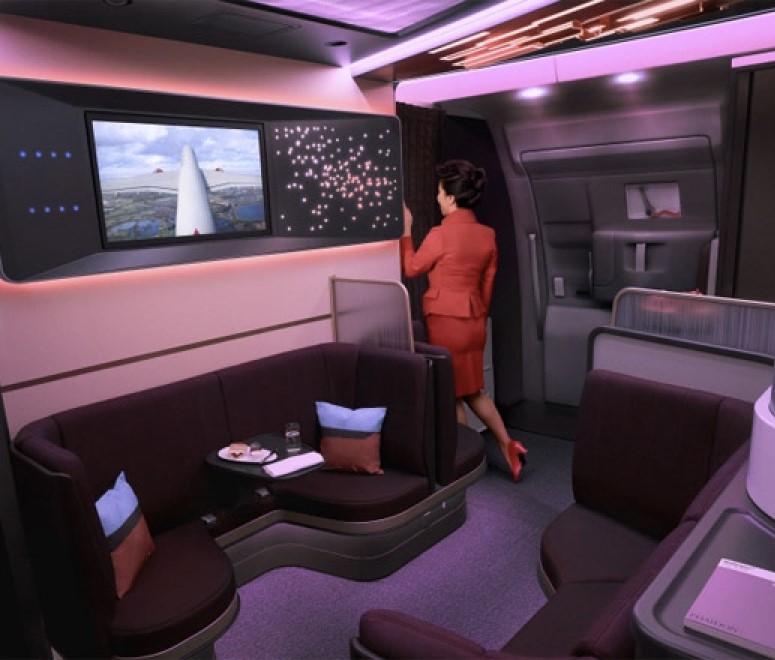 Etihad Airways
Not a bar in the traditional sense – but still a nice place to unwind – the watering hole on Etihad can be found on their A380s, tucked between the First and Business Class cabins. Known as 'The Lobby', the area features a circular table surrounded by six seats.
There's no bartender but the crew will happily bring you a drink with options including 12-year-old Glenlivet single malt, Duval Leroy Brut Champagne and Hennessy VS Cognac. Plus, there's a fine selection of sommelier-chosen wines.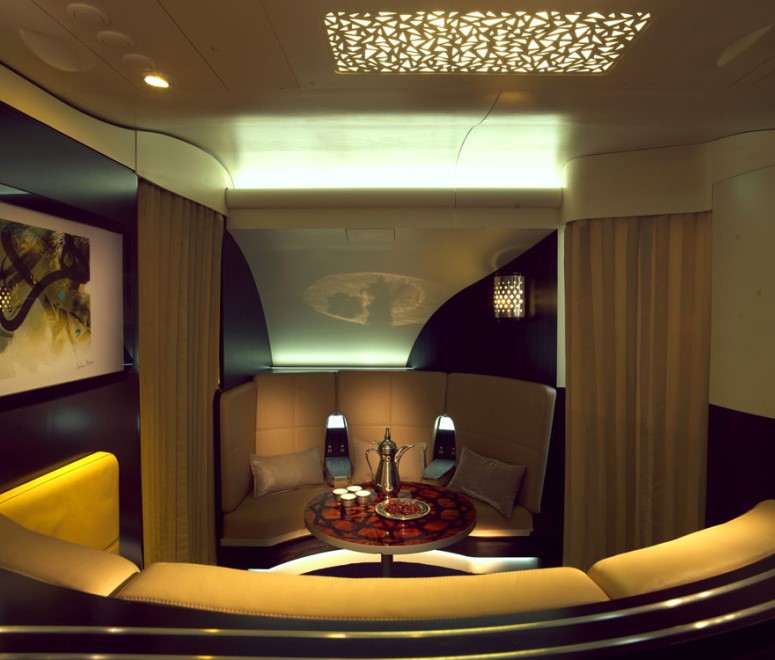 Korean Air
The Celestial Bar onboard Korean Air's A380s is a chic, open and inviting space at the back of the upper deck Business Class cabin. Korean's bar is a great place to relax, but it's especially a hit with vodka-lovers – namely because they only serve Absolut Vodka-based drinks here.
Of course, Asian hospitality dictates that if you want any other type of drink, then a crew member will be more than happy to bring it from the galley. But, if you do like Vodka, the range of aviation-themed cocktails will be sure to put a smile on your face. There are six fruit-based Absolut-infused cocktails on offer, including the Absolut Collins, Asian Ginger, Pear Deluxe, Apeach Affair, Pineapple Bliss and the Raspberry Delight. But, as tasty as they all are, it's probably best not to try them all on the same flight…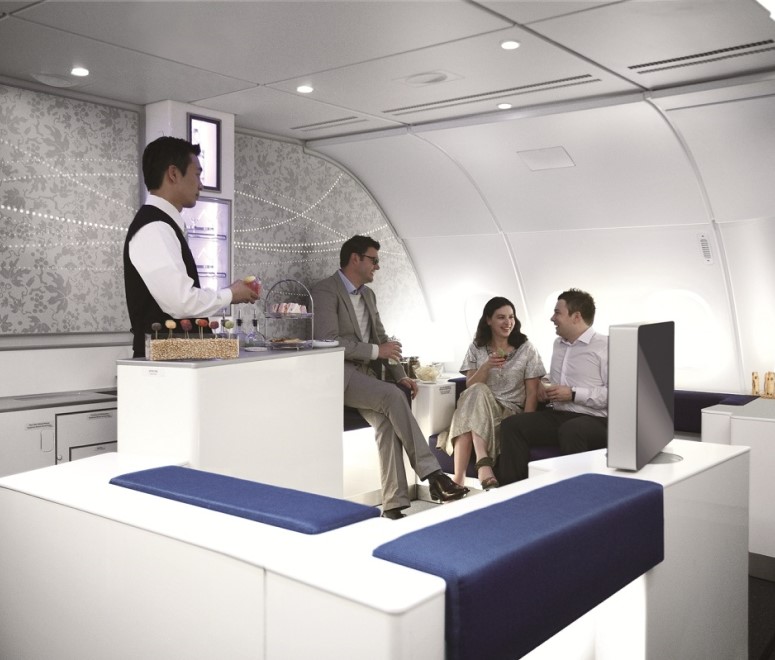 A modern touch?
Well, no, not really! Whilst having onboard bars are a great feature and something most of us will love having, the idea is nothing new. Back in the Seventies when the Boeing 747 was first introduced, airlines of the day went out of their way to make these aircraft stand out. They were the biggest planes ever built, at the time, and there was more than enough space to go around, even in Economy Class.
American Airlines took great pride in calling their fleet of Boeing 747-100 aircraft LuxuryLiners and went as far as to install cocktail lounges that featured a grand piano and live music. And Continental Airlines even installed onboard bars called "Polynesian Pubs" in their Economy Class section of their early DC-10s and 747s.
And it wasn't only widebody planes that got the onboard lounge treatment. TWA installed a cocktail lounge on their Boeing 707 aircraft which, frankly, looks great, if a little retro. Just don't be waiting for anything similar from Ryanair or easyJet anytime soon.