Flying in First Class is about glitz, glamour and the ultimate in-the-air luxury. But as Business Class cabins get ever swankier, and competition from private jets intensifies, legacy airlines are having to work ever harder to differentiate their First Class experience. Nowadays, they've got private onboard showers, butler service, bedrooms, enhanced entertainment systems – and ever more impressive dining.
The recruitment of Michelin-starred chefs to develop dishes and formulate menus is now commonplace, as are partnerships with world renowned restaurants and producers. The competition is heating up both in the kitchen and in the air, but just who has the most exquisite dining in the skies?
We take a look at the five very best dining experiences you can have at 39,000 feet.
Qatar Airways
Sumptuous cuisine comes as standard in any cabin when you fly on Qatar Airways, but their First-Class fare is truly a step beyond. An amazing amount of attention has gone into the design of the menu which has been created by a panel of four culinary experts, including renowned chef Nobu Matsuhisa. With both Arabic and western options available, this is the finest on-demand à la carte menu you will find.
Your meal will start off with a charming amuse-bouche followed by a choice of starters including such mouth-watering delights as Oscietra caviar, Australian lamb, or char-grilled lobster tail.
For the main course, you can choose from the likes of Arabic spiced chicken breast with machboos rice, grilled fillet of Australian beef with thyme jus or pan-fried trout with apple risotto and broccolini.
For dessert, why not try a blood orange brioche pudding with vanilla custard, or a chocolate and raspberry dessert with gourmet ice cream? To top it off, your meal will be paired with the finest wines and Krug Champagne.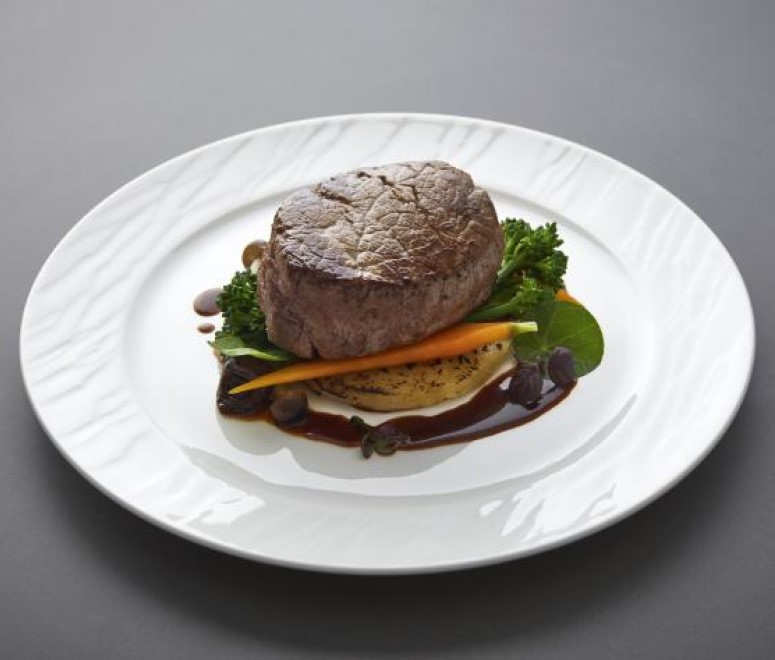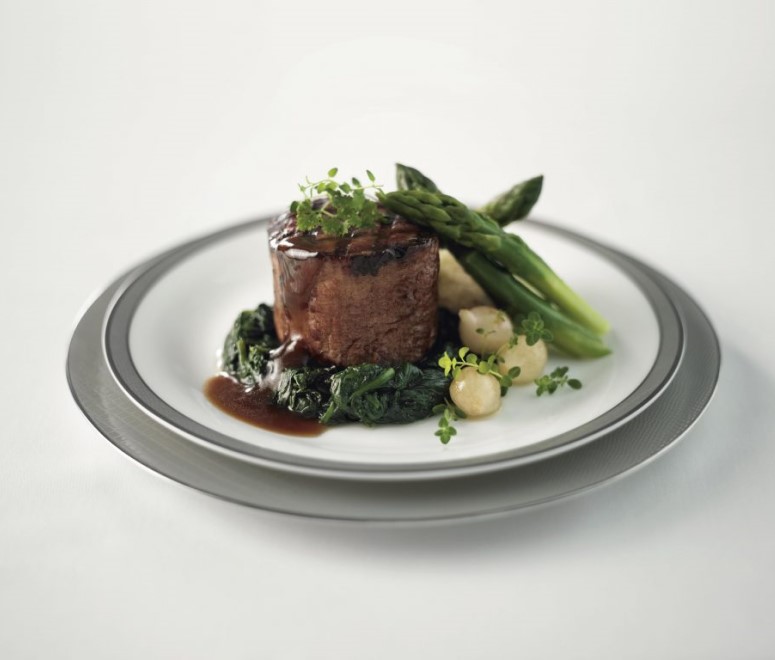 Singapore Airlines
Named best airline by Skytrax numerous times, Singapore Airlines certainly knows how to treat its First Class customers. For over 20 years, the airline has employed an international 'culinary panel' to design its menus, featuring top names such as Yoshihiro Murata, the chef behind Michelin-starred restaurants in Tokyo and Kyoto, and Suzanne Goin, owner of several other high-profile LA restaurants.
Menu options vary by route but include a vast array of mouth-watering choices featuring locally-sourced ingredients and specialties – including Lobster Thermidor with saffron rice, prime beef fillet with balsamic onion sauce and an exclusive champagne and caviar service. For dessert, try the Tarte Tatin or warm caramelised apple turnover with milk ice-cream?
When you fly First Class with Singapore Airlines, you can also 'Book the Cook'. This feature lets you pre-order your dining choice from over 70 options, to create a bespoke meal just for you.
ANA
While the ANA First Class cabin may lack some of the bling and attention to detail of some its rivals – we're looking at you, Qatar and Emirates – what it lacks in luxury, it makes up for in the quality of its dining.
As you might expect, delicious Japanese cuisine is the central feature of the menu with thoughtfully created options that will appeal to all palates. Why not try the miso ramen, bamboo shoot steak or grilled eel over steamed rice – all served on elegant Japanese-style dishware. Choose from a range of over 15 different wines to go with your meal and, when you're done, why not try some Japanese whiskey from the Hibiki distillery?
International options are also available including a gâteau-style lobster dish with caviar, grilled corn soup and the delightful wagyu beef with pancetta and tarragon sauce. Plus, ANA passengers can pre-select their dishes up to 24-hours before their flight.
Lufthansa
Lufthansa claims to serve 5% of the worlds caviar supply on its flights. So, if you ever find yourself in their opulent First Class, make sure you indulge in their famed caviar trolley service, which comes served with toast, crème fraiche and chopped onion – along with a glass of 2003 Cuvee Louise Champagne or Beluga Noble vodka.
Each menu option has been designed by local chefs from your destination. So if you're travelling to China, for example, you can look forward to a Kung Pao chicken from the chef at the luxury Shangri-La Pudong hotel in Shanghai. Other mouth-watering global options include spring chicken tikka masala, Chilean sea bass with mustard-caper butter, and even a high-quality burger from the good old US of A.
Emirates
From the airline that brought you onboard showers and bars, it's perhaps no surprise that the food is also out of this world. Emirates is known for exceptional service, as the airline goes out of its way to provide a true restaurant-style service. To start, choose from caviar with sour cream onion, grated egg, lemon, toast and blinis, or perhaps a yellow-pepper-and-lemongrass soup or cured duck on a Waldorf salad.
For mains, why not indulge in a South Australian Angus steak served with thyme jus, gnocchi and grilled vegetables? Or perhaps you'd prefer Bangalore chicken with basmati rice and green vegetable curry? If you still have room for desserts, a fudge brownie served with salted-caramel profiteroles and caramel sauce will nicely round off your meal.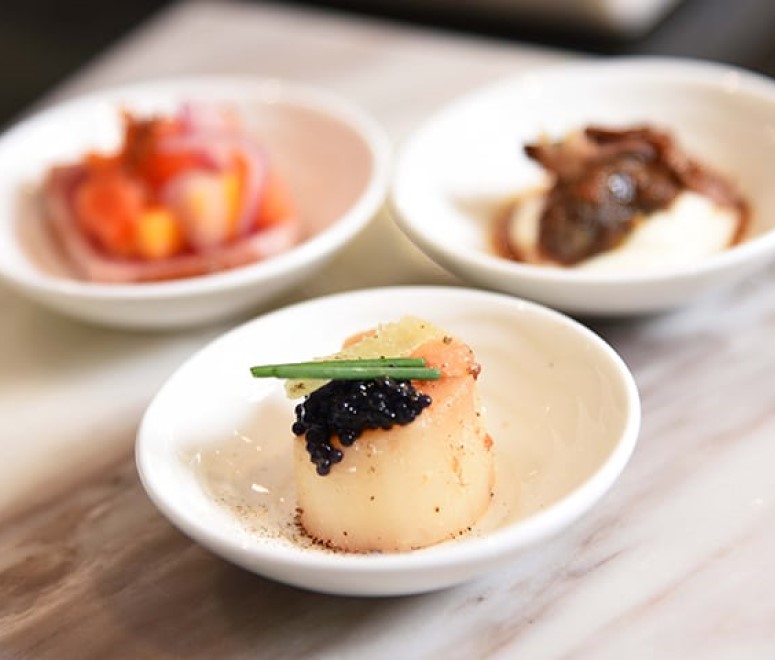 Tastes are of course subjective but in the Netflights office – where food is close to our hearts – these are the five airlines which we think have the best food. Everything about First Class is more exclusive and just 'better', but it isn't just for the super-rich. During airline sale periods you can often grab yourself a great First Class sale fare for the price of a Business Class ticket. Or, if you save enough points, a First Class points redemption or 'award' ticket is a great way to spend your hard earned air miles.
First Class on the Qatar Airways A380 from London Heathrow to Doha costs just 87,000 Qmiles, whilst London Heathrow to Singapore with Singapore Airways will only cost you 125,000 KriFlyer miles.
The hardest part about using your air miles won't be hitting that 'book now' button, but actually finding award seat availability. Only a small number of seats on each flight are put up to be used for air miles award bookings so if you fancy burning some miles on the First Class flight of a lifetime, book in advance!