British Travel Awards Winners
'Best Flight Booking Website'
Be Protected
Financially with our ATOL licence
UK Based
Our travel experts are here to help
Platinum Trusted Service Award
For consistently delivering excellence
Covid testing - get 50% off PCR tests!

Taking the stress out of Covid 19 tests
- and we'll save you some money to boot!
Jetting off on holiday has changed and it's important to keep in mind that Covid-19 testing will be part of your journey. So, we've teamed up with Randox Health (one of the UK's most experienced providers of Coronavirus testing) to make organising your test as easy as possible – and we'll save you 50% using the discount code below!
Getting tested before your holiday
Depending on where you're flying to, you may need a test before travelling. Each country has different entry requirements and so you'll need to check your country specific requirements in advance. Tests do vary and rules on whether children need to provide a negative test also differ depending on the country.
To find out what test is required for your holiday we recommend checking the latest Government travel guidance, please check regularly as requirements can change at short notice.
It's your responsibility to make your own arrangements and ensure that you get the correct test carried out in line with the rules of the destination you're travelling to. Please also check test requirements with your airline as some airlines do not accept at home PCR tests and will require a test taken in a clinical setting. It's also important to ensure that you order the correct number of test kits.

Getting tested for your return journey home
The Government is set to release a Traffic Light System for arrivals into England which will include additional tests to be taken. Keep up-to-date with the latest Government travel advice.
Information on the rules for arrivals back into Scotland, Wales and Northern Ireland have yet to be announced.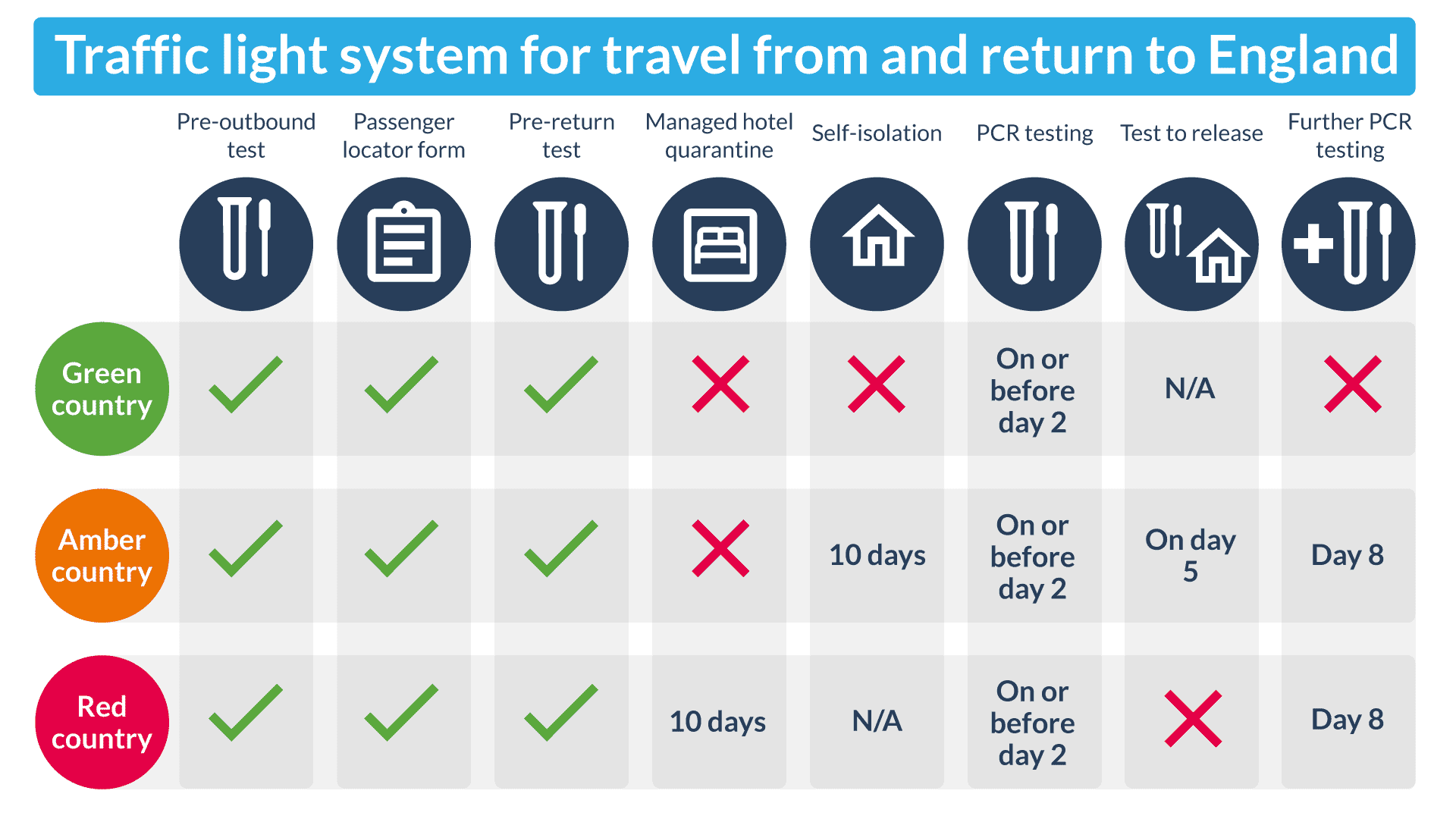 How do I get tested?
Many countries require you to take a PCR (Polymerase Chain Reaction) test which is the gold standard test. For travel purposes, you'll need to take this test privately and can do so through established travel health providers and some facilities available at airports like Gatwick.
If you're unable to provide evidence of a negative test result, you will be denied boarding or entry into your destination. This can become very expensive with a 14 day mandatory quarantine abroad at your own expense.
We know that this is all very new and a bit confusing and that's why we've partnered with Randox Health, a key PHE (Public Health England) laboratory, to help provide you with an established testing service you can trust from just £60!
Who are Randox Health?
Randox Laboratories is one of the UK's largest and most experienced suppliers of coronavirus testing. They're the only laboratory to provide a full end-to-end service, including manufacture, distribution, collection, testing and reporting. Visit Randox Health for more details.
What type of test is this?
The Randox Health testing kit provides a PCR test (or known by its catchy full name as Polymerase Chain Reaction test). Before ordering, please check your travel destination accepts this type of test (click here).
You can also order a Randox Health testing kit once you've returned home to the UK from a country without a travel corridor. The Government have announced that from the 15th December, you can reduce your quarantine period from 14 days to 5 days by taking a PCR test and producing a negative result.
How can I order a test kit (and how do I get a discount)?
Click links below to get the following discounts.
Once I've ordered, how long will it take for my test kit to arrive?
Randox Health send out the kits via next day delivery, so long as the order is placed before midday, Monday to Friday. Please order as early as possible to ensure they arrive on time as it has been known for the kits to take x2 days to arrive.

If you're ordering the DAY 2 and DAY 8 test kit, each test will arrive separately a day before the test needs to be taken (Day 1 and Day 7). This will be in line with government regulations to ensure tests aren't manipulated.
What do I get in a testing kit?
Each kit, provided by Randox Health, contains everything you need to complete a Covid-19 test for one person:
Swab
Collection tube (for the sample taken on the swab)
Pathoseal bag (for the collection tube)
Envelope to post the sample back
Labels with your unique reference number
Full instructions on how to complete the test
Instructions on how to send your test off to the lab
How do I send my sample(s) back?
Using DX services - Click to see your closest DX Depo/DX MBE location, open from Monday – Friday. Closing times vary between locations so please ensure you check your closest DX Depo/DX MBE location opening hours, before returning your sample.
Randox Drop Box - Click to see Randox Drop Box locations. Drop Box closing times vary between sites so please check the closing time of your closest location before returning your sample.
Click for more information on the Randox Drop Box service which is 7 days a week.
How quickly will I get my results back?
Results will be with you within 24hrs* of Randox Health receiving the test at their lab (this does not mean you'll have the result within 24hrs of posting).
What do I need to do with my negative test result?
You will receive a PDF certificate via email to prove you are negative for Covid-19. This must be printed out. Take care while writing your email address on the registration form to avoid any issues.
Again, this varies by destination so please check here for the latest information.