British Travel Awards Winners
'Best Flight Booking Website'
Be Protected
Financially with our ATOL licence
UK Based
Our travel experts are here to help
Platinum Trusted Service Award
For consistently delivering excellence
Expo 2020 Dubai
Welcome to the World's Greatest Show | 1st Oct 21 – 31st Mar 22

The world's longest-running and largest mega-event attracts more visitors than the FIFA World Cup and the Olympic Games. World Expos are hosted every five years in cities around the world and have wowed audiences since their inception in London in 1851. In November 2013, Dubai won the bid to host the World Expo in 2020,
becoming the first Middle Eastern city in history to do so. Expo 2020 Dubai sets several 'firsts' as its doors open to visitors for six exciting months.

Embark on a journey of a lifetime
190+ Country Pavilions
Explore the greatest ideas, innovations, culture and entertainment the world has to offer.
Up to 60 live events per day
Experience the themes of Expo brought to life in unbelievable live events and performances.
100+ dining experiences
Treat and surprise yourself to a mix of traditional and boundary pushing dining options from all over the world.
The world in one place
The most global Expo ever, offering unrivalled cultural experiences from more than 190 countries. Join the greatest global gathering, meet innovators and entertainers, and taste flavours from around the globe, every day for six months.

Equivalent to 600 football pitches, discover ideas and innovations that will shape and improve the future of the people and planet. Reimagine a better future, discover life-changing innovations and explore everything we can be.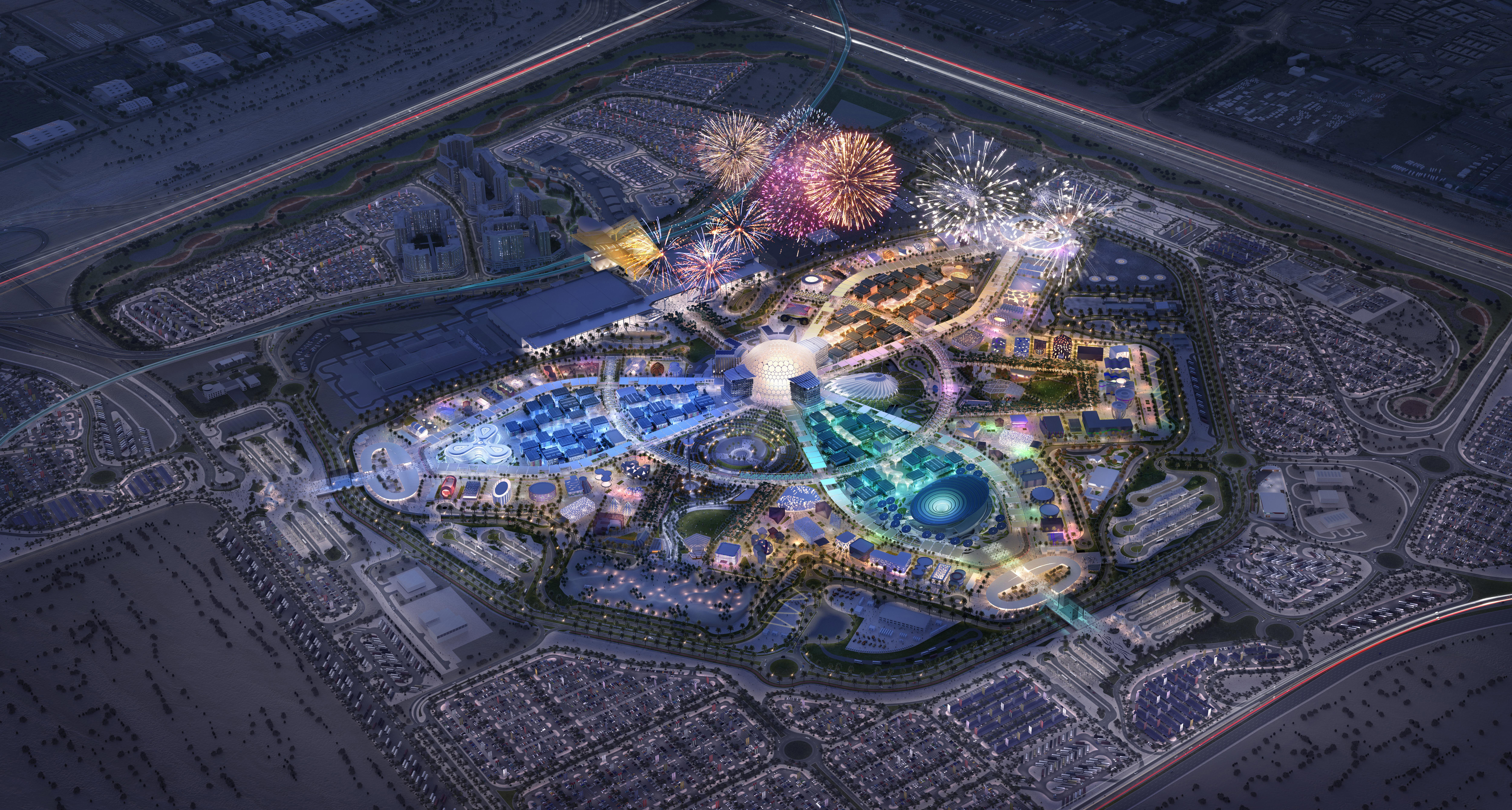 The world's most inspiring architecture
Explore the city of the future, designed for better, more sustainable and human-centric living, filled with architectural and operational ideas on how we will exist.
Visit the world's most visually striking and emotionally inspiring architecture, every day for six months.
See the best architects from around the world including: ASIF KHAN – FOSTER + PARTNERS – GRIMSHAW – AGI ARCHITECTS – ADRIAN SMITH + GORDON GILL – SANTIAGO CALATRAVA among many others.
Explore the Expo 2020 pavilions
Thematic Pavilions
From the world's most renowned architects and creative teams behind blockbuster movies, the Thematic Pavilions bring to life the Expo sub-themes through experiences never seen before.
Country Pavilions
With 190+ country pavilions from Australia to Zimbabwe, experience the world's people, technology and environment in one place.
Landmark Pavilions
Visit the Expo Live Pavilion for a a multi-sensory interactive journey and Women's Pavilion to learn about unseen contributions, and the role women have played throughout history.
Organisation & Partner Pavilions
With 6 pavilions, marvel at the GCC's golden threads and visit a university of the future plus much more.
The world's greatest show
The most breathtaking entertainment and events that include concerts, theatre and sports brought together during a six-month spectacle. Experience the world's best entertainment from local and international artists, every day for six months.
Diverse live events & performances every day
Diverse live events & performances every day

There'll always be something to get excited about, with a jam-packed programme of live performances including world-famous stars, comedy greats, local talent and touring attractions.

From roaming dance entertainment, acrobats and street performers to poetry slams and theatrical performances, enjoy cultural experiences from five continents that'll excite your senses and touch your heart.

You'll be entertained like never before!
Entertainment from around the world

Enter a world of magic and discovery as we showcase the incredible and exciting work of our International Participants, including brilliant cultural performances, theatre, art, music, conferences and much more.

Over the course of the event's 182 days, there will be no shortage of excitement.
Once-in-a-lifetime immersive experiences
Enjoy projection, light and sound shows on the largest 360-degree projection surface in the world and immerse yourself in dining inspired by space, microbiology and artificial intelligence.

With Immersive Experiences, Projection Showcases and Live Theatrical Shows, the Expo site is a playground for your senses, pulling you in multiple directions, creating worlds that are deep, unpredictable and, of course, entertaining.
What's on the menu at Expo 2020?
Surprise yourself with the future of food and technology. From tailor-made private group dining experiences to thematic award gala dinners, Expo 2020 provides the perfect venue and/or outlet for every request across more than 100 food-and-beverage options. From everyday treats to creative cuisine, take a food lover's journey through the world. Try authentic cuisines from around the world including Levant Fusion, Peruvian, Brazilian, Euro-Fusion and much more. Plus more than 30 never-seen-before dining concepts in Dubai.

The above prices are guidelines only and are correct at the time of publishing. Subject to availability. Family prices are based on 2 adults and 2 children under 12 sharing a room. Other travel dates are available, supplements may apply. Please use the search box or call for details. For more information please read our Pricing Terms and Conditions.