When's the cheapest time to fly to Brisbane?
Remember, those Aussies in the southern hemisphere have topsy turvy seasons compared to us, and their shoulder seasons are the best time to be flying Down Under if you want to cut back a bit on price. Brisbane has a sub-tropical climate – that means temps rarely dip below 20, so don't think you need to be heading over there in their summer months to get the most amount of beach time in!
You might just find the off season more enjoyable (and not just because you've saved a few quid on your cheap flights to Brisbane) But the cheapest time to fly to Brisbane for us UK travellers? That's May.

When's the best time to book flights to Brisbane?
You've heard it before but we're gonna say it again! The earlier really is the better for cheap flights to Australia – if you've left it a bit late then at least aim for 4 weeks prior to departure, but if you've got all your ducks in a row, then get those tickets booked around 5 – 7 weeks before you jet off for a better chance at nabbing below-average cheap flights to Brisbane.
Emirates, Qatar Airways, British Airways, and Lufthansa are just a handful of your options for grabbing cheap flights to Melbourne - why not choose your airline based on where the hub is?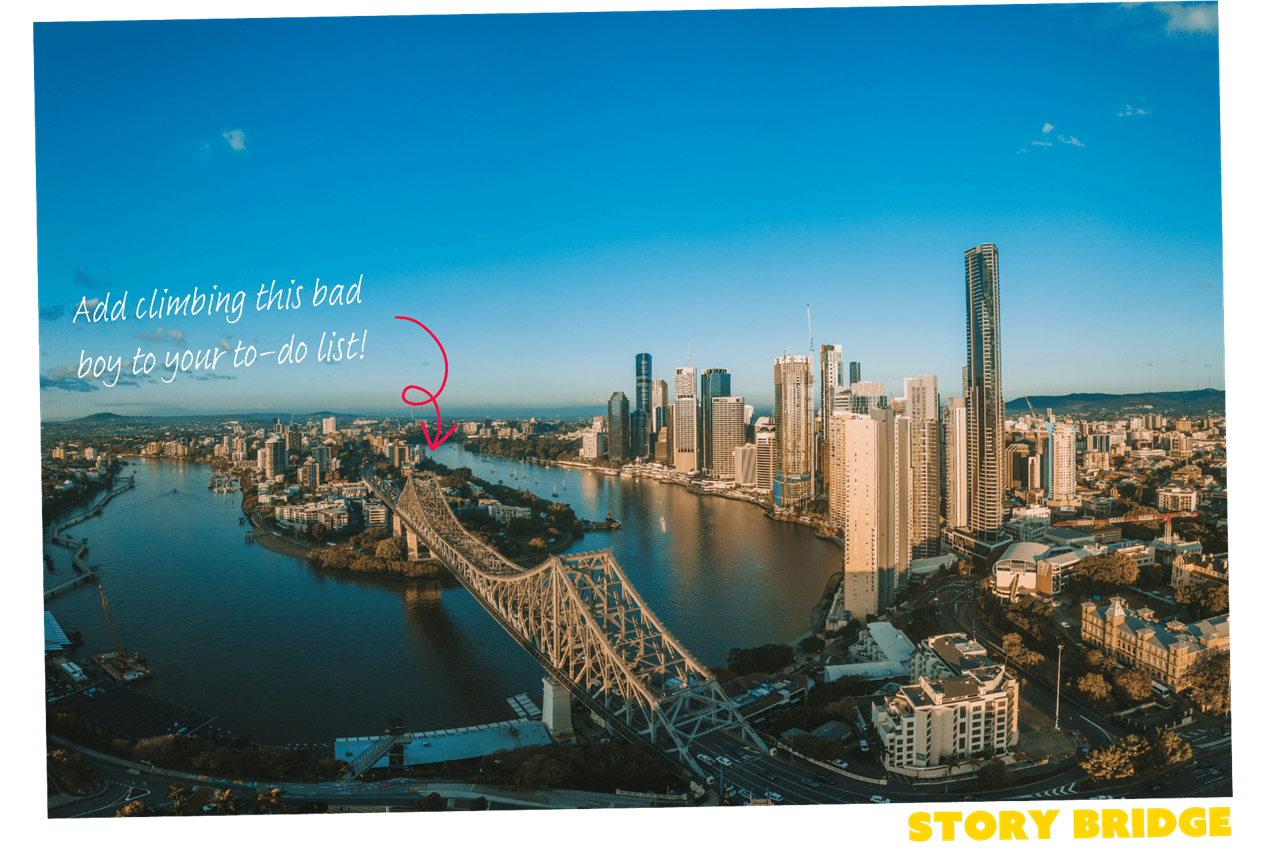 How long is the flight to Brisbane?
As with any flight to Australia from the UK, brace yourself because it's a bit of a kicker: the average flight from London to Brisbane takes 21 – 23 hours, but with most flights out of the capital including at least 1 stopover (most likely they'll be more than one) in cities like Dubai, Singapore, or Hong Kong, this time can increase to 30+ hours.
We know it sucks, but at the moment there are currently no direct flights to Brisbane from the UK – if you're dead keen to keep flight time to a minimum, you can fly direct to Perth and then just take a domestic flight from there on to Brisbane.
It's not all doom and gloom, though! We like to see longer journeys like these as just an opportunity to squeeze a holiday inside a holiday! Depending on which airline you decide to fly with, you could add in an overnight stop in some pretty incredible places – fly with airlines like Etihad or Emirates and you could spend a night in Abu Dhabi or be seeing the bright lights of Dubai in no time, as these are the cities in which they have hubs. If you fly with British Airways, meanwhile, you could have a short but sweet stay in Hong Kong or Singapore – in the case of the latter, we wouldn't blame you for just staying in the airport because it's bloomin' amazing!

Getting around Brisbane Airport (BNE)
There's just 2 terminals at Brisbane International Airport, Australia's third busiest – you've got a domestic terminal and an international terminal. Though in separate buildings, they're just a short hop, skip and shuttle bus away from each other, so you shouldn't have any problems transferring from one to other if you need to switch to take a domestic flight to cities like Sydney or Melbourne.
Before you land, you'll be given an Incoming Passenger Card to fill out, which is where you'll declare any necessary items you've brought with you (when it comes to food, we say when in doubt, declare!) Bring this with you for Passport Control and Immigration. If you're over 16 and you're passport is eligible (most UK passports are), you can whizz through quicker by using a SmartGate – keep a hold of the Passport Control Ticket you're given, you'll need this later.
Next, grab your bags before heading to Biosecurity and Customs – not as scary as it sounds, we promise! Oh, and get that Passport Control Ticket out, as this is where you'll need it. After that, you're home free! Brisbane awaits.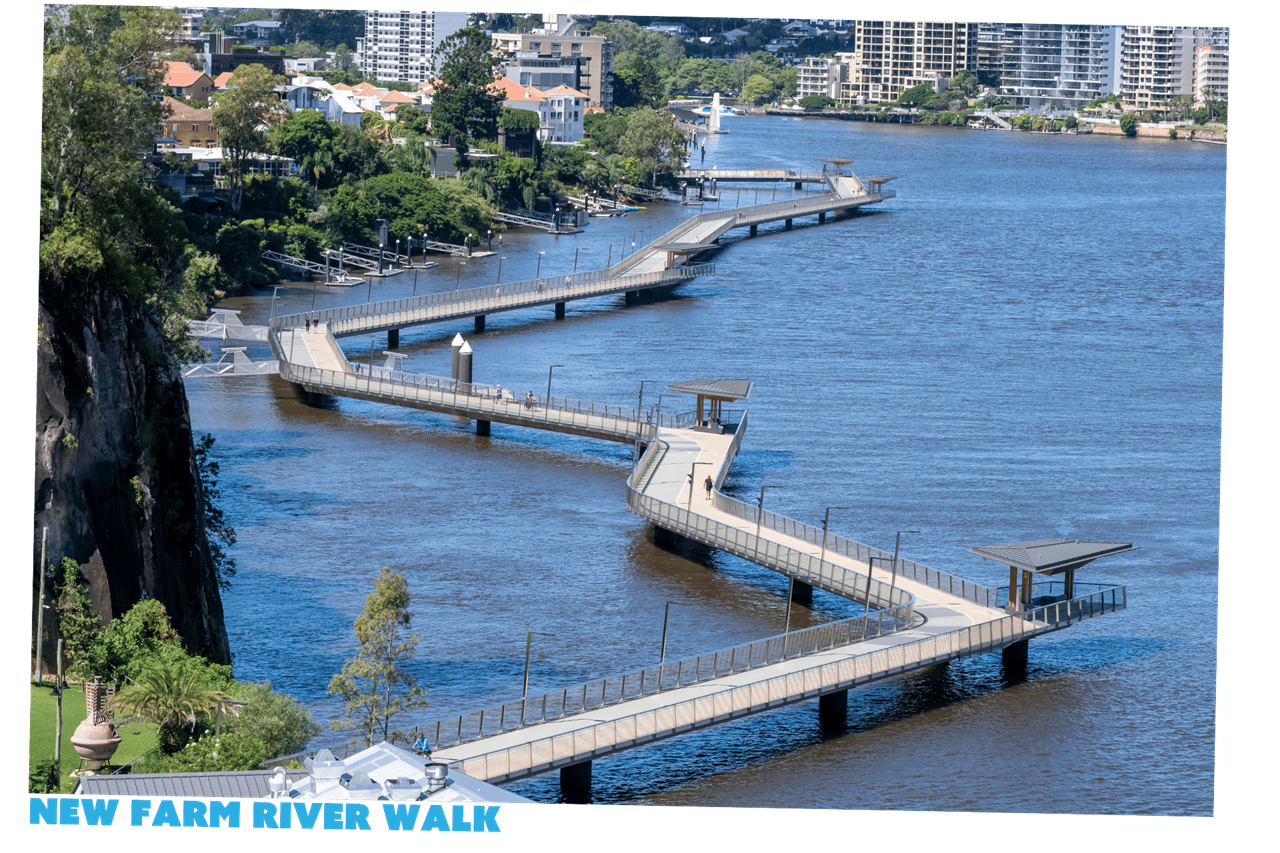 How to get from Brisbane Airport to the city
Passenger Pick Up
If you've got a ride sorted – lucky you! Just head downstairs to Level 1 and follow the signs to Passenger Pick Up. If you need an accessible passenger pick up, head up instead to Level 4.
Via taxi
To grab a taxi, you'll want Level 2 which is where you'll find the taxi rank right outside the door at the front of the building. Easy! It'll set you back about $35-40, depending on traffic. If there's a good group of you, this'll even out pretty cheap between you.
AirTrain
If you're going it a solo or if there's just a couple of you, then the AirTrain is probs the better option for you. A one-way ticket costs $15, and kids under 14 travel free!
Take the lift to level 3, head out of the terminal, cross the bridge to the AirTrain station, and you're off!
Car Hire
Fancy getting behind the wheel yourself? We can help with cheap car hire!
On arrival, head to Level 2 and at the northern end of the International Terminal follow the signs to the pick up area. Then it's nothing but you and the open road…


Things to do in Brisbane
Brisbane by Bicycle
Get your bearings with a bike ride around the city on a heart 3 hour tour – head out at twilight to catch the city skyline at sunset.
Brisbane Riverwalk
Running parallel to the Brisbane River, this route will take you past the most idyllic of suburbs and all the best city views. Start at Teneriffe (no, not that one!) and make your way across the city to the Botanic Gardens to really get your steps in!
Brisbane Botanic Gardens
Speaking of the Botanic Gardens, why go to the Eden Project in Cornwall when you dash half way around the world for the incredible Tropical Display Dome here – we're talking 56 hectares of nature to explore.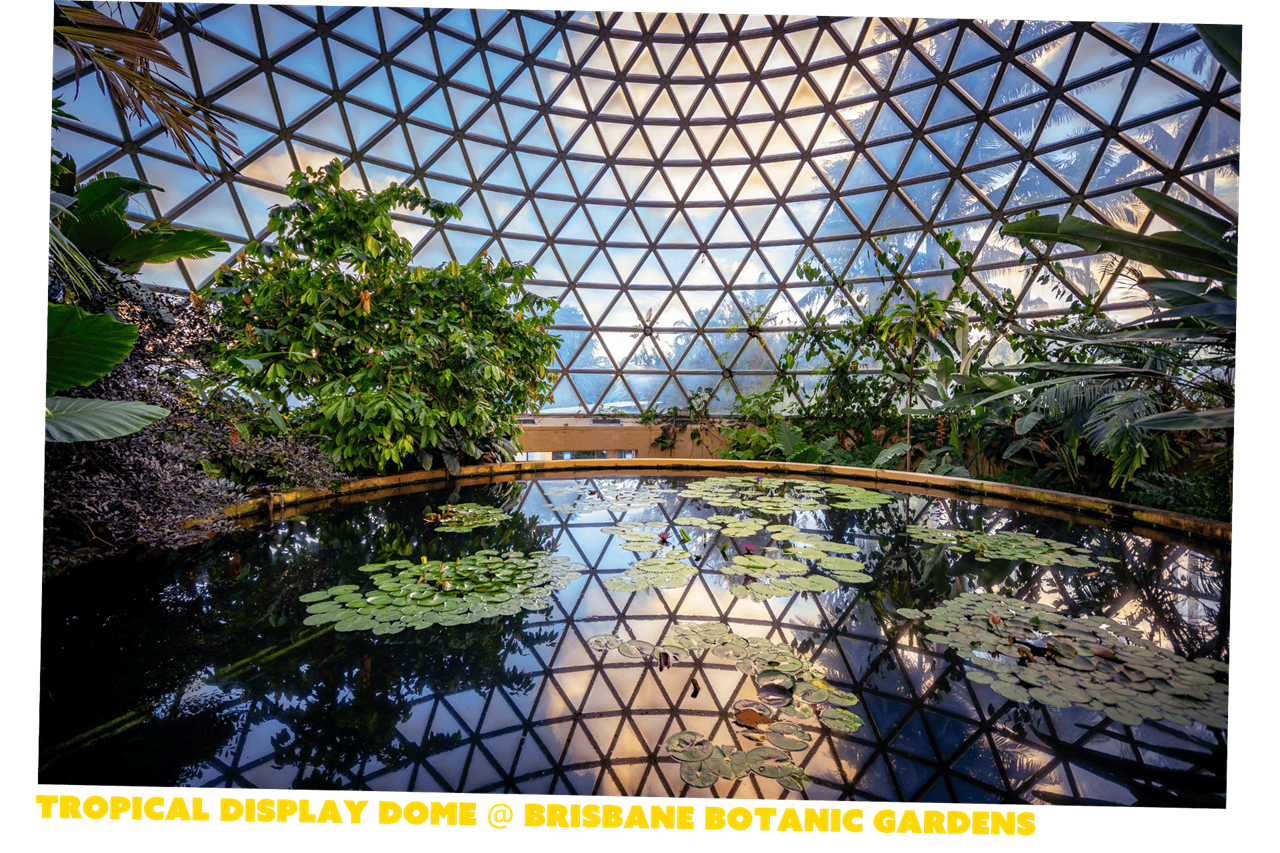 Story Bridge Adventure Climb
Climb the Story Bridge, and you'll be rewarded for your efforts with a bird's eye view all the way out to Moreton Bay, beyond the Gold coast and on to the Scenic Rim, Brisbane's World Heritage-listed backyard – puts the, er, blime in sublime!
New Farm Park
Grab a blanket and chuck some food in a basket for a picnic down by the river at New Farm Park under the massive fig trees, then head to Brisbane Powerhouse…
Brisbane Powerhouse
After the picnic, pack up and head next door to Brisbane Powerhouse to catch some comedy or listen to live music. Round off the evening with an alfresco Aperol Spritz at Bar Alto and watch the boats on the river as the sun sets. Sounds like a perfect day, tbh…
James Street
If nursing a drink and watching the world go by as the sun sets is where it's at for you, then you're gonna love James Street in Fortitude Valley! Not only is it a shopping hub for all the high-end clobber you can get your hands on, it's also got a fab dining scene. Pair that with those sun-soaked days Brisbane has in spades and you've got yourself your own slice of Europe in Australia! Curbside cafes, beer gardens and rooftop beers galore!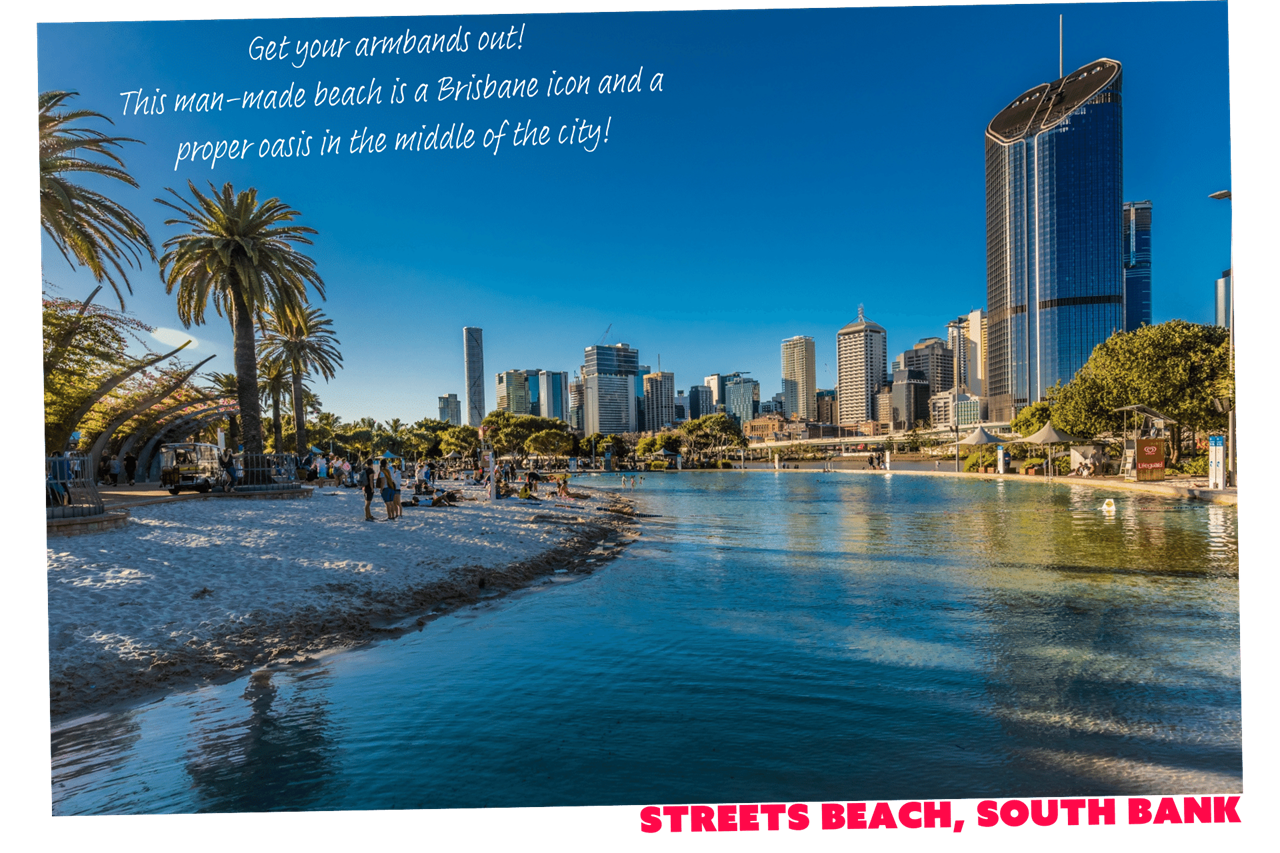 South Bank
Head here for some world-class art galleries and theatres. The Queensland Art Gallery | Gallery of Modern Art (just call it QAGOMA!), Queensland Ballet, and Queensland Performing Arts Centre are all here – get stuck in, culture vultures!

Don't forget before you fly
Okay, here's the important stuff! As a UK citizen, you'll need a basic (and free) eVisitor visa, unless you're staying for more than three months. If you're planning a longer stretch (who'd blame ya?), you'll need a different visa depending on whether you want to work or study while you're there. Make a note of what you can and can't take into the country, particularly when it comes to food items and residual sand or mud on your clothing. Australia is mega strict about this so check the rules carefully before you fly. Before you land, your airline will give you an Incoming Passenger Card to fill out, where you can declare any items you need to. Oh, and as always, get checking those passports to be triple sure your passport is still valid!