When is the cheapest time to fly to Cairns?
They've got opposite seasons compared to us Down Under, and their shoulder seasons are the best time to be flying to Oz if you want to cut back a bit on price. For the biggest savings, the cheapest months to fly to Cairns are from January to April. Temps don't really start to drop until June, so you can still enjoy a toasty 23 – 26 degrees.
You might just find the off season more enjoyable, and not just because you've saved a few quid on your cheap flights to Cairns!



When's the best time to book flights to Cairns?

The earlier really is the better for cheap flights to Australia – if you've left it a bit late then at least aim for 4 weeks prior to departure, but if you've got all your ducks in a row, then get those tickets booked around 5 – 7 weeks before you jet off for a better chance at nabbing below-average cheap flights to Cairns.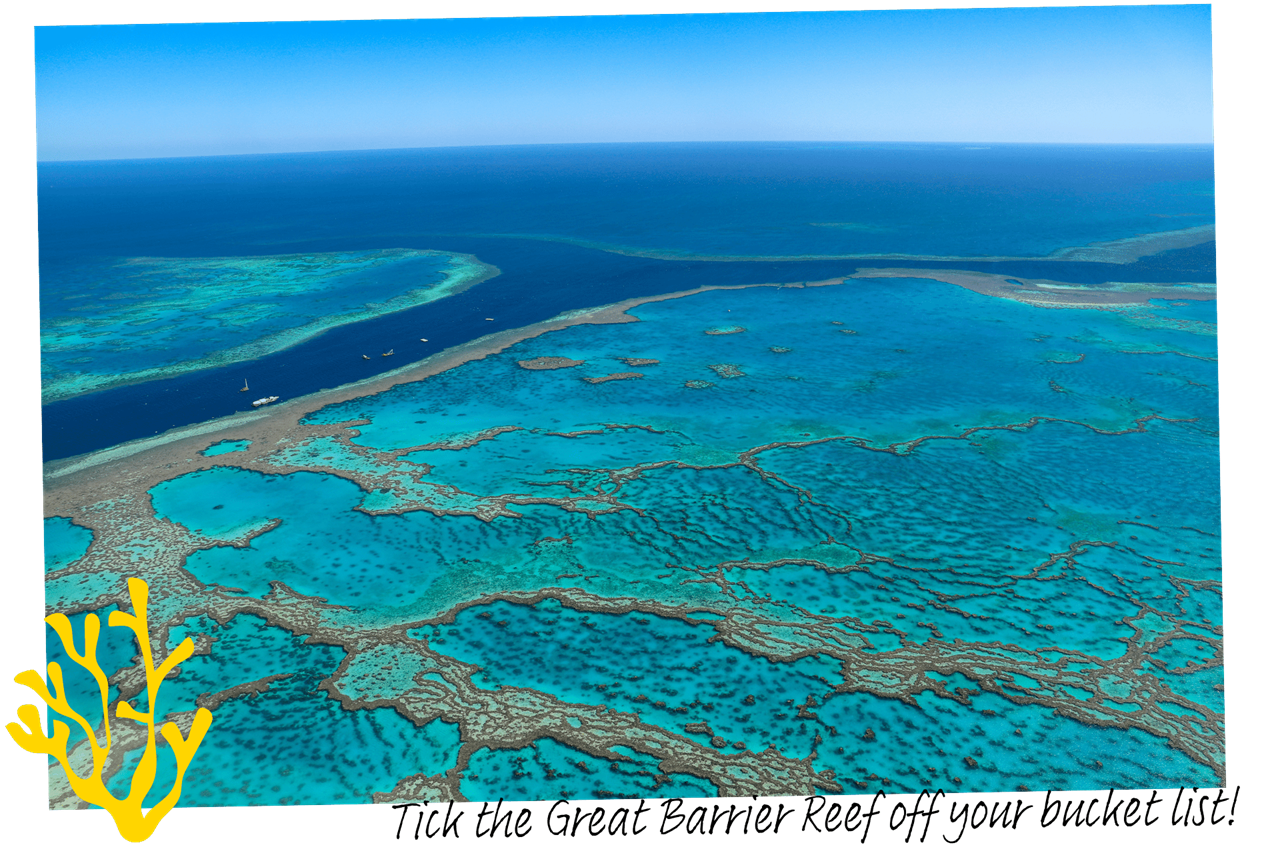 How long is the flight to Cairns?
Better get comfy! The average flight from London to Cairns takes around 21 hours but with most flights out of the capital including at least 1 stopover (most likely they'll be more than one) in cities like Dubai, Singapore, or Hong Kong, this time can increase to 30+ hours.
We know it sucks, but at the moment there are currently no direct flights to Cairns from the UK – if you're dead keen to keep flight time to a minimum, you can fly direct to Perth and then just take a domestic flight from there on to Cairns.
Going in-direct might take longer, but it's cheaper and we just see it as a way to to squeeze a holiday inside a holiday! Depending on which airline you decide to fly with, you could add in an overnight stop in some pretty incredible places – fly with airlines like Etihad or Emirates and you could spend a night in Abu Dhabi or be seeing the bright lights of Dubai in no time, as these are the cities in which they have hubs. If you fly with British Airways or Qantas, meanwhile, you could have a short but sweet stay in Singapore – although, we wouldn't blame you for just staying in the airport because it's bloomin' amazing! Fly with Cathay Pacific, meanwhile, and you could say a quick hello to Hong Kong.
Well, if you're going that way anyway, it'd be rude not to…



Getting around Cairns Airport (CNS)
Cairns Airport is the biggest regional airport in Australia but it's still pretty small, making it a breeze to get around. There's just two terminals, domestic and international, and it's dead easy to get between the two if you need to transfer for a domestic flight within Oz to Sydney, Melbourne, or Perth – there's a covered walkway that takes just five minutes on foot.
Before you land, you'll be given an Incoming Passenger Card to fill out, which is where you'll declare any necessary items you've brought with you (when it comes to food, we say when in doubt, declare!) Bring this with you for Passport Control and Immigration. If you're over 16 and you're passport is eligible (most UK passports are), you can whizz through quicker by using a SmartGate – nice one!
Grab your bags, and then head to Biosecurity and Customs – Australia is pretty strict when it comes to what enters the country, but this step is defo not as intimidating as it sounds!
After that, you're free to explore Cairns!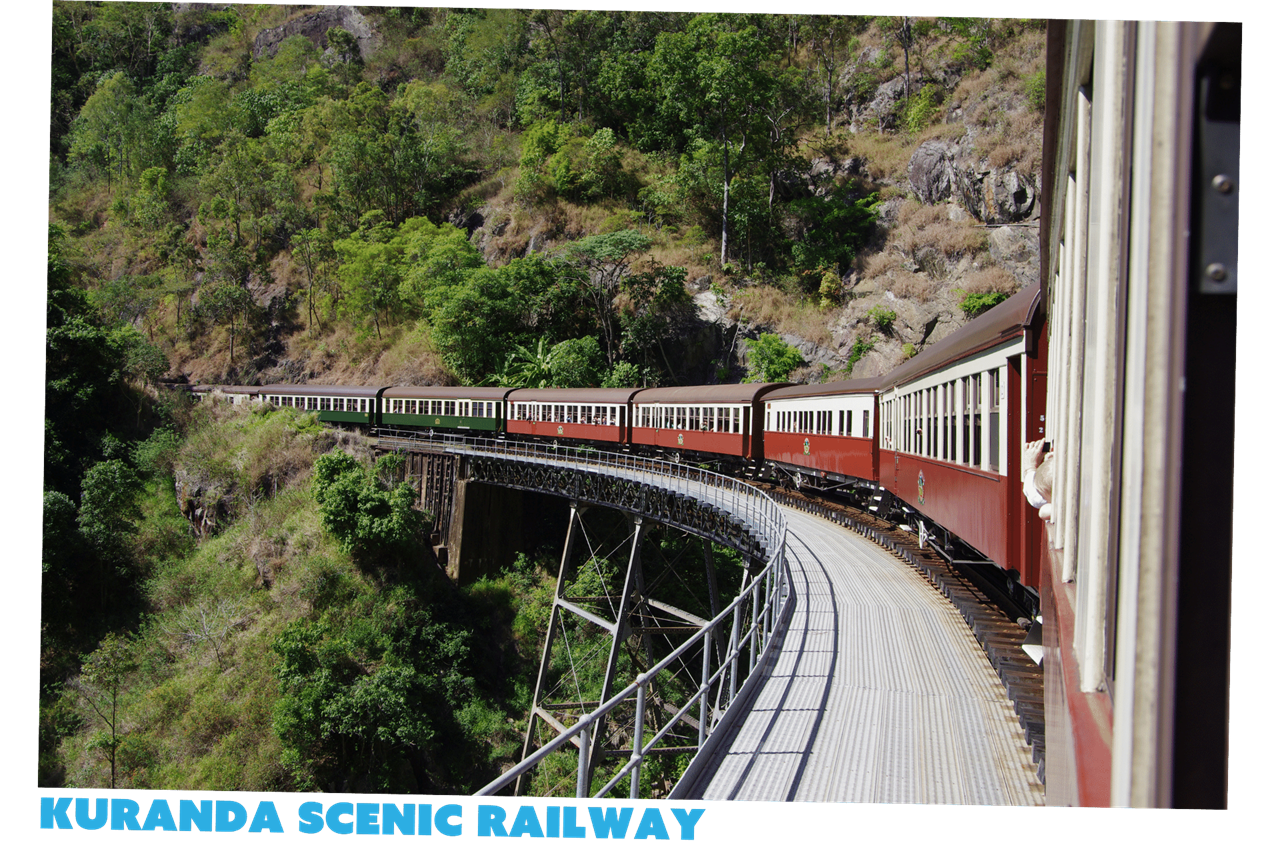 How to get from Cairns Airport to the city
Via shuttle bus
Exemplar Coaches and Limousines runs services from Cairns Airport to and from Port Douglas, Cairns Central Business District (CBD), and Palm Cove. Just head to the Exemplar Transfer Desk in International Arrivals to grab a ticket, which'll set you back $20 one-way for Cairns CBD, with a kids ticket (2-11) costing $10. Catch your ride just outside the arrivals hall, and then you're off!
Via taxi
Cairns Taxis is the only regulated service for the Cairns region, and covers the CBD, the coastal area of Ellis Beach to the north, as well as south to Wrights Creek, Edmonton.
You'll find a sheltered taxi rank just outside the arrivals hall, but you can't pre book fares from the terminal itself – nay bother, because taxis are always available, and you can jump in a range of vehicles depending on your group size, sedans and station wagons for up to 4 people, and up to 10 in a maxi taxi, as well as wheelchair capable vehicles too.
It's a pretty quick ride, about 15 mins, and will cost you about $20-30 – bear in mind that a $5 fee will be added to your total to cover the International Terminal pick-up charge!
Car Hire
There's a bunch of Cairns car hire options at Cairns Airport, including Dollar and AVIS, both of which have counters located in the International Terminal's arrivals hall.
We reckon getting a car and exploring on four wheels is one of the best ways to experience Australia, so it's a good job we've got some mega cheap Australia car hire deals ready and waiting for you.



Things to do in Cairns

Cairns Region

The Great Barrier Reef

We're starting off strong with an absolute non-negotiable – you can't travel all this way and not do the Great Barrier Reef! We won't have it. It's a beaut, but it's also very big. Stretching over 2300kms along the Queensland coast, it's a bit of a head scratcher on where to start. How about an Indeginious Reef Tour with Dreamtime Dive and Snorkel? You'll join Indigenous sea rangers on a tour to two reef sites – Moore Reef and Flynn Reef, where they'll tell you all about the Dreamtime stories and help you gain a deeper understanding of the ecosystem.
You can even sleep on the reef if you want to! Sunlover by Starlight offer a private, after dark reef experience 26 nautical miles off the Cairns coast where you'll rest your weary heads on the Moore Reef Marine Base to the sounds of the Great Barrier Reef. Lovely stuff.
Fitzroy Island
A mega popular daytrip, thanks to its proximity to the coast, Fitzroy Island ain't just an island, it's a
national park island
. Almost completely surrounded by coral reef, it's fab for snorkelling, but it's also full of great bush walks and trails that'll take you right through its stunning flora and fauna. Try the Summit Trail – it's a tricky climb but the view from the lighthouse at the end makes it totally worth it. After that, flop on Nudey Beach (but keep those clothes on!)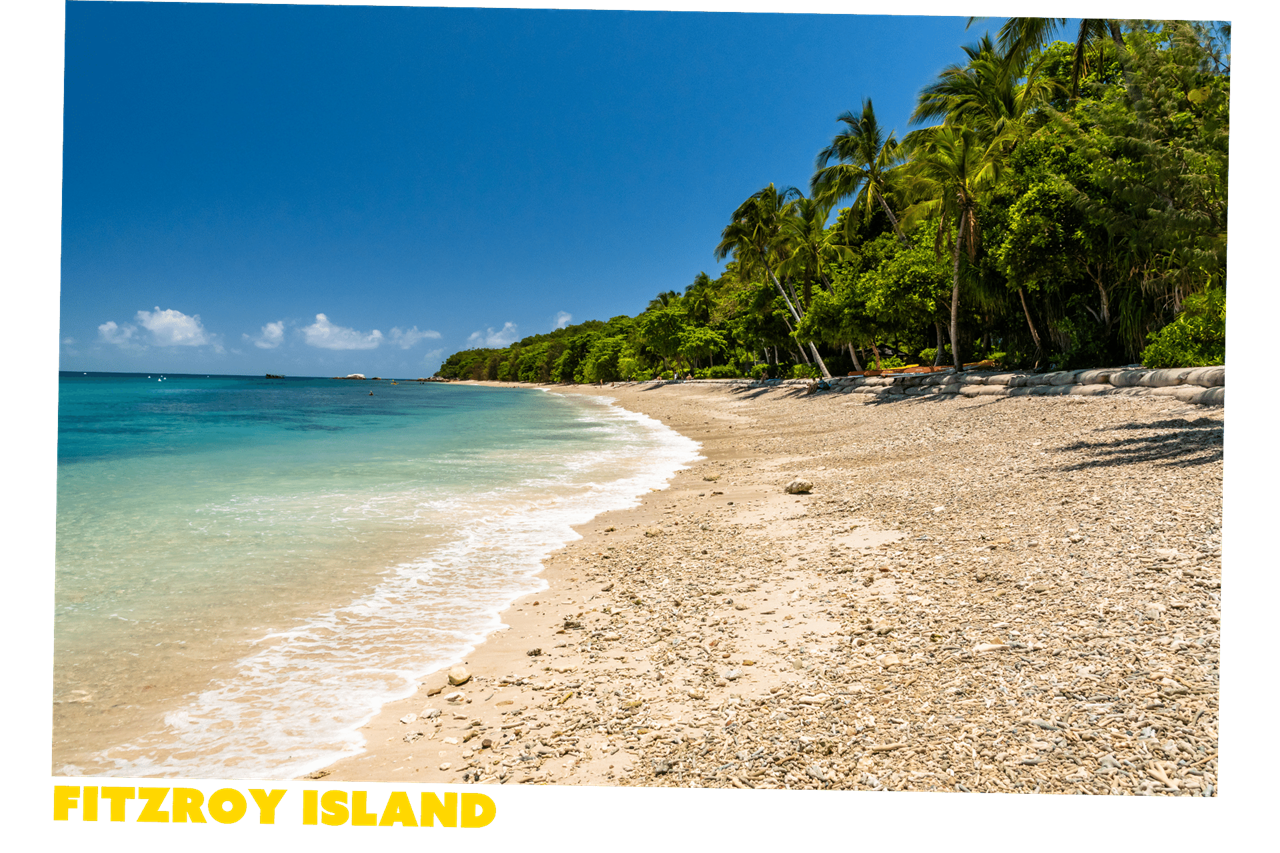 Kuranda
Head into the mountains north west of Cairns and you'll find Kuranda, home to both Barron Gorge National Park, the Barron Falls, and the Kuranda Koala Gardens. Listen, Kuranda Village, with its eclectic mix of markets, stalls, and crafts, is great (like,
really
great) but it might just be about the journey with this one – make your way up the mountains via the Kuranda Scenic Railway and wait for your jaws to drop.

Wet Tropics Rainforest
After you've explored Kuranda, head back down the mountain via the Skyrail Rainforest Cableway, which'll take you right over the world's oldest tropical rainforest. The Wet Tropics Rainforest surrounds Cairns on all sides, and by taking the Skyrail you'll glide just metres above the jungle canopy with epic panoramic views of this World Heritage site. It'll drop you at the Smithfield Terminal, just a 15 min drive from Cairns City.
Cairns CityThe Esplanade Lagoon
A local fave, the Esplanade Lagoon is a 4800sqm saltwater lagoon that overlooks the Trinity Inlet and the mountains that lie across the horizon – the water actually comes straight from the inlet itself, filtered and cleaned by some high tech filtration…thingys.
Go for a swim (an accessible entrance, should you need one, is at the southern end of the facility), or set up shop with a picnic under one of the huge Banyan trees. There's BBQ facilities dotted along the boardwalk that are cleaned daily and are free to use – have you heard anything more Aussie than that?!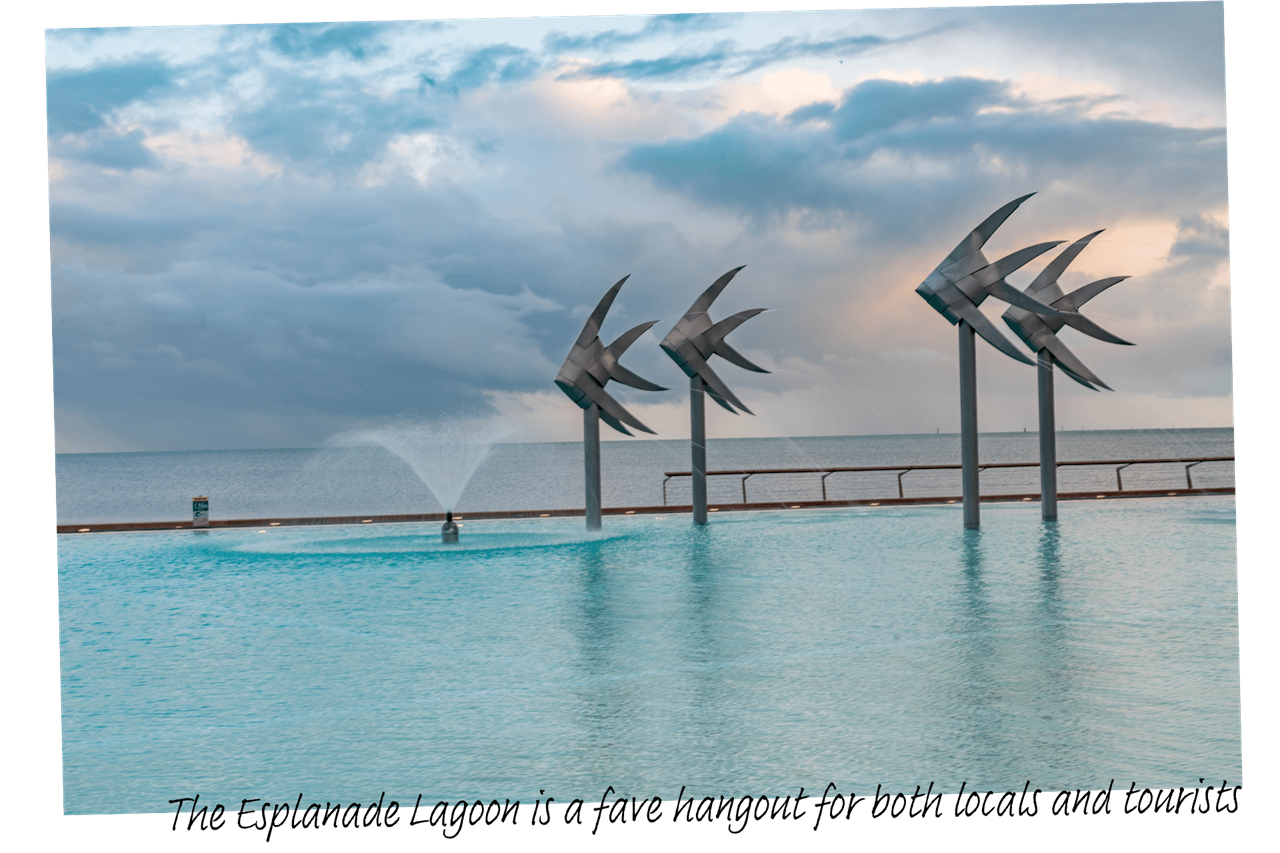 Zipline at Cairns Zoom


The world's first high ropes course within a wildlife exhibit, Cairns Zoom lets you, well,
zoom
along a zipline over an actual salt water crocodile, do a bungee jump, and more - all inside a wildlife dome that sits on top of the Reef Hotel Casino.

St Monica's Cathedral
This cathedral, pretty modest looking from the outside, just happens to be home to the world's largest themed stained glass windows, depicting the story of creation from the Book of Genesis. Oo-er. Swing by at 10am on a Sunday and you'll catch the choir performing.

Cairns Botanic Gardens
One of the best botanic gardens in Australia, walk through melaleuca forests, check out the nooks and crannies of the Fitzalan Gardens (named after the first caretaker here), or explore the Aboriginal Plan Use Garden. There's free walking tours, and it's not just about the flora here – don't forget to look up and spot the beautiful birds flying about the place.
Don't forget before you fly
Okay, here's the important stuff! As a UK citizen, you'll need a basic (and free) eVisitor visa, unless you're staying for more than three months. If you're planning a longer stretch (who'd blame ya?), you'll need a different visa depending on whether you want to work or study whilst you're there.
Make a note of what you can and can't take into the country, particularly when it comes to food items and residual sand or mud on your clothing. Australia is mega strict about this, so check the rules carefully before you fly.
Before you land, your airline will give you an Incoming Passenger Card to fill out - this is where you can declare any items you need to. Oh, and as always, get checking those passports to be triple sure your passport is still valid!